Well Hello There!
Yes, I know! You thought that this "one girl" had put her camel out to pasture and bid au revoir to the the life of adventure. Ah, that couldn't be further than the truth!  In fact, my blog silence has been directly  attributed a new odyssey I recently embarked upon which is making the death defying act of crossing the buzzing streets of Delhi  during rush hour look like child's play. I started my own business.
My new online shop marries my love of travel and my quest to find extraordinary, beautiful objects during my journeys. I call it JJ Caprices. "JJ" is for…well, I'll give you 1 guess, and "Caprices" because both travel and delightful, handmade objects from these journeys are my personal flights of fancy, or "caprices." Pieces featured in my boutique are all hand made in their country of origin and hand-picked by me! I also get to tell the fun stories about the land they come from or the talented artists that give them a heartbeat. Not that I needed an excuse to explore new countries, but at least this one leads to a tax write-off  :).
BUT back to the business at hand! Provence in June!
Soooo I was in France most of June. Paris specifically. My days were spent lumbering along the Seine, indulging at favorite cafés in Saint–Germain–des–Prés and laughing with dear friends who make the The City of Light that much brighter. It was wonderful to go back…but it is true, Paris doesn't change much.
Prior to crossing the Atlantic, my former Paris roommate proposed we plan a trip to the south of France during my stay.  Brilliant! I have always wanted to visit Avignon (I had originally planned to live there before I moved to Paris…alas, the thought of constantly having to deal with wind blown hair deterred me) and would love some time next to the Mediterranean.  The SNCF 75Euro roundtrip train fare out of Gare de Lyon to the south made the decision even sweeter.  With a click of the mouse, we were bond for the land of lavendar and rosé wines (which I might recommend you grabbing a glass now for the parade of pics that cometh).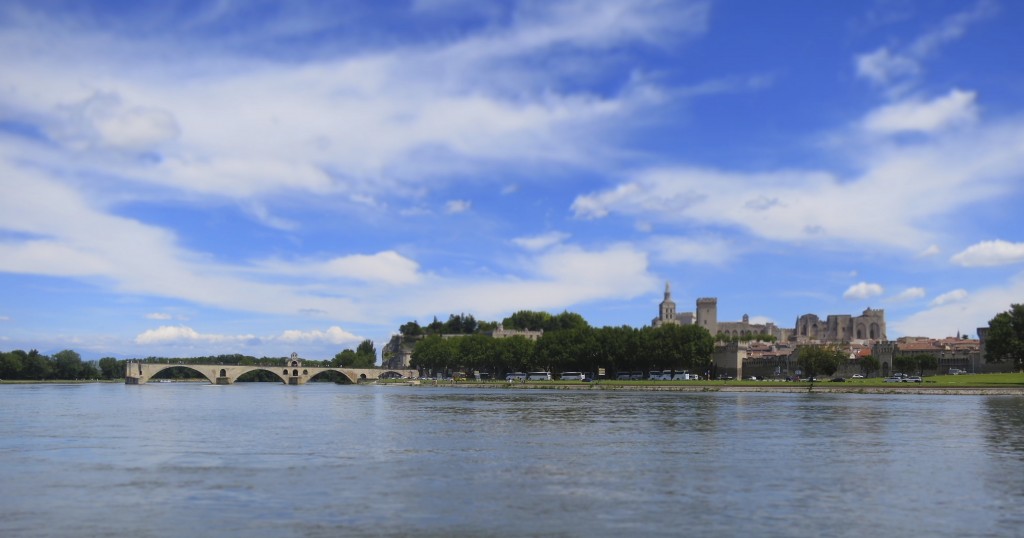 Avignon and its famous Pont d'Avignon.
The bridge was built between 1177 and 1185 and spanned the length of the Rhone River. It fell into permanent disrepair in the 17th century.
Now it is the original bridge to nowhere…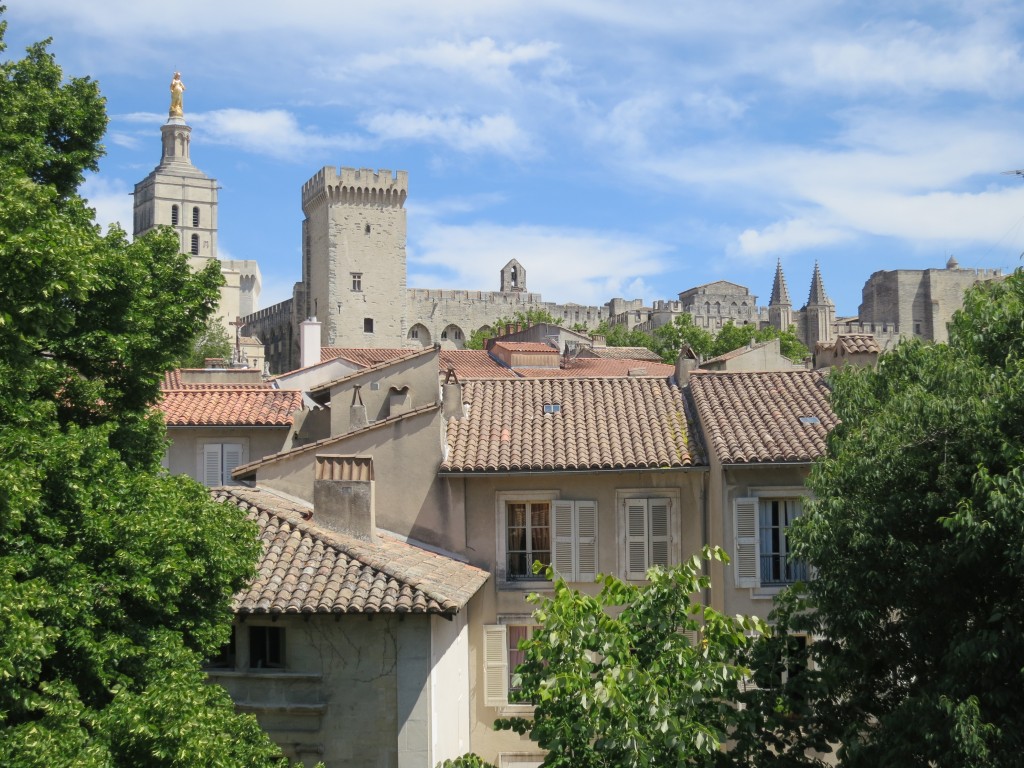 The view from our quaint hotel, Hotel Limas, in the ancient center of Avignon.
Paula and I were picked up by a handsome local (yes, and my friend) at the gare.  He whisked us to our hotel, told us to refresh, see the Palace of the Popes and after he would take us around the region and to dinner.  Ahhhh, aren't friends grand…especially cute ones with accents that make a girl swoon!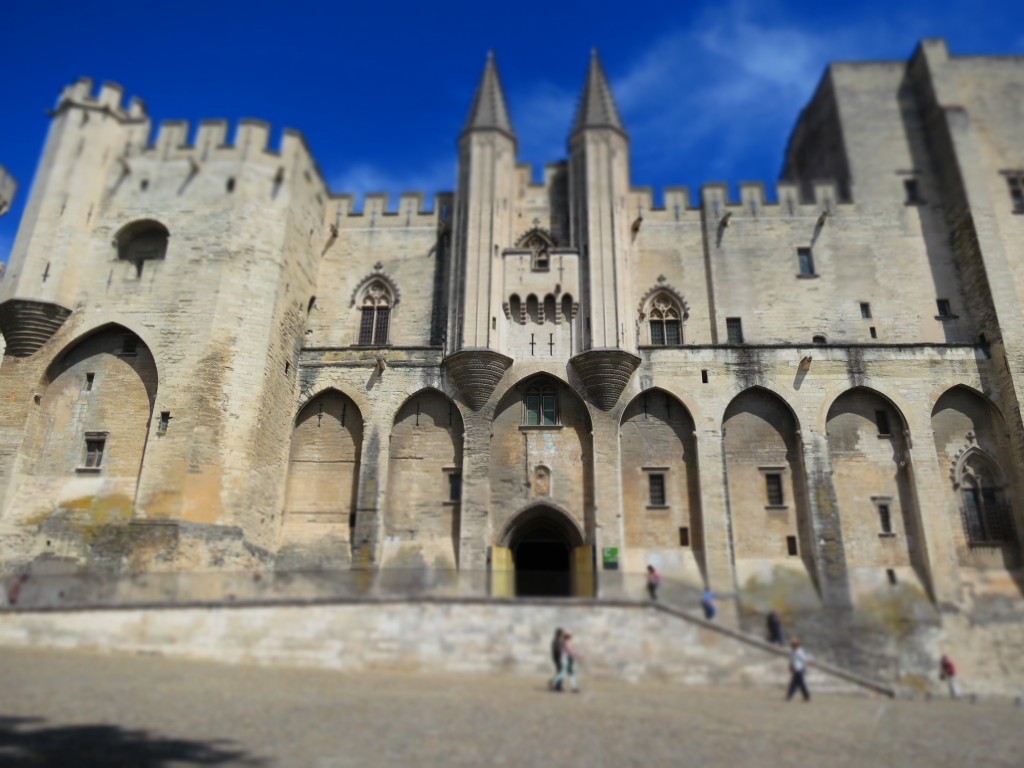 Le Palais des Papes
During the 14th century this was the papal residency and seat of Western Christianity.  The Palais became obsolete when the papacy found it necessary to return to Rome.  The reason, in part,  was due to the strong conviction of both Urban V and Gregory XI that the seat of the papacy should only be near the tomb of St Peter.  Today it is has been classified, along with the historic center of Avignon, as a UNESCO World Heritage Site.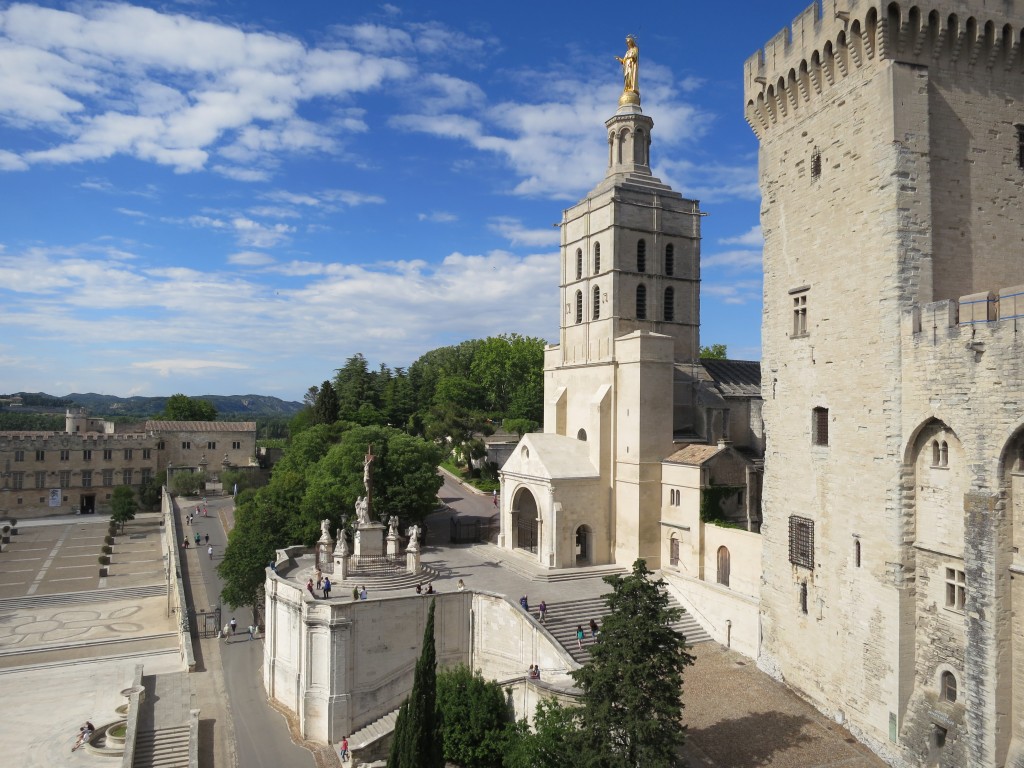 Taken from the top of le palais.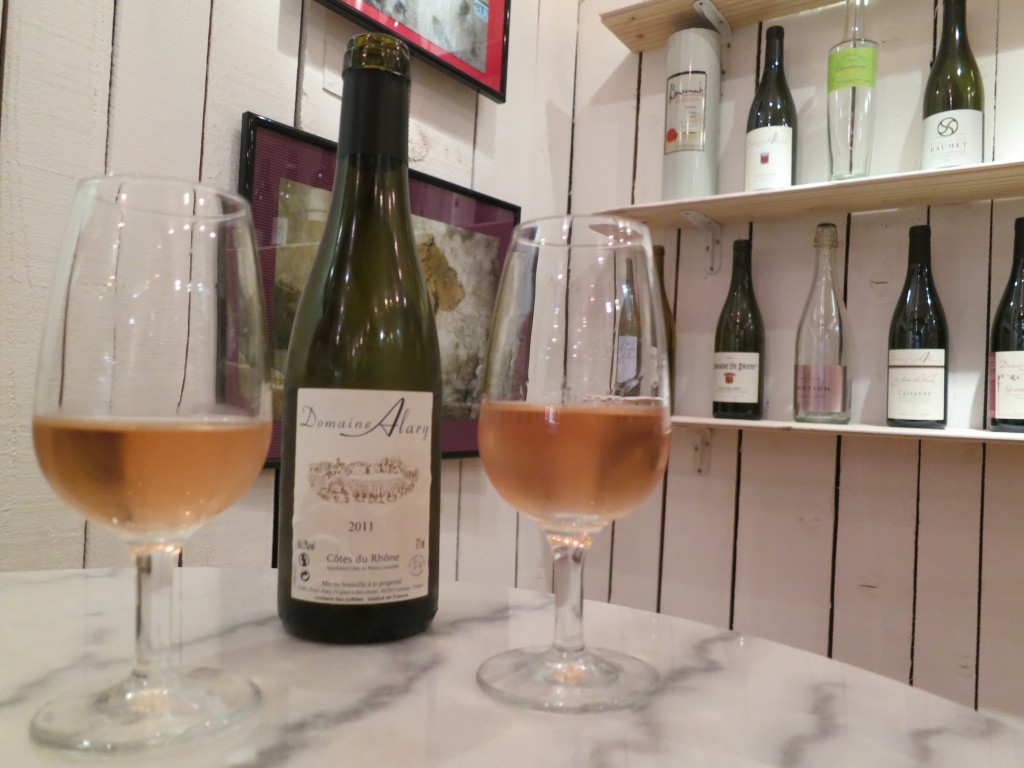 How we celebrated the successful completion of our le palais audio guide tour – a delicate local rose from the Côtes du Rhône.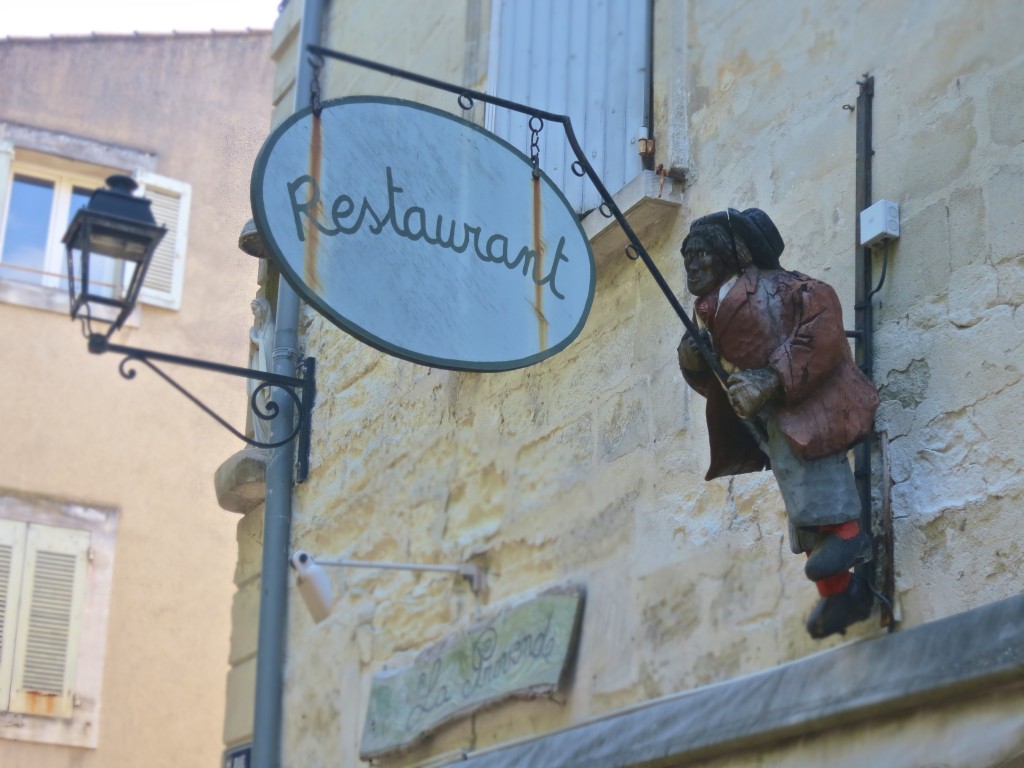 Waiting for our ride outside the hotel…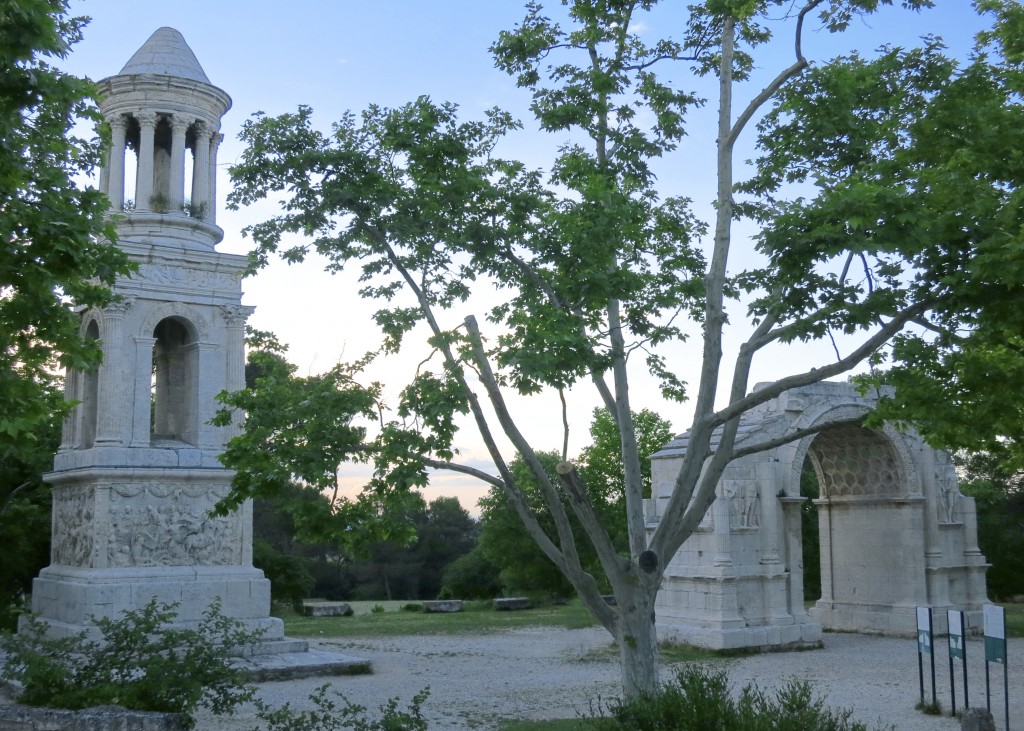 Roman Ruins of Glanum
In Saint–Rémy–de–Provence these near perfect Roman ruins dazzled us.  The detail was astounding. We never would have guessed these were constructed around 20 AD. This was the original portal into the ancient Roman city of Glanum.  At dusk it was breathtaking…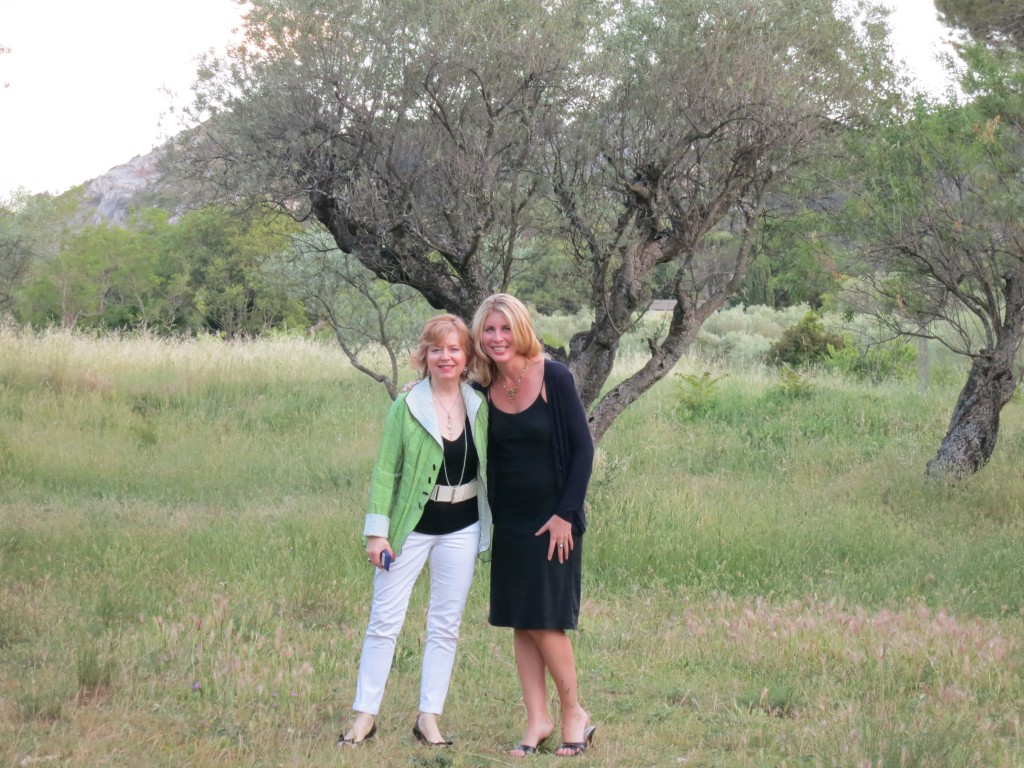 Saint–Rémy–de–Provence is also where Vincent Van Gogh voluntarily entered an asylum in the spring of 1889. This grove of olive trees that Paula and I are standing in front of is one he captured during his time at the asylum.  These olive trees look almost exactly the same as they do in his series Les Oliviers.
Next stop on our private tour – the charming medieval village, Les Baux-de-Provence (Uh, yeah, I was wearing heels on that cobblestone. Tricky, I tell ya).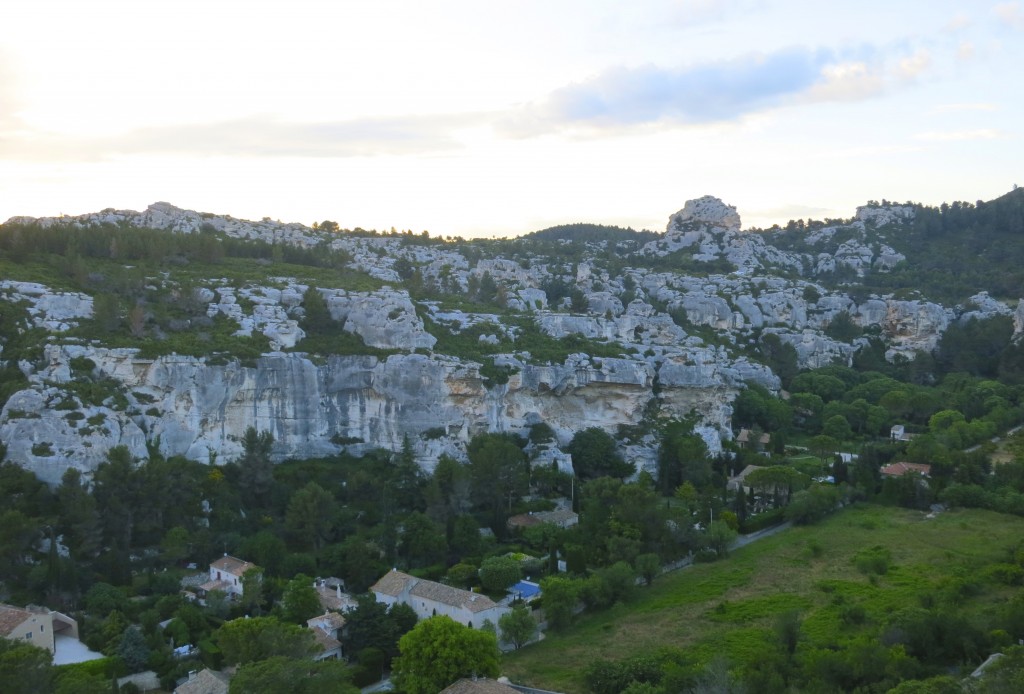 The view from from the walls of Les Baux
This village is actually "ruled" by they royals of Monaco.  In 1642 the town was granted to the rulers of Monaco as a French marquisiate. To this day the title of Marquis des Baux remains with the Grimaldis, although administratively the town is entirely French.  As a note, we did not experience a Prince Albert sighting…
After showing us the home that was the birth place of Nostradamus (Huh!? Who knew that was in Provence!!??), Vincent escorted us to this fairytale 5 star hotel for a little wining and dining Provençal style…
Our apero.
This trio, mini Croque Monsieur, fraise with aged balsamique and a savory patisserie, made a fine introductory pairing to a local red.
My favorite part of the meal? Local escargots harvested from the snail farm just right up the road (it is still a dream of mine to visit a ferme aux escargots).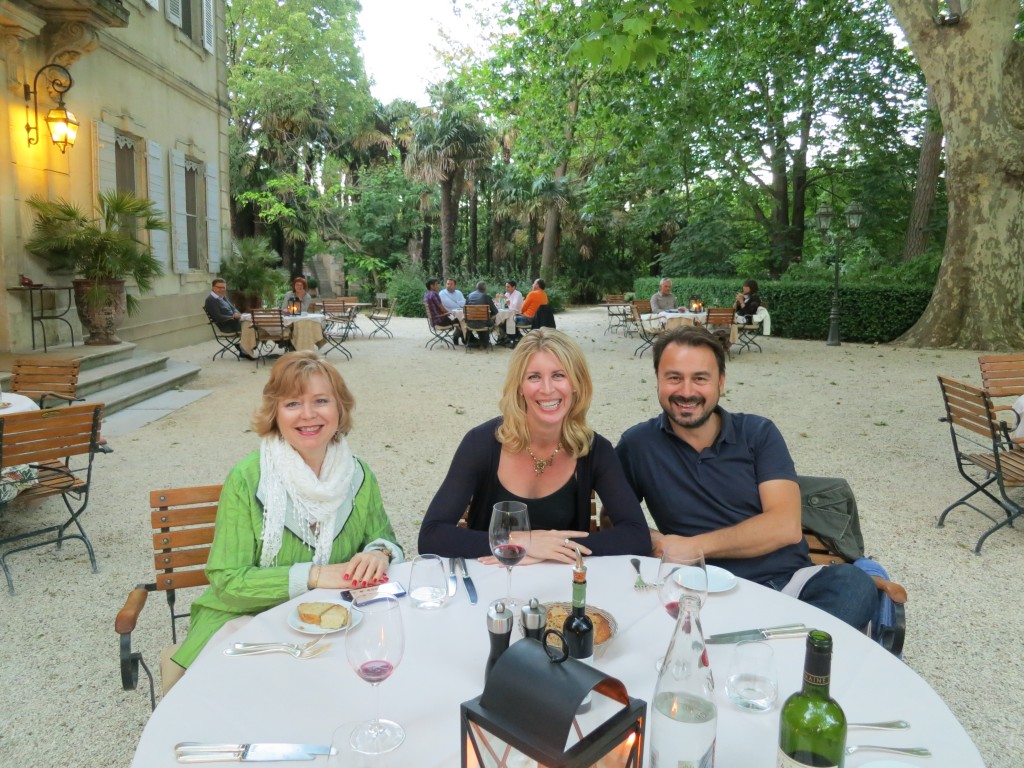 If my smile is any indicator it was an incredible evening at Le Château des Alpilles…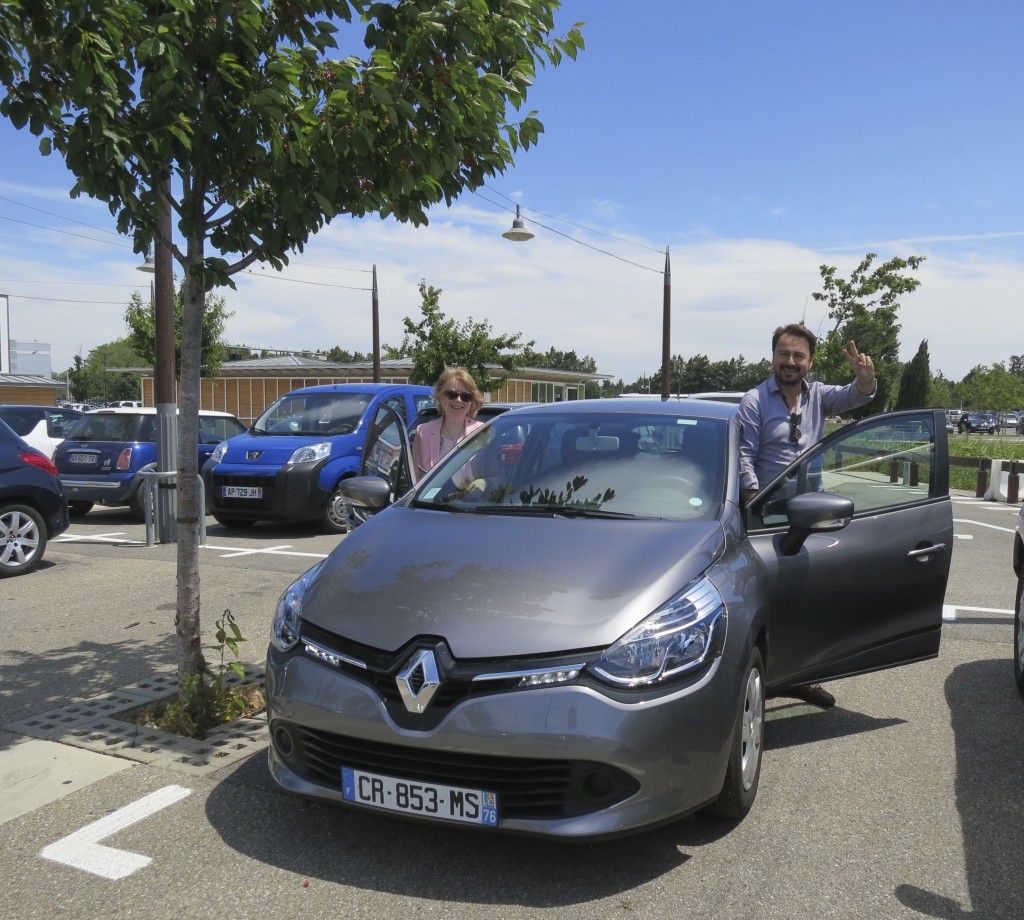 Merci, Vincent, for your amazing southern French hospitality! Gros Bisous!
Now we were on our own! I took the first turn driving. We headed a little north before setting course to our seaside destination.  With two oenophiles in the care we couldn't miss the opportunity to visit….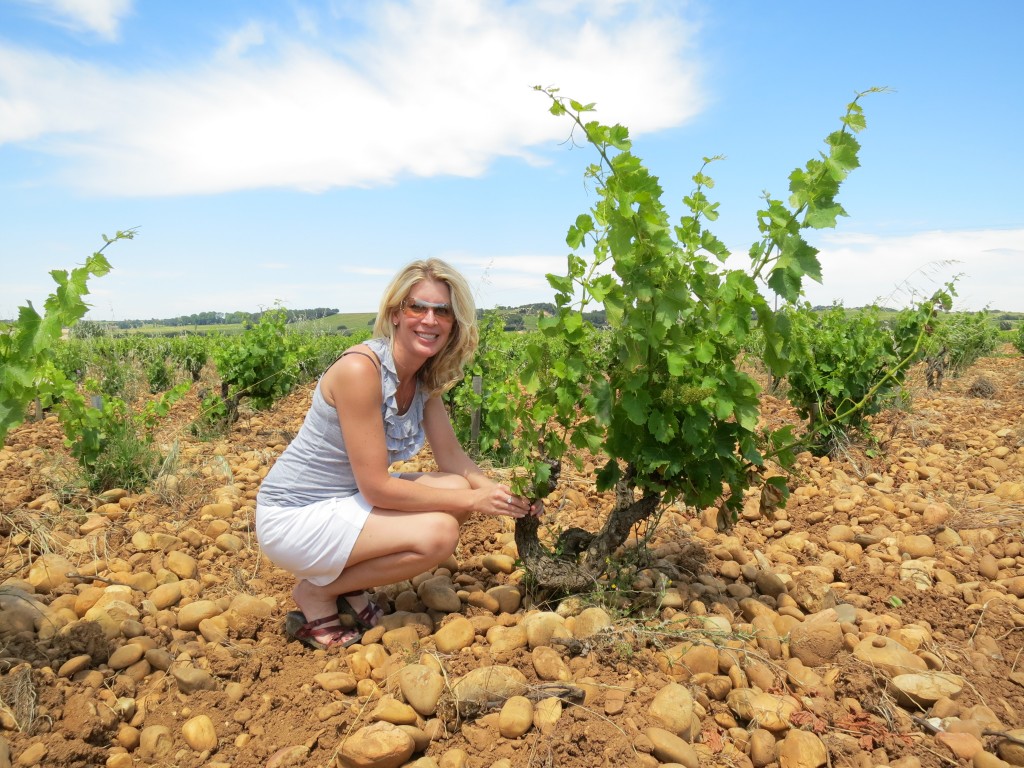 Châteauneuf-du-Pape!
The rocky terroir of the appellation was almost as tricky to navigate as the cobblestone streets of Les Baux, but we braved the pebbles to touch the fabled vines.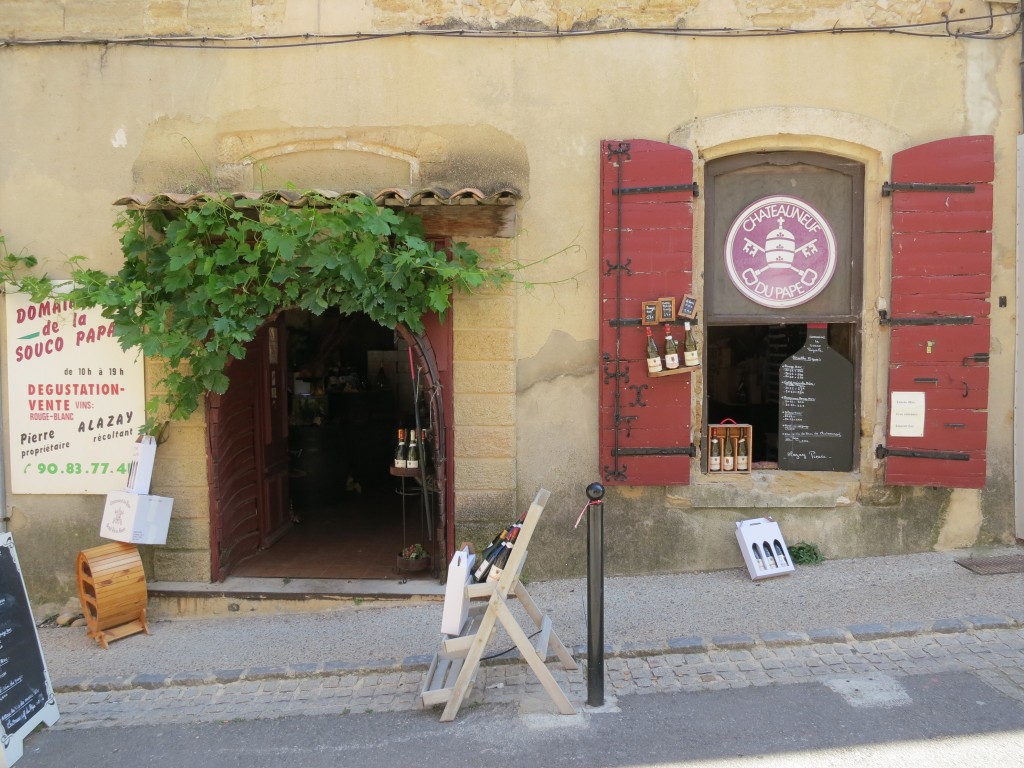 Cave in the village
It is thanks to the papacy during its time in Avignon that viticulture in area was promoted.  We Catholics do love our wine and, in this case, the entire world now benefits from a few popes in the 14th century demanding quaffable pairings at mealtime.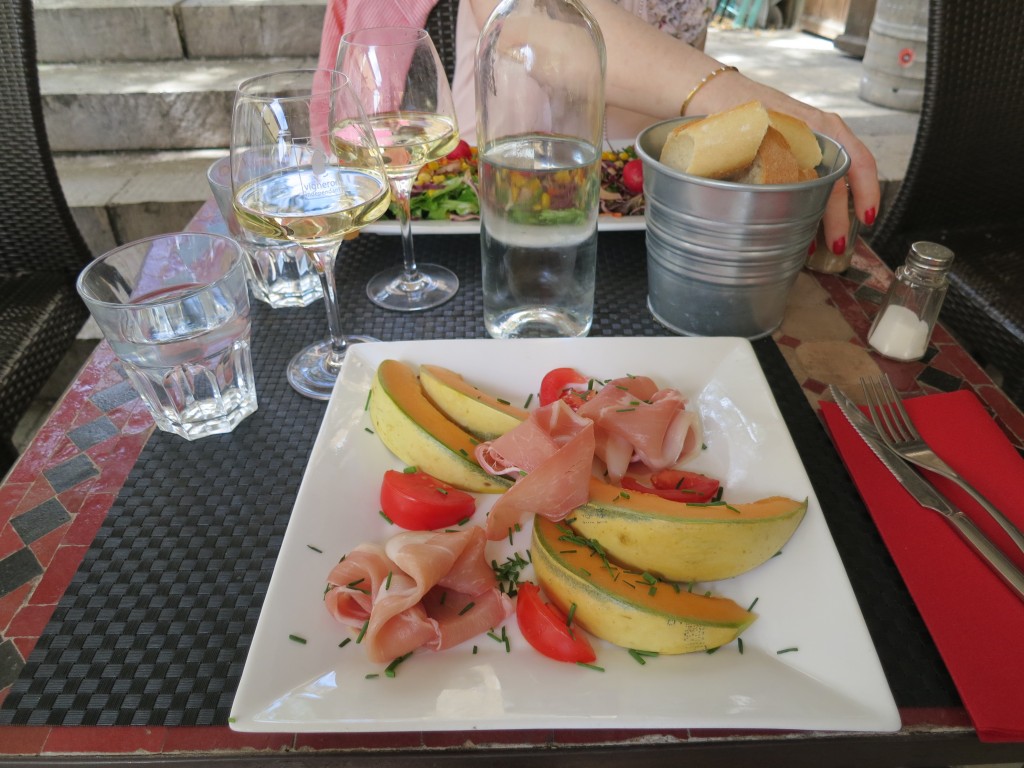 Perfect lunch to pair with the more allusive white wine that is from Châteauneuf-du-Pape.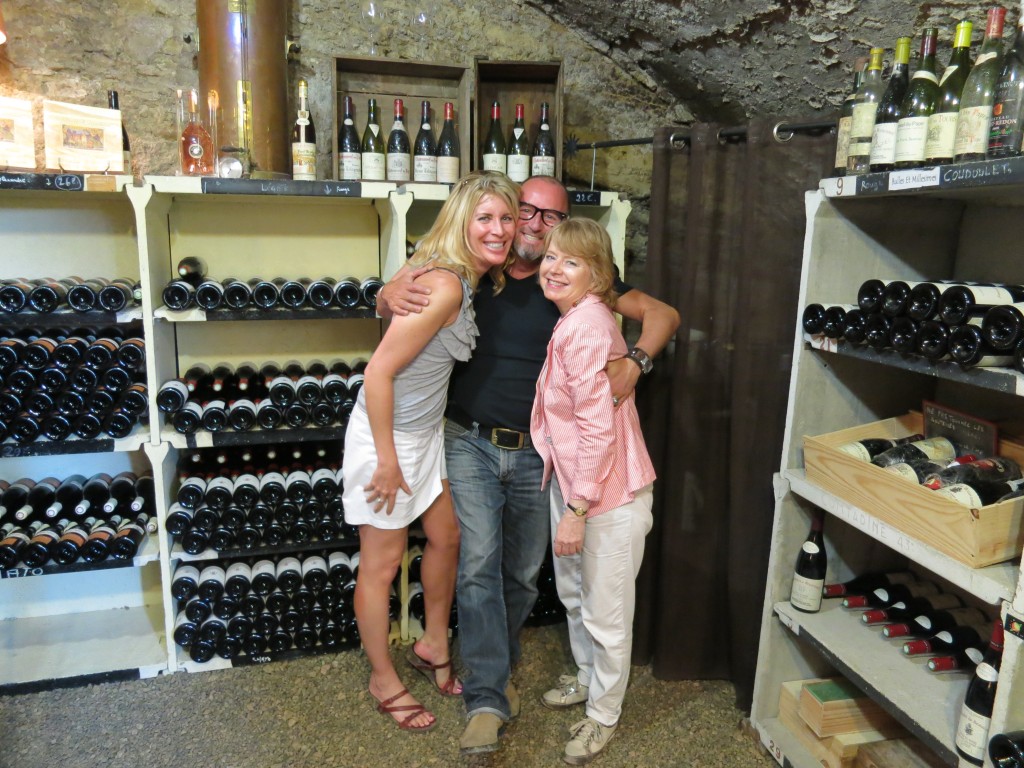 And we couldn't come all this way without doing a little tasting :)….
Clearly this picture was taken after an enjoyable episode with the propriétaire of the cave, Jacques.  Thirteen different varieties of grapes are grown in the region and Jacques insisted we try them all.  Thankfully they were presented mostly as blends so I didn't have to start spitting :). The elegant 100% Grenache he served still lingers on my palate…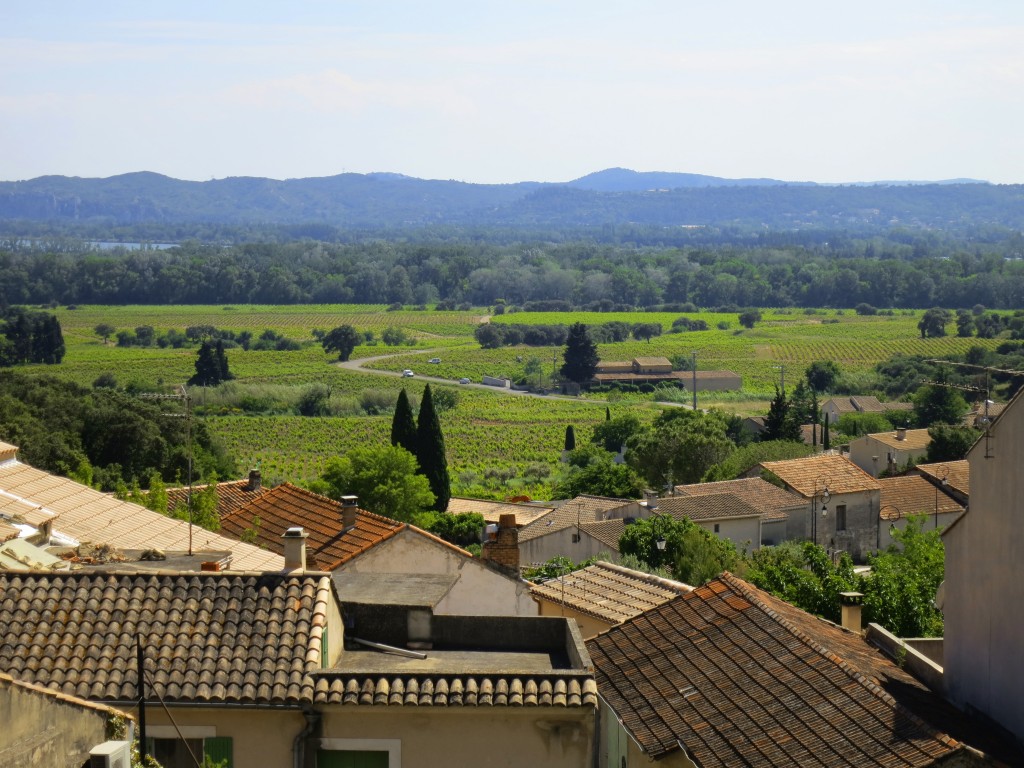 Are you booking your ticket yet?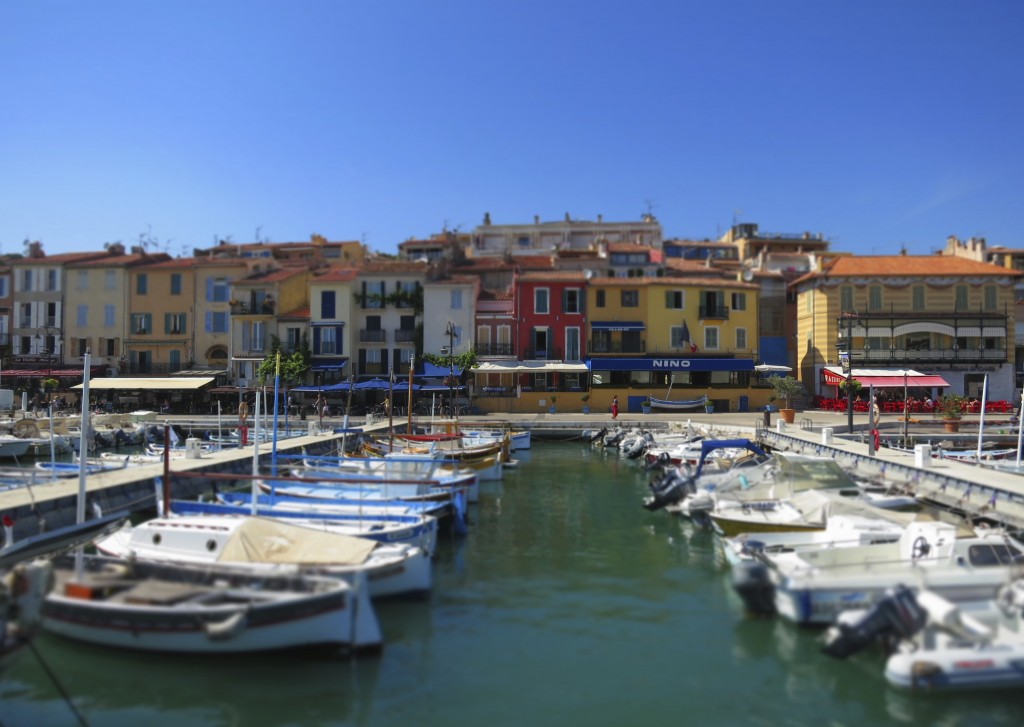 A 2 hour car ride later we arrived at the picture perfect Mediterranean town of Cassis!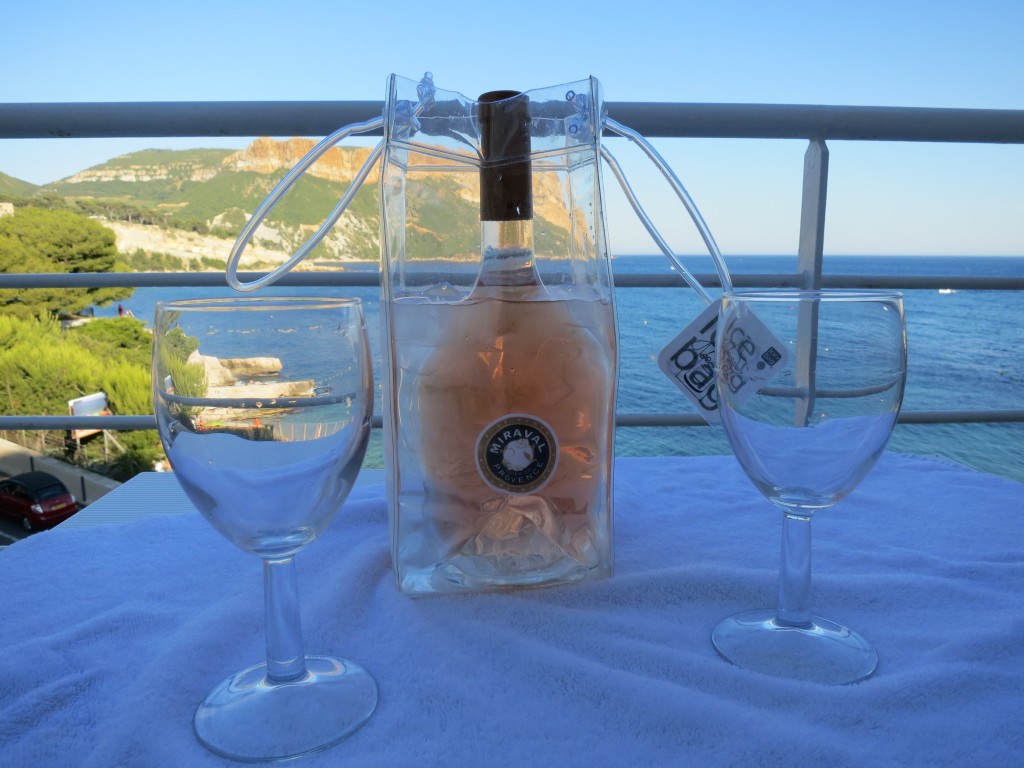 First thing first, celebrate!
This rosé, Miraval, was produced from a vineyard that Brad Pritt and Angelina Jolie own in Provence. Paula bought this unique bottle in Châteauneuf-du-Pape. After a series of somersaults induced by discovering the view from our hotel room, all we could do was take our spots on the balcony to test this refined, refreshing rosé and enjoy the gorgeous sea in front of us.  I counted my blessings, indeed.
Cassis is famous for its cliffs (falaises) and sheltered inlets called calanques.  Here is a better look of one of those falaises taken from our balcony.  The rock was constantly changing colors with the sun. Stunning.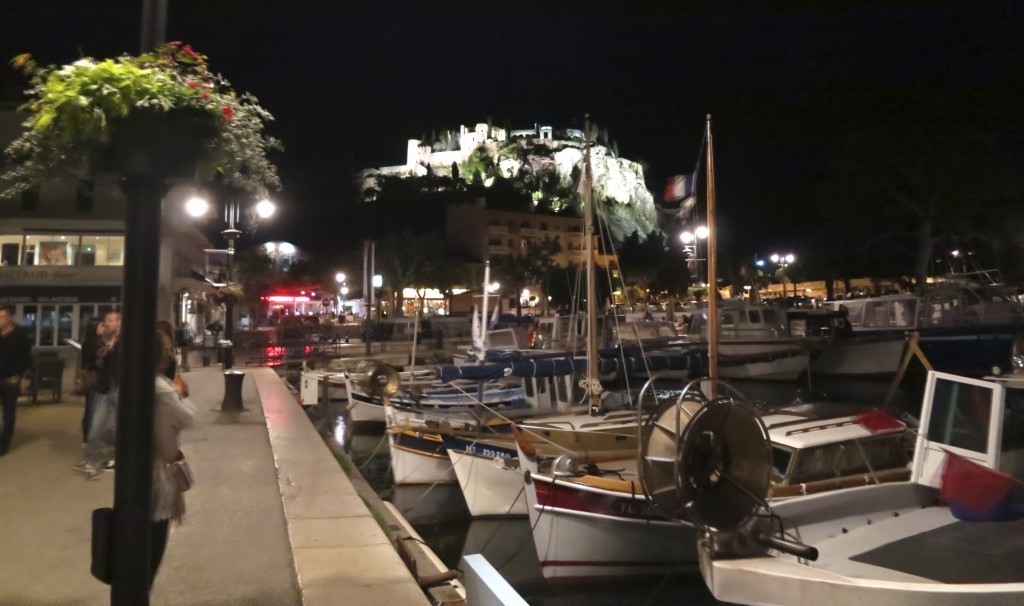 The small port town by night.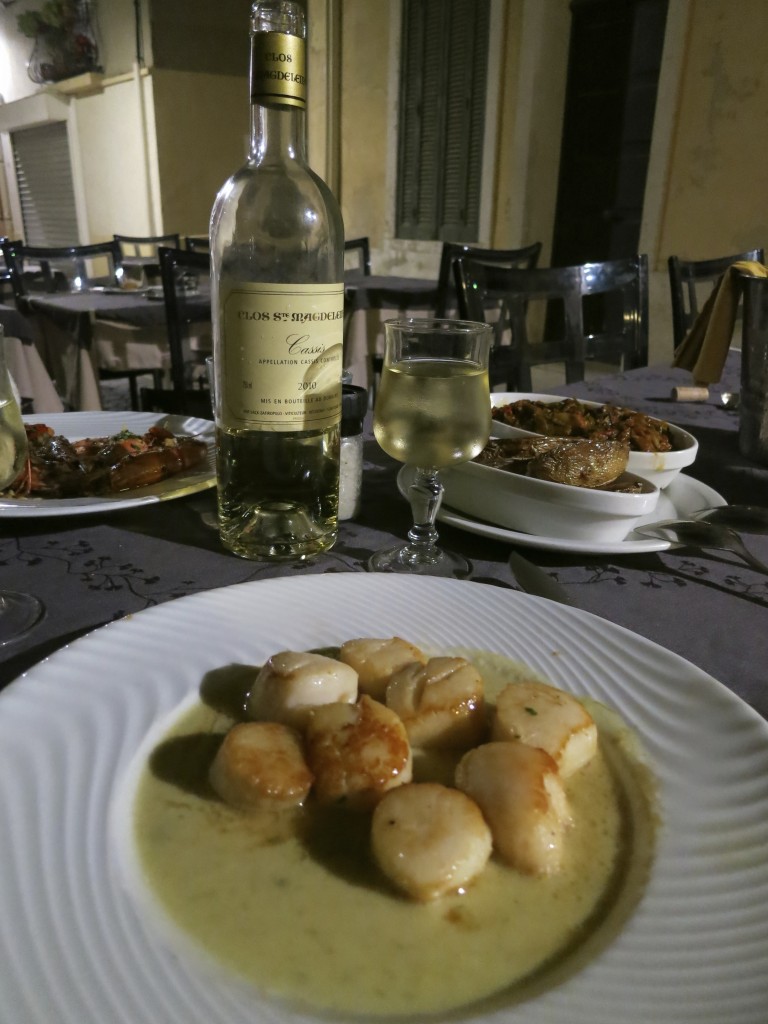 We vowed only to order seafood during our seaside stay!
This little restaurant, Le Bonaparte, served fresh selections and was excellent.  We enjoyed ourselves and the food so much that we…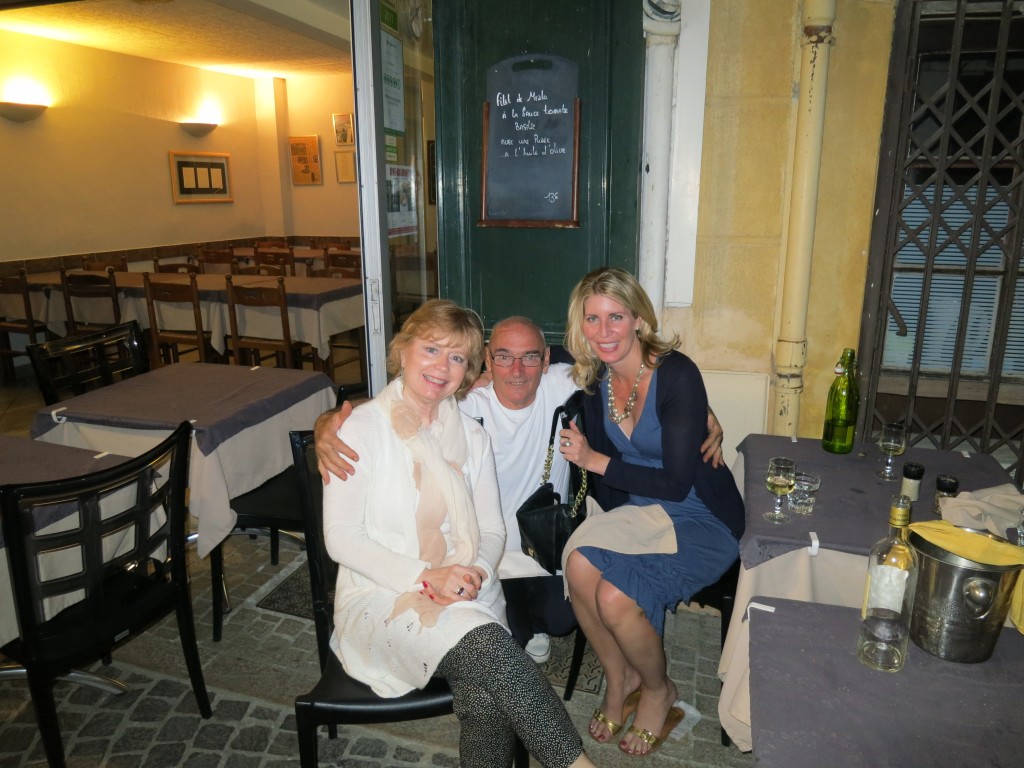 …shut down the restaurant (which if you know me well is really no surprise)!
Jean-Marie, the delightful owner and chef, came out so we could pay him our compliments.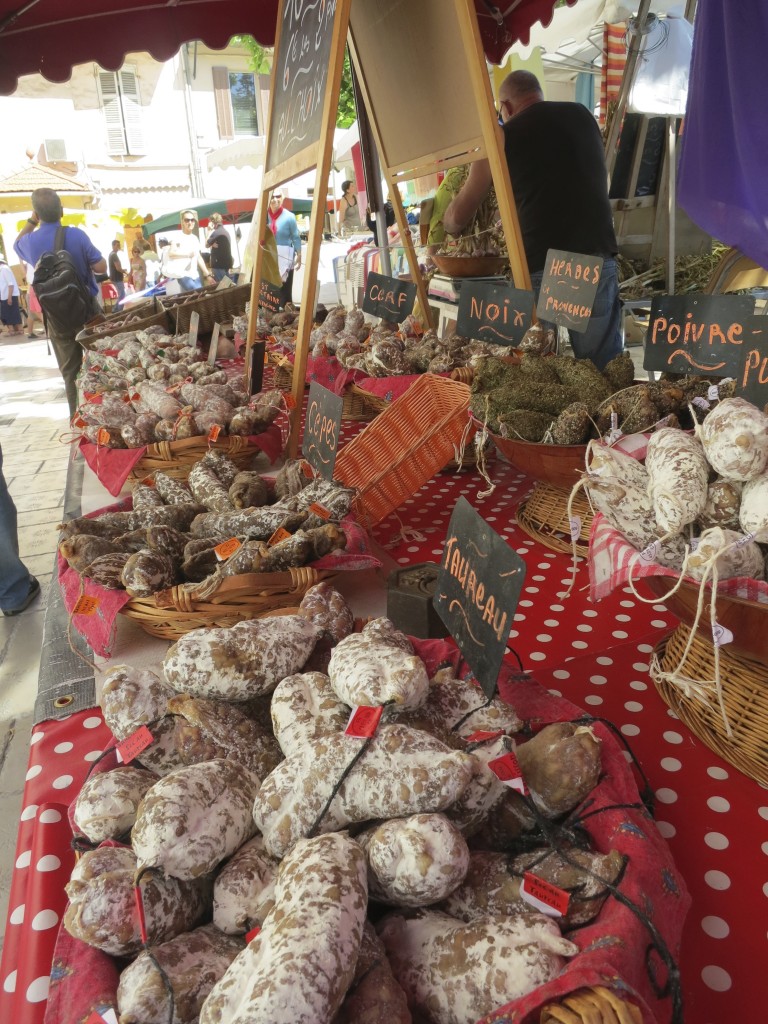 Morning market in Cassis.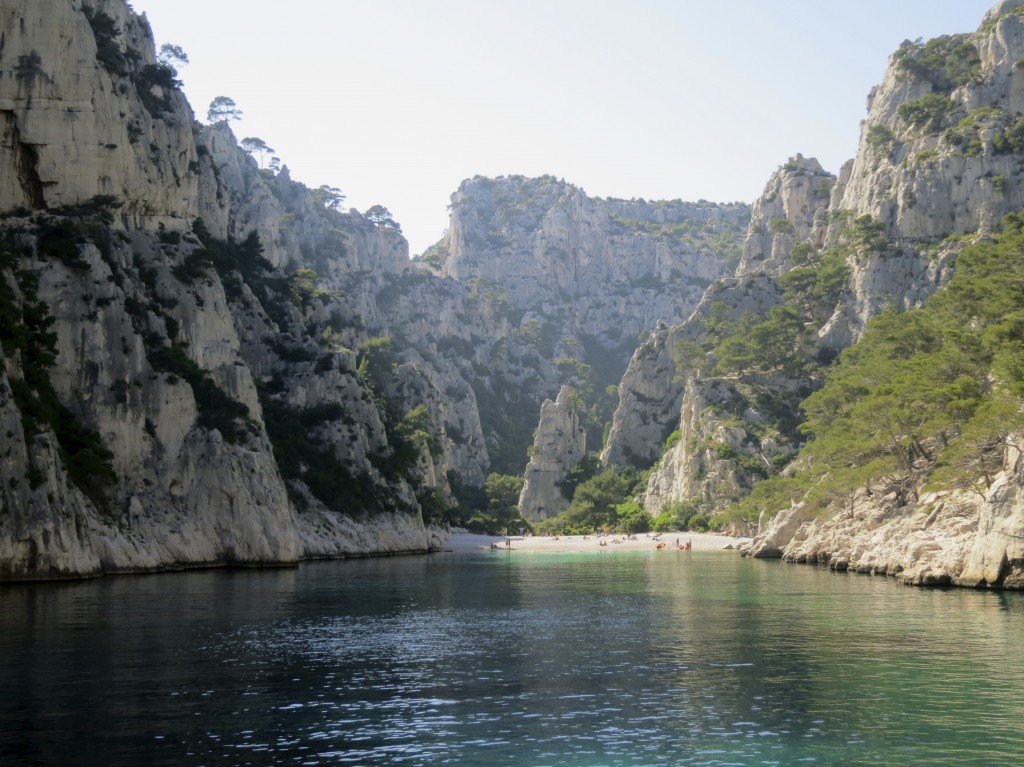 Afternoon boat trip to visit the calanques.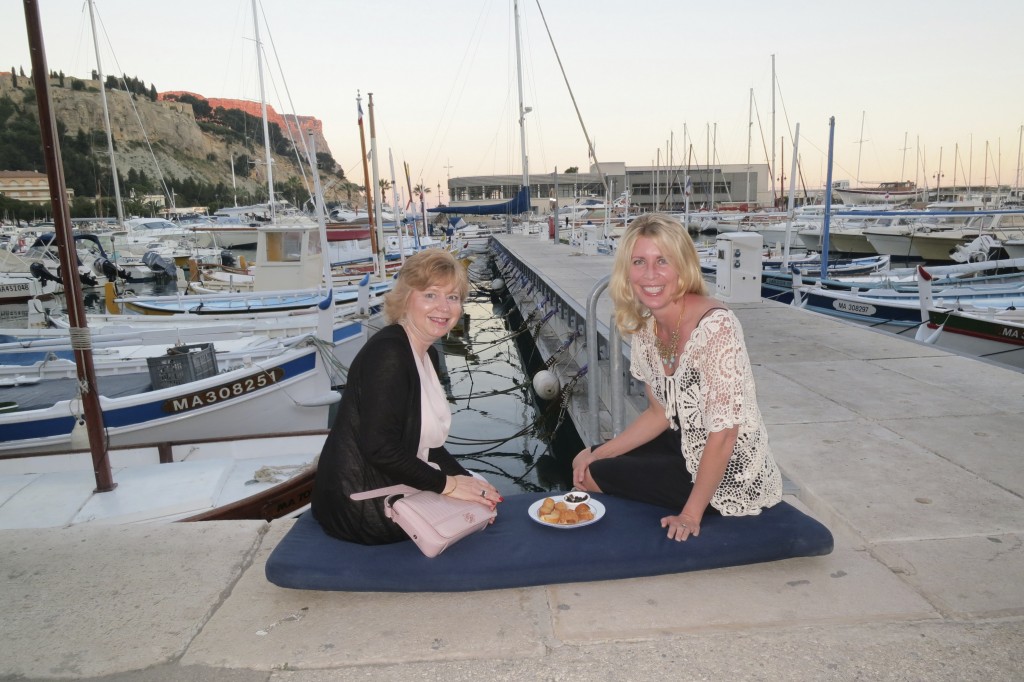 Evening apero while waiting for our table.
Night view of the Castle of Cassis.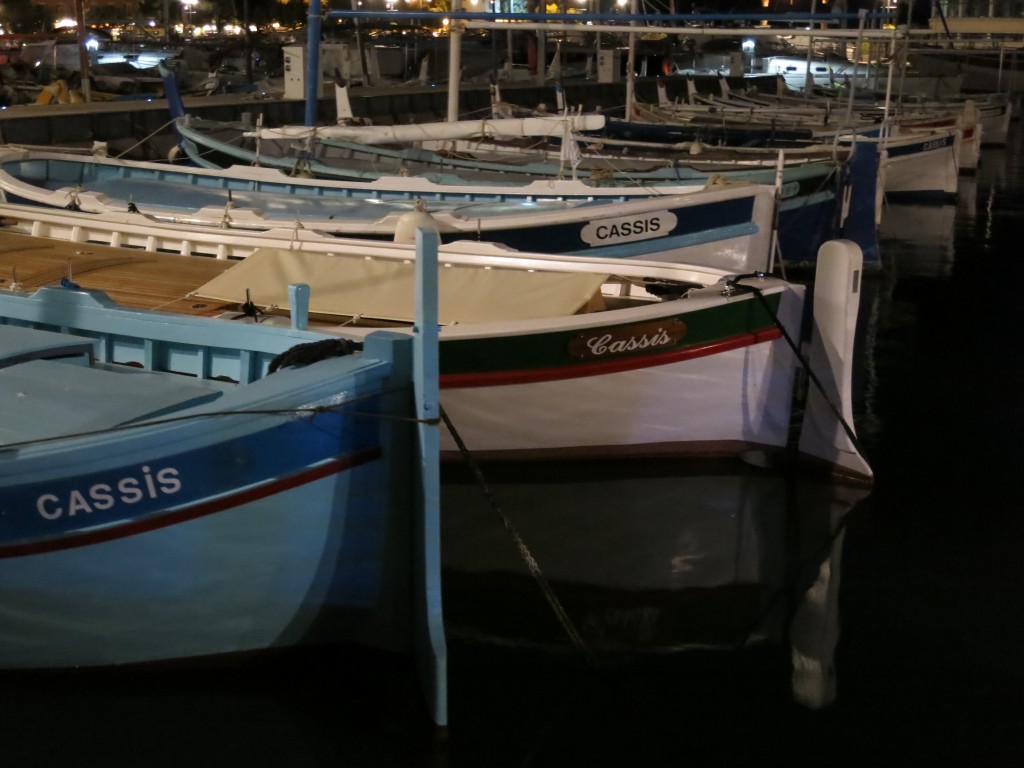 Always splendid all the time.
Our final morning we did a good-bye stroll through town. I soaked in as much of the Mediterranean sun as possible and took many deep breaths of the salty, seaside air.  Looking around at the open cafes, bright window boxes, colorful building facades and charming locals I thought it would have been impossible for Paula and I to have chosen a more idyllic getaway. Bravo, Paula, for having us come to Provence!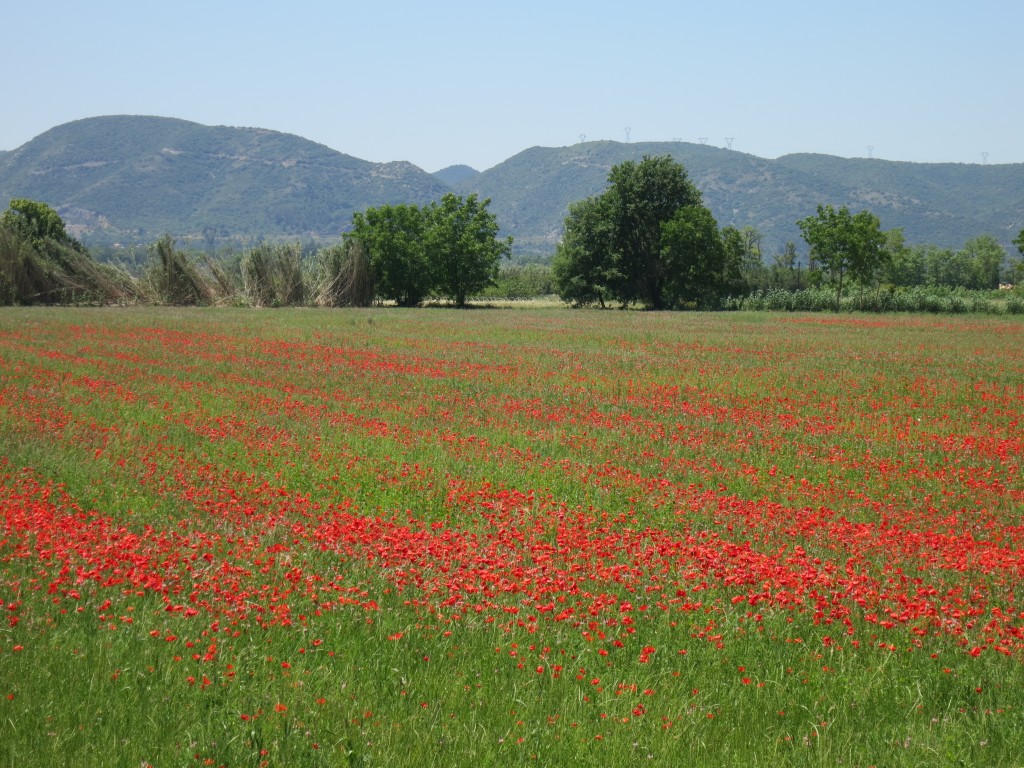 "Provence is a country to which I am always returning, next week, next year, any day now, as soon as I can get on a train." – Elizabeth David, British cookery writer
I see her point and will be doing the same.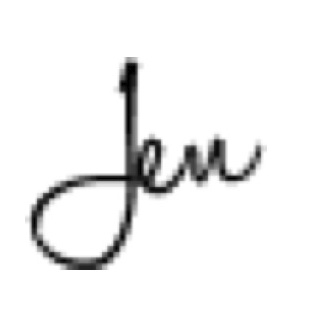 Plan Your Adventure:
Avignon
Hotel Limas
Saint Rémy
Le Château des Alpilles
Cassis
Hotel de la Plage
  Le Bonaparte
14 rue General Bonaparte
13260 Cassis, France
Poissonnerie Laurent
6 quai Jean Jacques Barthelemy 13260 Cassis, France
<a href="http://www.bloglovin.com/blog/10337761/?claim=268xu2d65r7″>Follow my blog with Bloglovin</a>