Foreword by Jen:  When talking about my little ole blog I like to exclaim, "It is one of the best things I have ever done!" I do enjoy sharing my adventures, but my biggest joy and thrill is all the interesting people that tend to drop into my life as a result of it.
For example, I have shared coffee dates with a local reader I now call a friend. I have fielded early morning phone calls from an Israeli reader staying in one of the cities I visited in India back in October. I have responded to numerous emails from gutsy women travelers who are seeking advice or inspiration as they set out on their own journies. Once I was even contacted by a gentleman from Dubai who was sincerely asking me if I had any gold miner or seller contacts in Mali or Senegal (Huh!?). He was aware of his bizarre request through an anonymous email, but felt compelled to write regardless as he was "intrigued" by my blog "in a peculiar way." Oh, the flattery!
The delightful article I am posting today was sent to me from another one of my wonderful readers, an Indian named Vinod. He contacted me requesting to submit a guest post.  At first I was hesitant as I didn't know Vinod, but decided it would be fun to learn about a new part of the world (I do find it interesting that taking a wooden pinasse up the Niger River in Mali doesn't make me hesitant, but benign written content for my blog from a stranger has me all aflutter. Go figure.).  I am super excited about the article he wrote. Prior to Vinod contacting me I did not know about the importance of  Mount Kailash and Lake Manasarovar…nor its existance. I hope you enjoy learning about this magnificent corner of our world as much as I did. Thanks, Vinod!
***********
The Importance of Mount Kailash and Lake Manasarovar 
Located to the north of the Himalayan barrier in Tibet, Mount Kailash and Lake Manasarovar Yatra are popularly known all through the world for their religious value, exquisite natural beauty, cultural significance and mythological importance. Most Hindus worship the place as the residence of Lord Shiva. The region also holds immense importance for the Jain and Buddhist religions. Being a place of great power and value, thousands of people undertake the treacherous and rigorous journey through the mountains and plains of Nepal and China (Tibet) to reach this sacred land.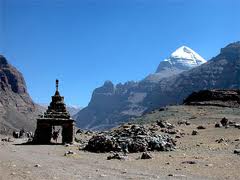 Sheltered by the magnificent Himalayas, Kailash-Manasarovar is one of the most important pilgrimage destinations today. The Skanda Purana (Hindu religious texts) quotes that this place is the home of Lord Shiva. Lake Manasarovar, otherwise known as Anotatta or Anavatapta, means a lake without any heat or trouble according to Pali Buddhist scripture and Sanskrit Buddhist writings. This region is revered by all the religions and people throughout the world in various ways. Associated myths and legends that surround the region prove the unity of all religions and that God is one.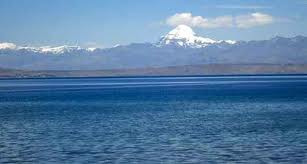 Lake Manasarovar is nearby the sources of the four greatest rivers in Asia, respectively the Brahmaputra, Indus, Karnali and Sutlej. Hence it is considered to be the axial point of all the rivers, making it the most sought after pilgrim spot for thousands of years. According to Hindu mythology, the lake was first created in the thoughts of Lord Brahma and then placed on Earth. Its name, "Mansarovar" is a combination of the Sanskrit words "Manas" and "Sarovar" meaning "Mind" and "Lake" respectively. Per Hindu theology, one who drinks water from the lake will go to the Abode of Lord Shiva after death and is believed to be cleansed of all his sins committed over even a hundred lifetimes.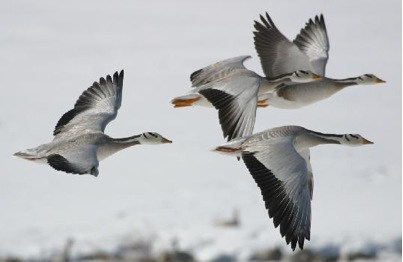 It is also believed that the lake is the home for the Hamsa goose in the summer time. The Hamsa goose is a very important symbol of the mythology, representing wisdom and beauty.
As this place is looked at as the most sacred pilgrimage spot in the whole of Asia, many Shiva devotees flock to the region of  Kailash-Manasarovar Yatra to attain eternal bliss and soulful peace. They come seeking harmony and inner peace, and the holy shrine endows the pilgrims with great harmony, health and wealth. Some Tibetans also follow a tradition where they leave an item such as an article of clothing, a drop of blood, hair or a stone to symbolize leaving their egos and prejudices behind.
Kailash Manasarovar is directly connected to many major areas in India's northern state of Uttarakhand, often referred to as the "Land of the Gods" due to the many holy Hindu temples and pilgrimage centers found throughout the state . The region was initially closed to pilgrims from the outside; no foreigners were allowed between 1949 and 198 due to the Indo-China border disagreement. Nevertheless, things are back under control today as the Indian Ministry of External Affairs has collaborated with the Chinese Government in 1981 to conduct various tours to the Kailash Mansarovar over the Lipulekh pass. Only a limited number of people are permitted to visit the place each year yet all Shiva Devotees vouch to go for the holy pilgrimage to Kailash.
Email: info.raghukul@gmail.com
Email: booking@kailash-mansarovar.co.in
*****************
Important Afterword by Jen 🙂: Just a note to my readers, I have NOT taken Vinod's tour nor do I endorse it as I have not had personal experience with this company.  If you wish to further pursue a pilgrimage to Kailash-Manasarovar (as I now do!), please make sure you due your own due diligence to find a tour that is best suited to you, your budget and  your comfort needs…and then write me with all the details of your voyage!!!
Now back to the business of working on my business, which is coming along quite nicely! Perhaps my next post will be about that adventure (which at time leaves me paralyzed in front of my computer…so much to do that some days I don't know where to begin!!! *humpf*)…
…or it will be about Paris.  This time next month I will in my beloved city.