The sun is setting on my last day here in Bhutan.  I have just finished a 5 hour uphill hike to Bhutan's famous Tiger's Nest viewpoint and now I recover in my hotel room – with Bhutanese wine (blah!). The room I have been given has a fantastic view of an ancient Dzong (fortress) at the foot of the mountains.  I also have a bird's eye view of the airport… a perfect reminder that I have a 9am flight back to Delhi tomorrow. 🙂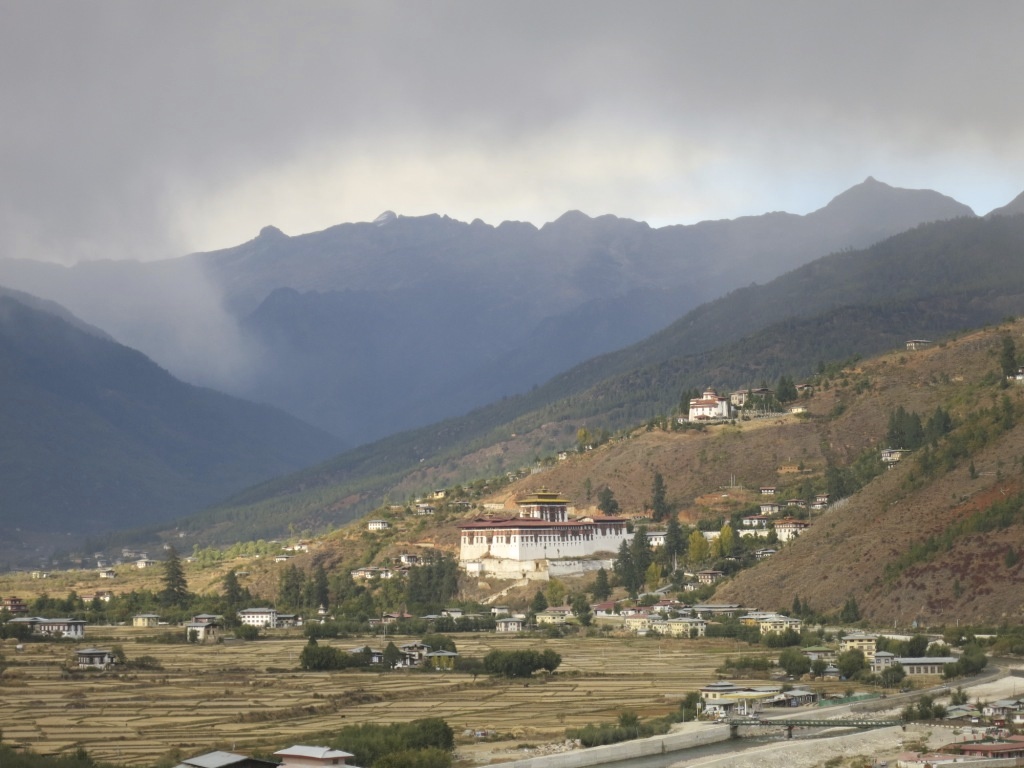 Most places I have visited I have left them confident in the fact that I will visit again.  I don't know if it will be true for all, but genuinely believing that when I board the plane makes the departure easier. "See you next time," is always more comforting than, "good bye."
I don't have that same confidence as I get ready to leave Bhutan. Perhaps it is the sheer expense of visiting this place ($290 for a visa…PER DAY), perhaps it is the feeling that I have experienced what I came to see, perhaps I believe this personal pilgrimage has been enough to touch my soul for a lifetime…whatever the reason, I will be saying "good bye" to this country tomorrow.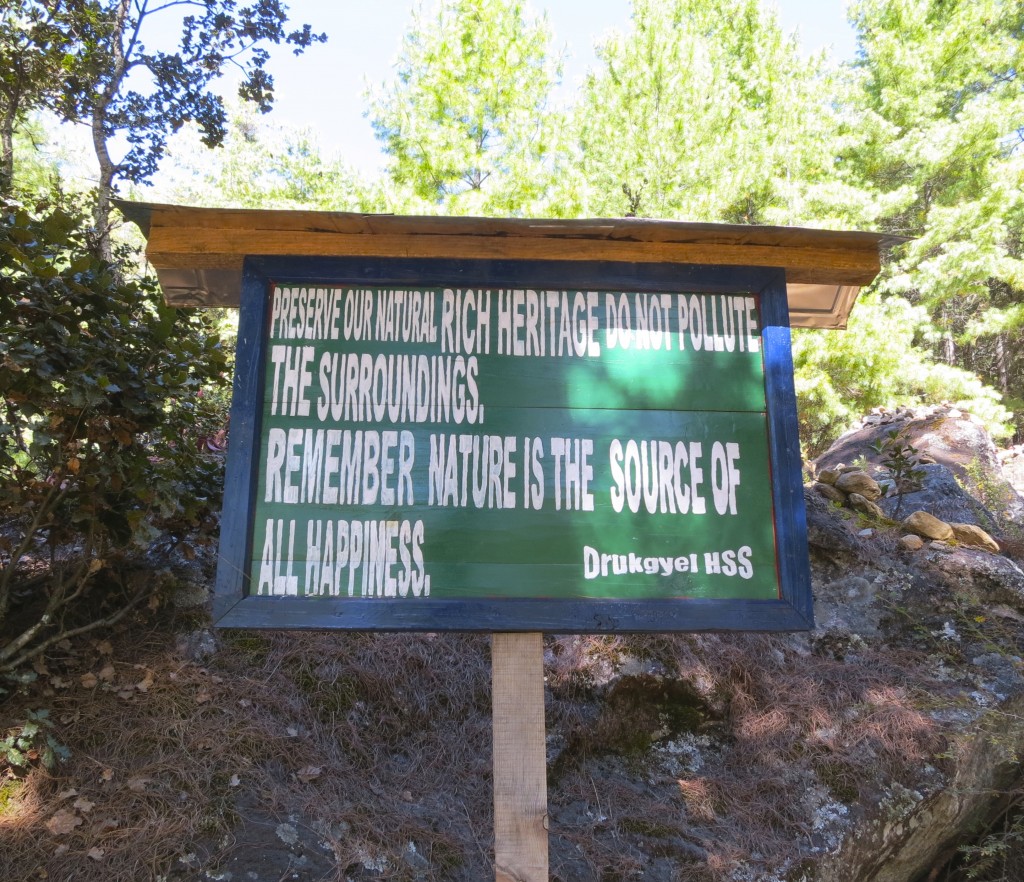 "Preserve our natural rich heritage, don't pollute the surroundings. Remember nature is the source of all happiness."
I loved this sign at the beginning of the hike today. SO BHUTAN!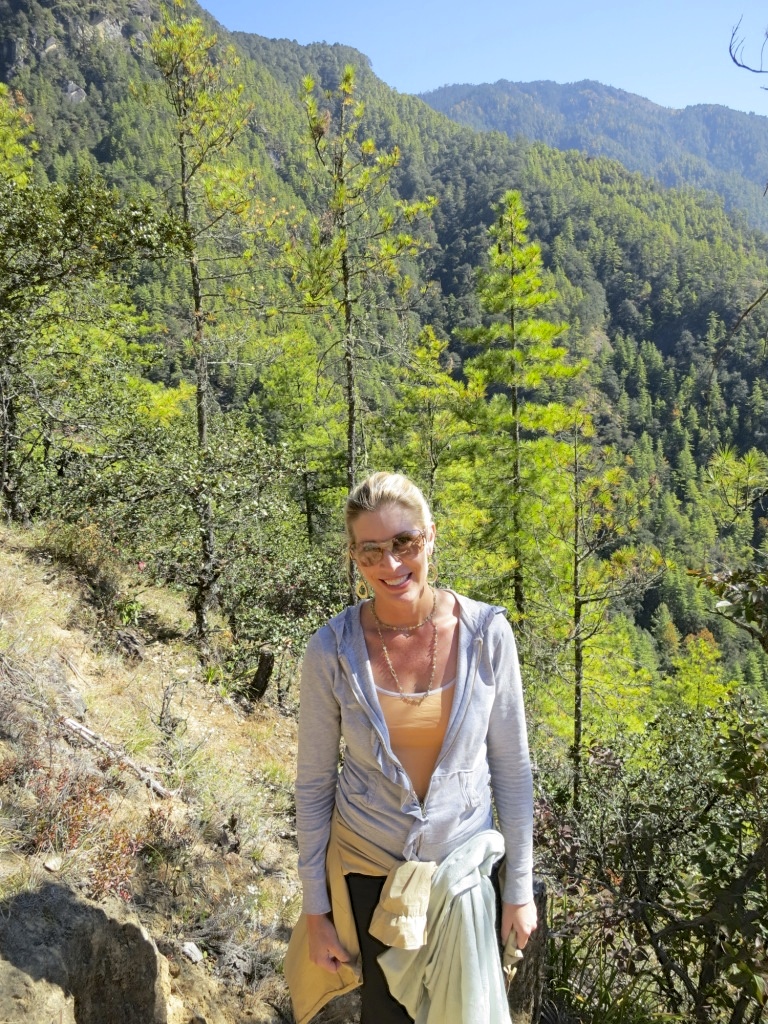 A quarter of the way up…and still smiling.
Ugyen, my guide, told me, "The harder your effort on a pilgrimage, the better your karma." This led to us taking the "shortcut" straight up the mountain!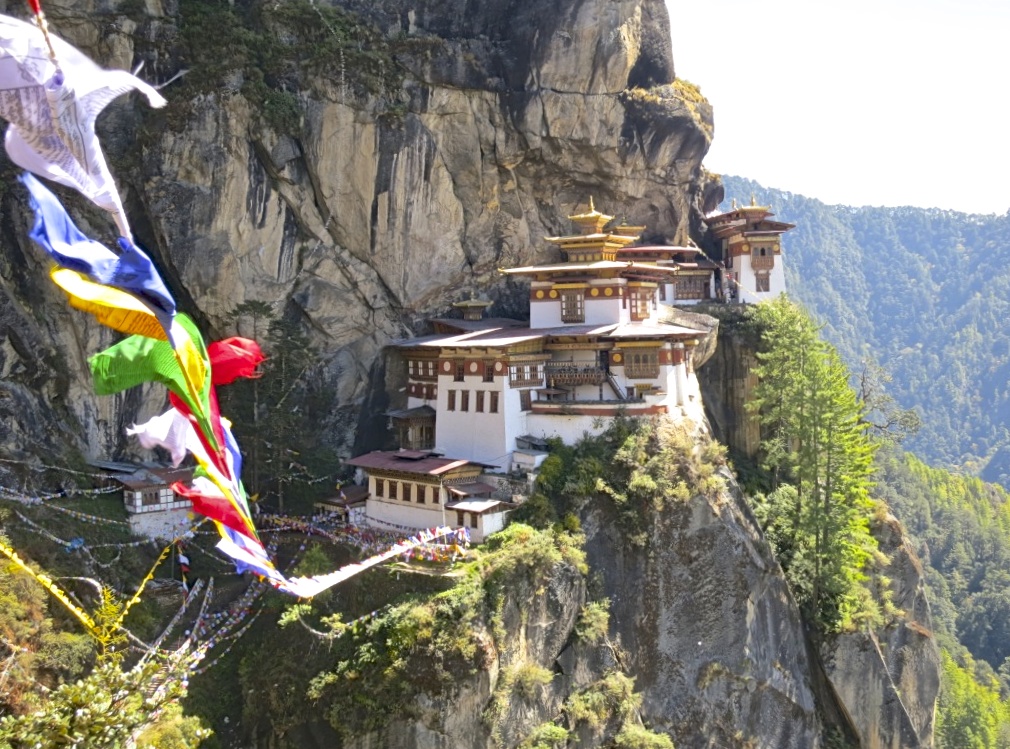 Part of the Tiger's Nest is a monastery called Kyichu Lhakhang.  It was originally built here in 659 A.D. by a Tibetan King. It is one of 108 monasteries that were built across the Himalayans by this Tibetan king to subdue the Demoness that lay across the region.
All ages, young and old, made the pilgrimage up the mountain.  Many carried bags of rice, chips, cookies, fruit and incense to offer Lord Buddha and other deities at the top.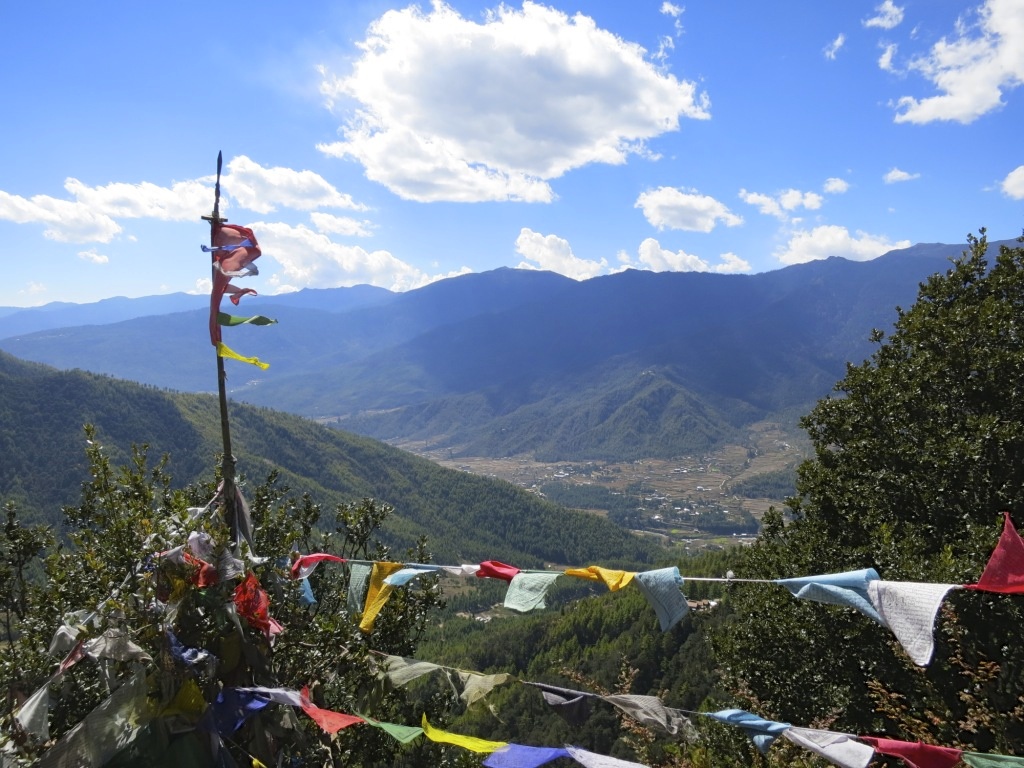 Valley view…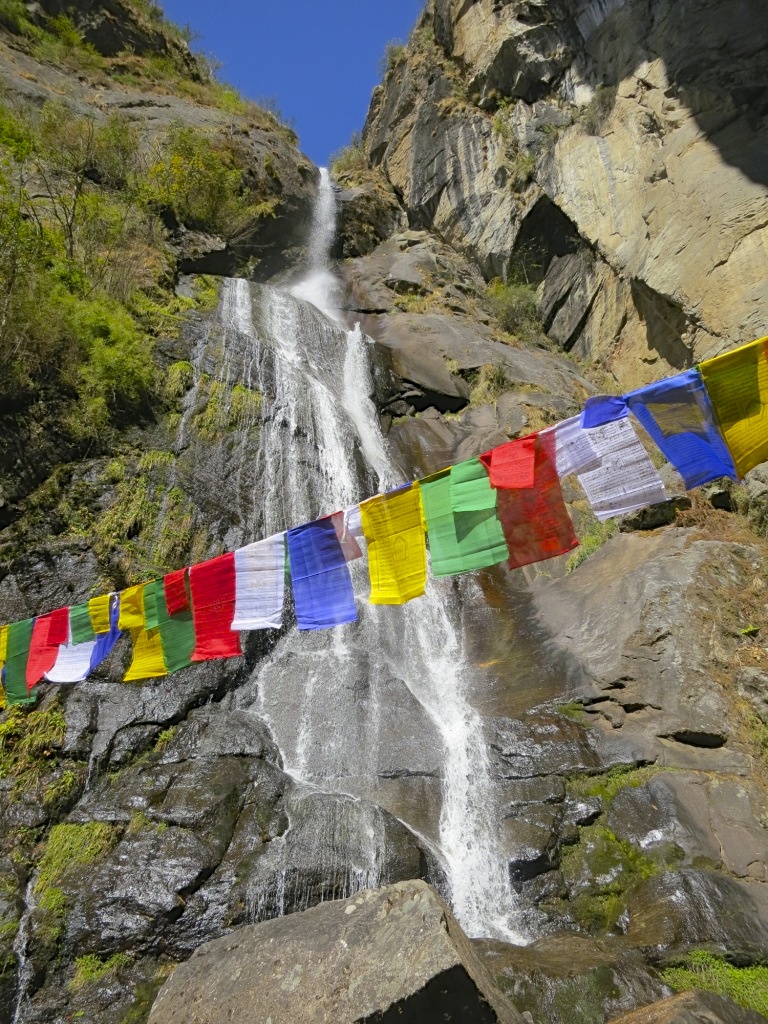 Waterfall at the top…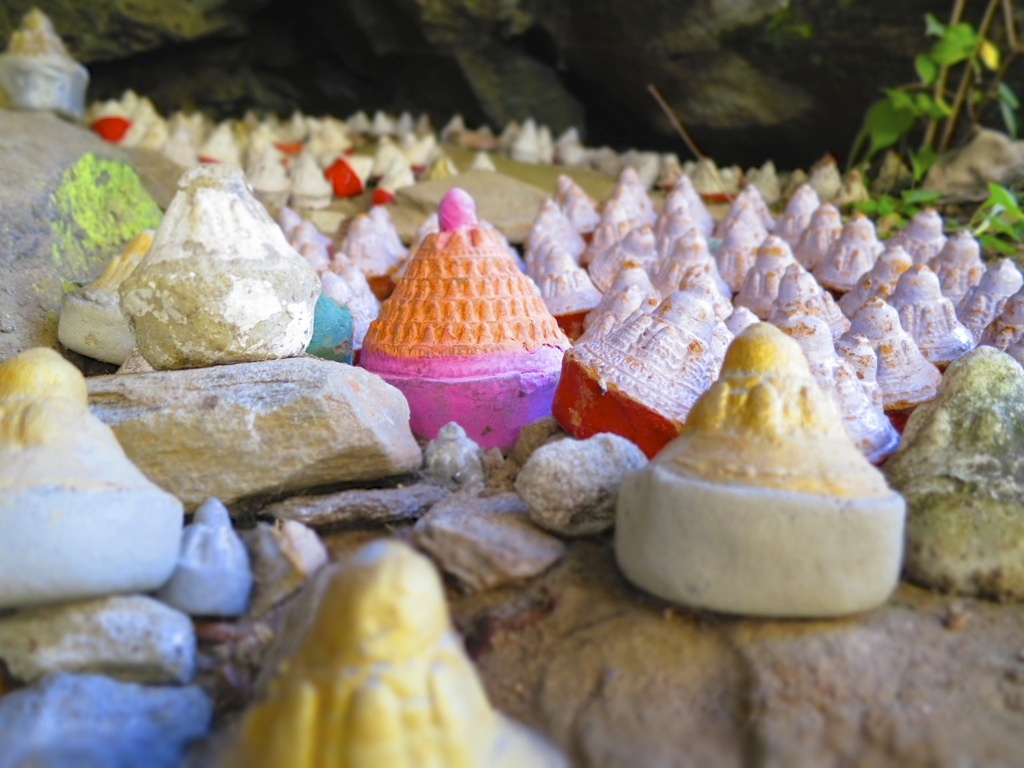 Clay "cakes" that spotted the cliffs
These are presented as offerings to Lord Buddha and other dieties (super cute too!).
At the top, I had to check in my camera.  No pictures are allowed in temples.  This is a more recent rule set up by the Bhutanese government since it opened its doors to the world in 1974.  Since they don't know what I will do with the pictures at home, and worry I may throw them in a corner or on the floor, which would be greatly disrespectful to Bhudda, they decided no pictures will be taken. Period.  That just means you have to go to Bhutan to see all the golden, ornate insides of the temples yourself!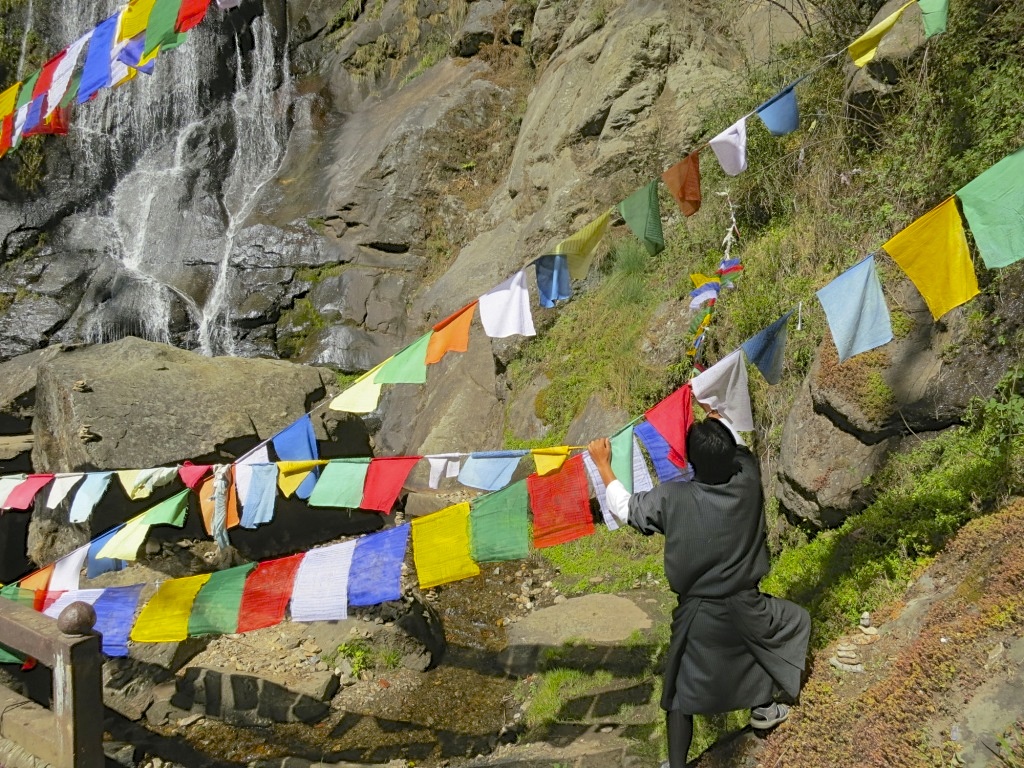 Ugyen fixing a string of prayer flags that had fallen.
Such a good guy, my guide!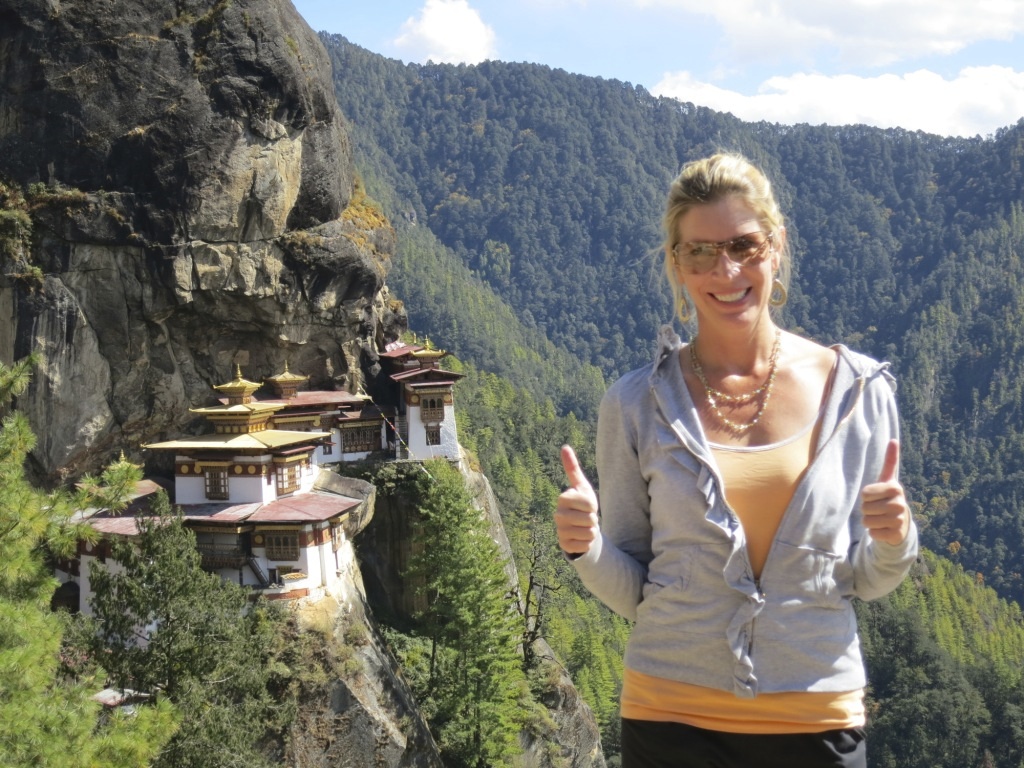 Did it!
Now lunch…buffet of course!
At lunch, Ugyen told me a dream he has for himself is to stop working around the age of 50.  He then wants to move close to a holy site, like Tiger's Nest, and dedicated his life to meditation.   He said, "It is important that I prepare for my next life."
Bhuddists strongly believe in reincarnation.  Compassion, knowledge and devotion all contribute to good karma.  If one leaves this world with good karma, she will be rewarded in the next life.  If one leaves with bad karma, she will return in a lesser form…possibly an animal form.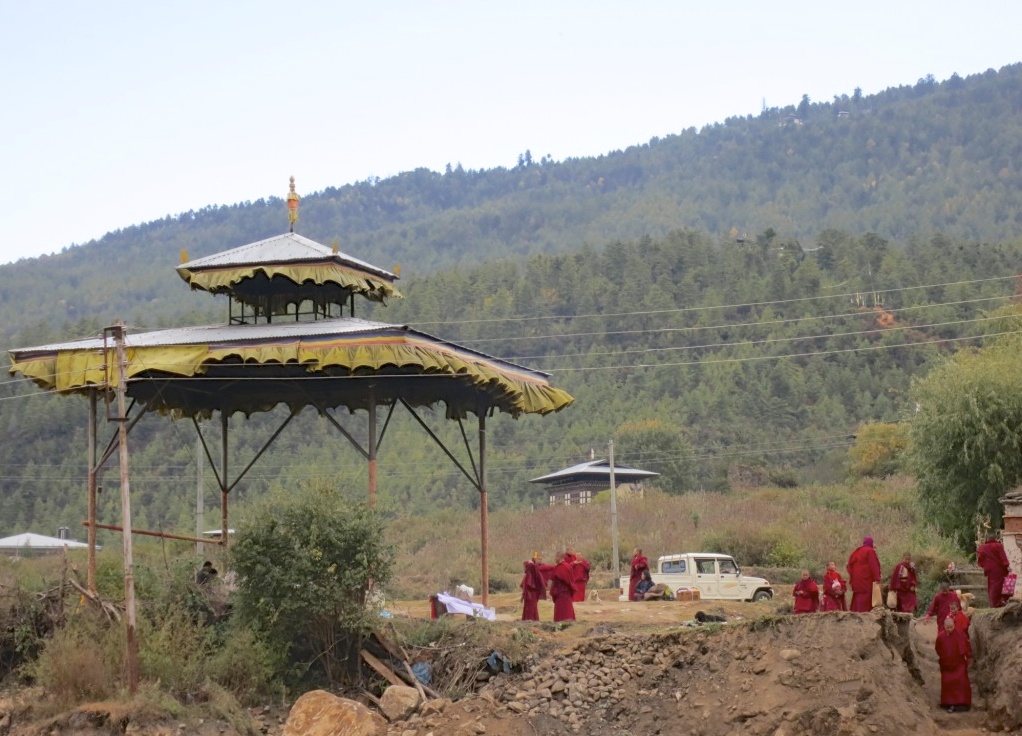 Monks leaving a cremation ceremony.
Hope that guy left this world with good karma…or he could come back as…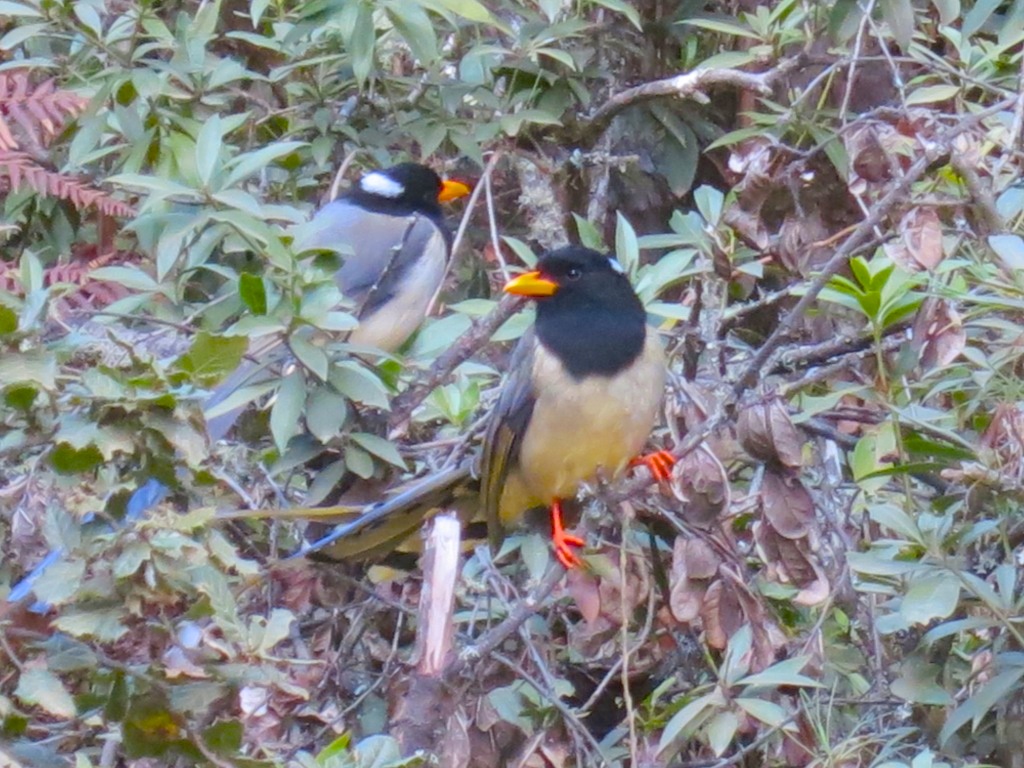 …one of Bhutan's Yellow Beaked Magpies 🙂
(Please Lord Bhudda forgive me for my bad joke)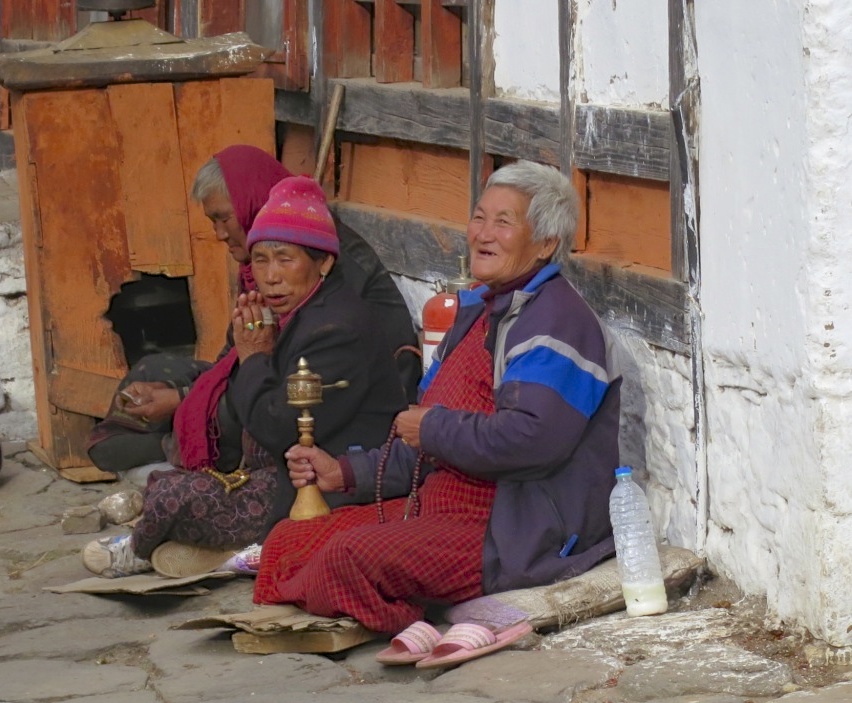 Driving up to a final temple for a visit, Ugyen told me, "Miss Jenny, this temple will complete your program here in Bhutan.  Choki and I are happy you visited.  We know the sun will always shine for you, and we wish you peace, prosperity and happiness."
Just having him say that to me in this place makes me believe I will.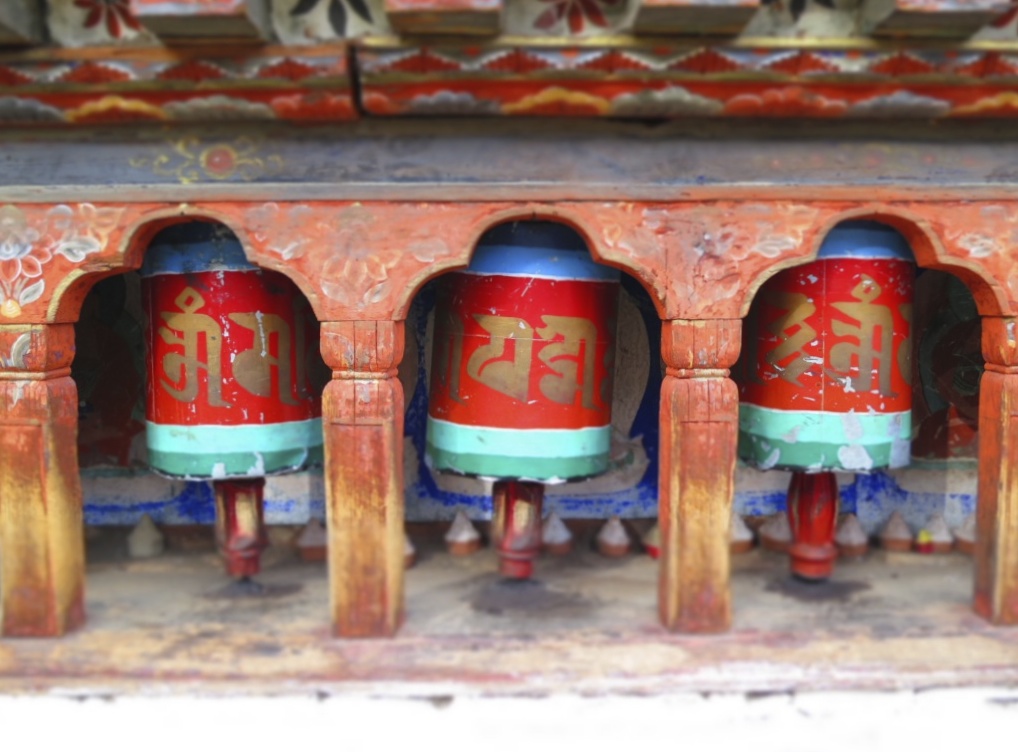 I have spun my last prayer wheel for now, and my final buffet dinner awaits :).
Good bye from Bhutan.