I just got back from dinner with my Bhutanese guide and driver.  It was clear they believe that the streets are paved with gold in America! Each cornered me at one point during the evening to talk about working in the US.  Each said it was their dream, and each referred to other Bhutanese who have done the same and come home with money falling out of their pockets. They want to work in restaurants or do manual labor. "Is it possible?" they both asked.  A strong believer in not squashing dreams, I told them, "Of course is possible."  I just hope the visa is.
So I understand this country a liiiitttttle more each day. Although I still don't quite have a grasp on the meaning of "Gross National Happiness." When I asked my guide he said, "I can't explain it."  Brilliant.  However, I can deduct that this concept was created to emphasize not the monetary wealth of the nation, but rather the richness of its citizen's lives.  Bhutan promotes cultural heritage, preserving the environment, good governance (became a democracy in 2008) and sustainable economic development – all things they feel are required for people to pursue a meaningful and happy life (yet both my guide and driver want to go to America…just an interesting observance).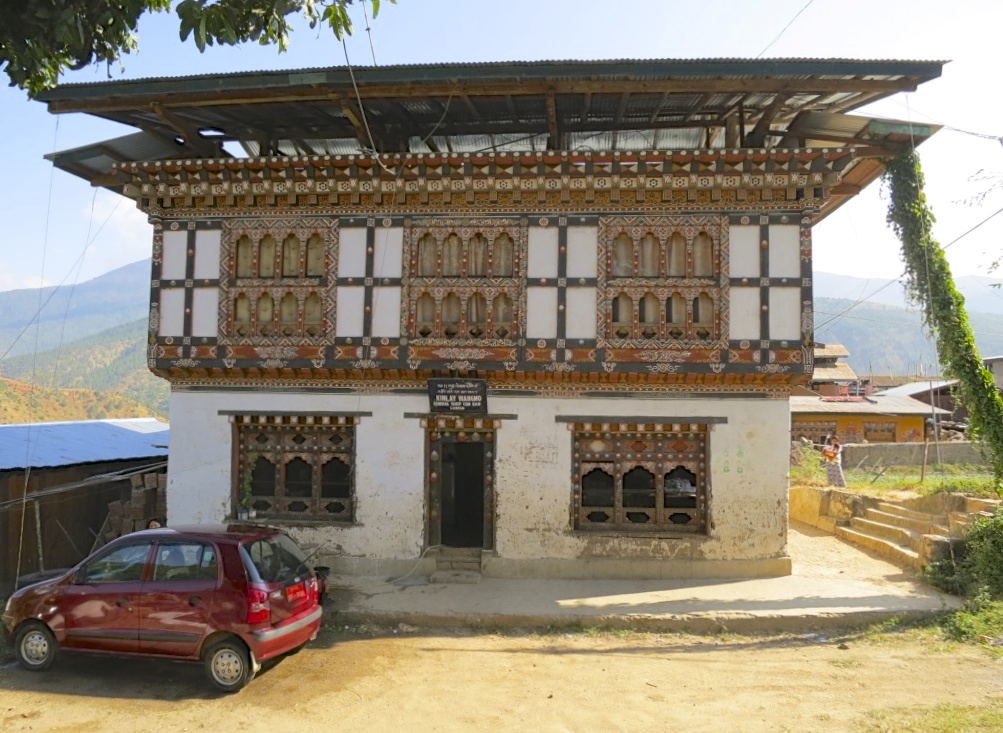 Typical General Store in Bhutan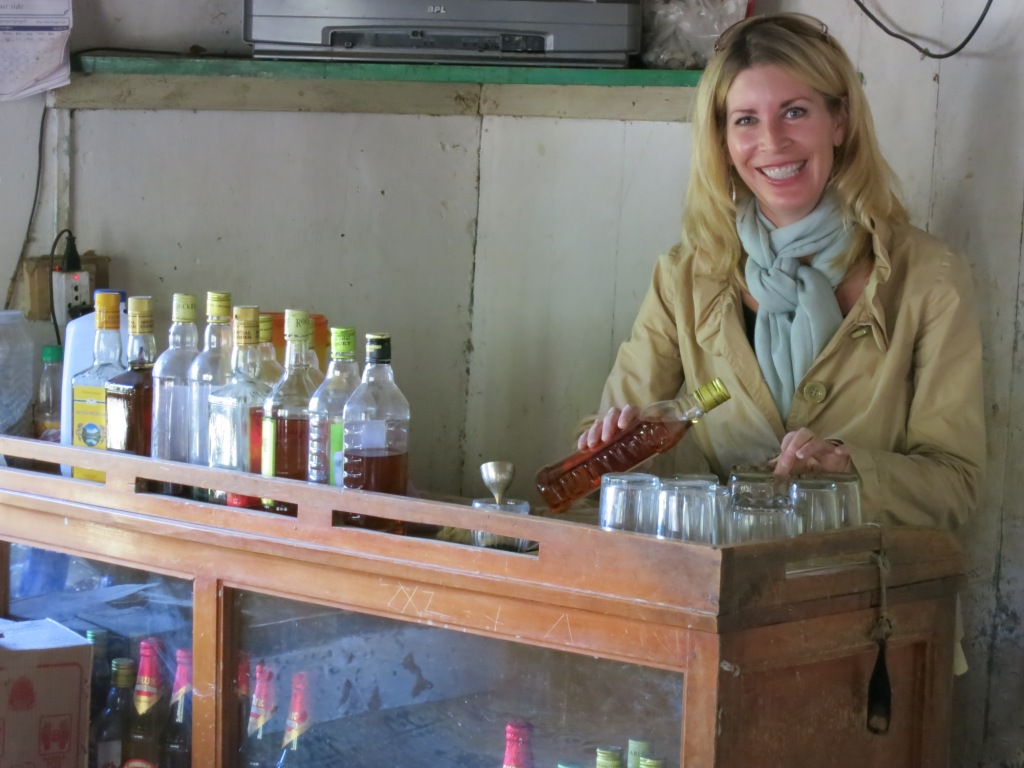 Pursuing happiness? Head to one of the local watering holes (note: a blond bar keep is less than typical)…
…which are always attached to a General Store.
Here Choki is looking for something general in the General Store.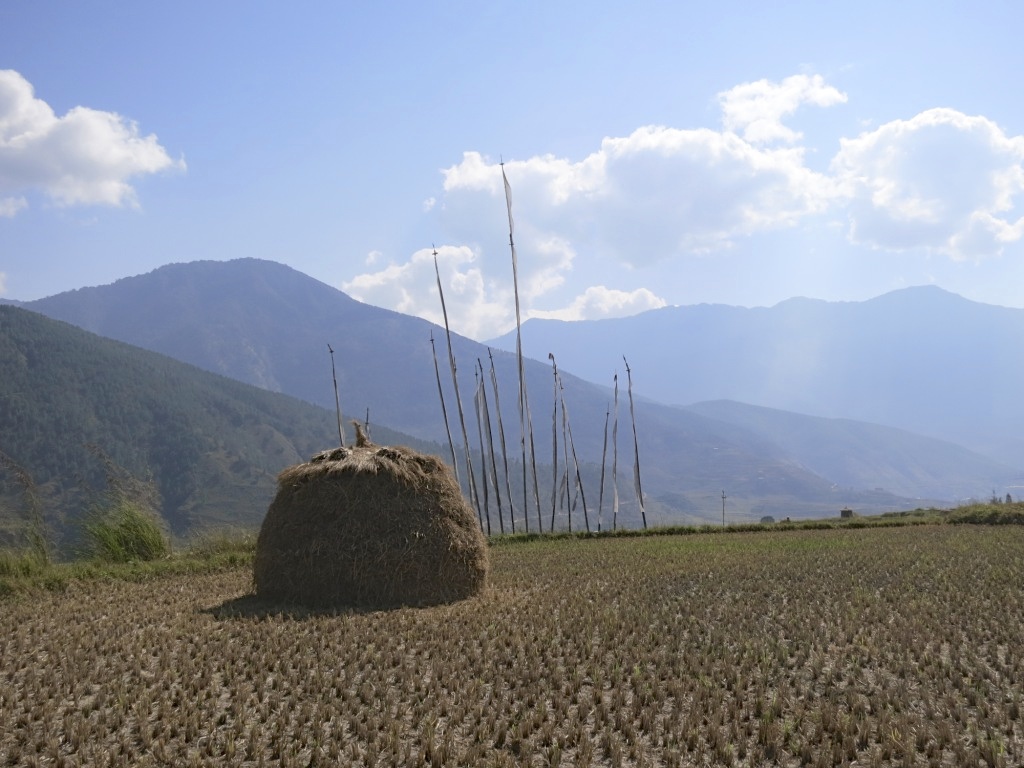 A close up the the rice fields.
70% of the populations is engaged in agriculture. Rice is a staple in the Bhutanese diet and their largest crop.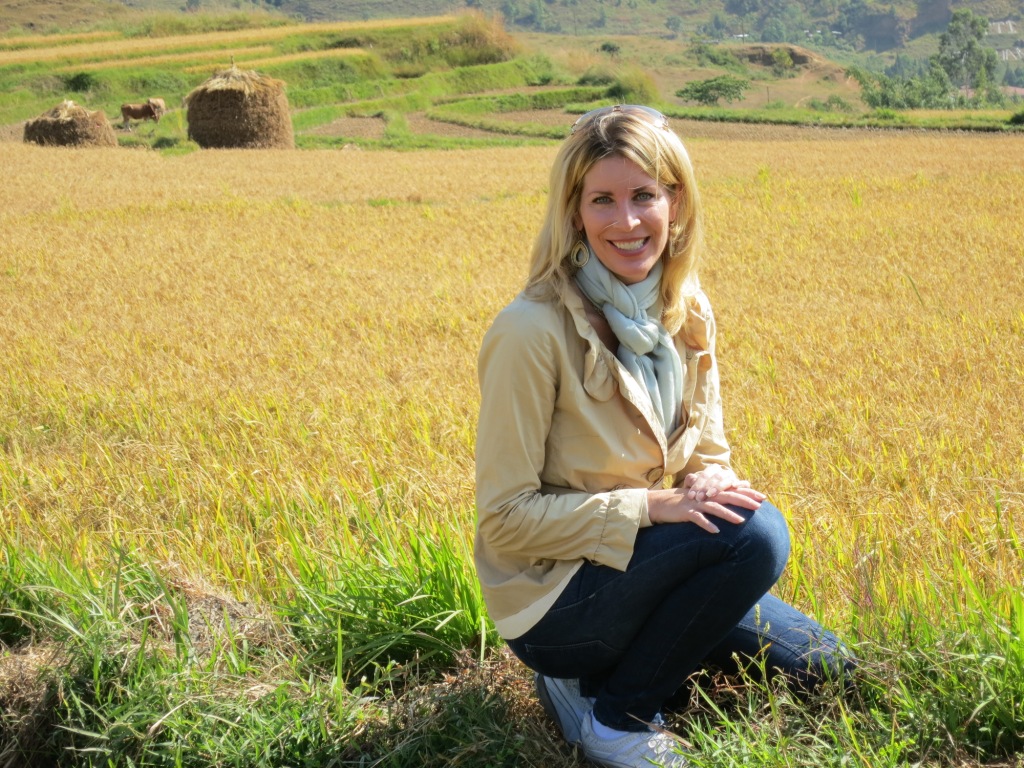 I took a hike through the golden fields.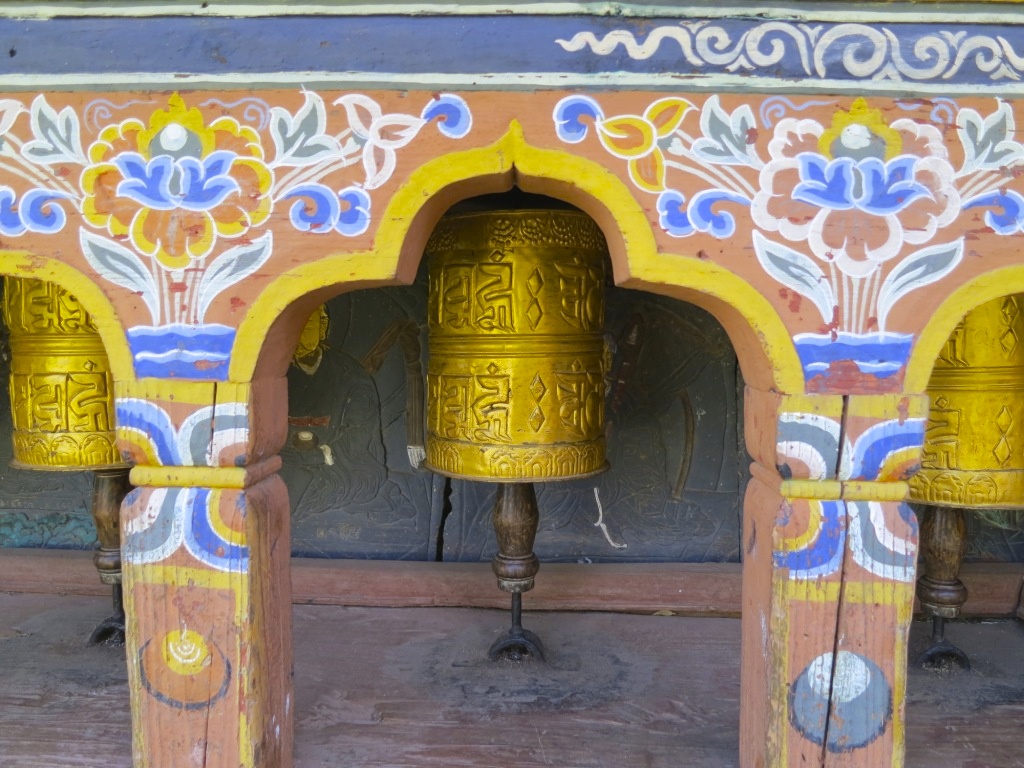 Prayer Wheels at the Fertility Temple
I seemed to have landed myself in another country that is a bit worried about my marital status and lack of children.  In an attempt to help me, my guide brought me today to an auspicious fertility monastery and temple.  He told me that I should pray for a baby to come in a "few years." He even had a blessing done over me.  It involved a large penis being tapped to my head along with a few other objects.  Apparently the penis was symbolic of Lord Buddha's penis.  That should do the trick! We will see what happens… in a few years.
As we walked out my guide added, "You may be even blessed with a Bhutanese husband!"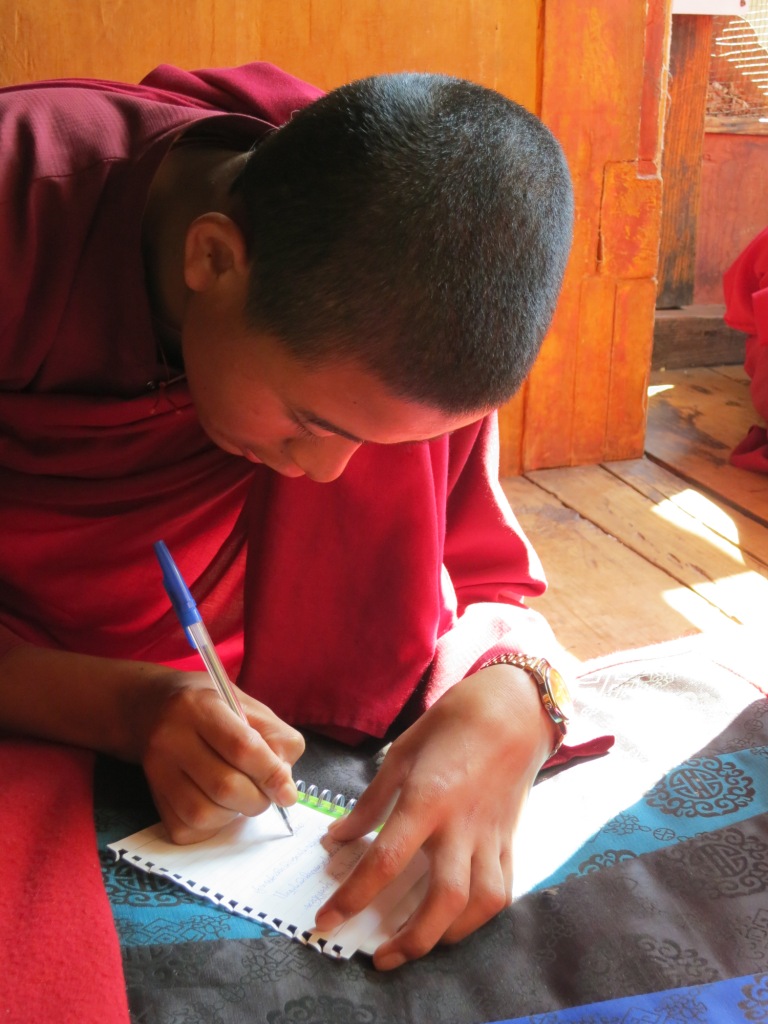 A young monk in the temple writing a prayer mantra.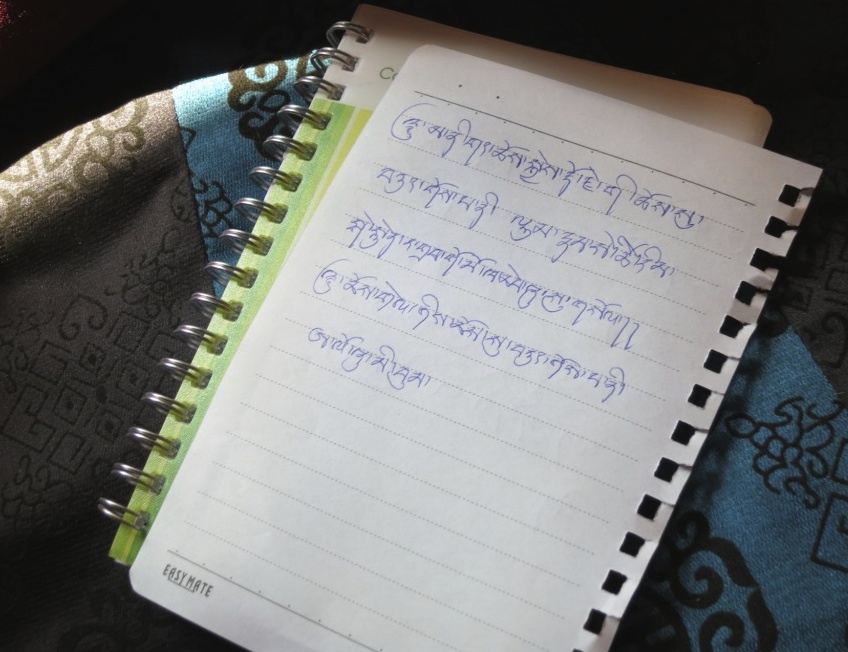 His beautiful handwriting.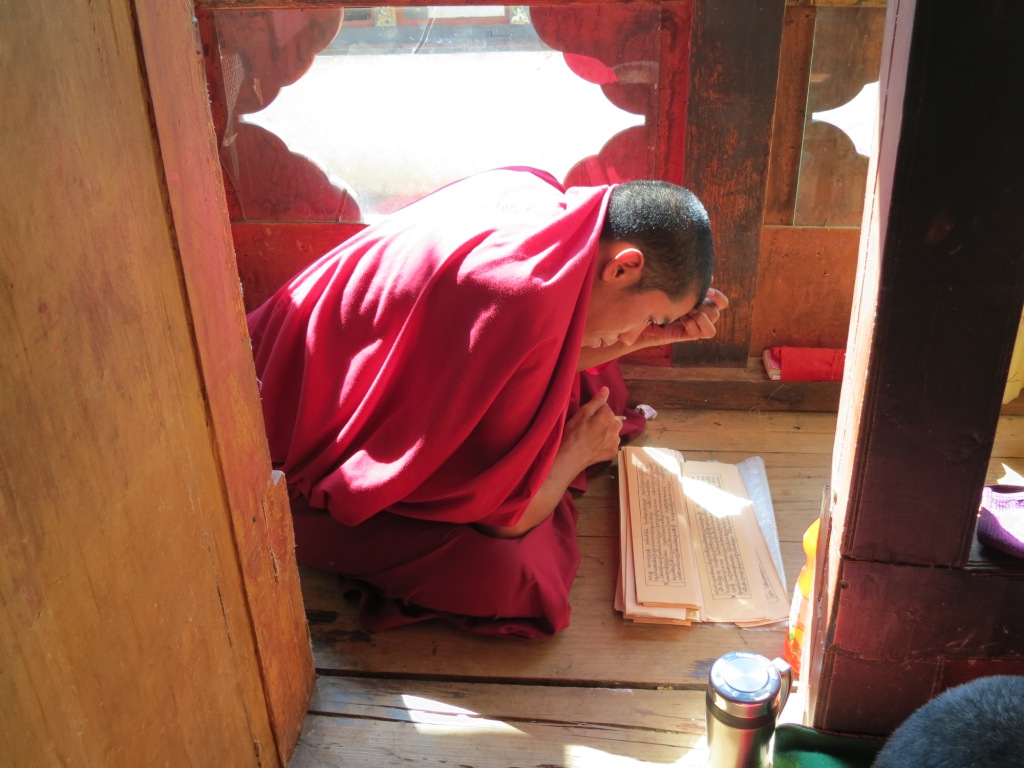 Another young monk studying mantras.
Bhutan is a bastion for tantric Buddhism.  Monks stay out of politics and continually pray for the well being of the nation and people.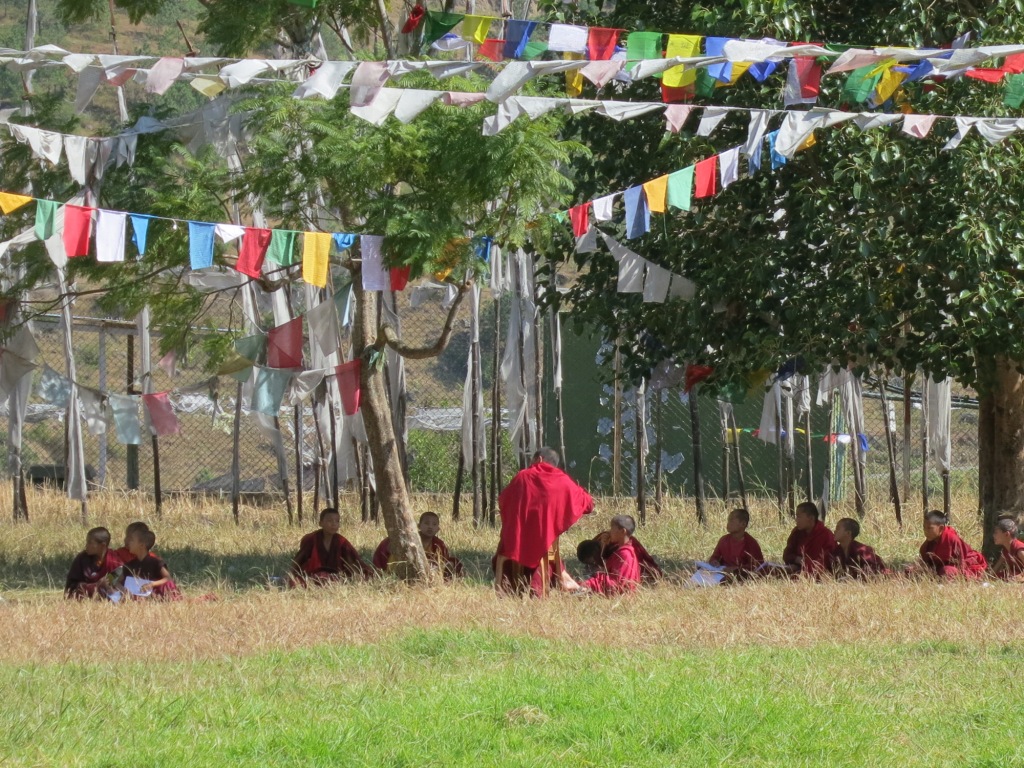 These young monks were sent to the monastery by their parents.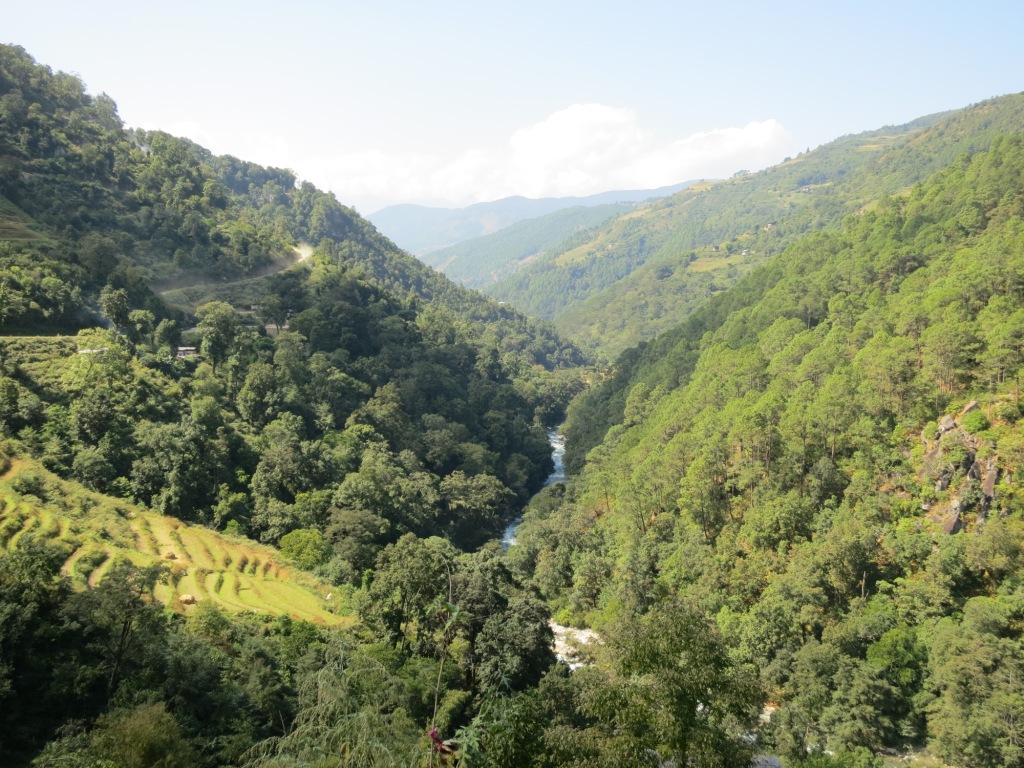 Another beautiful view in Bhutan (fyi – the bandwidth here is in the negative range, so I have to use small picture files…will upload more dramatic versions when back on the European continent *this is a note months later now…I did upload the bigger pics!!*).
I took this picture on our way to the remote Phobjikaha valley.  A narrow, rocky, mostly dirt road was our path over the mountain pass.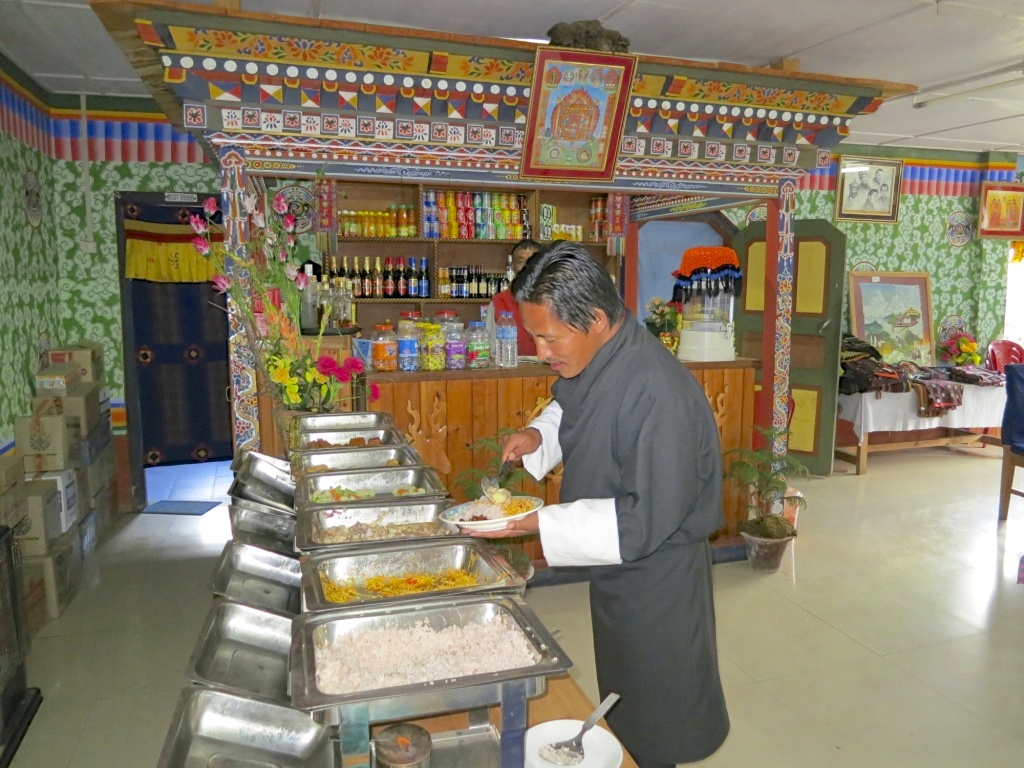 The famous Bhutanese Buffet!
This is how I eat breakfast, lunch and dinner. Ugyen, my guide, is always happy to be my dining partner.  If I don't invite him, he has to go eat simpler food in the back with other guides and drivers.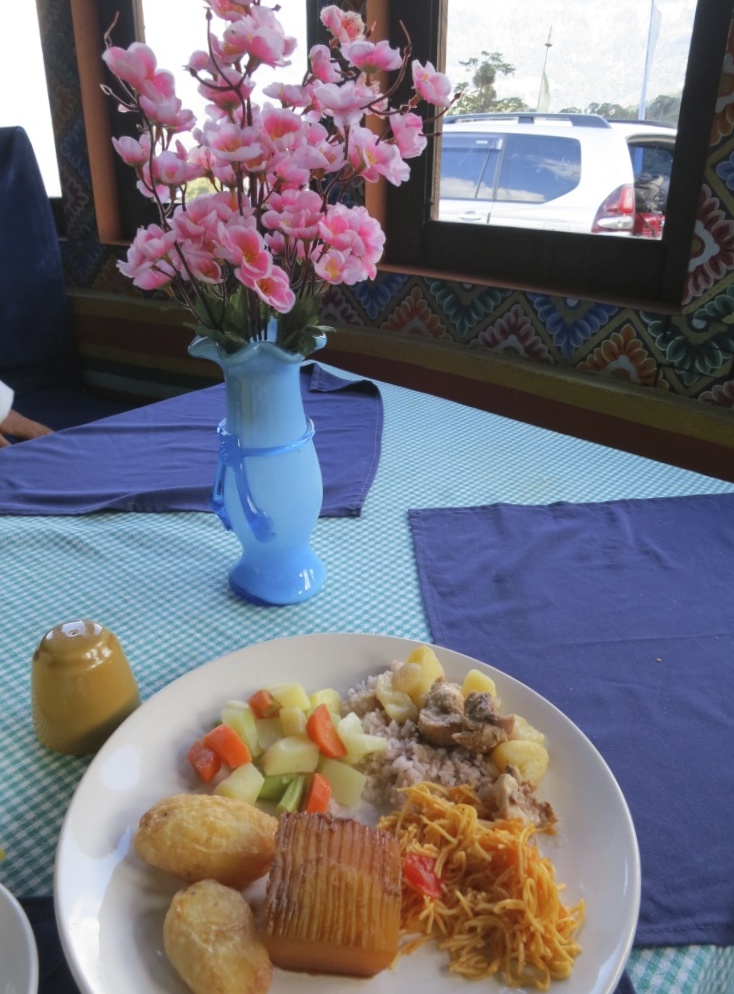 Lunch and dinner predictably includes rice, a chicken dish, a potato dish and vegetables.  I am in the land of chili peppers, but they keep the spicy level at zero for us tourists/guests.  Ugyen does make me eat spicy food samples from time to time though.
Interesting tid bit, the Bhutanese do not kill animals.  It is part of their religious practice of non-violence and compassion. All the meat they eat is imported in from India.  So the chicken I eat twice a day is Indian chicken!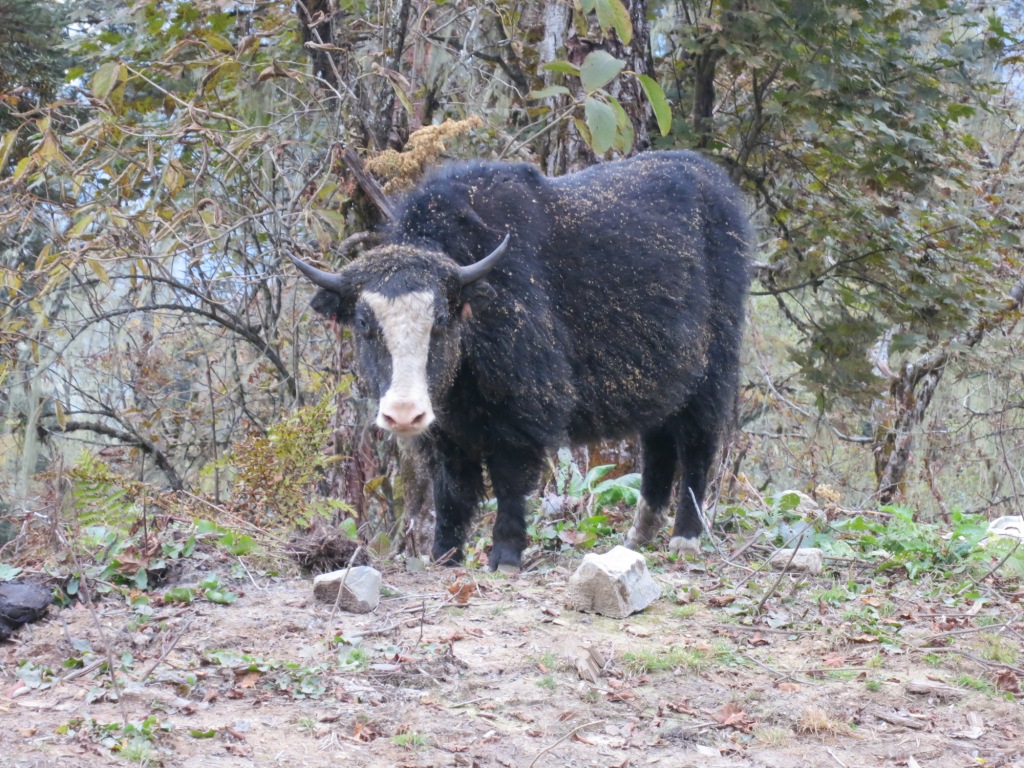 A yak!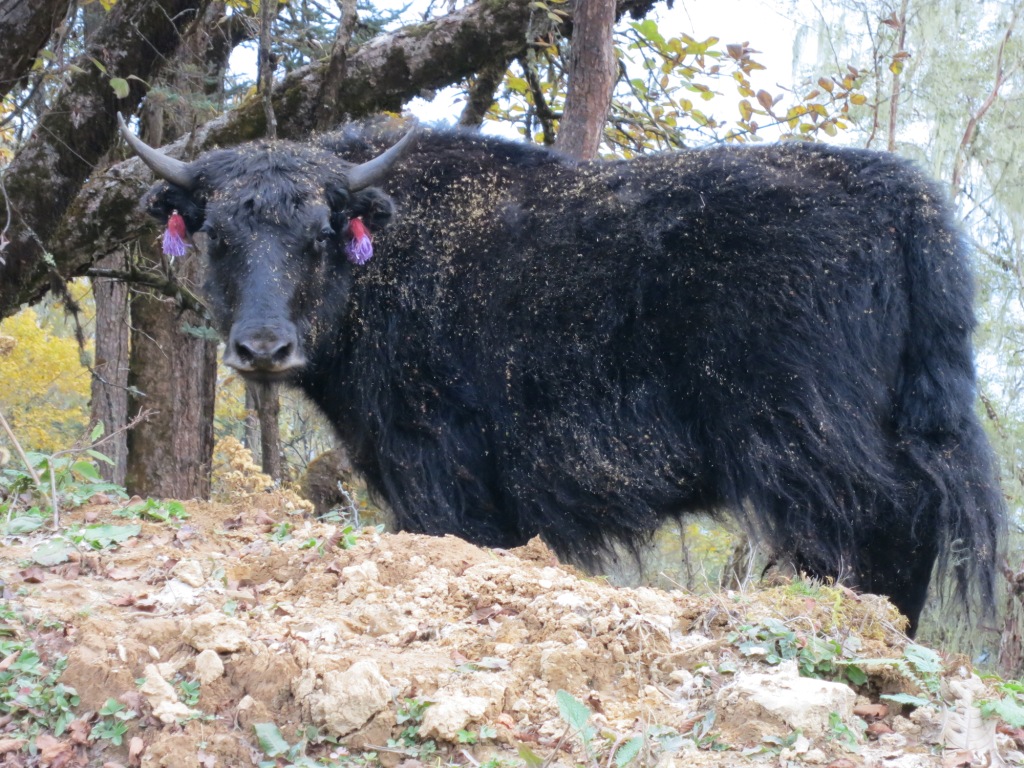 These are the guys that produced the milk that produced my rock hard cheese!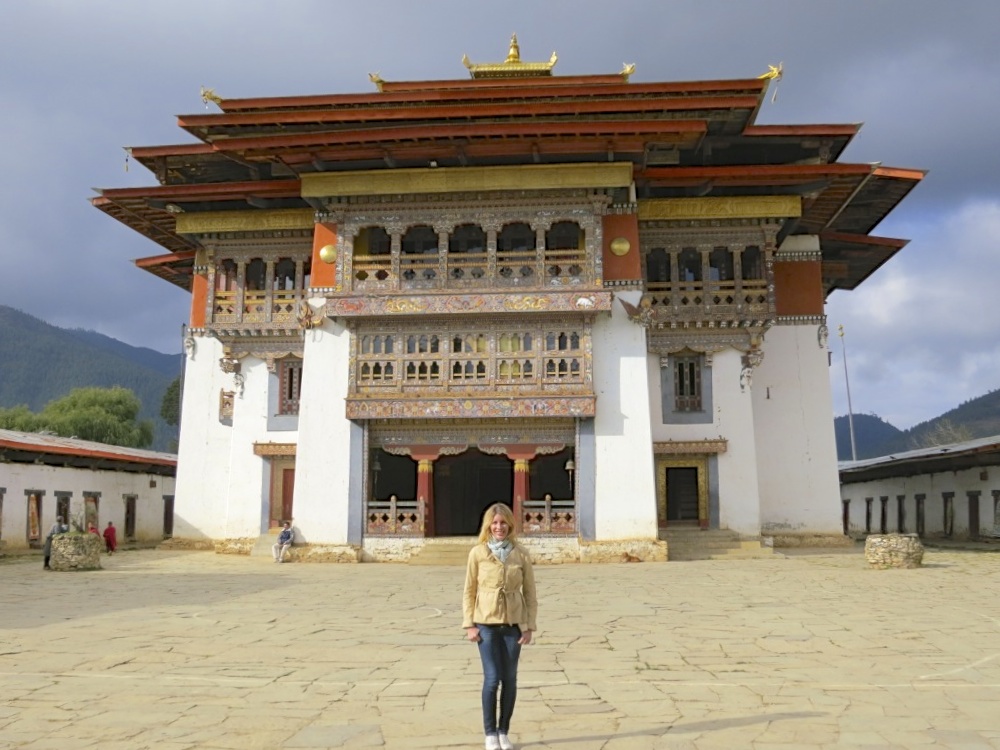 Nyimgmapa monastery.
Dates back to the 17th century.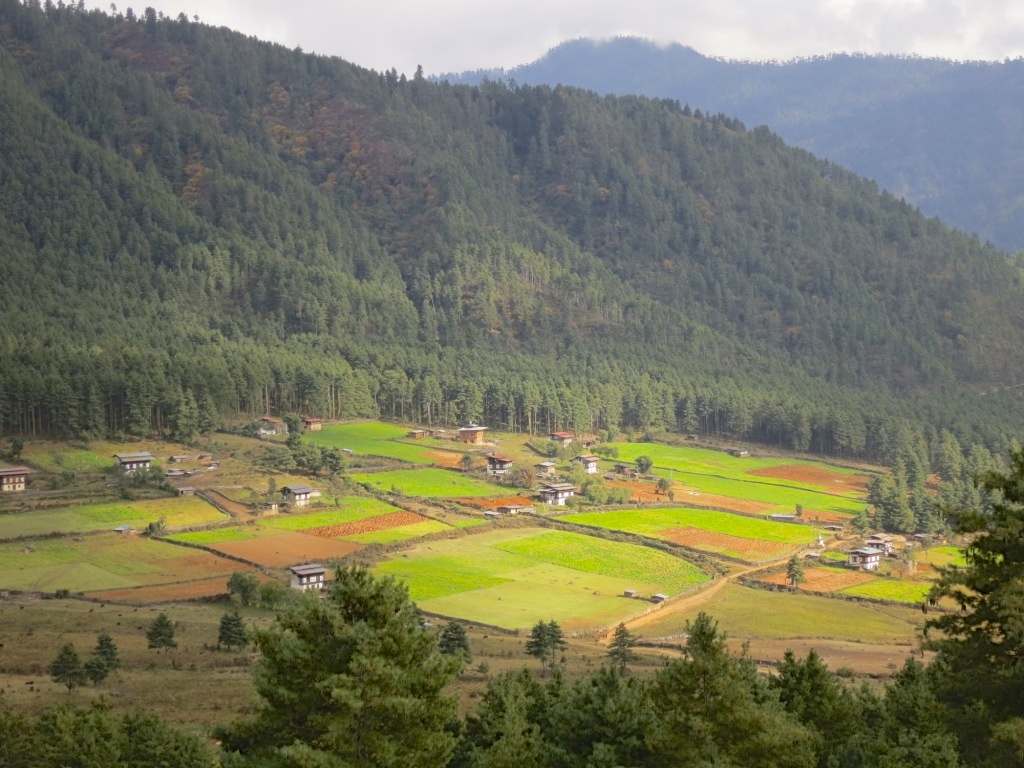 The valley surrounding the monastery.
This is how a house is built in Bhutan!!
These women are collectively stomping and pressing down the mud walls with their feet and wooden tools.  Everything is done manually.  Simultaneously, as I took this picture, 5 men were moving a big wooden beam across the street to use in the construction of the house. Incredible!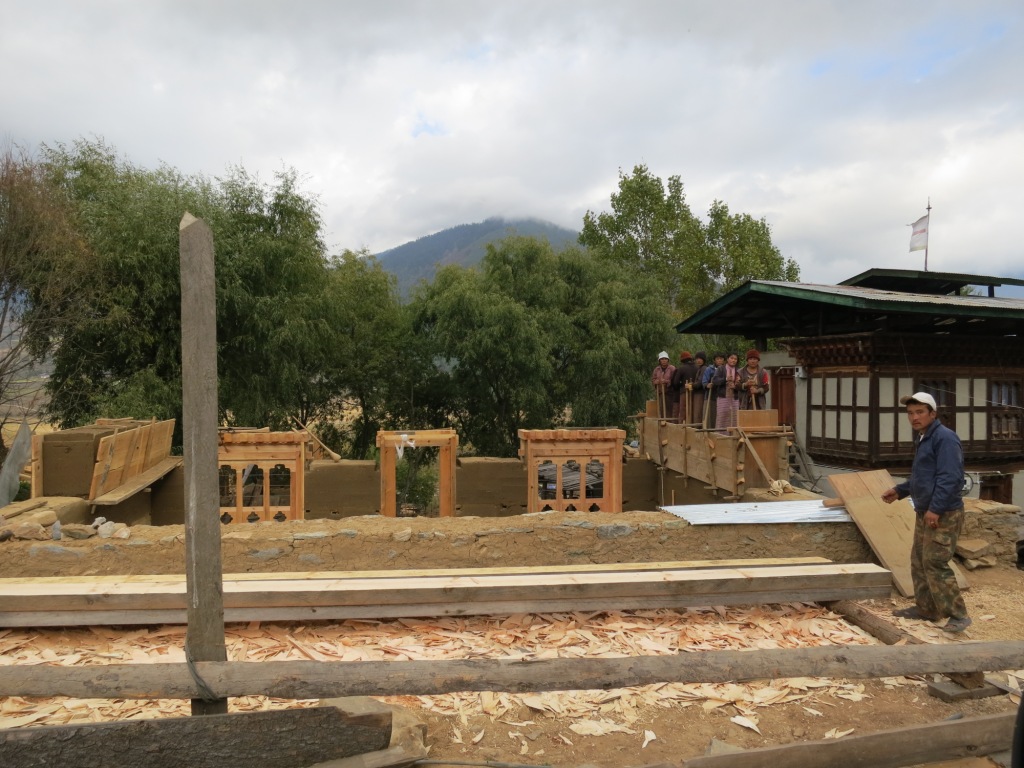 The best part was when all the women gave me big smiles and waived as I was leaving.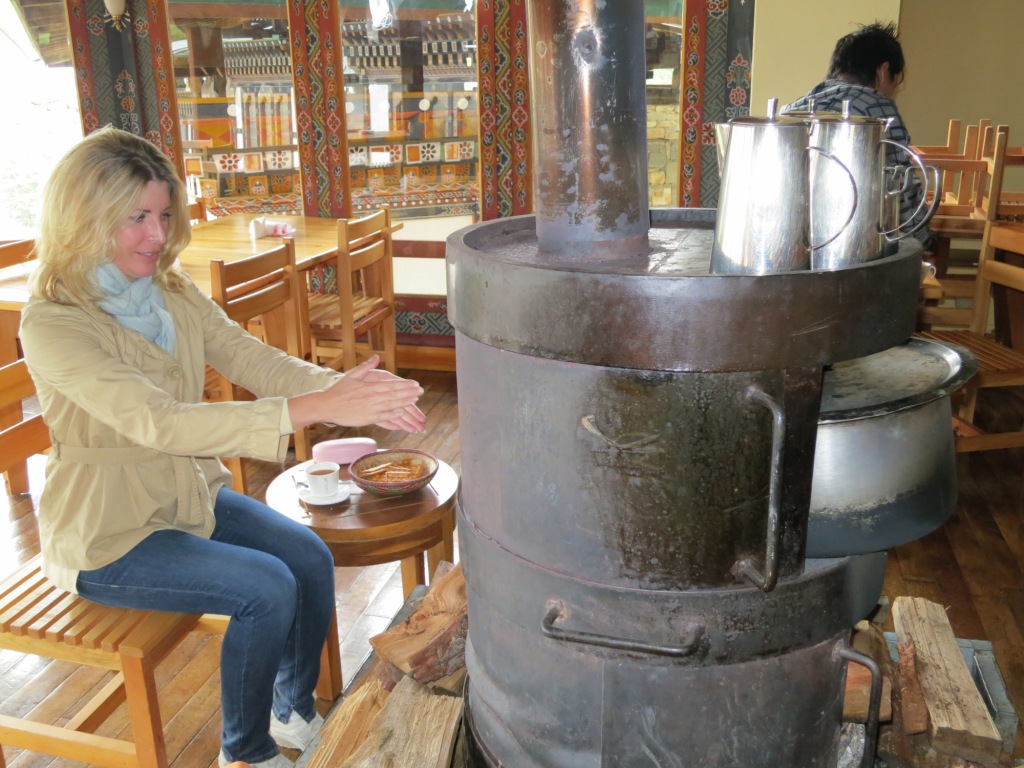 Brrrr…it is cold here! Thank goodness for the fire…the only source of heat at this 6000ft altitude.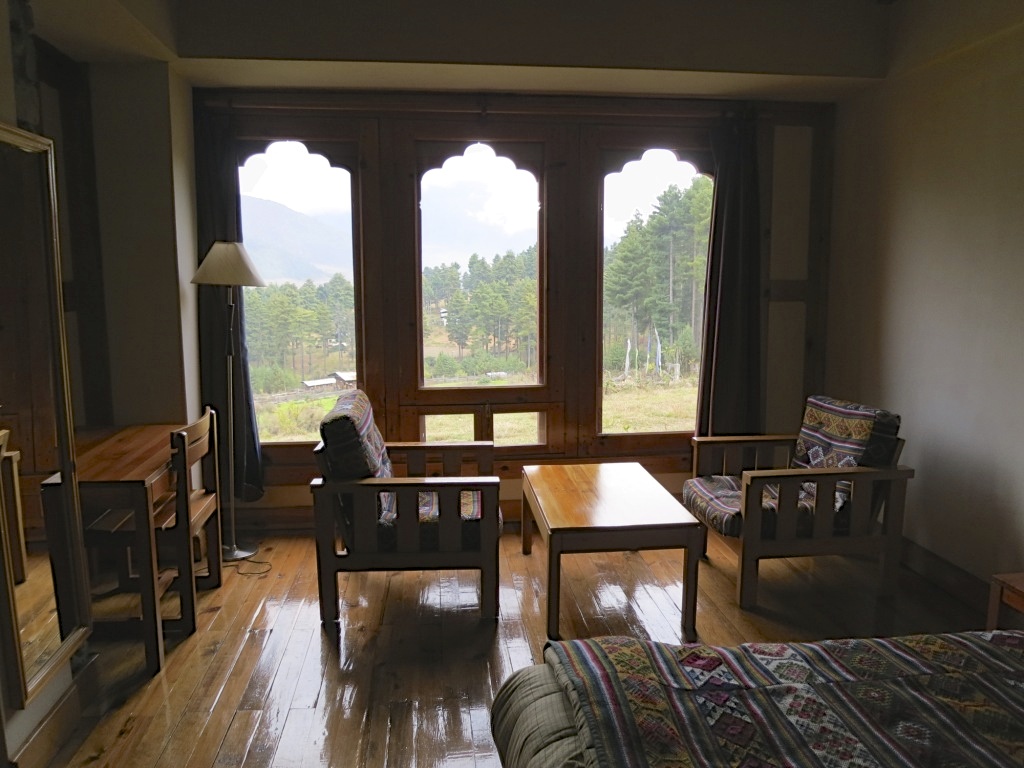 My room with a view.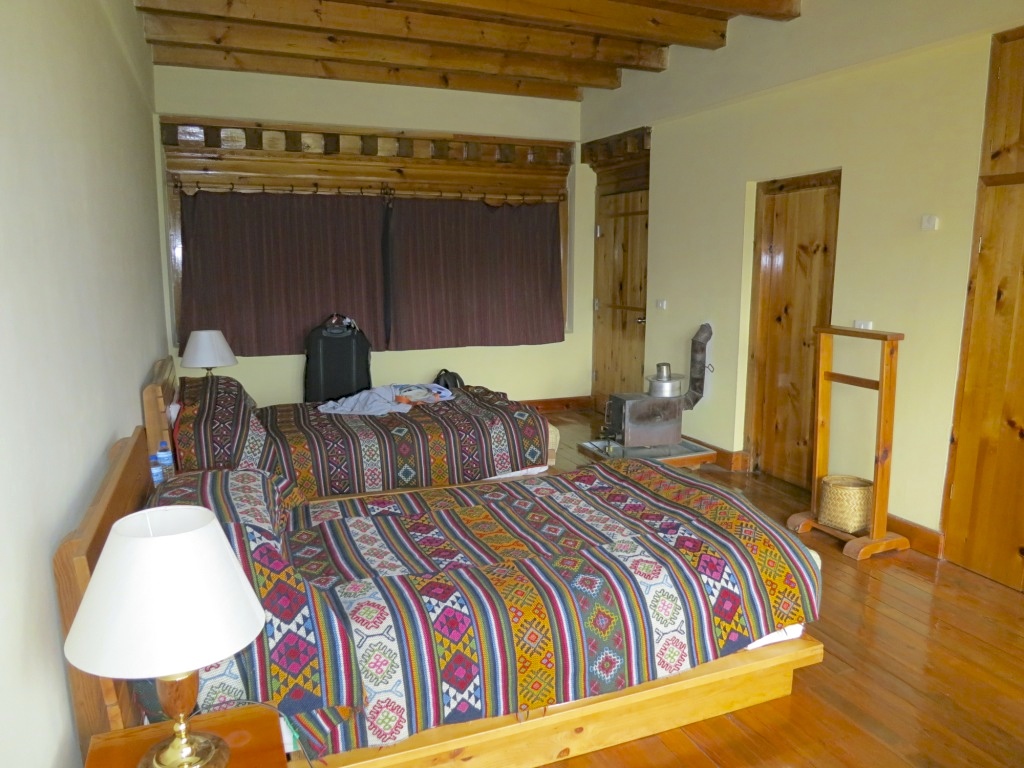 My bed with a fireplace…which I now need to go stock-up on wood for tonight.
Buffet Breakfast in the morning :).