Udaipur. The City of Lakes. The jewel of Rajastan.  Magical. Regal. Calm.
If I was to describe my experience in India so far, I would say it has been a dream wrapped in a nightmare. Udaipur has been the best of the dream part.  The picturesque, mystical city where I have spent the last 5 days charmed me so that I would endure the "touts" (young boys who befriend you to bring to shops…very persistent buggers), begging, overcharging, not knowing who to trust, unrelenting male attention, constant horn honking and love-struck, stalking Tuk Tuk drivers just to spend another evening watching the sunset on the banks of its lakes. It is that lovely.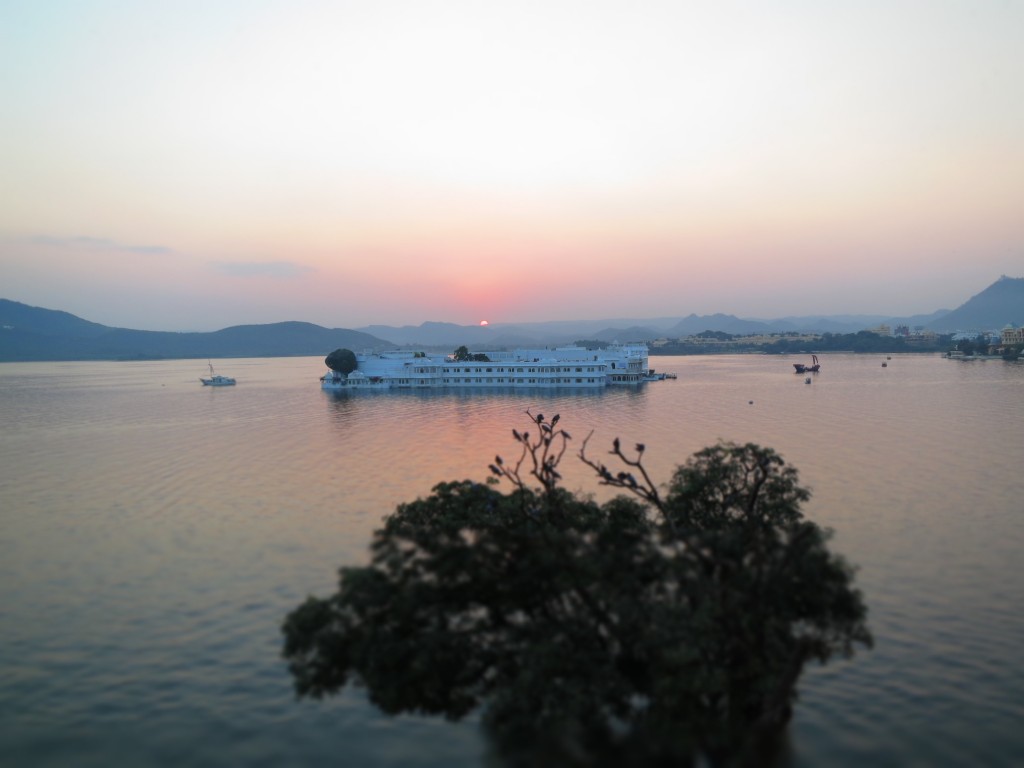 Last night's sunset over Lake Palace on Lake Pichola as seen from my favorite and regular spot on the Sunset Terrace.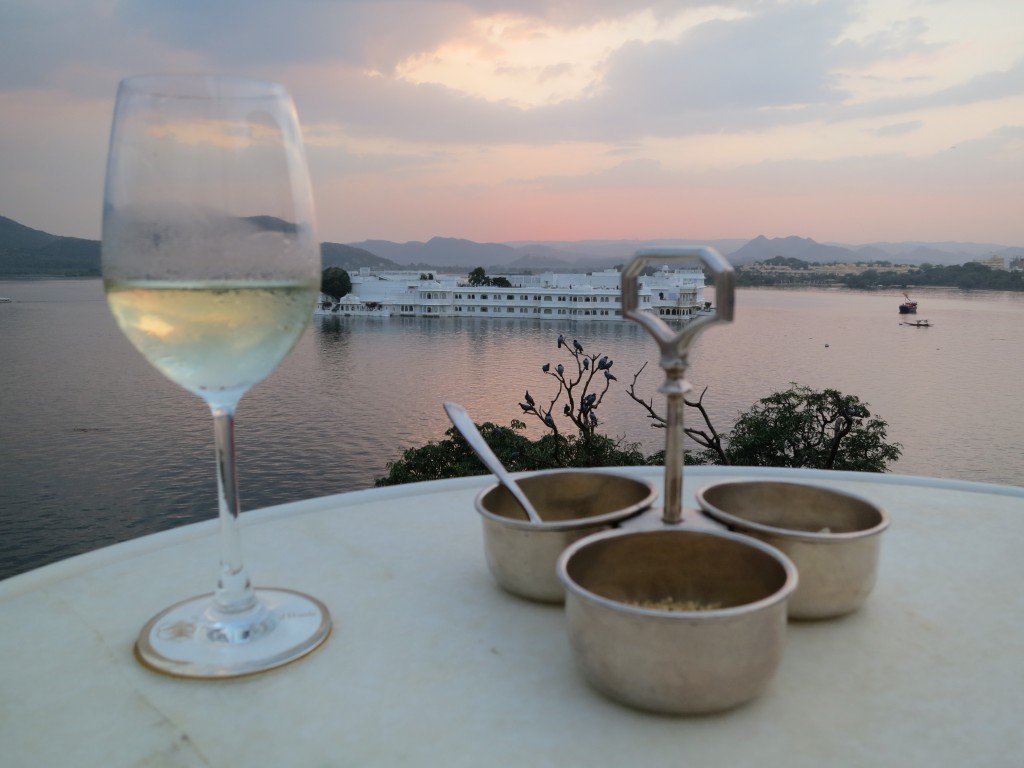 Where you could always find me at 5:30pm in Udaipur…
My faithful sunset companions: "tidbits" and a glass of Nine Hills Chenin Blanc.  Indian wine, bien sur!
Other companions also came in the form of a nice Scottish couple, a lovely Quebecois woman who was celebrating her birthday and a past financial adviser to the Majarana himself.  My last night I brought a friend who was introduced to me through a new American friend I met back in Rishikesh.  I was never alone at sunset.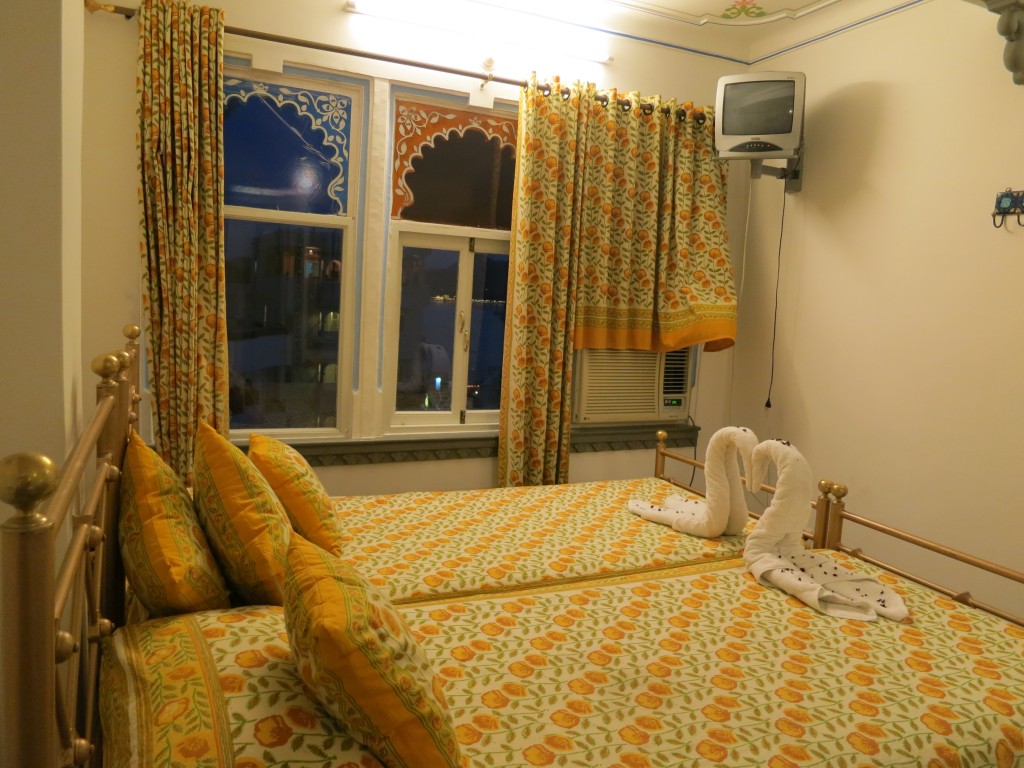 My home in Udaipur, Mewar Haveli.  My bright room came complete with lake view and a rooftop terrace….oh, and towel swans!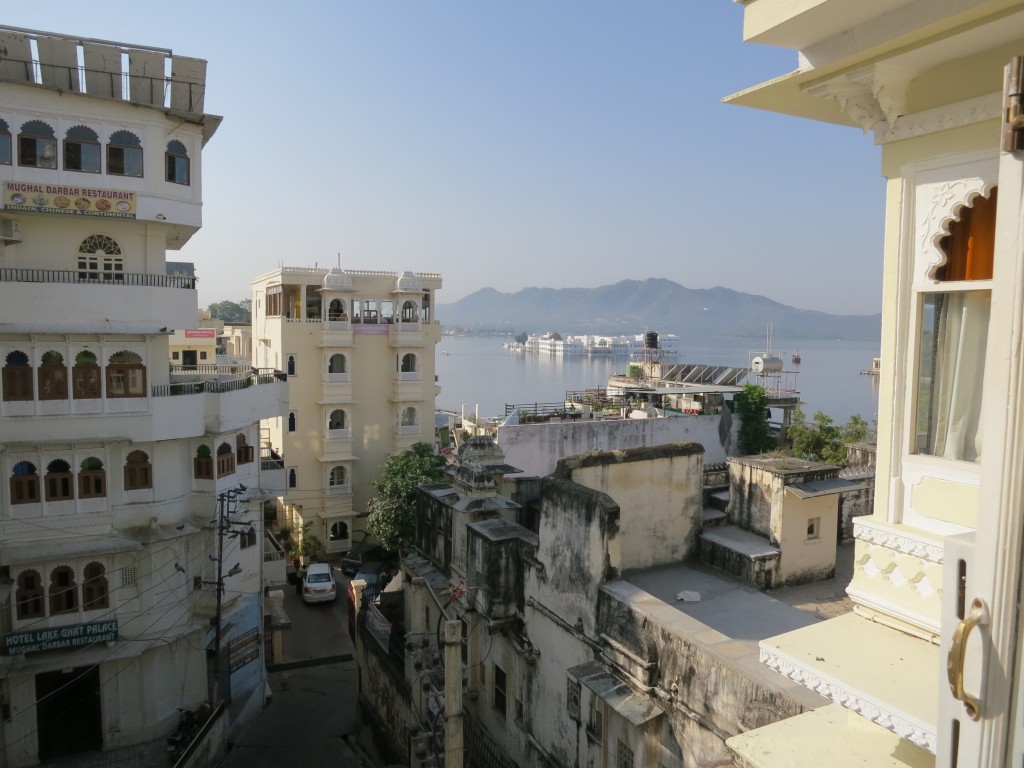 The view from my room…not pristine, but that is the Lake Pichola and Lake Palace in the distant.  The water sparkled a brilliant blue every morning.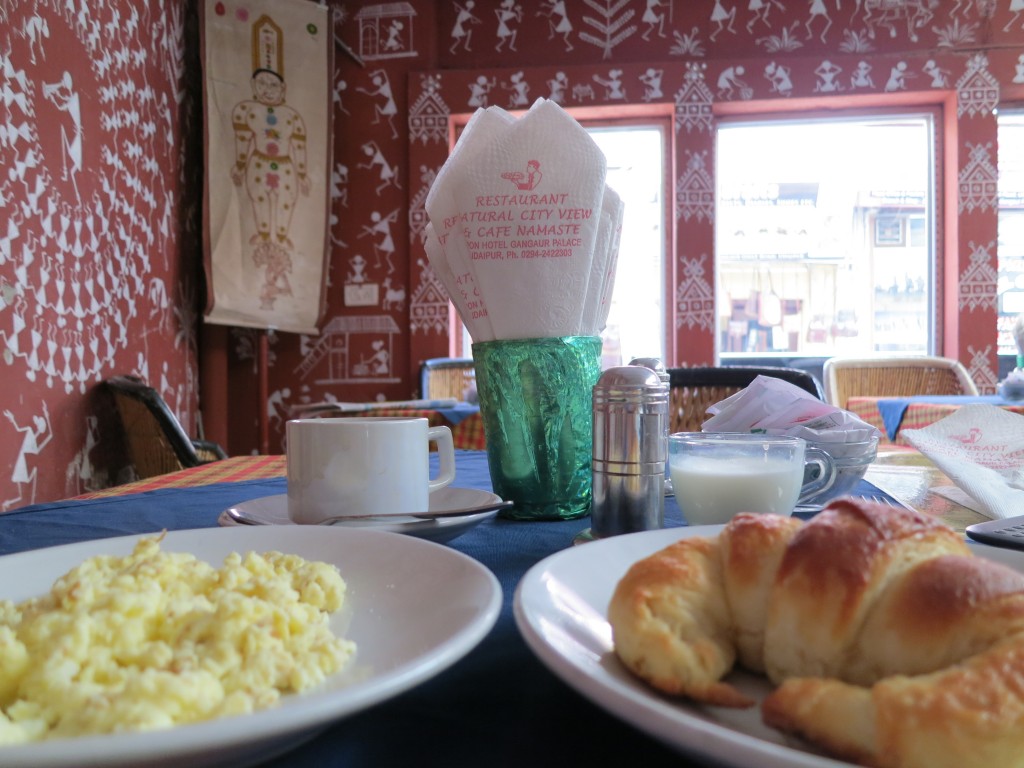 My preferred breakfast spot, Namaste Cafe and "French" Bakery.
They didn't have financiers, but their croissant was decent (heated when the power was available) and I appreciated their attempt at a pain au chocolat.
 The City Palace.
Udaipur was founded in 1559 by Maharana Udai Singh II.
It was the capital of the once Mewar kingdom.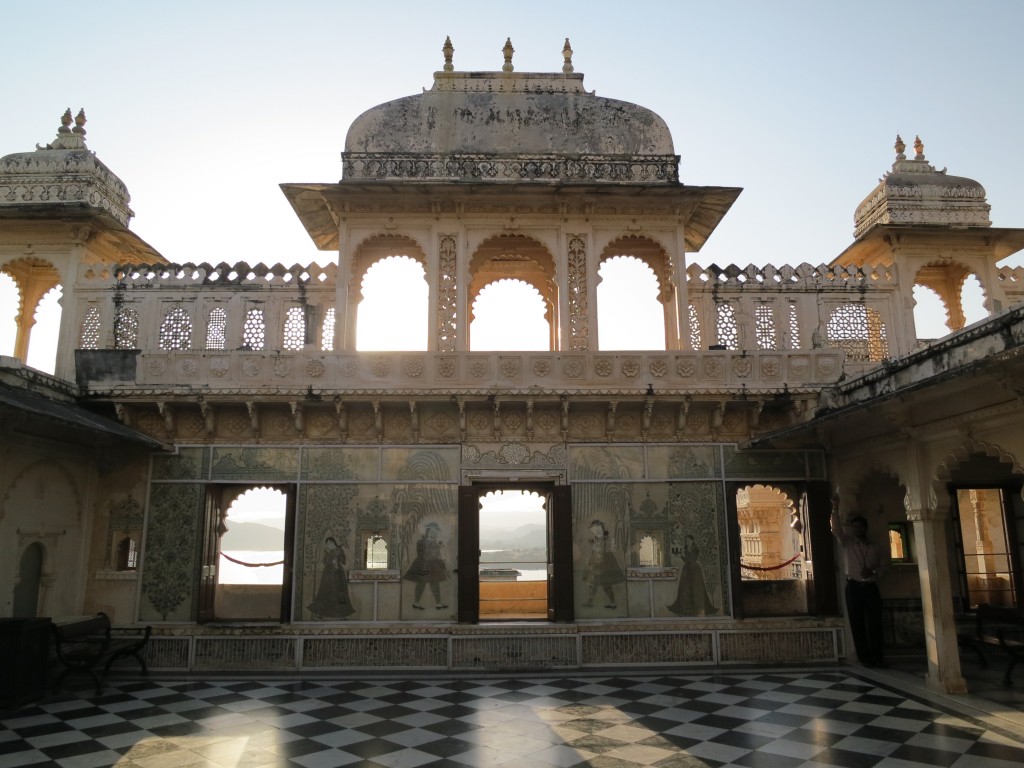 Inside the palace.
Legend has it that the palace was built in its existing spot after Maharana Udai met a sage seated beside Lake Pichola while out hunting one day. The sage told the king to  build his palace at the same site. He promised Udai it would be well protected and his family would prosper there.
The sage was right! Today the Mewar dynasty is the world's oldest surviving dynasty (it has existed for a time span of 1,500 years and 26 generations and outlived 8 centuries of foreign domination). The Maharana who lives in the palace today is a direct descendant of Maharana Udai.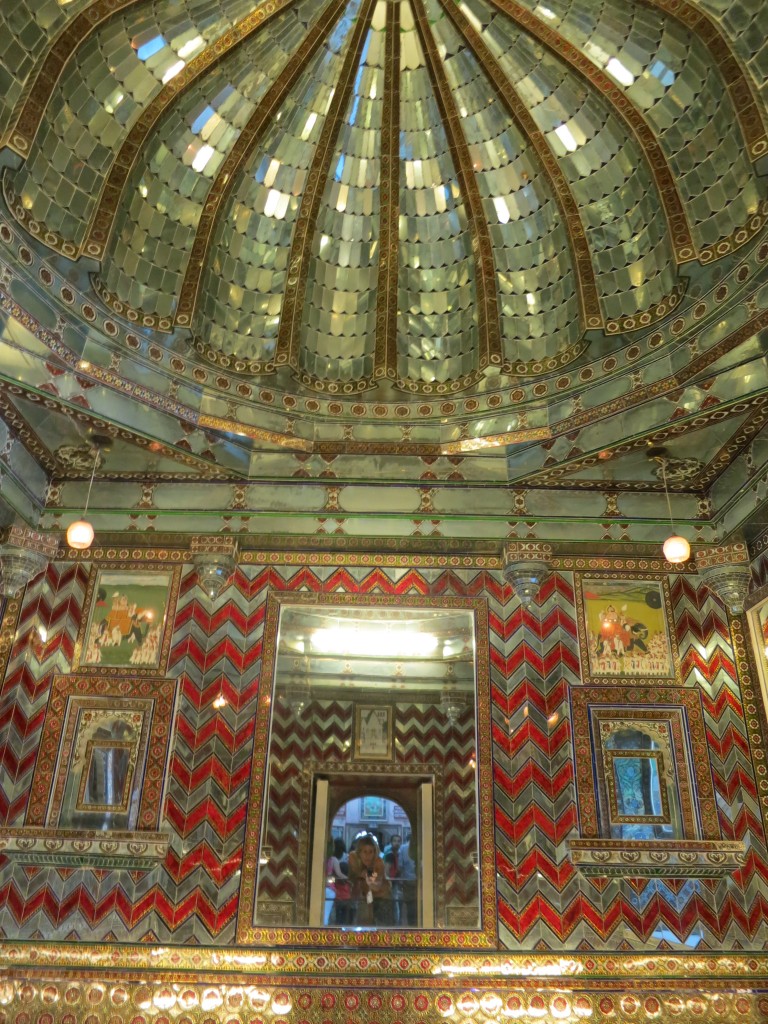 If you look closely you might see someone you recognize in the mirrors…
 Carrier Pigeon cages.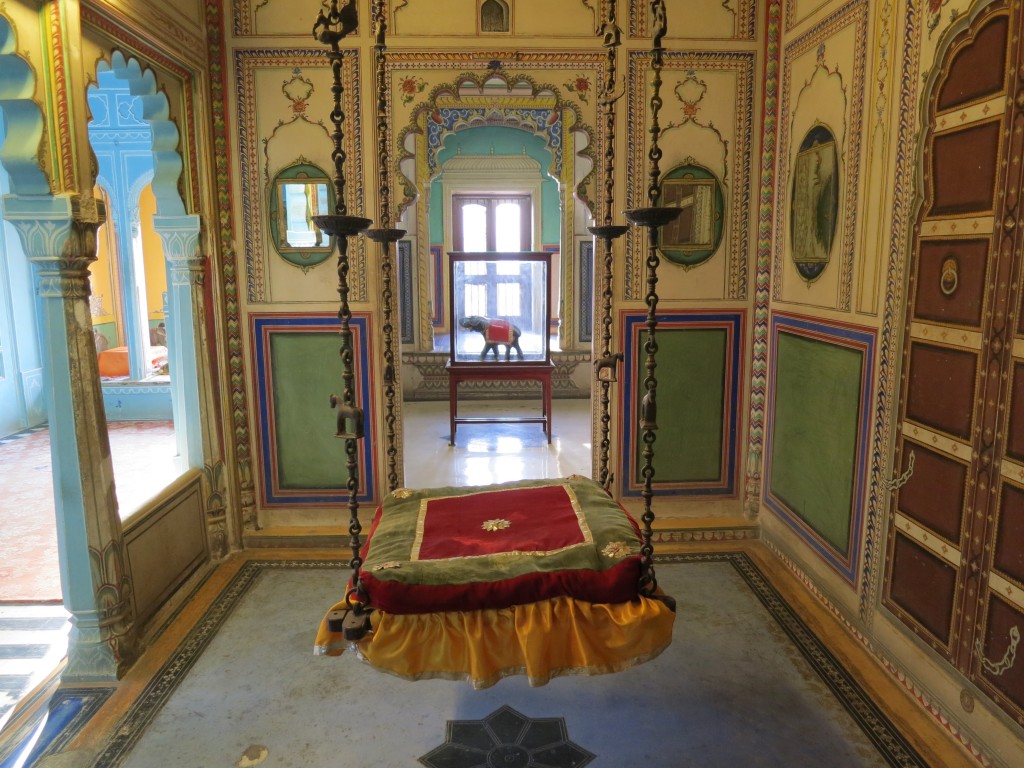 Palace rooms.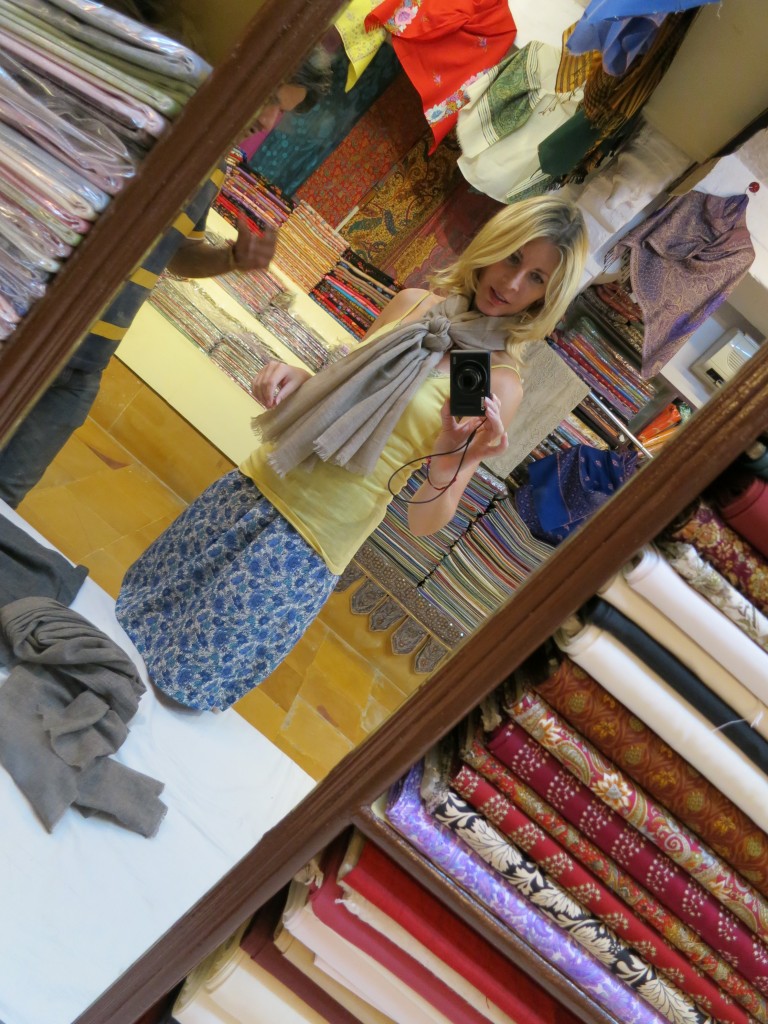 Post Palace Shopping…
Inside the City Palace walls, shops with local handcrafts and textiles line the court yard.  These shops are monitored and shopped by the Maharana himself, so it was one of the few places that I felt like I was buying the "real deal" …especially when it came to authentic pashmina (<- fooling tourists is a favorite, and lucrative, pastime for market owners).  In this picture the pure, handwoven, soft as butter pashmina I am modeling now belongs to my friend, James. He put in an order before I left. I complied.  It is exquisite! Lucky man!
My pashmina salesman from Kashmir, Ravi, ended up also being a reliable friend.  I am sure my purchases over the course of 4 days helped grease the friendship wheel, but regardless, he came to my aid whenever I needed him.  From restaurant recommendations to escorting me back to my hotel when I was scared by my stalking Tuk Tuk driver, Ravi was there.  His philosophy, like many Indians, is that no encounter is by chance. He didn't treat me as just a  tourist passing by who would leave his life as fast as I entered, rather he kept referring to "the future" and ensured we established a meaningful friendship.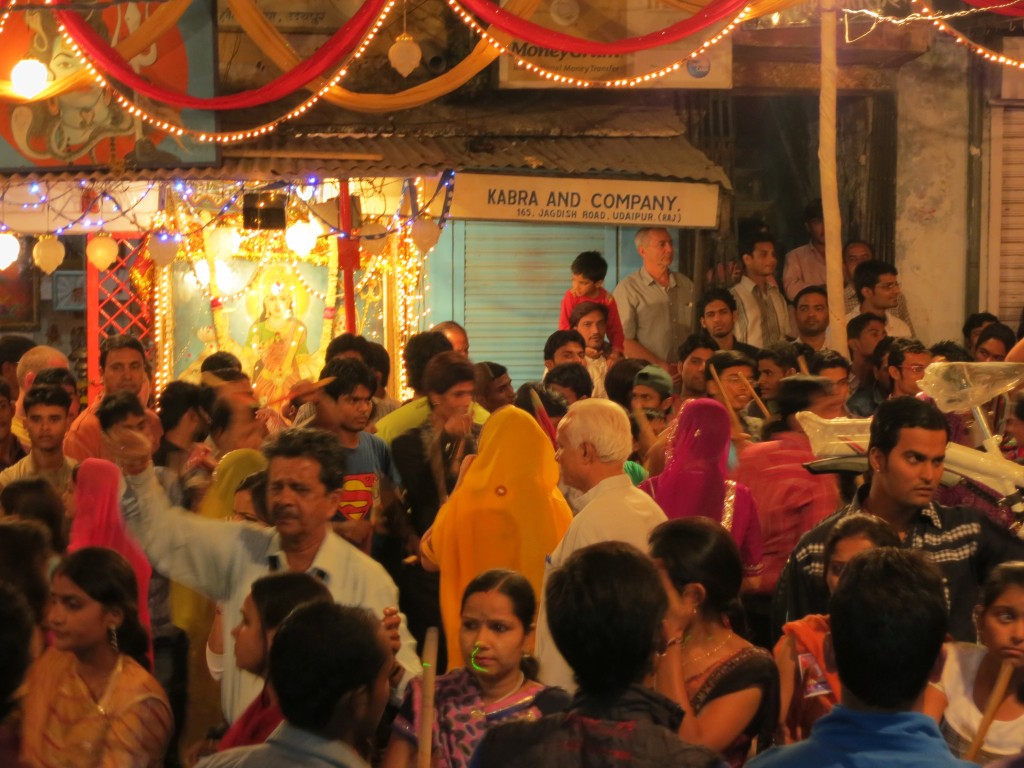 Ravi also told me to go check out the energetic religious festival happening near the City Palace gates.  For 9 nights men, women and children gather in the street to dance while banging sticks together in coordinated concentration. The music didn't stop for 2 hours…either did the dancing people! It was to honor one of the 33 million hindu gods…I just forget which one.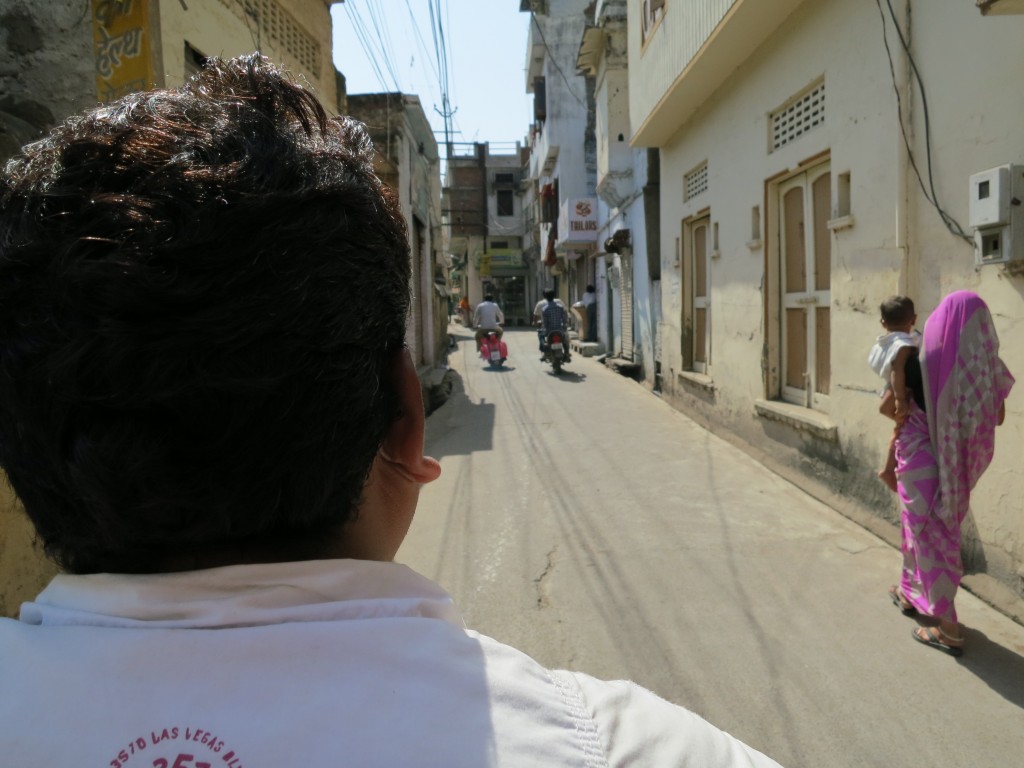 On the back of a motor bike in the streets of Udaipur.
I never say no to a scooter ride. Being driven by motor bike through the streets of India is top!  I love the wind in my hair, weaving effortlessly through people, dogs, carts, rickshaws, and cars, scraping my knees against cows and clutching the shoulders of a sweaty Indian man…Ha! Got ya! No, the last part isn't so cool, but the rest of it sure makes me jump to a resounding, "YES!" each time anyone asks me, "You want to go by motobike?"
In this picture I am off to a pedicure at Max's brother's shop(everyone is a "brother"…but it usually means friend or cousin).  The power was off in his shop because the city was saving electricity for the festival. 🙂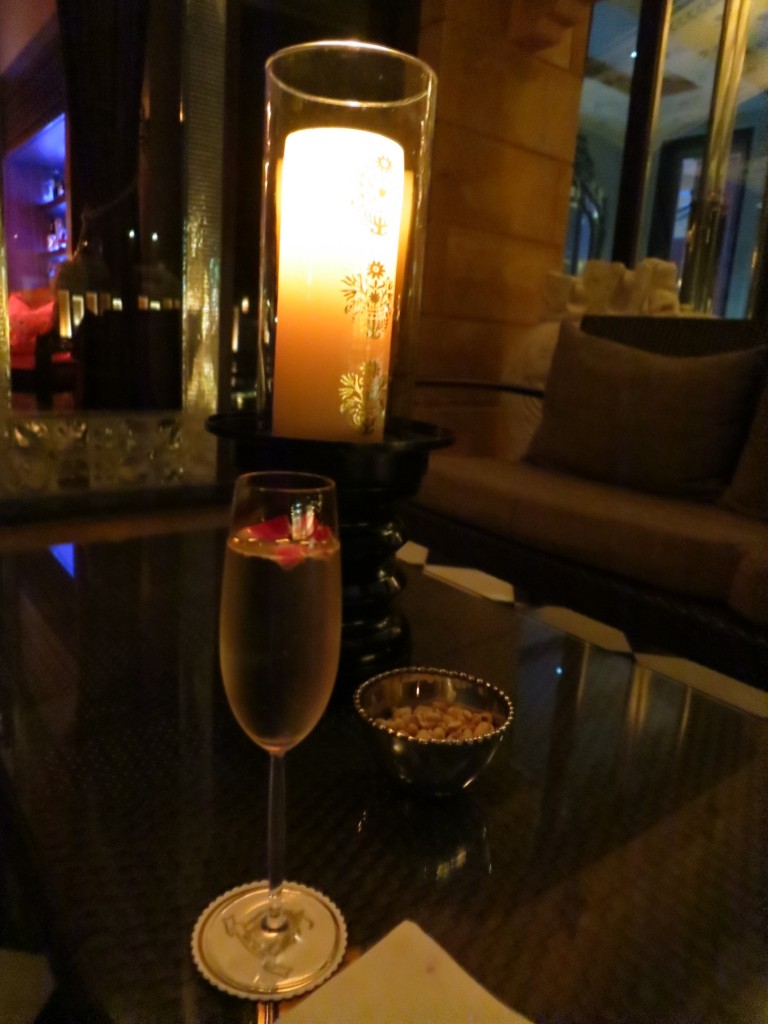 One of the reasons I enjoyed Udaipur so much was because I got a taste of the luxurious side of India. I spent an evening at the 5 star Leela Palace.  It is considered one of the best hotels in the world.
This Indian sparkling wine with rose water was one of the most elegant drinks I have ever had.  The gold golf cart (or carriage) driven by a regal turbaned man that picked me up at the entrance gate was also a nice touch.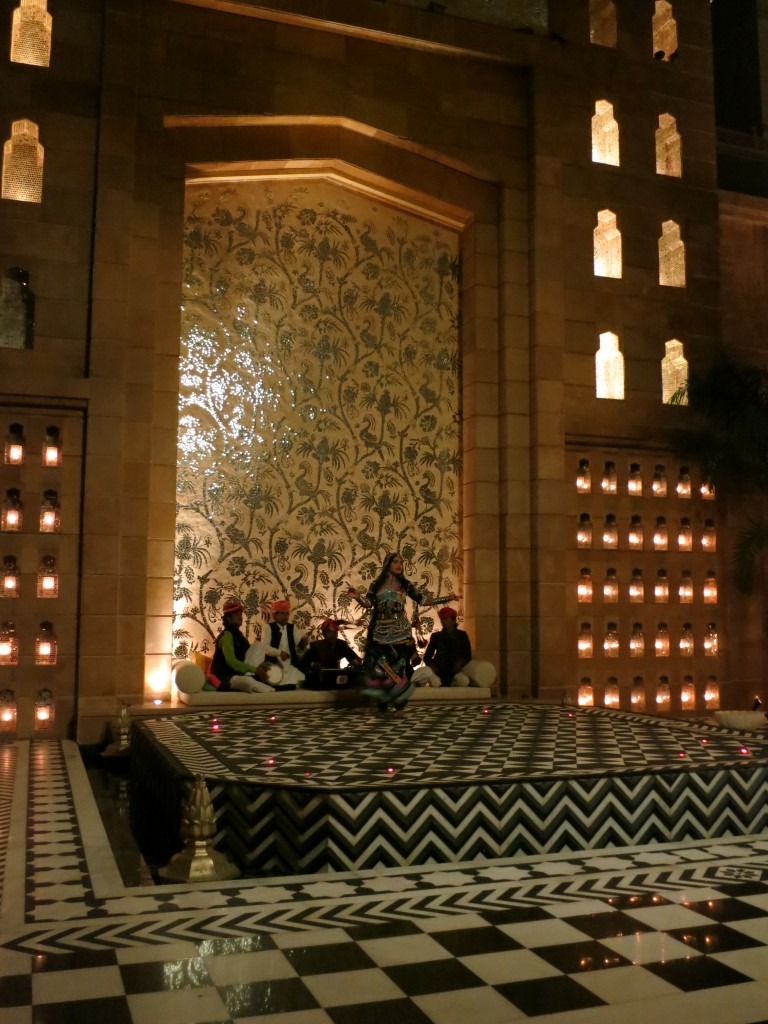 Folkdancing show at the Leela Palace.
Who, of course, got asked to come up and dance with the beautiful dancer at the end of the performance? The-not-so-adept-at-Indian-dancing-Jen :(. Longest 5 minutes of my life.
My champagne and show was followed by a 5 course Indian meal on the banks of the lake.  In true 5 star style, the chef even came out to make sure I was enjoying my meal.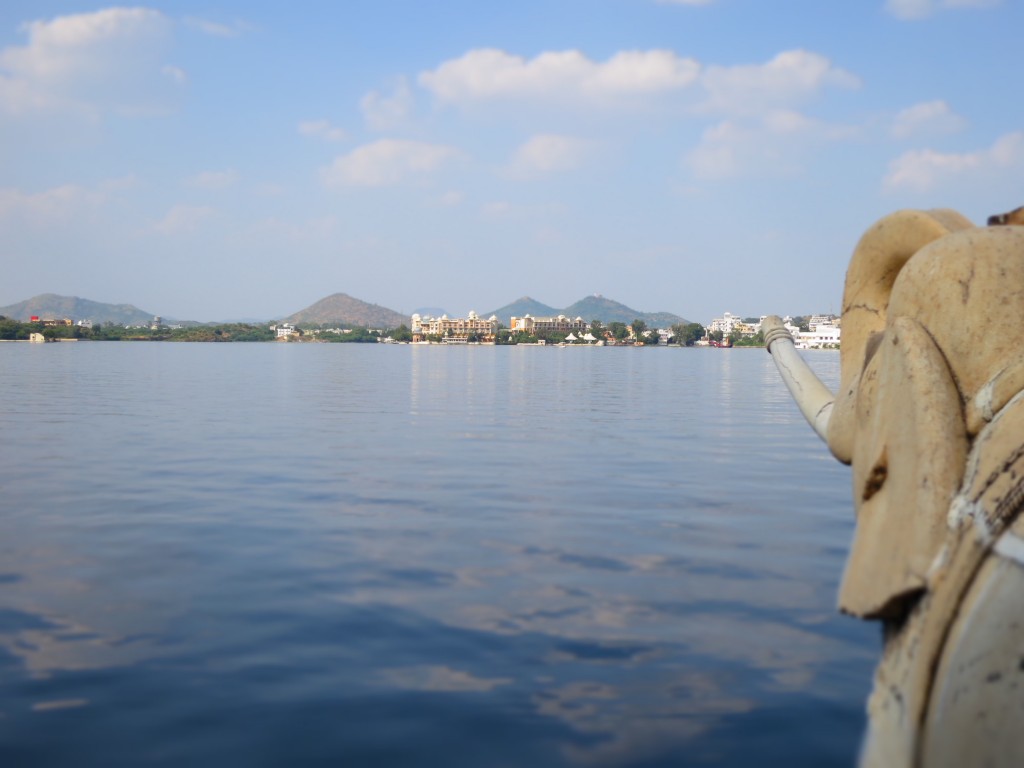 View of Leela Palace and parts of Udaipur from one of the King's summer island palaces, Jagminder.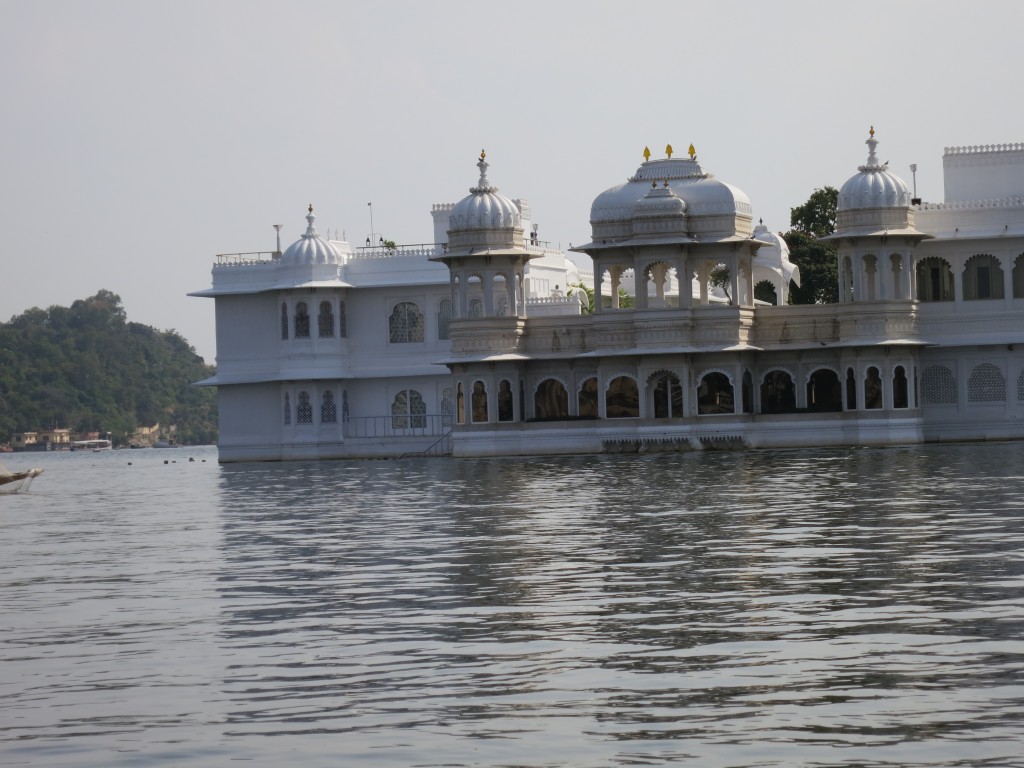 Udaipur is know as the "Venice of the East"…looks like it here, for sure!
I will be dreaming of this view for a long time.
My time in India is also sunsetting.  Tomorrow I fly to Bhutan.
What could possible await me there? I have butterflies.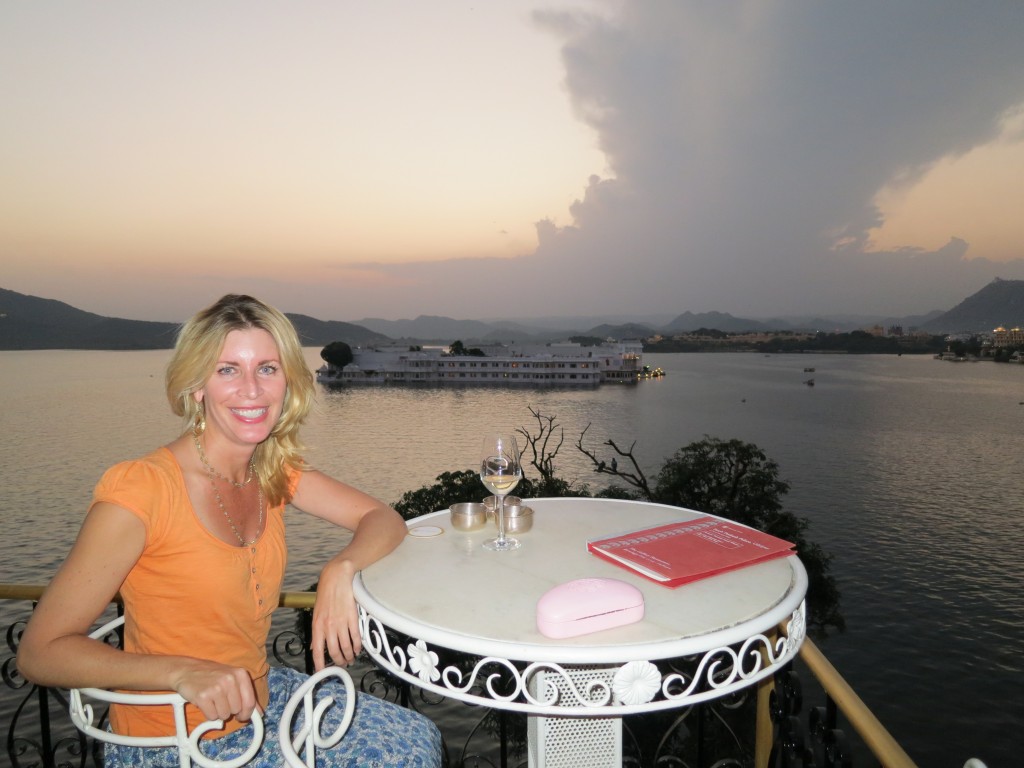 To Udaipur! To a magical place! To new friends! To an unforgettable time!
Wish you were here :)…just glad my stalking Tuk Tuk driver isn't!