My driver, Sumo, who is taking me on the 8 hour trip from Jaipur to Udaipur just told me, "Guests are god." This was his reason for not allowing me to pay the 85 rupi toll this morning as we got on the freeway. I will have to reimburse him later, but the act of paying at this a.m. hour was in his mind too rigorous for a guest…I should just be sitting and resting now. Okay, I will!  However, I would like to add that although the sentiment of a guest being god is quite lovely and indeed a host's mantra here, I can't say I always feel like I am treated like that – unless "god" also means "ATM" in Hindi. (My hotel overcharged me this morning…so I am feeling particularly sour right this second…it will pass.).
Uh…freaking out right now! We are driving on the wrong side of the road on the FREEWAY.  Sumo assures me we will be okay, but there are many fast moving vehicles coming straight at us! Sumo! Lookout! The white car! I hope I survive this country…
It is best I look down versus up…so while my life hangs in the balance, I will take this opportunity to share some pics and stories about something a bit lighter…my day with elephants!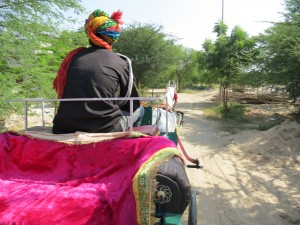 A carriage and a turbaned man awaited me.  Elefantastic! (<- which also is the name of the little operation that puts this day altogether)
Owner, Rahul, started this company  just 7 months…before he use to take tourists for elephant rides at Amber Palace (his family has been working with elephants for over 4 generations).  Although he enjoyed his work and meeting all the tourists, he wanted to create a more meaningful experience for animal and guest – et viola, Elefantastic became the answer.
Getting to know the elephants, feeding them, painting them, bareback riding, a jaunt through the jungle plus unlimited information on elephants and their life were all part of the experience that I was about to embark on.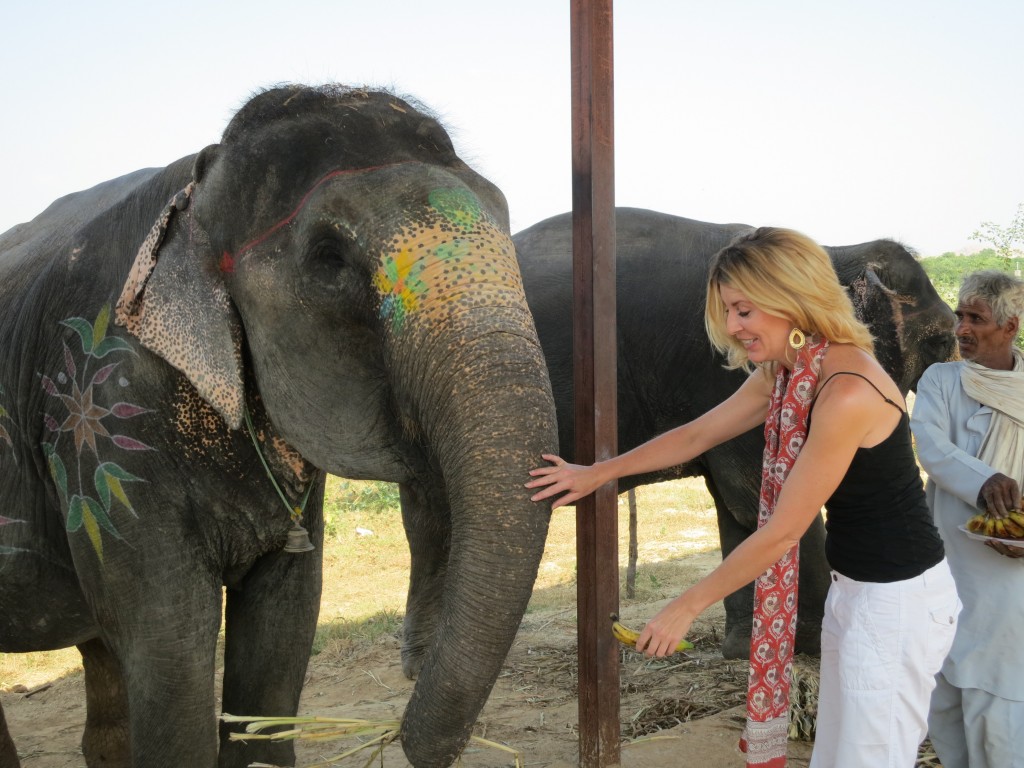 The tentative approach…
Rahul's farm has 24 elephants (23 females and one male…females have "better temperaments," according to Rahul).  An elephant learns to recognize someone by scent alone (poor eyesight)…and feeding the elephant bananas was how I introduced myself to Somba.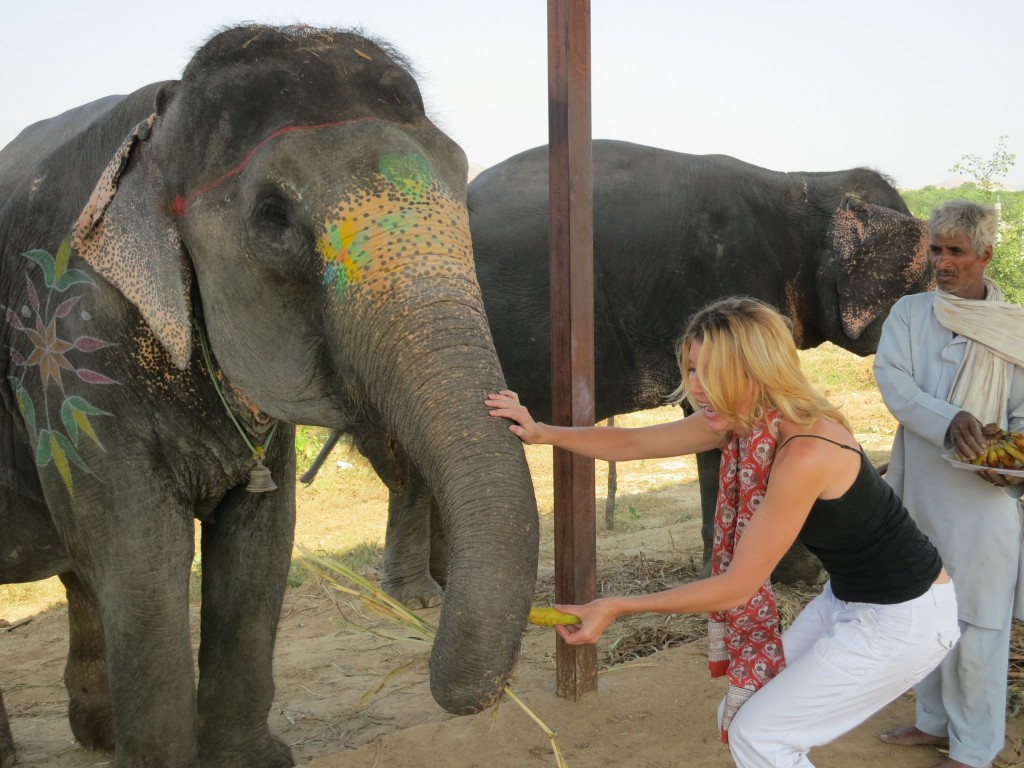 Open wide!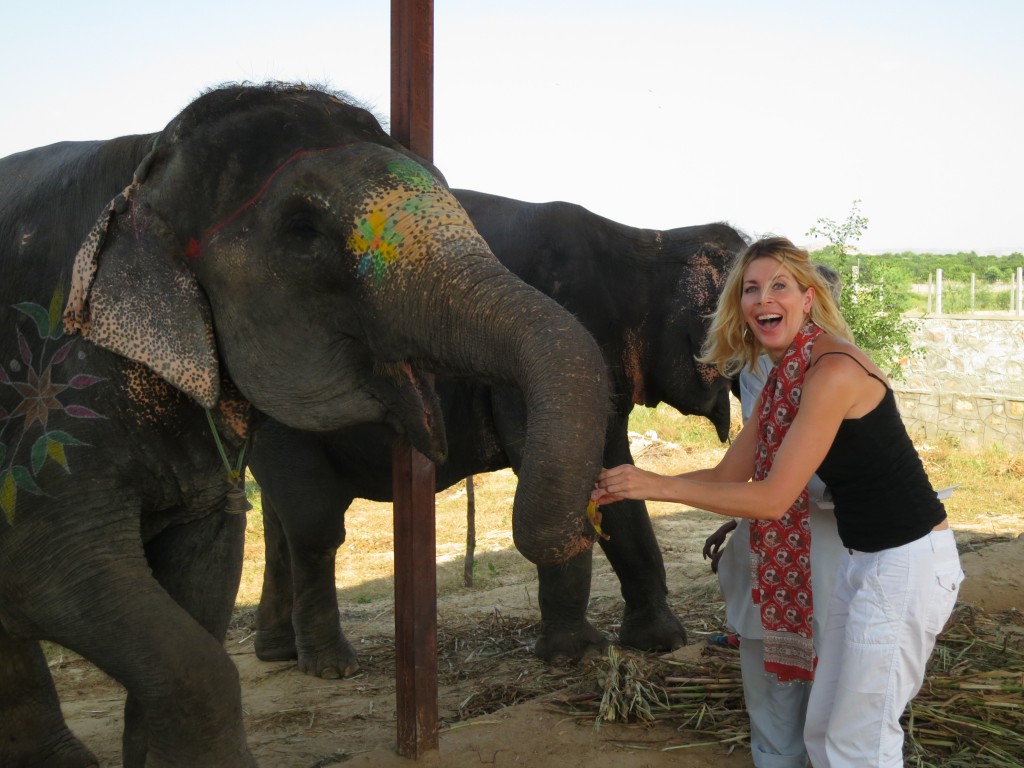 She likes it…she really, really likes it!
Although, apparently, she likes sugar cane more.
In addition to 230 Kilos of millet, sugar cane and bananas each day,  these animals are served 5 Kilos of homemade chapati (flat, round Indian tortilla-like bread) every evening.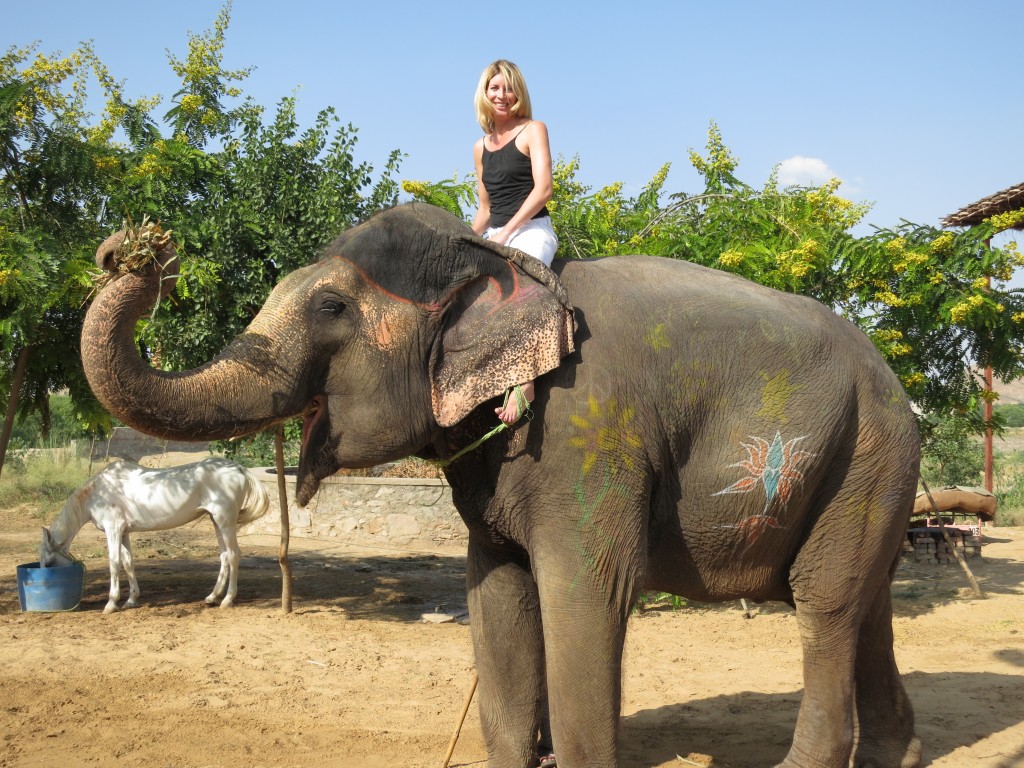 Just like riding a horse (er, not at all!).
To mount her, the boys had Somba "lift me with her trunk."  Sounds easy, right? Well, the other steps involved included me clutching both of her ears as I walked up her trunk and forehead, climb over her head and somehow turn around to assume the riding position.  The lifting me with her trunk part, frankly, was quite nominal. However, I was successful…albeit not graceful.  Tricky stuff this elephant riding!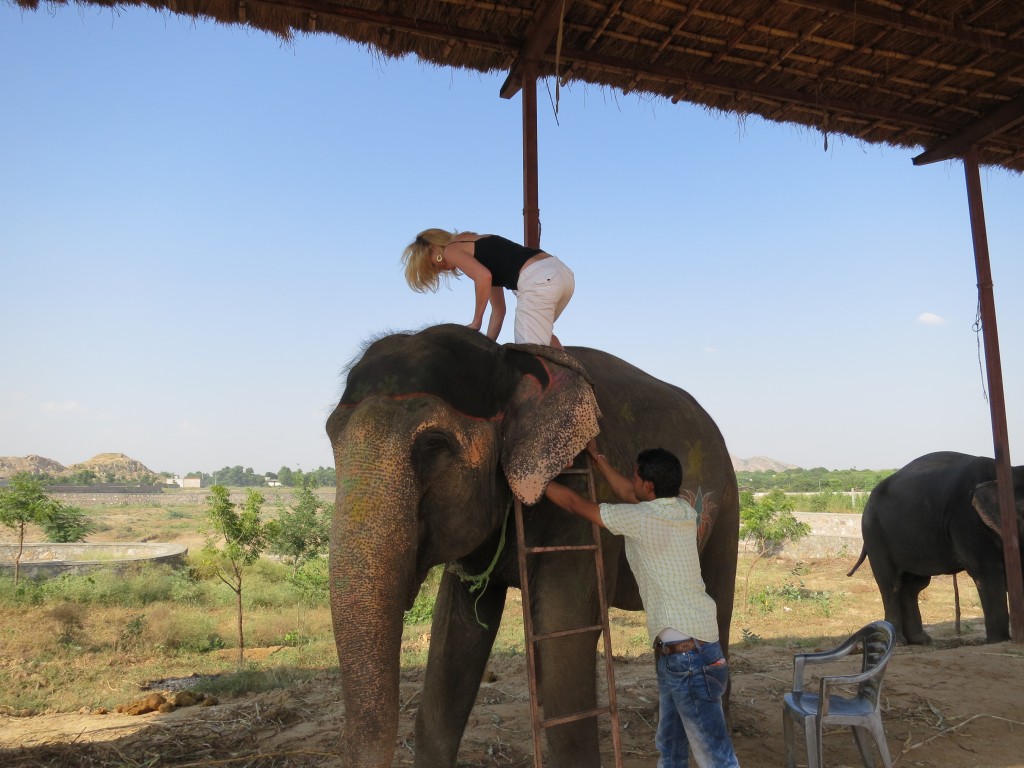 During the bareback ride most of my thoughts were focused how the heck I was going to get off this thing :).   Would I have to slide down her trunk? Jump? Pray I grew wings?  Much to my pleasant surprise, Rahul grabbed a ladder.  Brilliant idea!
Shortly after this picture was taken, Rahul and his cousin both asked me to dinner (could it have been my graceless climb over poor Somba's head that charmed them?) . Rahul's cousin offered to cook me meat (very unHindu of him!)…while Rahul offered to take me a restaurant owned by the royal family.  Since I was sure I had signed-up for a day with elephants, not an episode of Elephant Farmer Wants a Wife, I declined both offers.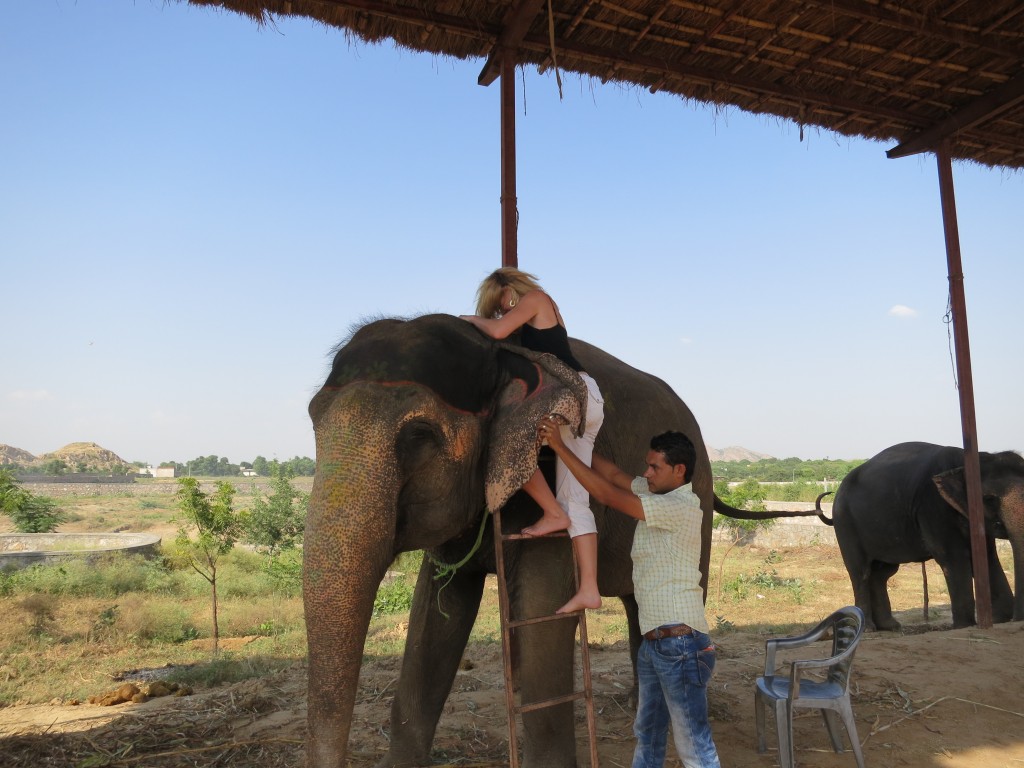 So thankful for the ladder…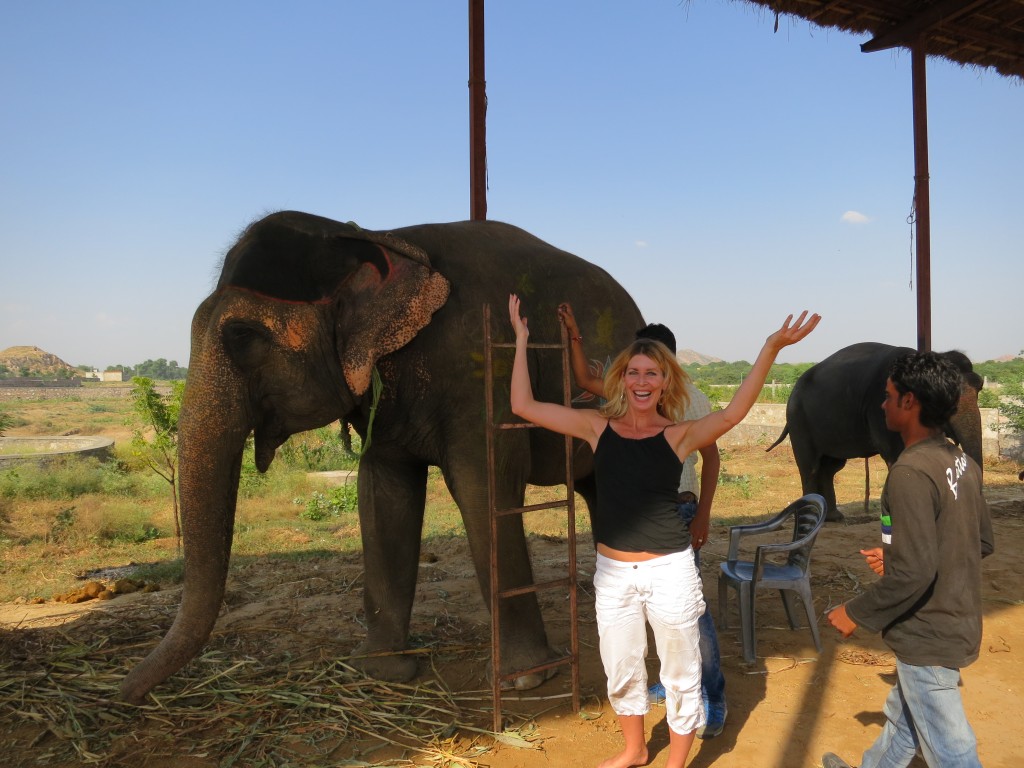 Tah Dah!
Time to paint.
Elephants aren't native to Rajastan, but they have always been a symbol of royalty and luck in the state.  Painting, along with colorful cloth and head pieces, is traditional elephant decor. Did you know there is elephant polo? Oh yes!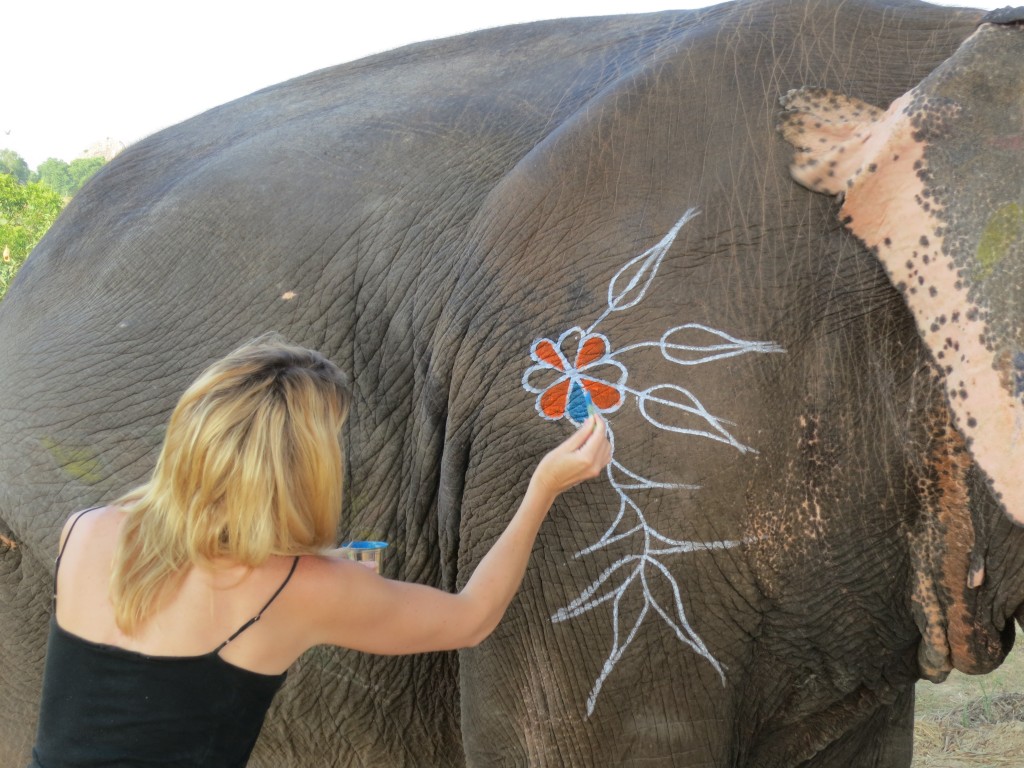 I did my best to stay within the lines…too bad Somba's constant shifting (mine to as I was scared for my toes. I was told she won't step on my feet cuz she senses them….but wasn't going to take that chance!)  and her ear that kept pelting my hand foiled my quest for a perfect painting.  But I don't think Somba minded.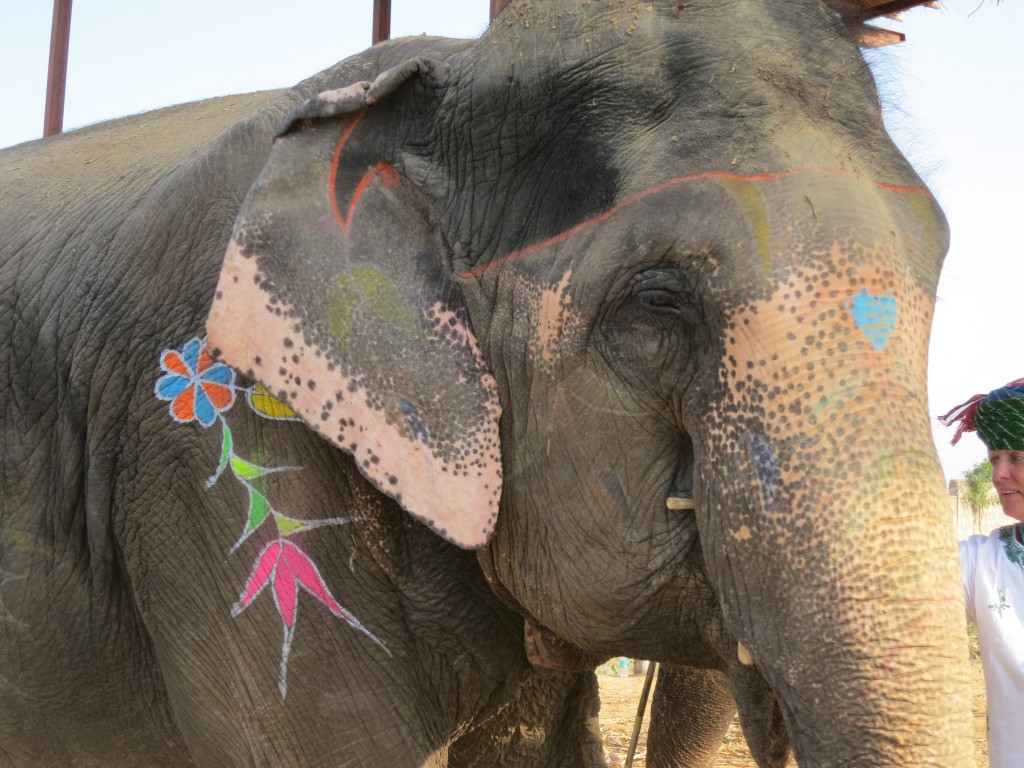 I added the heart on her face too.
***Real time interruption:  My driver, Sumo, who has been consistent in finding reasons to touch my hand ever since I entered the car – tracing where henna would be applied, examining my fingernails or generally talking about the benefits of red fingernail polish – has now escalated to Kama Sutra talk.  He wants me to look at the copy in carries in his glovebox!  Do all Indians keep a copy of the Kama Sutra handy!? *deep, deep sigh*  Sumo, how about I look at it later?***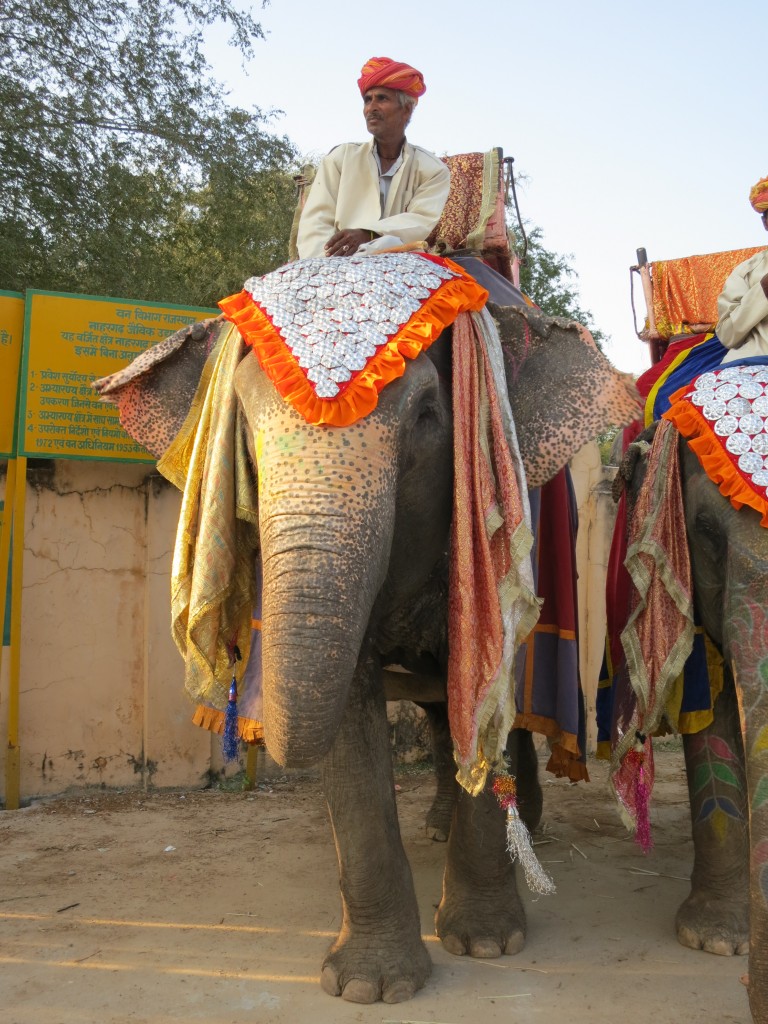 Looking good!
These girls are ready to bring us on a little safari around one of Jaipur's small nature parks.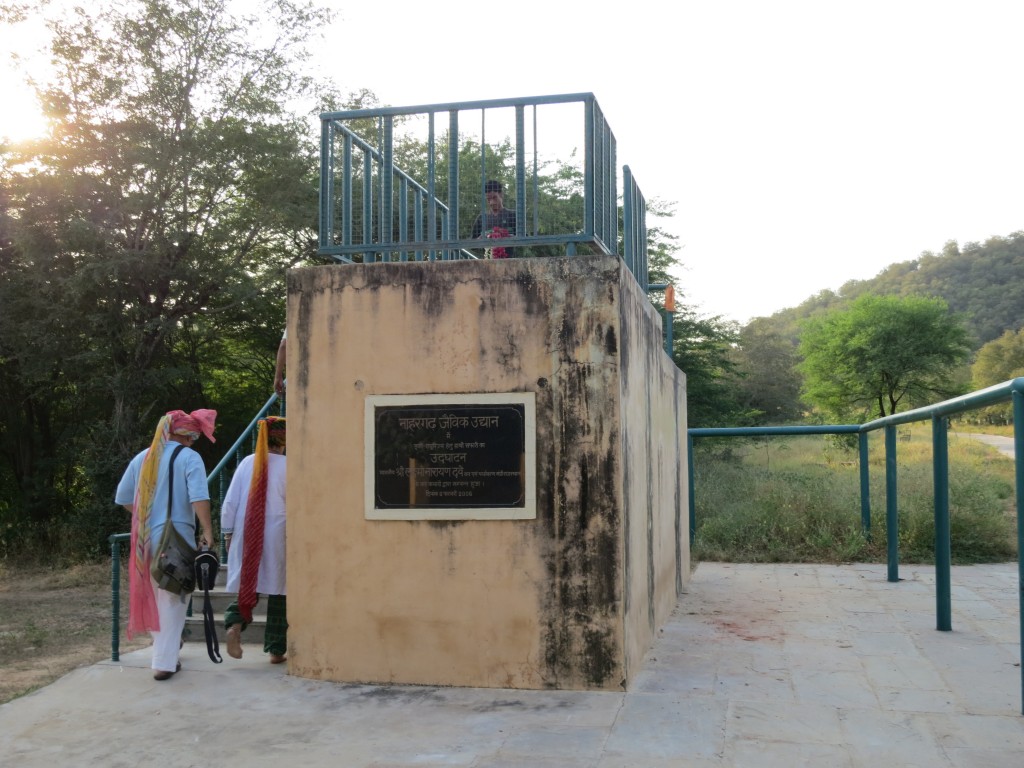 The platform we walked up to mount our elephants (much better than scaling a trunk).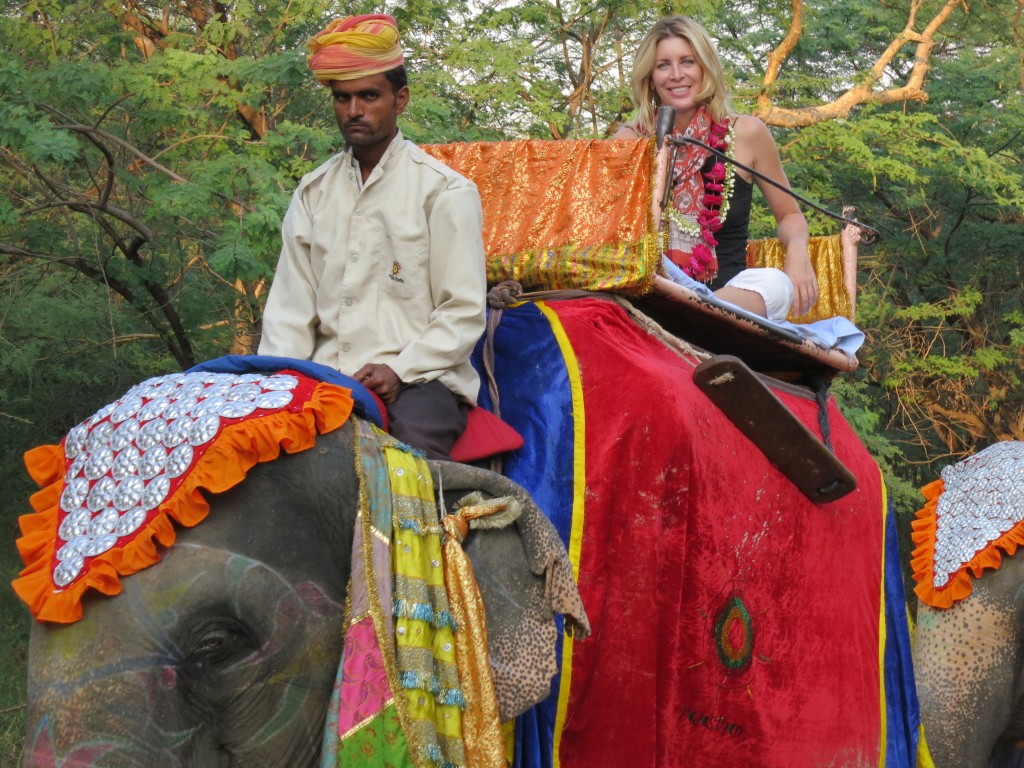 And she is on!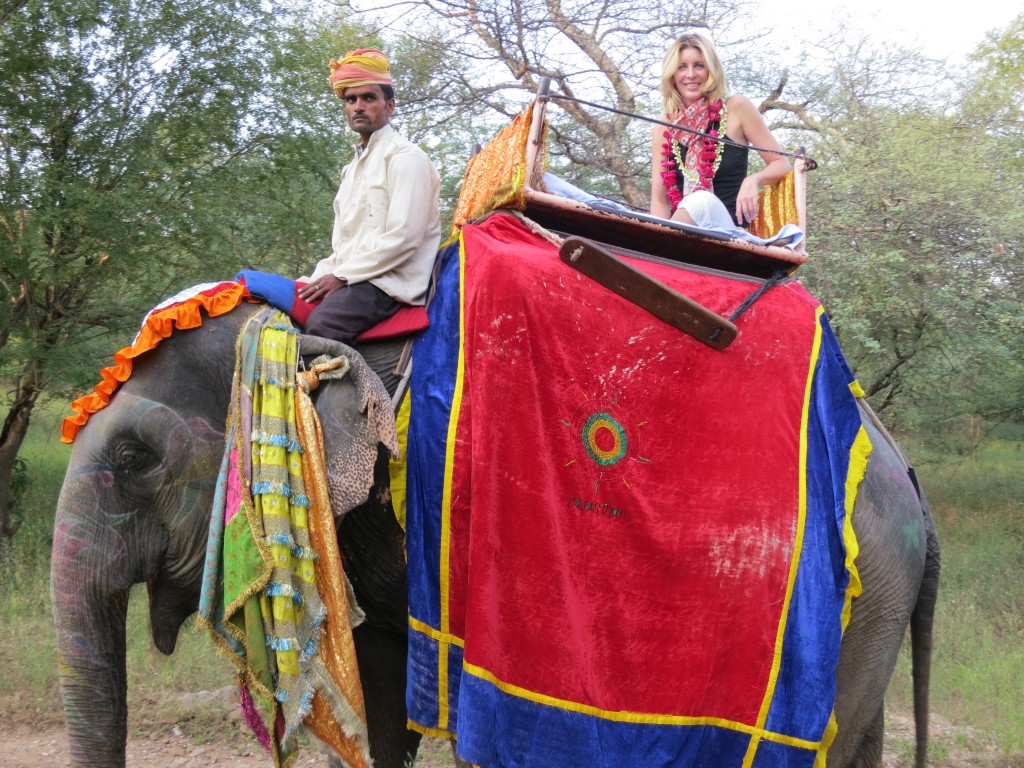 Looking like a Maharani 🙂 (wife of Maharaja)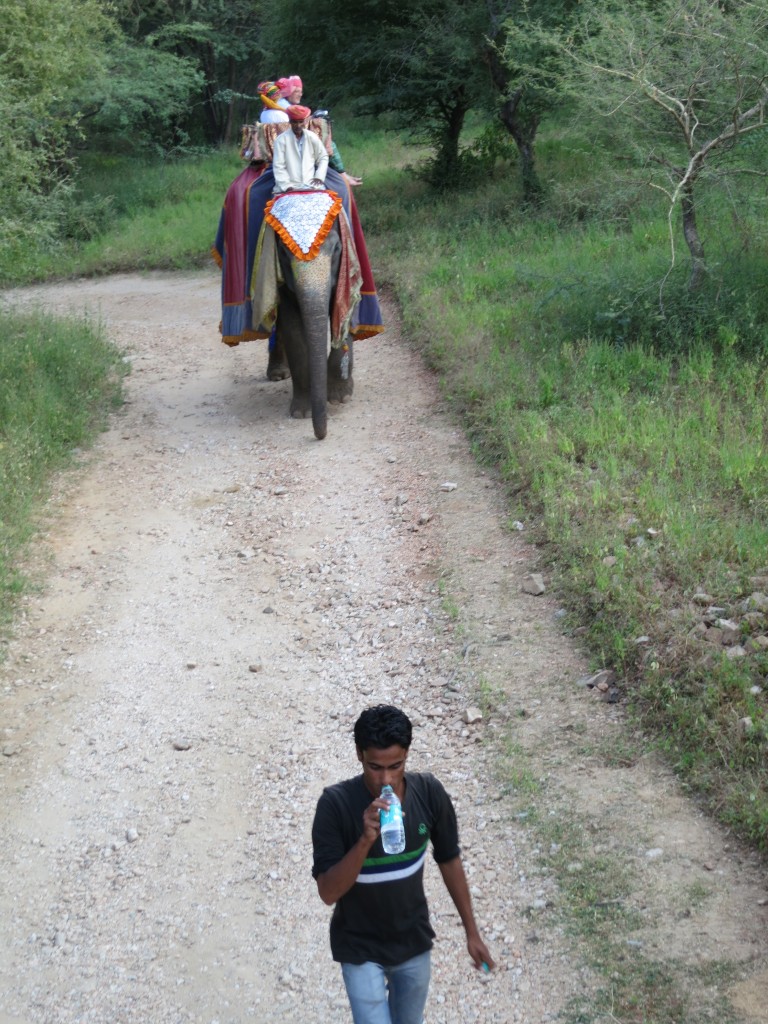 Deep in the Indian jungle…
We were told there was the opportunity to see antelope, hyenas, wolfs, panthers and peacocks.
We only saw many, many, many, many peacocks.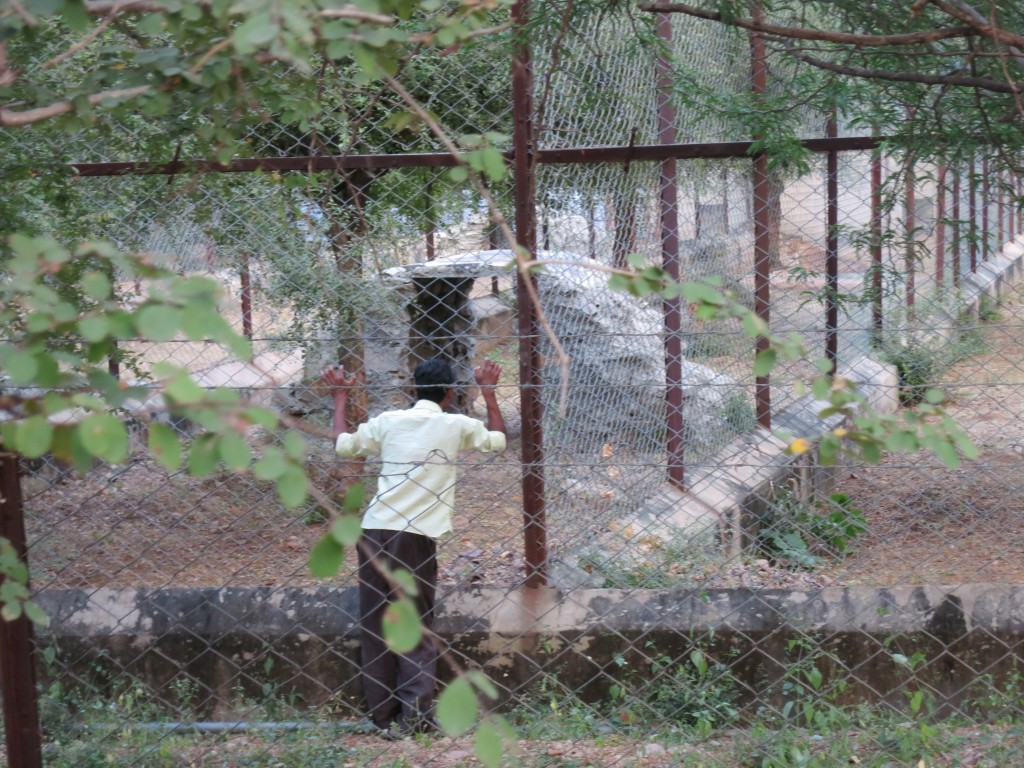 The caretaker at the Tiger Rescue Center inside the park. He is trying to call a lion to come say hi to us!
All the tigers and lions here are rescued from zoos in India.
The quiet and sometimes quite ferocious growls of the tigers were constant  background noise during our walk.
One of the gorgeous creatures.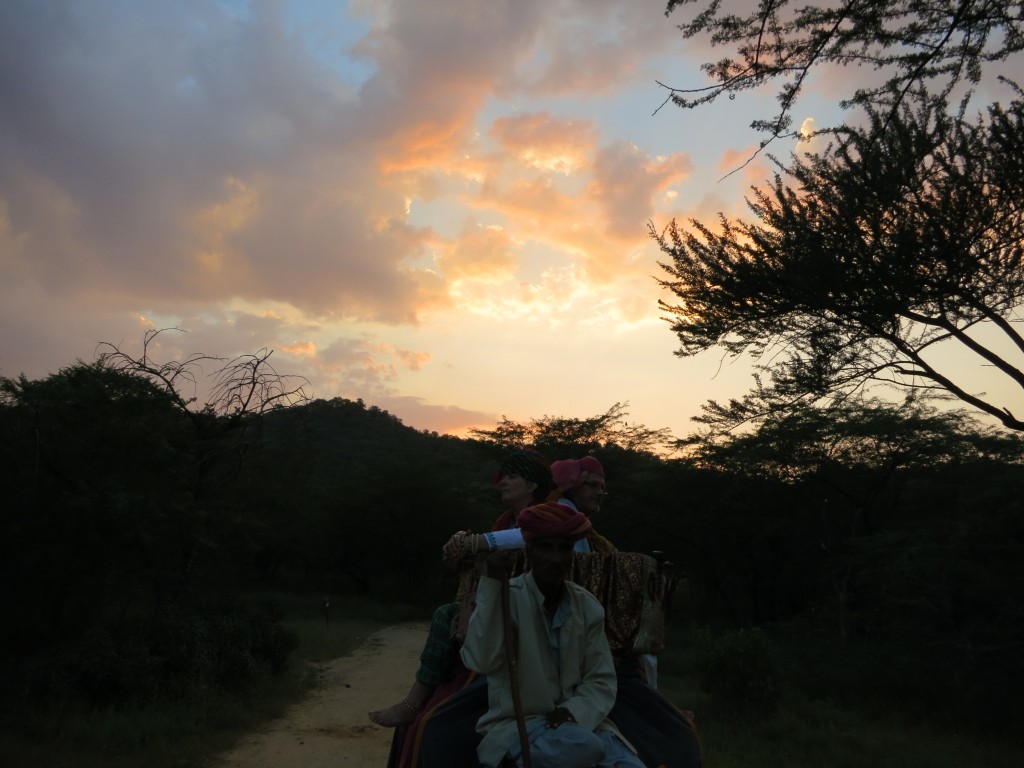 Coming home at sunset.
Unique day and happy to have experienced it.
When Rahul asked if the day was very good or excellent, I responded with a resounding, Elefantastic!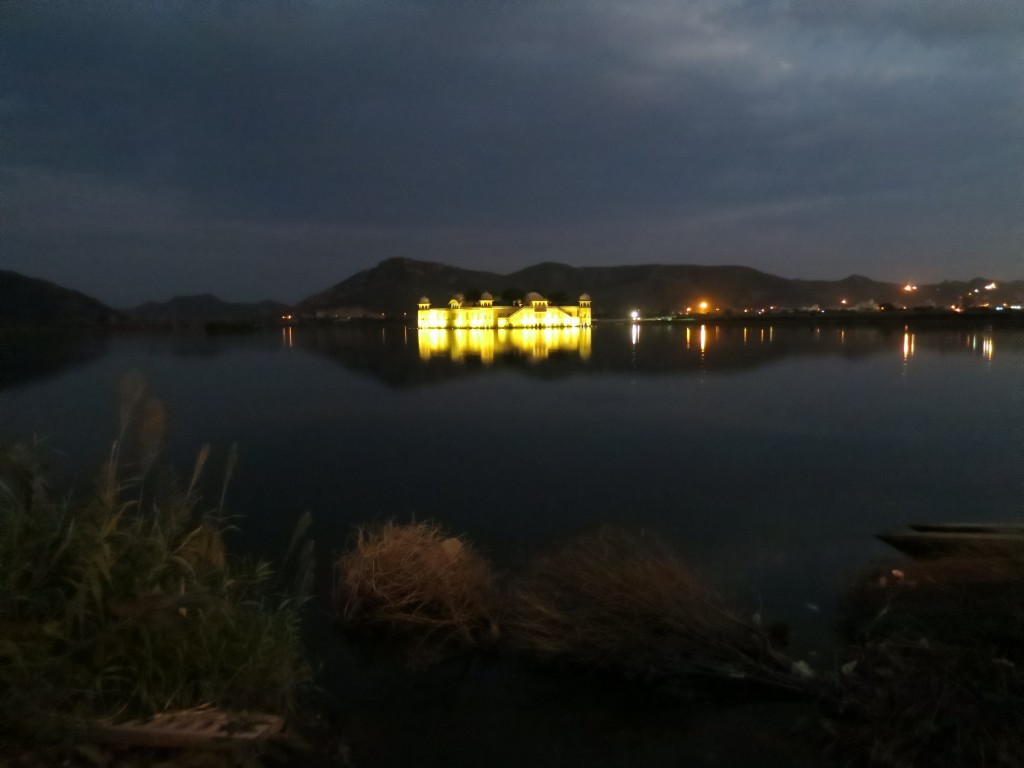 Lake Palace in Jaipur.
Now in Udaipur…and somehow thwarted all of Sumo's advances.  Although, I did end up looking at his Kama Sutra book.  Elefantastic :). 
Note from me: My recommended travel guide in Jaipur is the one I used, Love Jaipur, Rajasthan
. This is an incredible guidebook that will really give you a unique and authentic experience in "The Pink City."