When trying to figure out where to go in Italy in January, I asked my Italian cousins, "What do you think of Puglia?" Yes, Puligia. You see, I have been obsessed with a seaside restaurant set inside of a cave that happens to be in one of Puligia's provinces called Bali. Imagine being elegantly seated inside a vaulted limestone cave while looking outwards toward the sea and the setting sun. Include a glass of Arneis, crusty bread and some of Italy's best olive oil and I am pretty sure the vision is straight from Dante's Paradiso. Who wouldn't be a little obsessed!?
As logic would have it, the restaurant is closed during the cold winter months, so my cousins suggested Sicily. Brilliant! One call later to my Sicilian-lobbyist friend in D.C and I had my transportation routed and B&B booked. I was Siracusa, Sicily bound…specifically its historic center on the little island of Ortigia.
View of mainland Italy from my ferry headed for Sicily.
To get to Sicily from Roma, I decided to take one of the express overnight trains.
You know the saying, "Its not about the destination, but the journey." Well, that couldn't have been more true about this overnight experience to Siracusa.
I boarded my train at Rome's Termini station at 10pm and made my way to my sleeping car. My little first class compartment was equipped with a sink and overnight necessities (toothbrush and slippers included). Before I tucked myself under the snug comforter and rested my head on the fluffy pillow**, my porter came by to wish me good night and drop off a bottle of sparkling water. I was rocked to sleep by the sway of the train.
Seven hours later, the sound of scraping and clanking metal jolted me awake. When I looked outside I noticed our train – our whole train – was being loaded onto a ferry to cross from mainland Italy to the island of Sicily! INCREDIBLE! When I went out to further inquire, my porter suggested I go up to the decks to "enjoy the sail"…so I did! It was a marvelous 40 minutes watching the scenery and sunrise over Sicily…and I did it while enjoying two of the best cups of cappuccino I have ever had!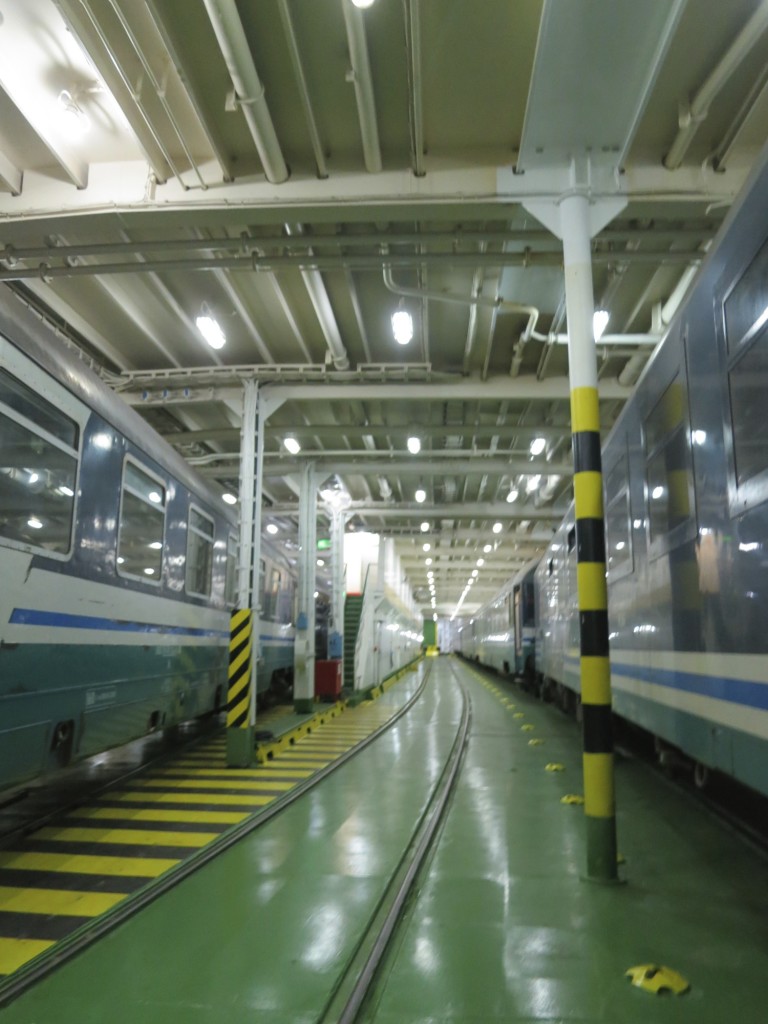 My train in the bowel of a ferry…who knew trains took ferry trips too!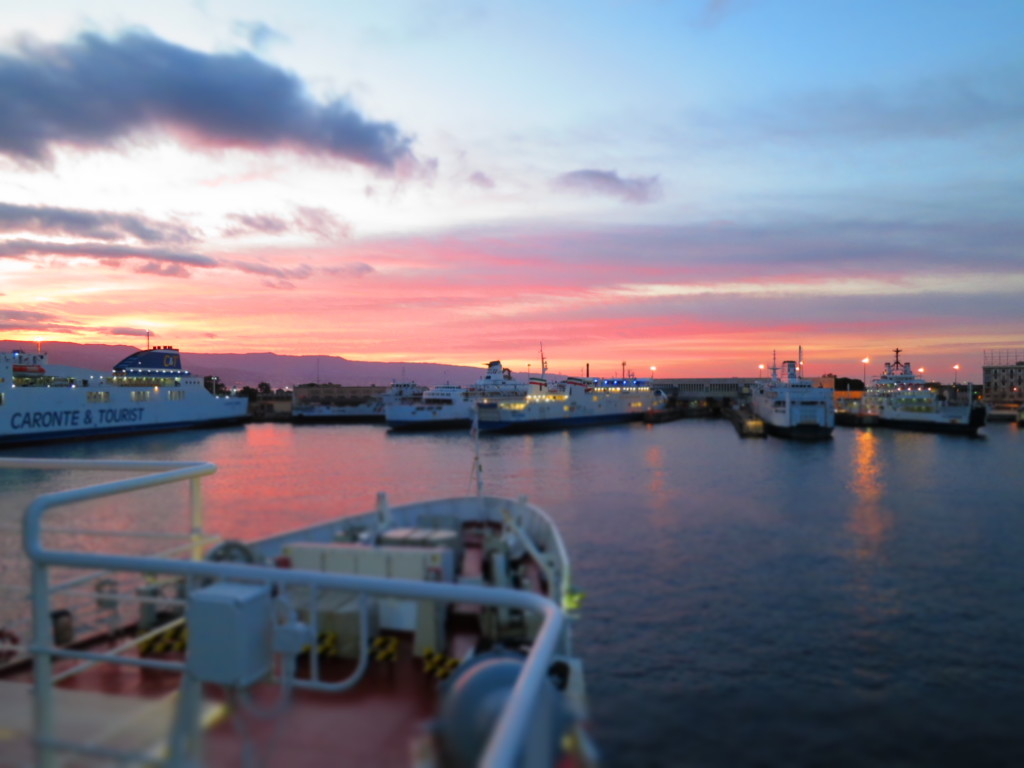 Watching the sunrise over Sicily as we came into port at Messina.  Best train trip ever**!
Once safely unloaded, we took to the tracks again. The most majestic part of the next 2 1/2 hours in route to Siracusa was gazing upon Mount Etna. She is one of the most active volcanoes in the world, and I enjoyed marveling at the smoke and steam bellowing up from her splendid snow-capped summit (just wish my pics of it weren't so sh*t).
(**although my bed was quite delectable on the train and the train ride more than memorable, I noticed the next day that I had many little bites on my body!! Egads!  Bed bugs?! I am still deciding.)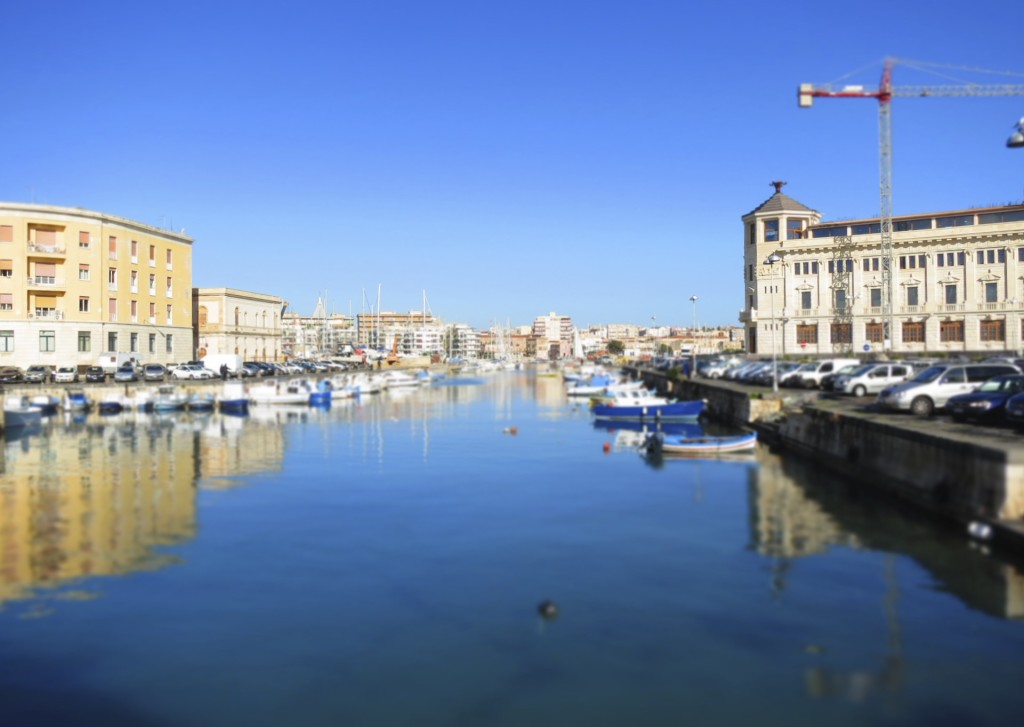 Arrived to the magical island of Ortigia in Syracusa, Sicily!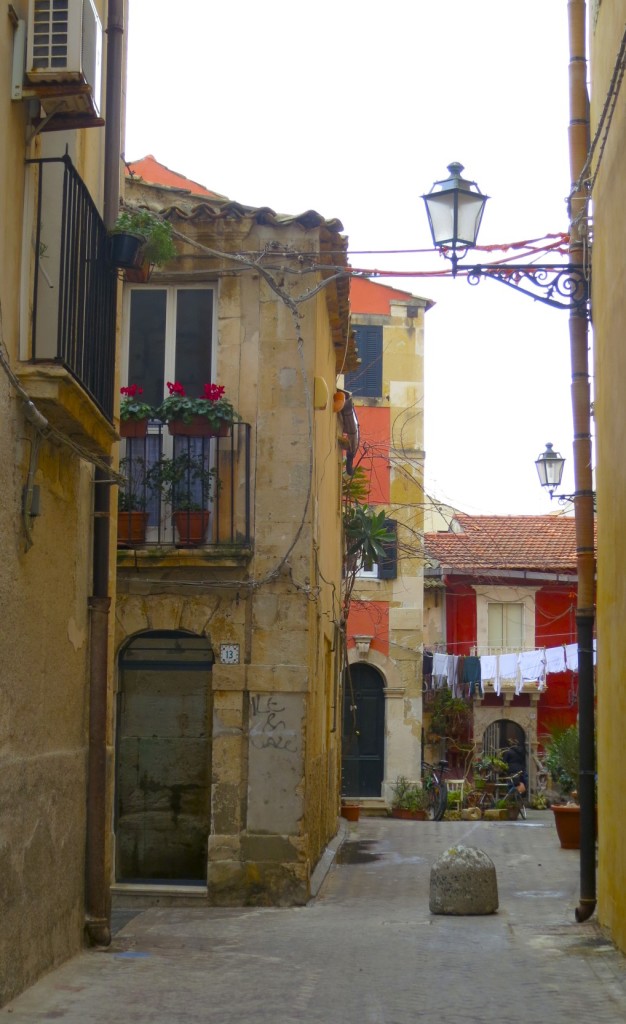 Steeped in Greek history and myth, the quaint "old town" absolutely charms with its many narrow streets and weathered buildings.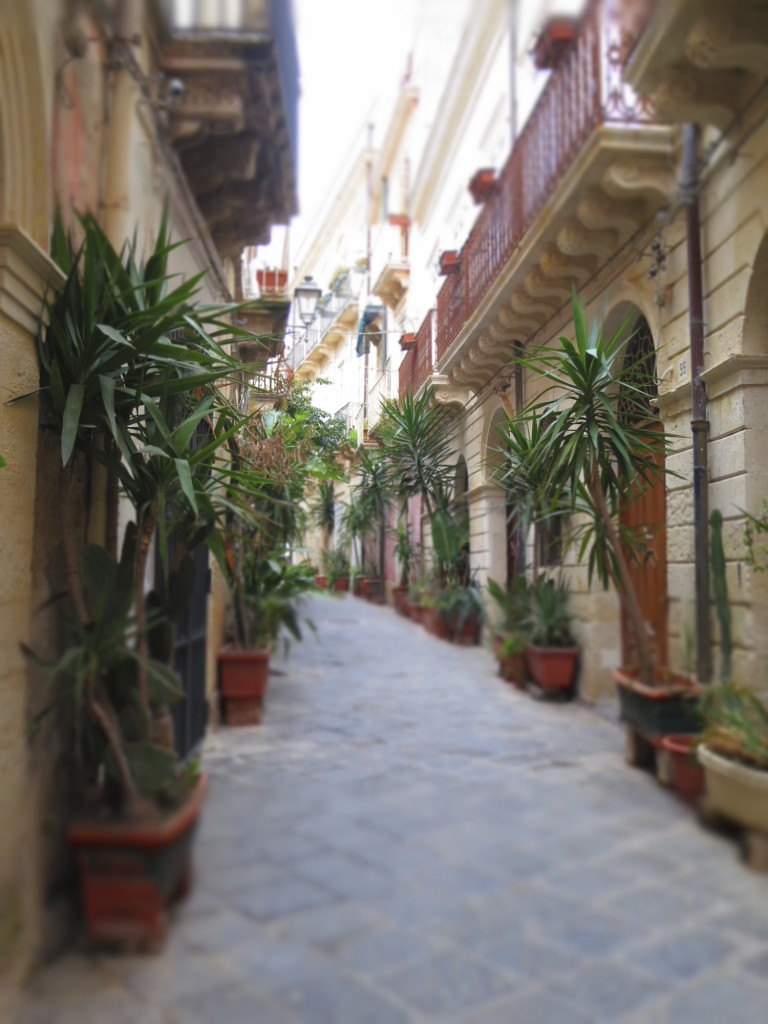 Picture perfect walking street right next to my B&B.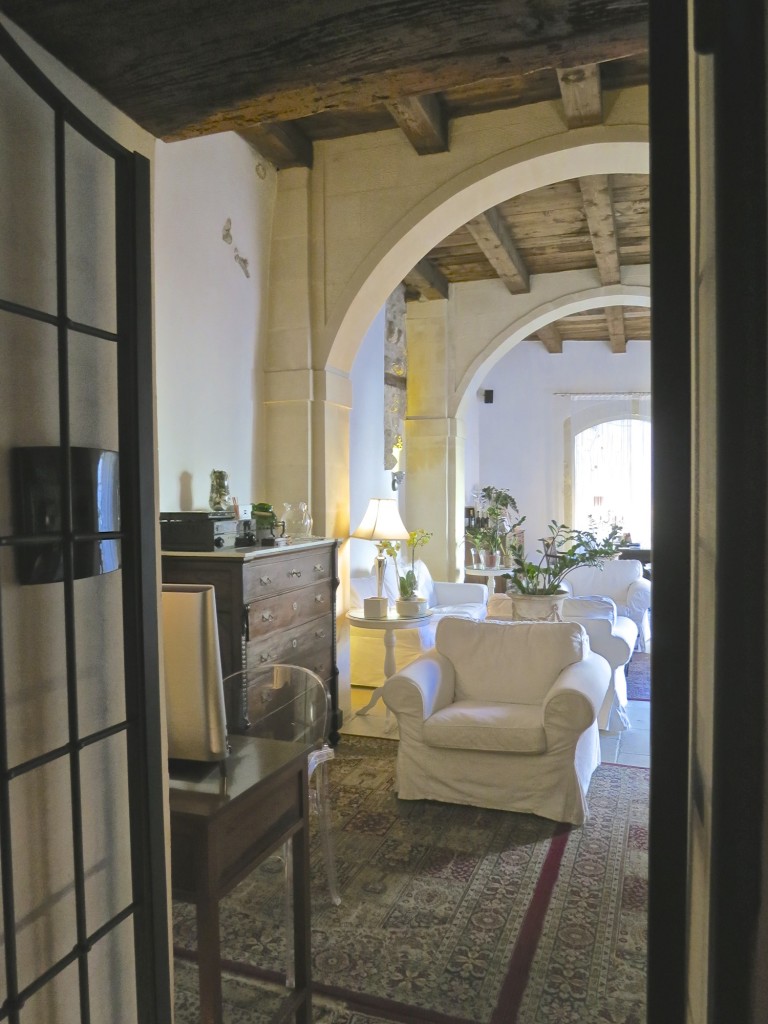 My home for the next 3 nights – La Via della Giudecca B&B.
The B&B takes its name from the Jewish quarter of Siracusa in which it stands. It is right on a square named, Piazza San Filippo, and close to everything. I couldn't have chosen a more comfortable stay in Siracusa.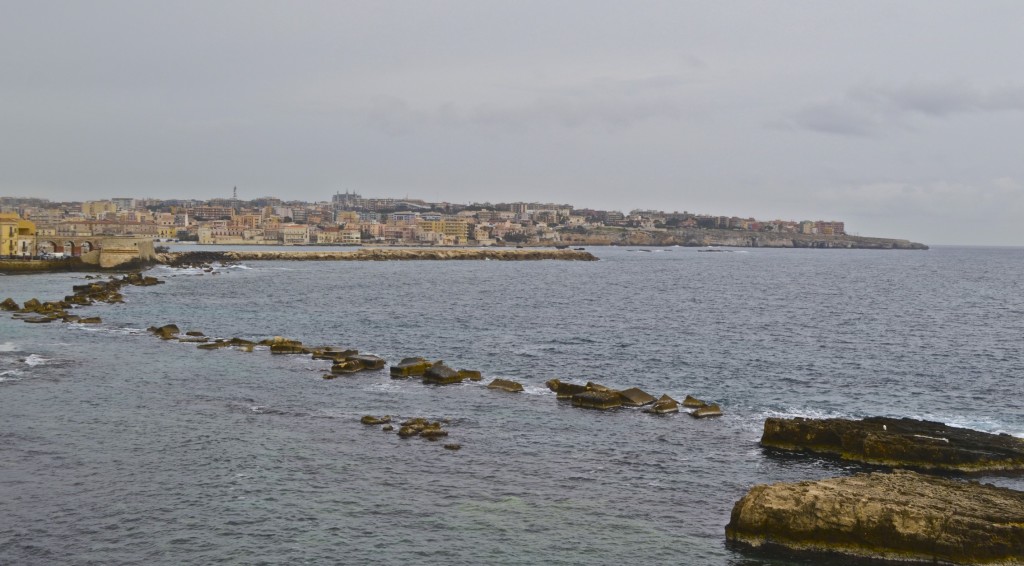 View of Siracusa from Ortigia.
I chose Ortigia because it is small and quaint. In January there isn't much to do besides explore its history, streets and food, but that was just the experience I was looking for after the bustle of Rome.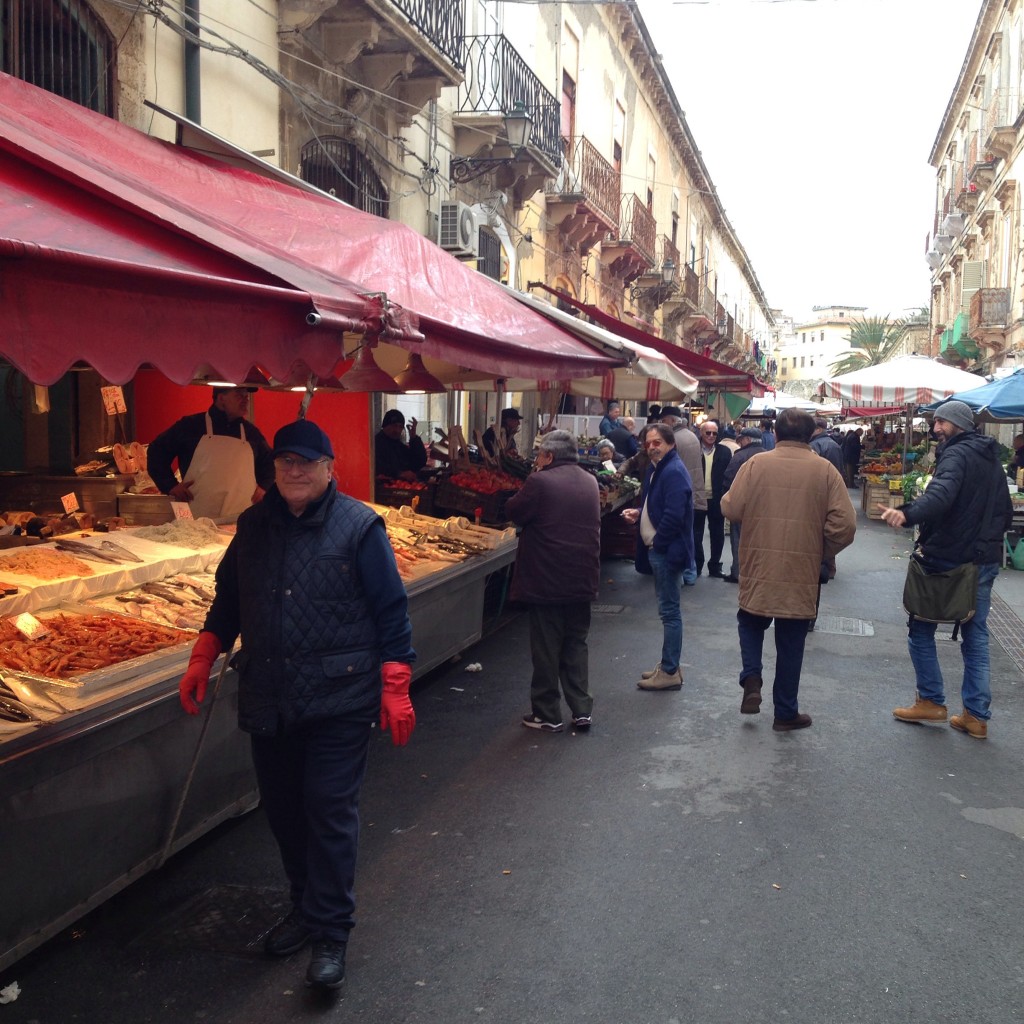 Ortigia's daily market
One thing I LOVE to do when traveling is to visit the local markets, and this daily one in Ortigia did not disappoint! Fresh fish, many kinds of oranges and lots of pecorino cheeses were amongst the fresh, local items found. The fish mongers yelled so loud it almost seemed hostile, but they were just trying to sell their goods. I wonder if that would work as well for me if I tried the same at a trunk show. 🙂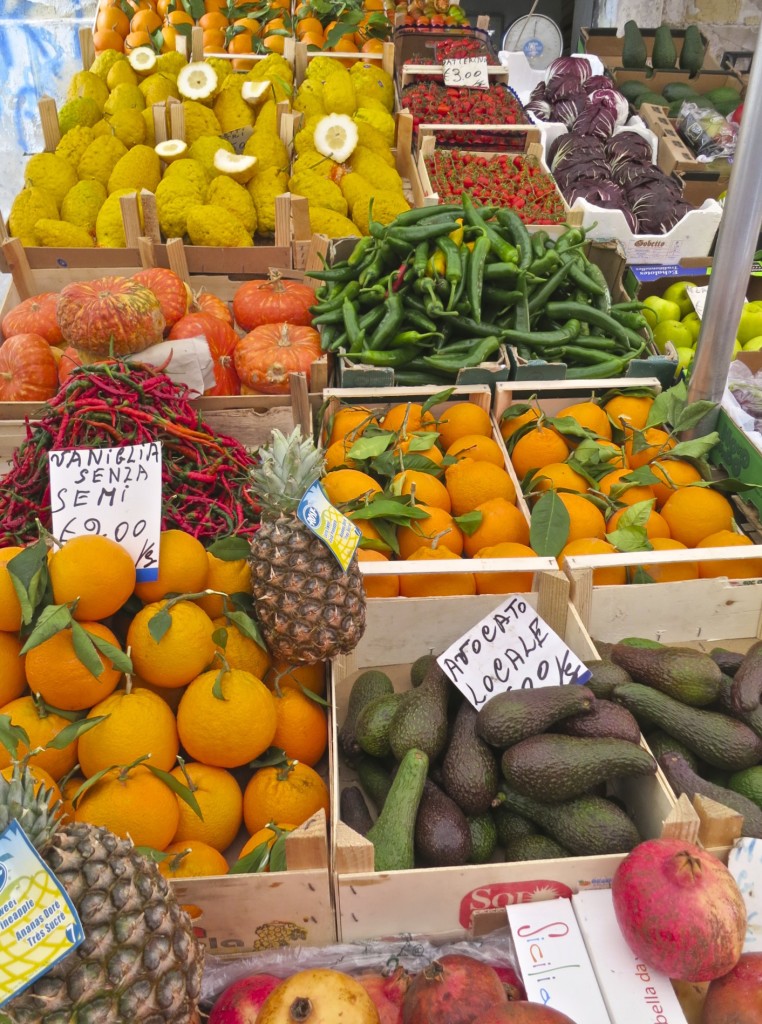 Local everything! The stuff dreams are made of…and on Ortigia is is just a daily norm.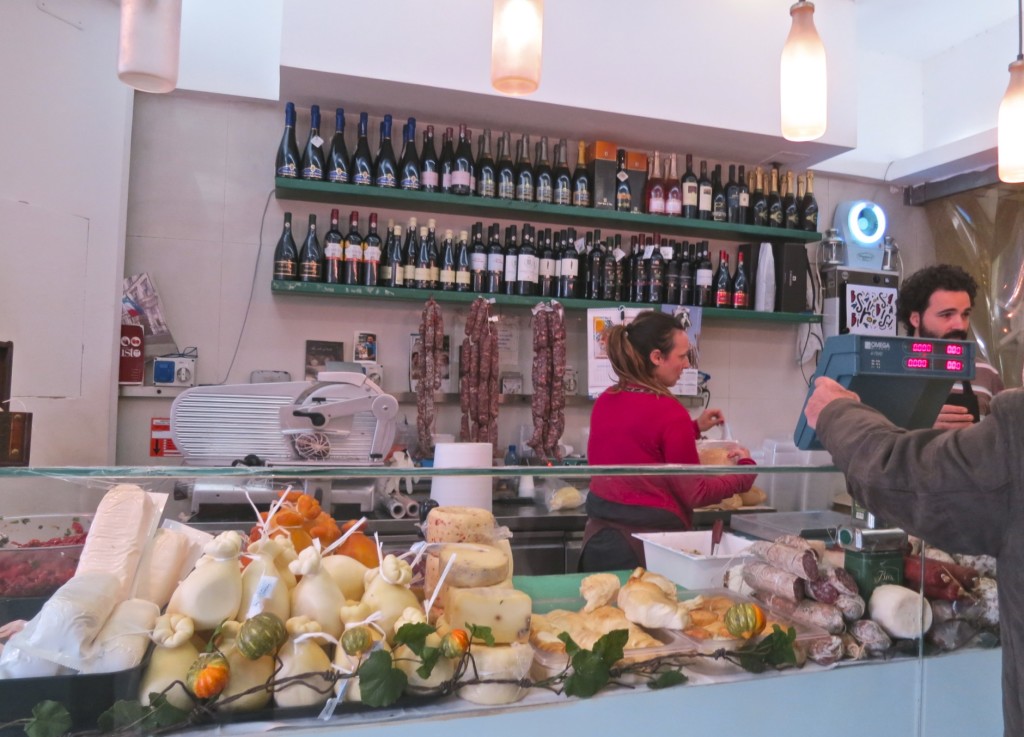 Caseificio Borderi – A must visit on Ortigia!
I went to this wonderful shop in the market my last day on the island to buy olive oil.  My hotel bought all their breakfast cheeses and meats here and therefore recommended I went to them for the best Sicilian olive oil.
Locally owned, the entire family seemed to be working the day I visited. Since the line was long, they treated me to a sandwich, wine and prociutto…all just because I was patiently waiting my turn!  AND OH THAT SANDWICH! It was an incredible medley of Mediterranean flavors that can only be found in Italy…uh, scratch that, that can only be found in Sicily…uh, scratch that too, that can only be found at Caseificio Borderi! Turned out they were out of olive oil for the day, but during that 20 minute wait I decided that someday I would come back to Ortigia just to stand in their line one more time.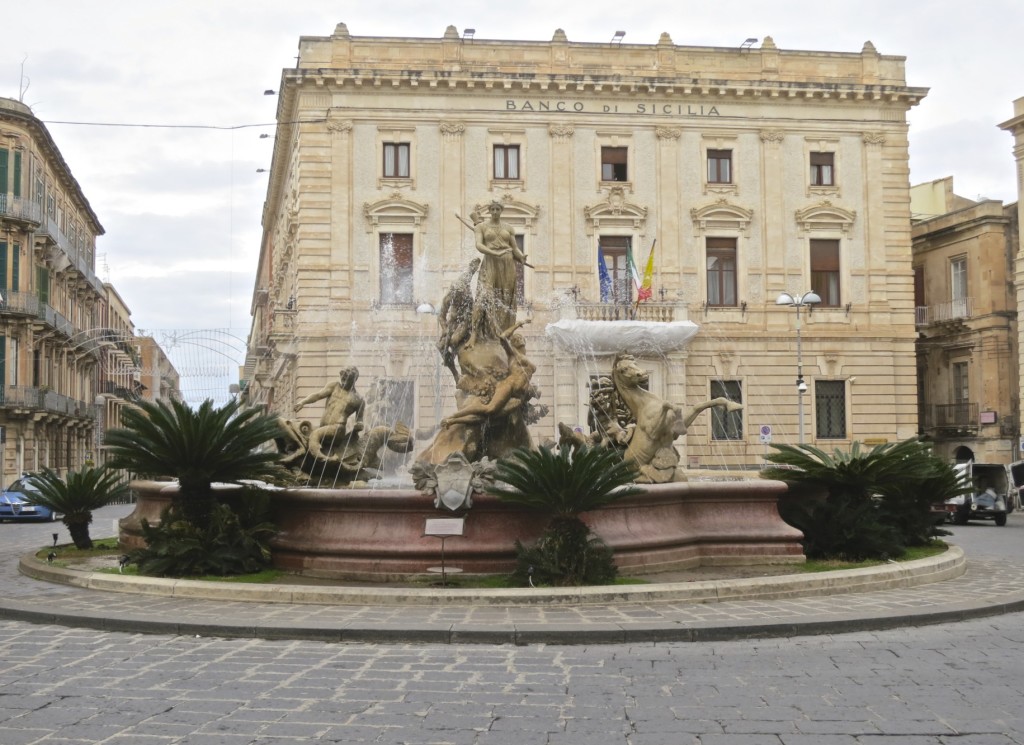 Exploring more of Ortigia – Fountain of Diana in the main square, Piazza Archimede.
 And when I got hungry from all my exploring I indulged on island fare!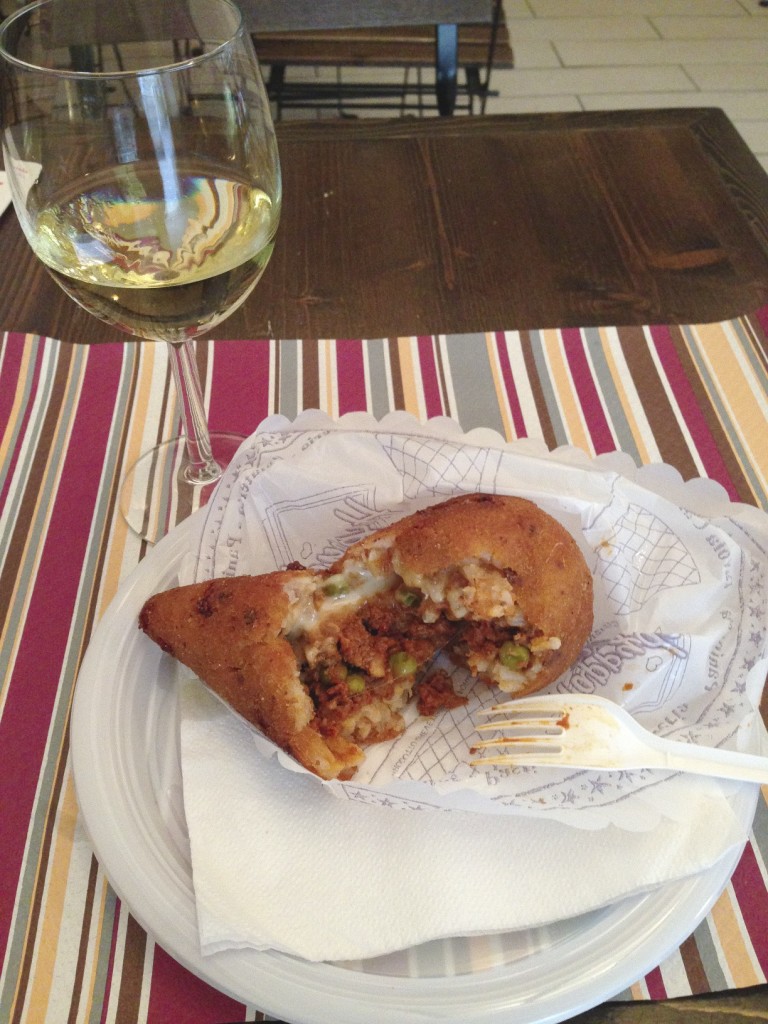 Arancini and Sicilian Wine.
My Italian cousin, Susanna, sent me text that said, "In Sicily you must try "arancini" (balls of fried rice with meat&tomatoe sauce), and for breakfast "granita e brioche" (awesome brioche with granita, chopped ice with fruit flavor)…it's a weird combo, but very tasty and sicilian!"
While I learned they don't serve the latter in the winter months, I did scout out an arancini! I had it as a snack…but the size and mix of heavy ingredients (rice, meat and cheese) could easily make it a meal!  It was delicious and I felt so Sicilian eating it!  Thanks, Susanna, for the recommendation! 🙂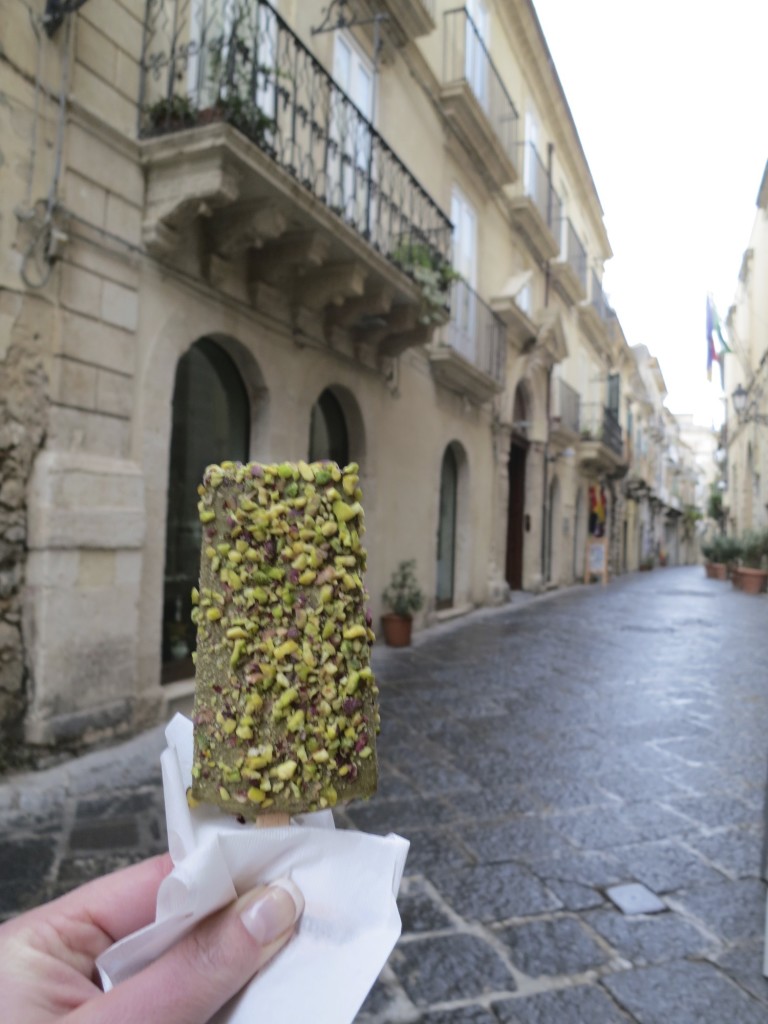 While I couldn't get enough of the Sicilian wine, arancini, olive oil, fresh fish and oranges…here is a pic of something else I couldn't get enough of – pistachio desserts!!
Sicily is the only Italian region where the pistachio ("pistacia vera") can be cultivated and produced. (There, you learned something today.)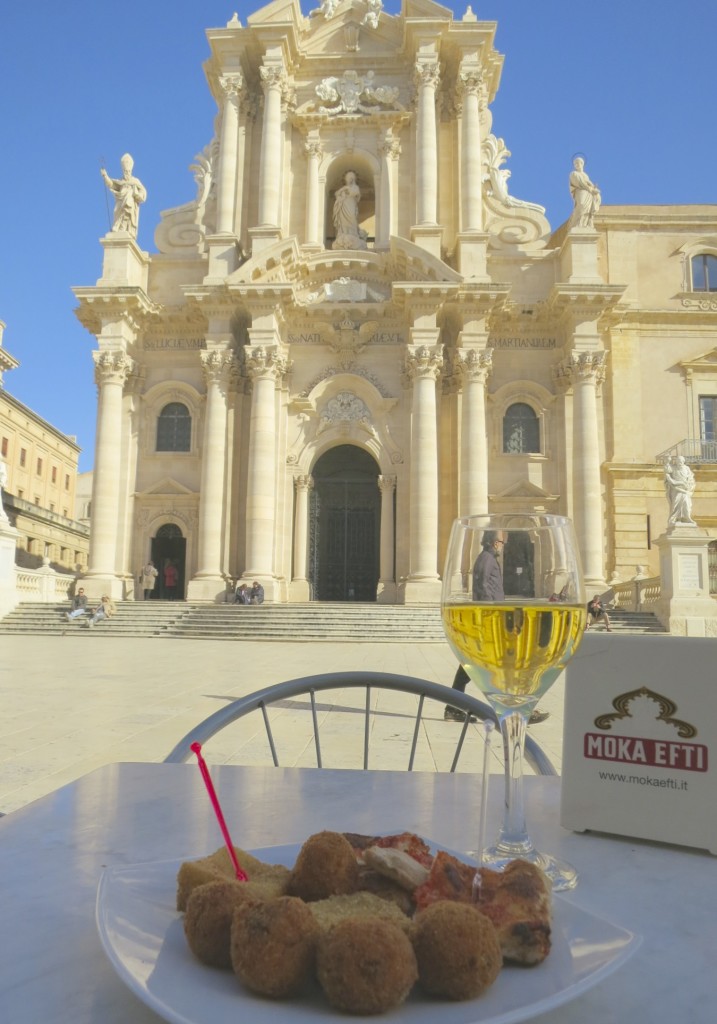 Magic!  I ordered a glass of wine and this delightful surprise accompanied it!! One of the mille reasons to love Italy and Sicily.
My view here was of the cathedral of Siracusa. It was built in the 7th century over the 5th century B.C. temple of Athens. The facade was rebuilt in 1725-53.
When the stomach was full it was always back to exploring…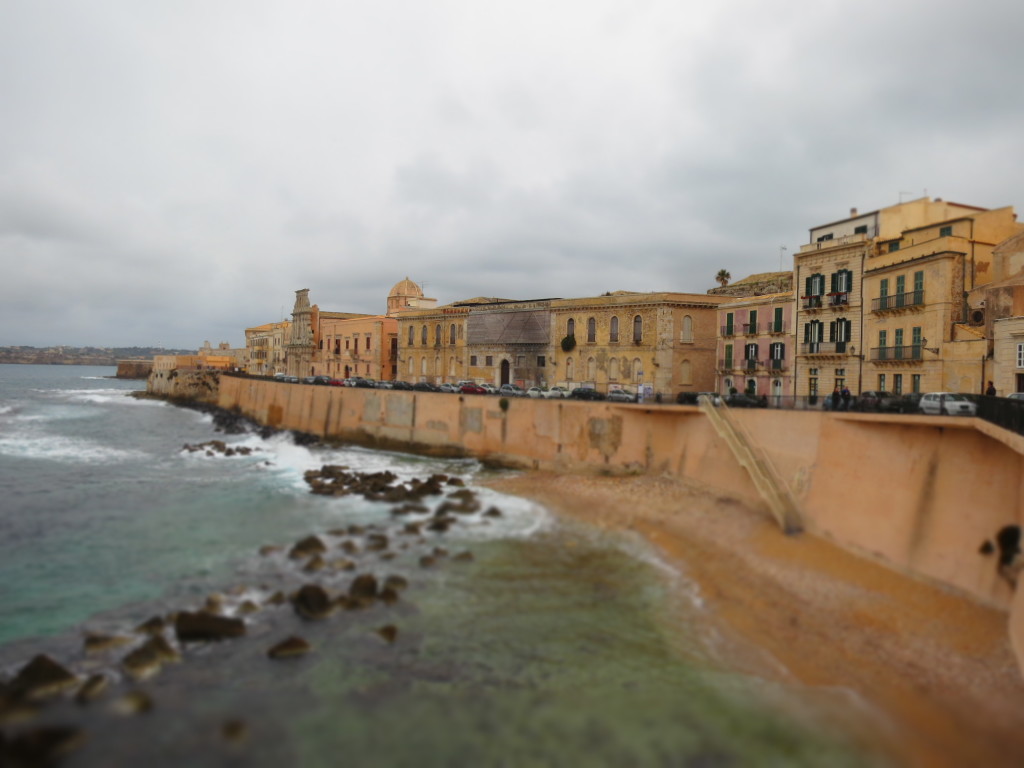 The waters surrounding Ortygia were the most clear, aqua green color. Fantastico!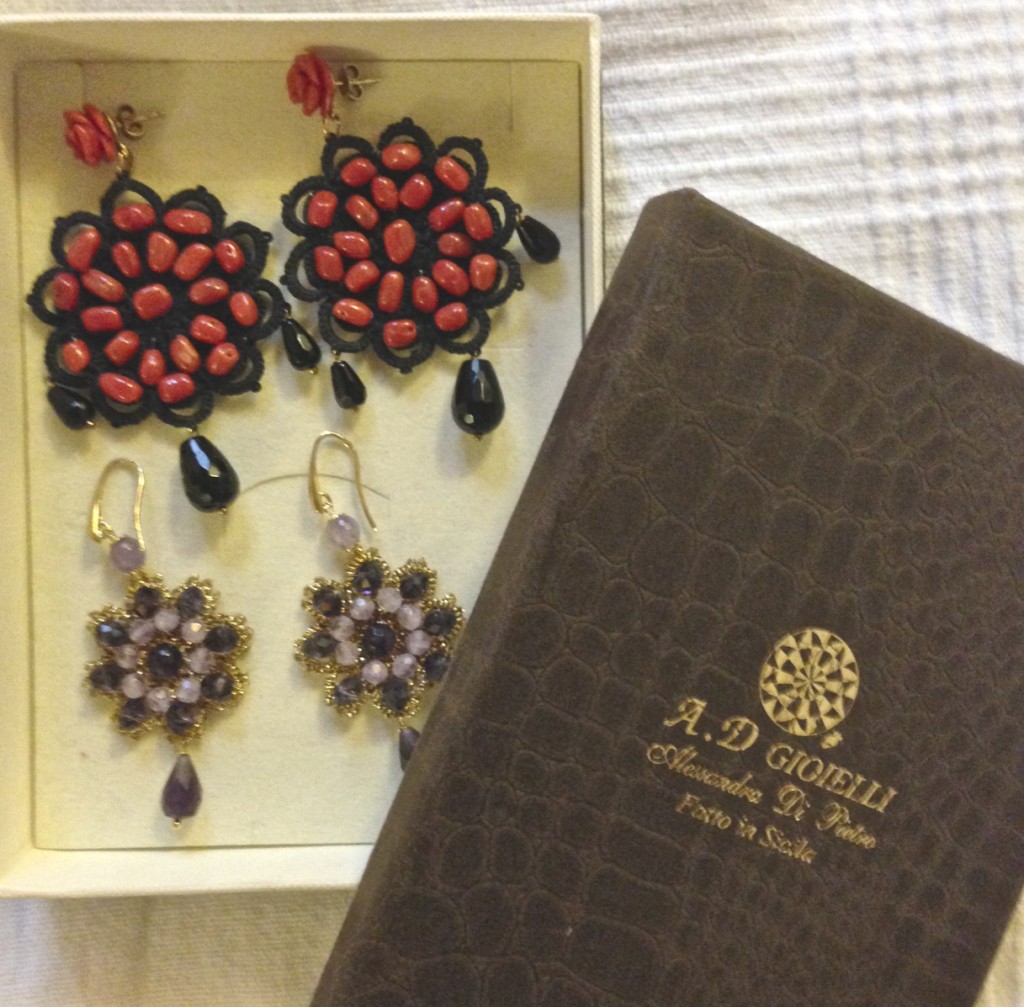 Handmade earrings from Sicily.
While my time on Ortigia was indeed a lot of play, there was definitely work to be done too!  One of my objectives was to find interesting, beautiful accessories for my shop. After looking behind every nook and cranny (or store front), I succeeded in finding the most unique pieces that Siracusa and Sicily had to offer. A designer I found particularly talented used locally crocheted elements to make splendid earrings. The crochet pieces were created by a group of women using a technique called "chiercchierino, " which translates to, "speak really fast" in Sicilian. The women gather to gossip and, in doing so, speak really fast and therefore, crochet really fast! 🙂  The designer then takes these crocheted works and embellishes them with semi-precious stones or coral to create stunning works of wearable art!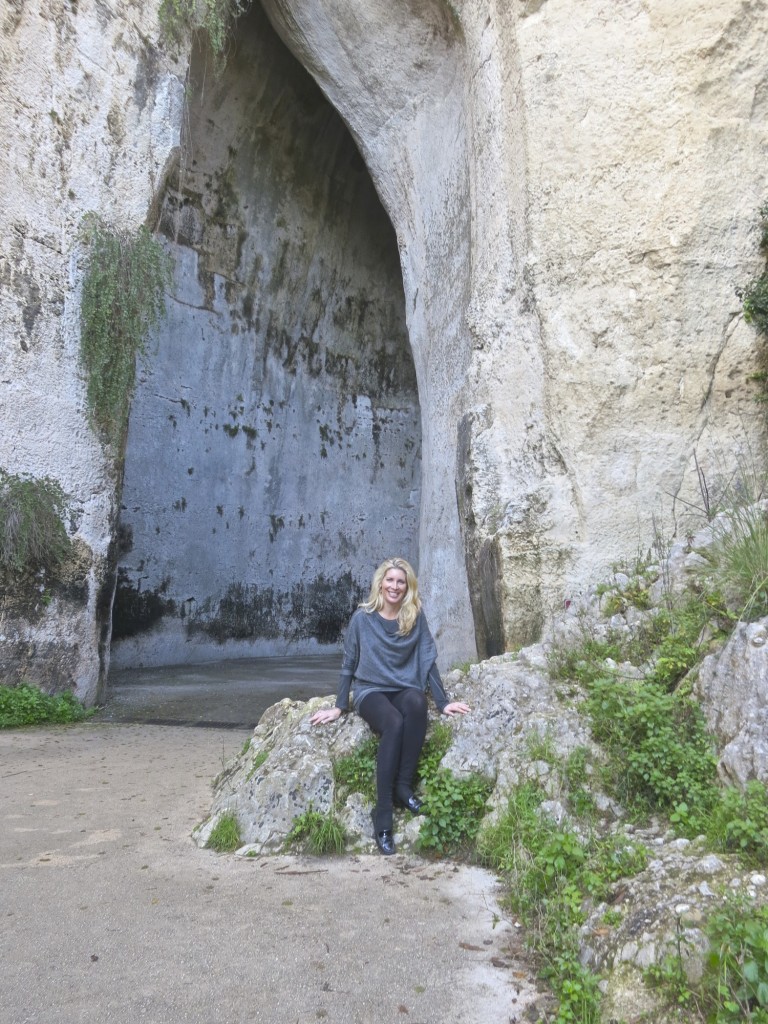 Me in front of the Ear of Dionysius
The day I decided to visit the Greek ruins in Siracusa I picked up a side kick! His name was Gianni, and he was from Palermo (which he wouldn't let me forget)!  He proved quite helpful as a personal photographer and Sicilian history teacher!
Our fist stop was the Ear of Dionysius. The mammoth cave (70 feet high and a depth of 213 feet) is thought to have been carved out during Greek/Roman times and used as a place to store water for Siracusa.  Caravaggio coined its current name, and the story of it being a political dissent prison was perhaps made up by him as well. Gianni shared with me this "legend" as if it was fact. Clearly Caravaggio has lasting talents beyond paint and a brush!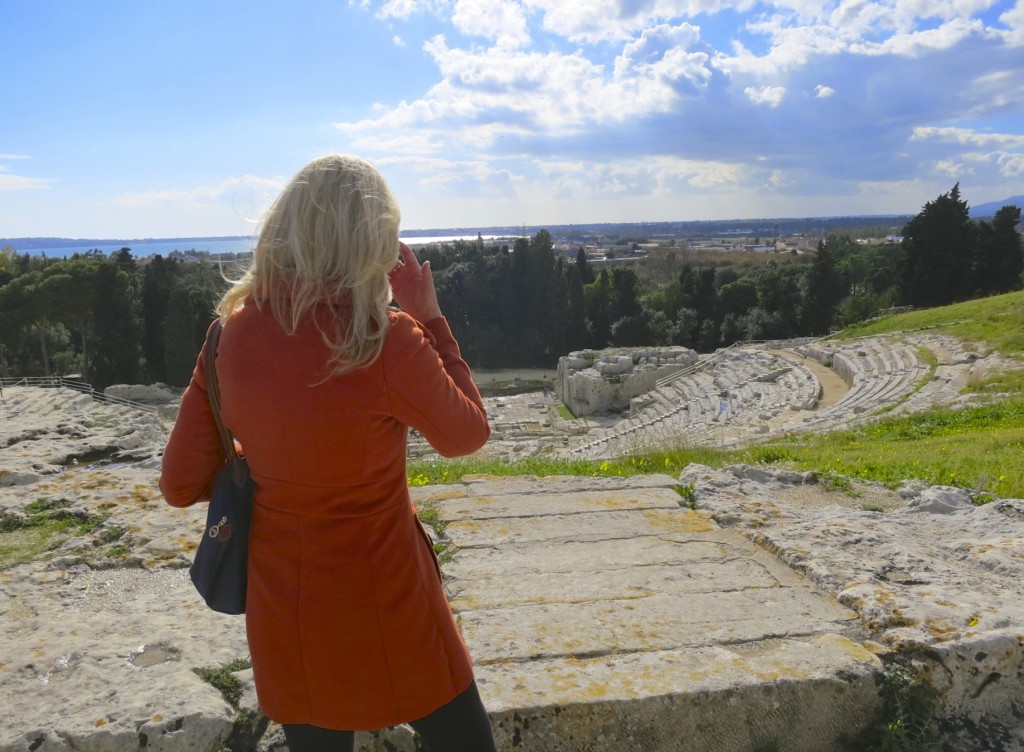 First glimpse of the Greek theater.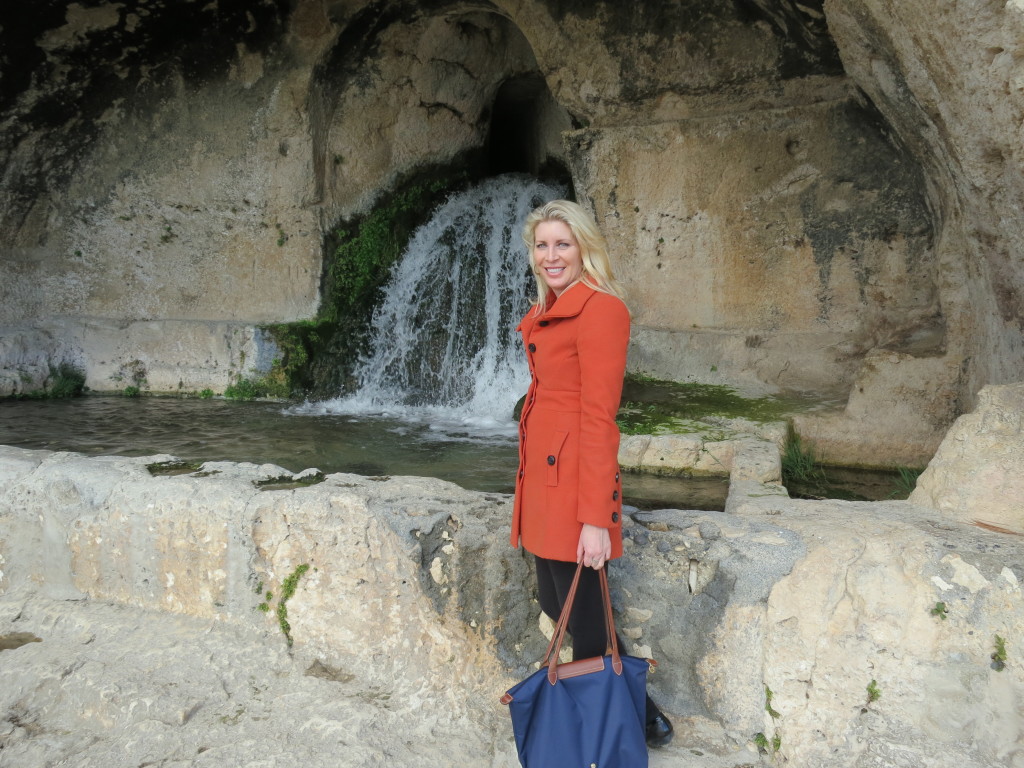 An ancient aqueduct…and me with a not so ancient Longchamp bag (but aren't they the best travel accessories ever!).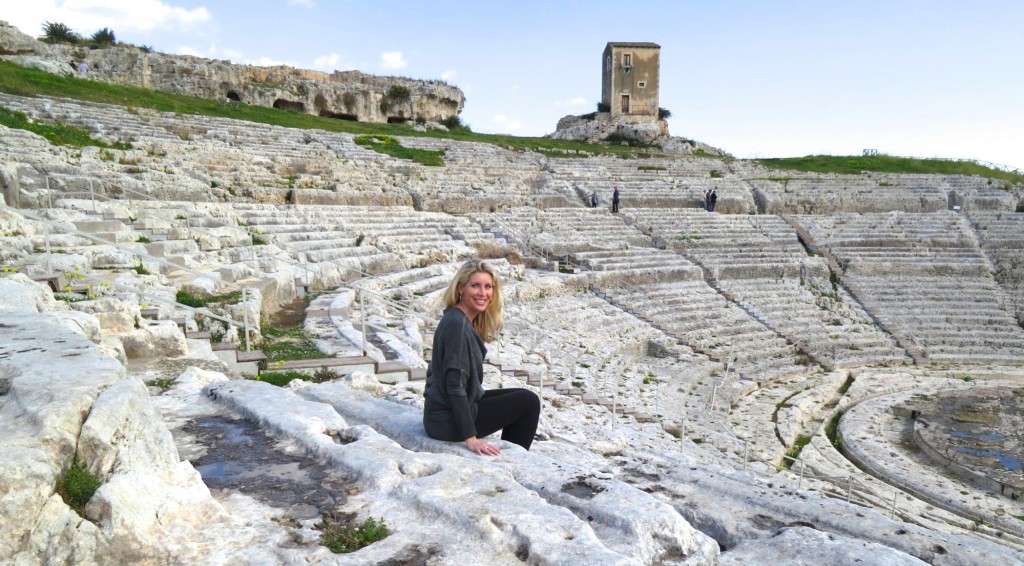 The 3rd century BC Greek theater in Siracusa. It looks today much like it did 2300 hundred years ago! In fact, in the summer, they still act out theater performances on its stage.
After the archeological site visit, Gianni talked me into a little drive around Syracusa before dropping me back on my little island haven. His tour was wonderful, and we planned to meet for dinner that evening.  He had nearly convinced me I was going to try a local favorite, sea anemone (ricci) and pasta….however, sometimes even the best laid plans don't quite work out.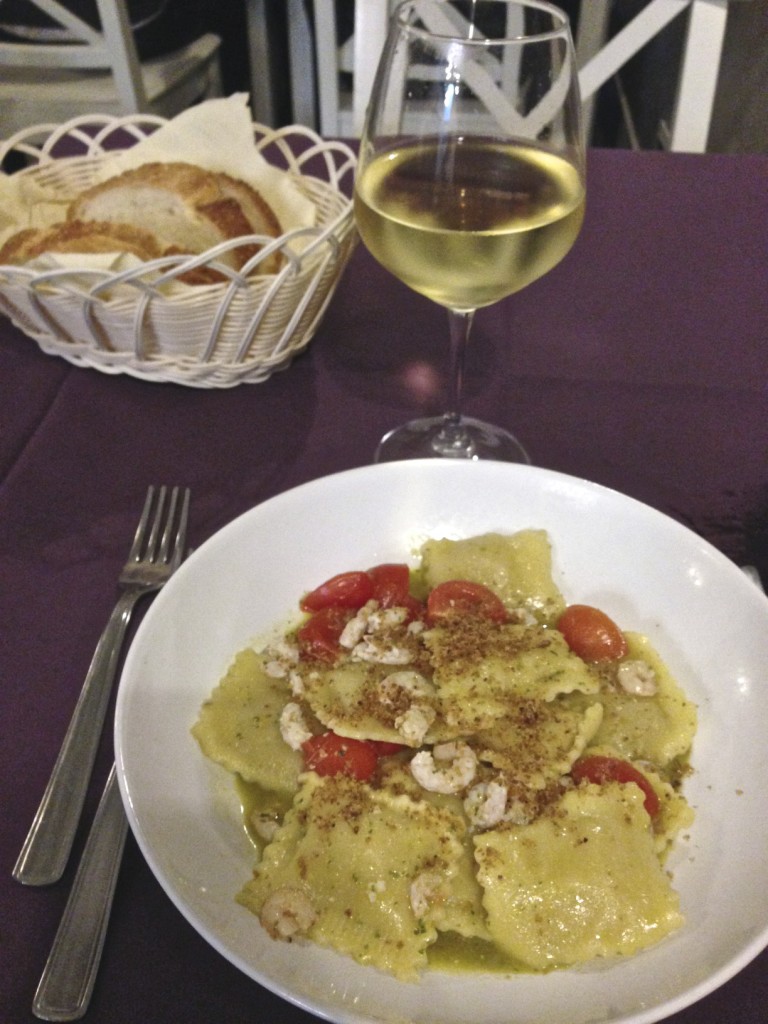 Instead I ate this alone. I will save sea anemone for another day and another Sicilian! 🙂
One more story before I sign off!
My last evening in Sicily I dined at a lovely restaurant recommended by my hotel.  Once settled into my table and happy with pasta and wine in front of me, I sat back to enjoy the ambience.  Moments later an accordion player entered the restaurant intent on charming us with his talent and tunes. During one of his enchanting songs he abruptly stopped. After a few seconds of silence he started to make a pawing motion with his foot. Then in the most clear and effortless tone belted out the best hee-haw donkey sound I have ever heard from a human. If I was blind I would have thought an actual donkey was in the room! All of us foreigners weren't quite sure what to make of the animal sound especially when he lapsed back into the canto. I exchanged an uncomfortable smile and "WTF" look with the table of 4 Frenchies in front of me. We repeated the glance each time he did his pitch-perfect hee-haw….which seemed to be a million times during that never ending song.
At the end of the entire performance (including a rendition of "La Vie en Rose" for my Frenchies), I tipped him and watched him walk out the door. Being curious I asked my blond waiter named Flavio (which happens to mean blond in Latin) what all the animal noises were about. He told me that they were part of a traditional Sicilian song. The song is about a Sicilian farmer whose donkey has died, and he sings the song in memory of this dead donkey. As part of the tribute he remembers how beautiful his voice was and re-enacts it lovingly. I couldn't help but chuckle. Flavio then went on to tell me that the children love that song. So much so that when they hear it during his Sunday brunch they all start running around the restaurant like a "little army breaking things." Again I chuckled and then for some reason said, "How wonderful." To which he replied, "That is because you don't work here."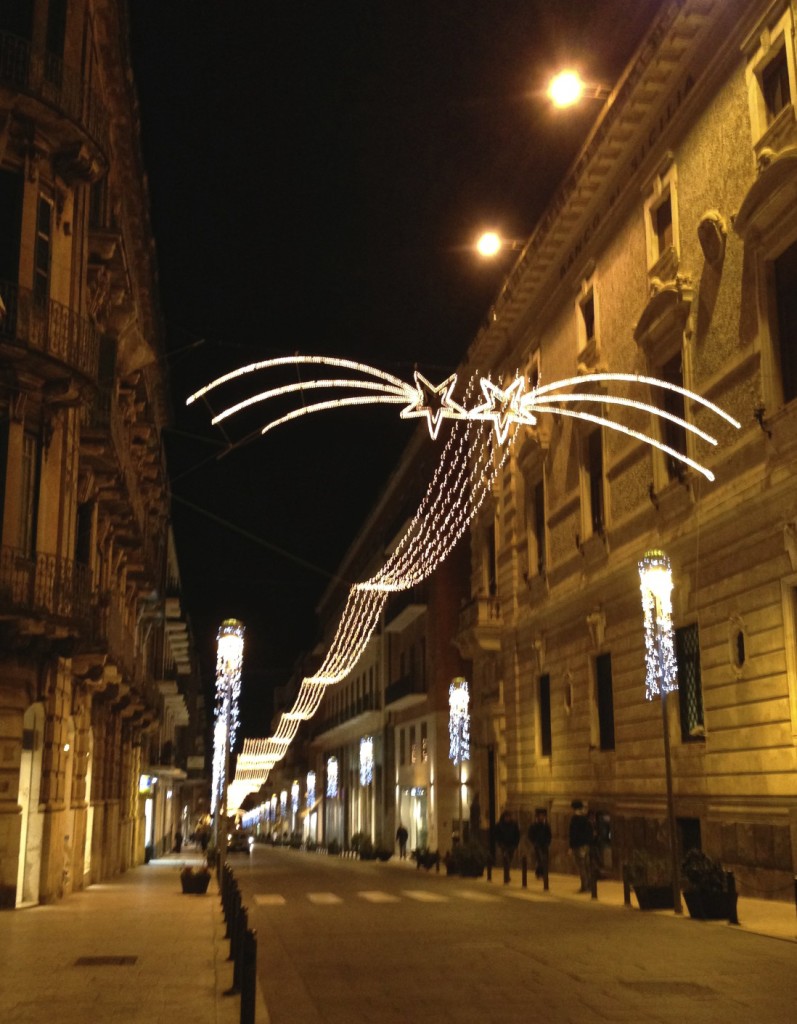 The main shopping street in Ortigia, Corso Matteotti, at night! You are planning your trip, aren't you!?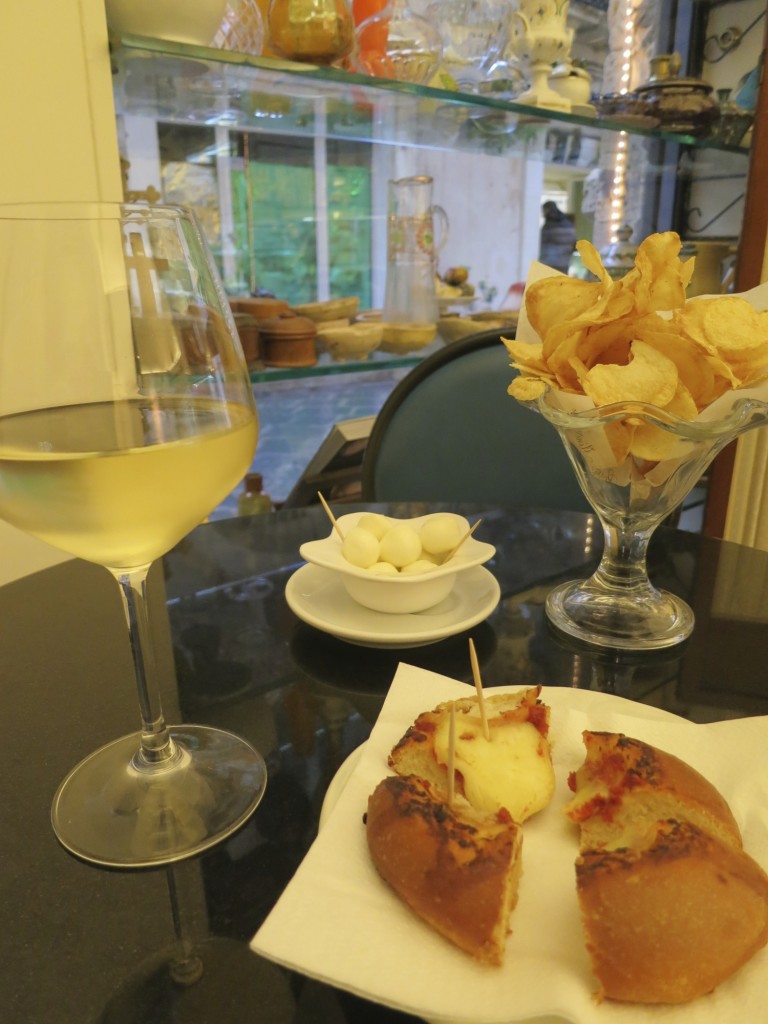 Why I love Italy, and why I always miss it so…
My final moments in Sicily while waiting for my bus to take me to the airport, I sat in a cafe, ordered a glass of wine and again appeared an array of savory snacks (in this case a small smorgasbord). As I relished the whole scene, I penned this letter to my home country:
Dear America,
In Italy when I order a glass of wine, I get this (see above picture)…perhaps this is an idea you can look into too. 
 With Love,  Jen
I am still waiting for the response.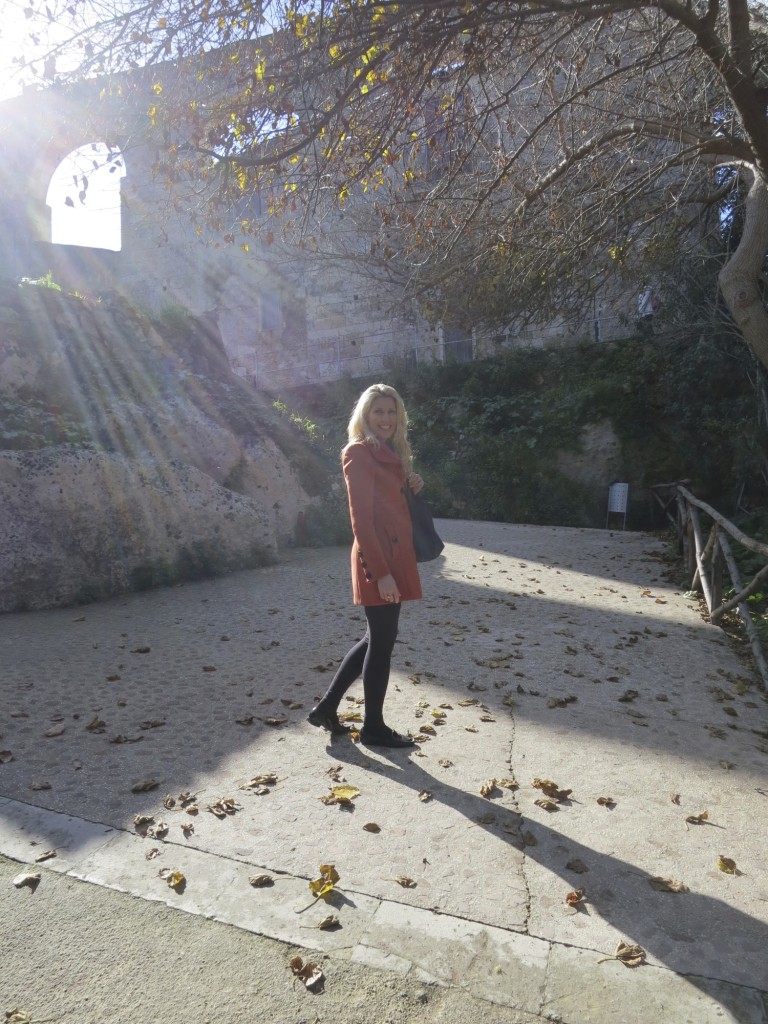 With love from Ortigia, Jen