I just realized every town I am visiting in Vietnam starts with an H; Ho Chi Minh City, Hoi An, Hue and next stops Hanoi and Halong Bay. It also seems that everything I eat in this country starts with "banh"; banh mi (delicious sandwich from Hoi An), banh beo (delectable little rice pancakes topped with dried shrimp famous in Hue) and banh xeo (a delightful pancake made like a crepe in HCM). Banh means "cake" or "bread"…so clearly I have an affinity for carbs.  The attraction to "H" will take some more thought.
This is day 7 of this month long trip. I notice it takes me a week or so to get my "travel legs" back under me and to find rhythm in the constant movement from town to city to village. In my first 6 days I have stayed at 3 hotels, taken two flights, commuted by "sleeping bus" from Hoi An to Hue (very interesting seats) and taken countless moto taxis/rides (and survived!). I woke up this morning not wanting to do a thing. However, spending the day at the spa, drinking mango smoothies and suppressing feelings of guilt for not visiting the royal tombs of Hue has me reinvigorated for my flight to Hanoi tomorrow. By tomorrow evening I will be at beautiful Halong Bay (and I think I will even have time to visit the tomb of Tu Doc in the morning)!
Flashback to August 1st! This was the view from my window seat as I was leaving my beautiful corner of the world for another!
Mt. Rainier looked spectacular.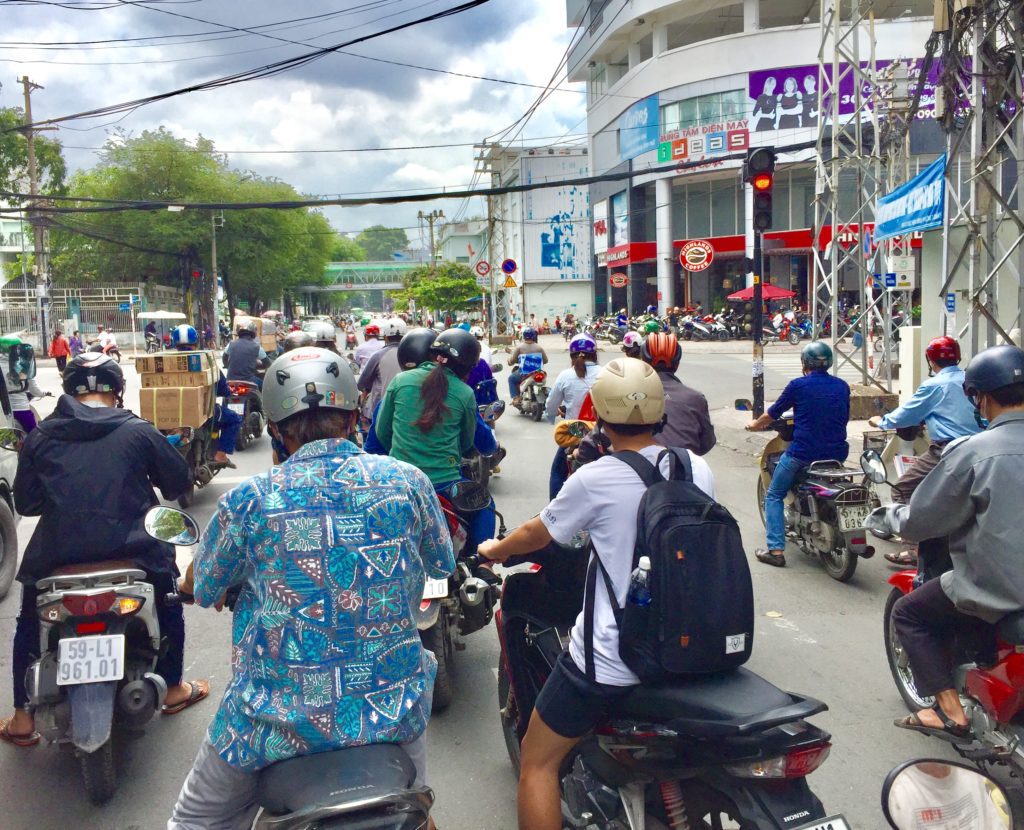 Back in Ho Chi Minh City!
There were just as many moto bikes as I remember..likely more. Saigon is a city of 10 million people and 8.5 million motorbikes. Organized chaos mildly defines its streets
I took the above picture from the seat of my "cylo." Ugh. Not that being peddled around the city by a seemingly friendly English speaking local with an interesting past deserves a deep sigh. No, that was cool. And Thu, my peddler, seemed equally cool. He shared his personal story which included his dad being killed by the Viet Cong in the Vietnam war while fighting on the American side when Thu was just 5 years old. At age 7 his mom died of an illness in the hospital which left him in the care of his uncle. But by age 15, his uncle decided to move to the USA leaving Thu to fend for himself on the streets. The 53 year old eventually met his wife, had 2 children and now rents a home in the countryside (for 3 million Dong/month in case you were wondering or around $120).  According to Thu, it takes him 2 hours each morning and night to cycle in and out of Saigon.
Thu captured my attention as I was leaving a lip wax appointment my first morning in Saigon (you can't beat a $3 wax). He was amiable enough but I politely told him I didn't want a ride as I was headed to the market. He then told me that the An Dong market was far superior to the market I was headed towards, and for 150,000 Vietnamese dong he would show me that market PLUS many parts of the city. He then proceeded to take out a well worn journal with entries written from people around the world saying how wonderful this strange man who stopped them on the corner was, and how they highly recommend him. "Alright," I told him, and for the next 5 hours I was his passenger.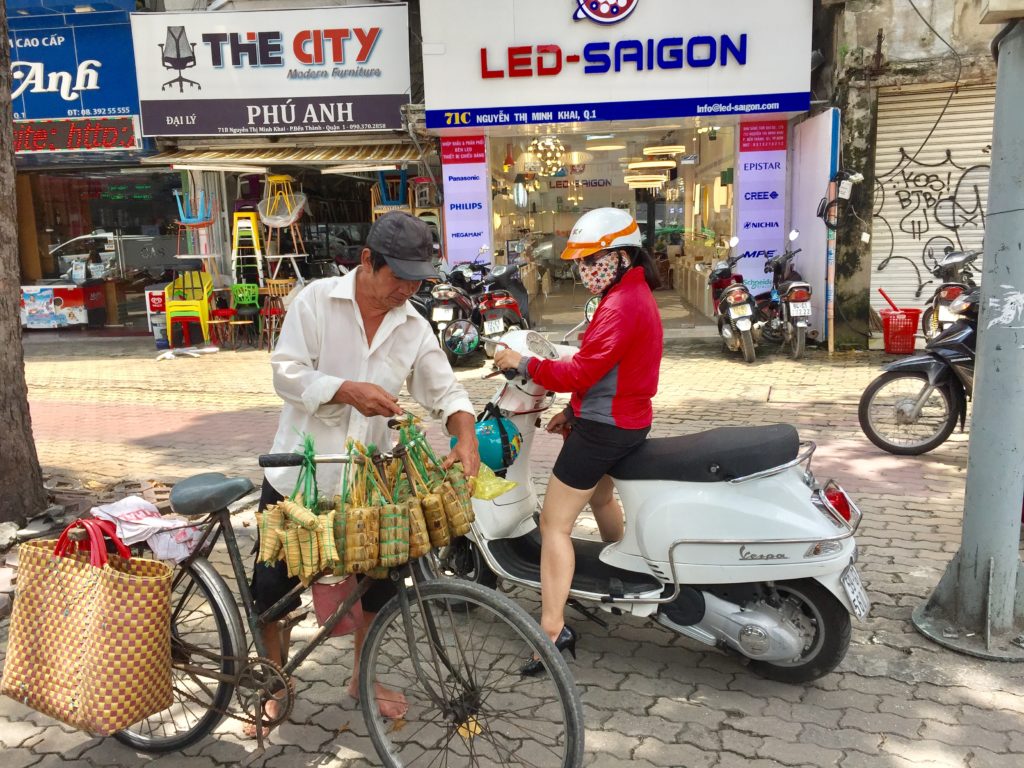 Street scene in Saigon.
I don't think I saw the same thing twice in HCM City. There was so much going on. Every block provided something new for the senses. Shops had cars and motos parked in them (likely easier than figuring out street parking), food vendors dotted the sidewalks catering clientele squatted on little red stools, men played checkers (or chess?) on makeshift tables, moto drivers precariously balanced cargo of fresh eggs, and conical hats or printed fabric masks were donned by Every. One. It was all a glorious reintroduction to this wonderful country
Me and the Pagoda of the Lady Thien Hau. It is regarded as one of the oldest, largest and most beautiful temples of about 30 Chinese pagodas in HCM City.
In this picture I still like Thu too.
Thu brought me to the An Dong market (not as great as he purported), several beautiful pagodas, the War Remnants museum (wow, was that sobering…I didn't even like the US after visiting it…frankly, I still need to talk through that experience with someone) and then to "happy hour."
During our time together, he incessantly talked about this happy hour. Apparently he always caps the tour at some cozy corner where beers are served, laughs and more stories are shared and the tourees get to write their accolades about him in his magical book. Well, I don't drink beer…so he had to do happy hour in a coffee shop over raspberry soda and green tea. You could tell this wasn't his speed as he never pulled out his book for me to journal in plus informed me that after he dropped me back at the market I originally wanted to visit, he would go have 7 beers with his buddies.
As I was paying for our drinks he indicated that now would also be a good time to pay him. Fine. So I went to pull out the 150,000 dong I owed him. As I was calculated a tip in my head, he pushed a laminated price sheet in front of me. 150,000 dong was just for "one-way" it stated. His billable rate was actually 300,000 VD/hour. So according to the lamented chart I owed him 1,500,000 dong for our 5 hours together. A ridiculous amount for the services rendered by this country's standards.
I looked up, stated bluntly that he lied to me, gave him 500,000 VD, and told him to bring me to the market.
Back in the cylo he persisted that my debt wasn't yet paid and worked to coax the other million from me. But at this point I had had time to think and was starting to reach a boiling point. The money wasn't the issue, it was that he was a complete fraud.  He was one of the tourist traps I read about. One of the ones I never fall for because I am so well traveled. Wrong. I fell for him hook, line and sinker. I was pissed, and mostly at myself.
A short distance into the ride back to the market, I asked Thu to pull over. I got out of his fraudulent cylo and just started walking away. I didn't look back, and he didn't stop me. Let's hope those 7 beers that he paid for with conned cash tasted good to him. He likely had 8 that afternoon. And after figuring out how to get back to my hotel in the heat and chaos of the city, I felt like I needed 8 too.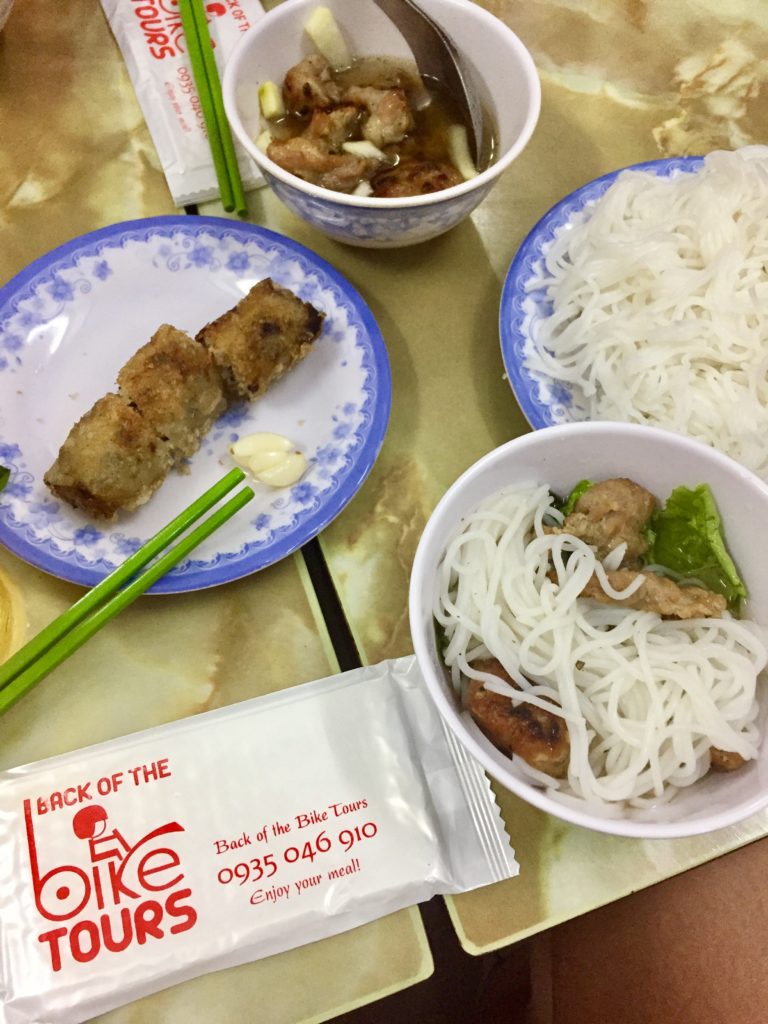 My evening activities, while less resentment-inducing, still involved a bike! But this time I was zipped around the streets of Saigon on the back of a motorbike in the search of the best street food in the city!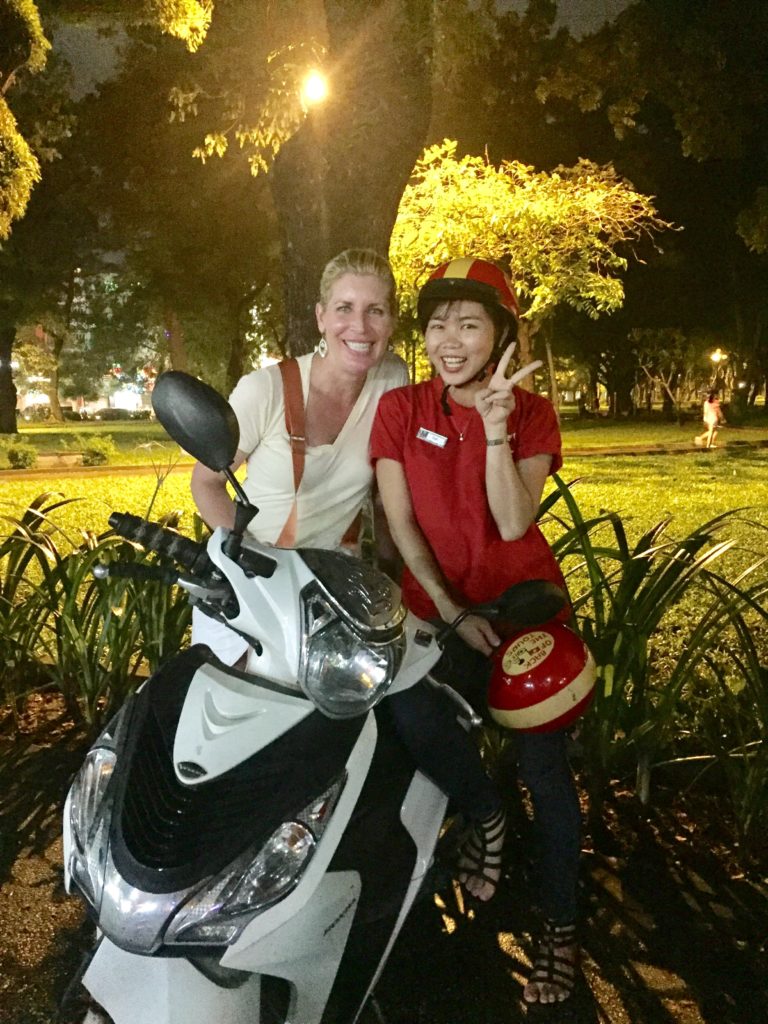 This delight, Tinh, was my congenial chauffeur on a foodie tour called Back of the Bike Tours.
Not once did I fear for my life on the back of her bike. Uh, alright…maybe I did just once.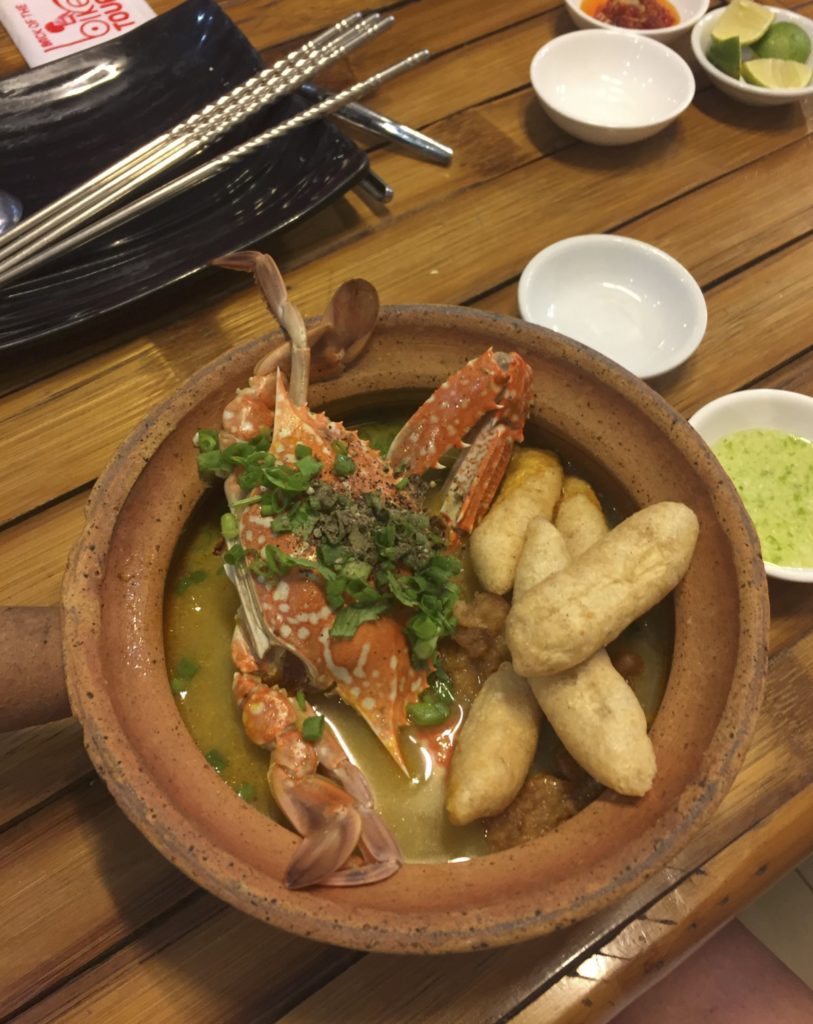 Crab in a pot! Hidden underneath were some delicious house made rice noodles.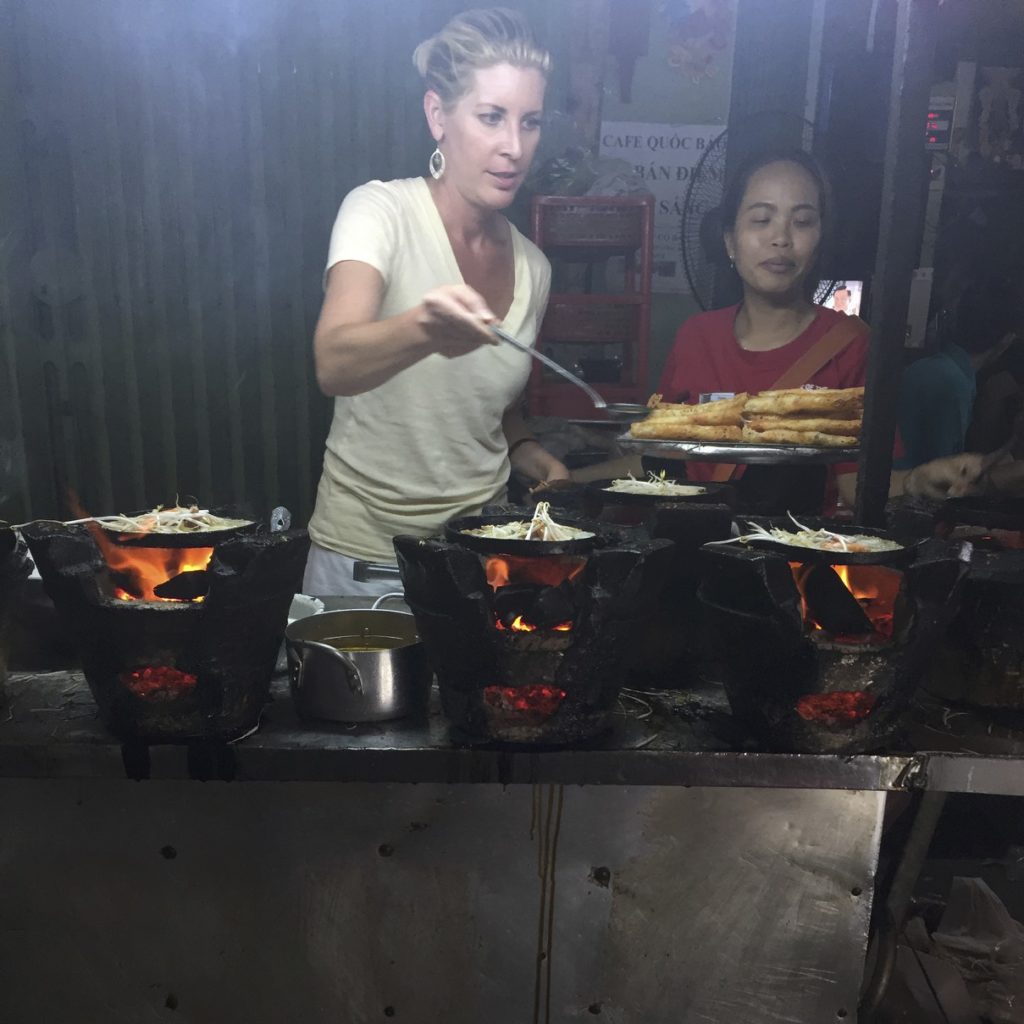 Training to become a street food vendor! Here I am making banh xeo.
This sizzling pancake was filled with pork, 1 shrimp (they were pretty strict on that) and bean sprouts before I had to fold it in half like an omelet and then scoop it onto the cooling rack to let all the oil drip off. At the table we wrapped these in another layer of rice paper that we had lined with a myriad of fresh local herbs that were sitting in a bowl on the table. Dipped in fish sauce they were tasty, fresh and filling.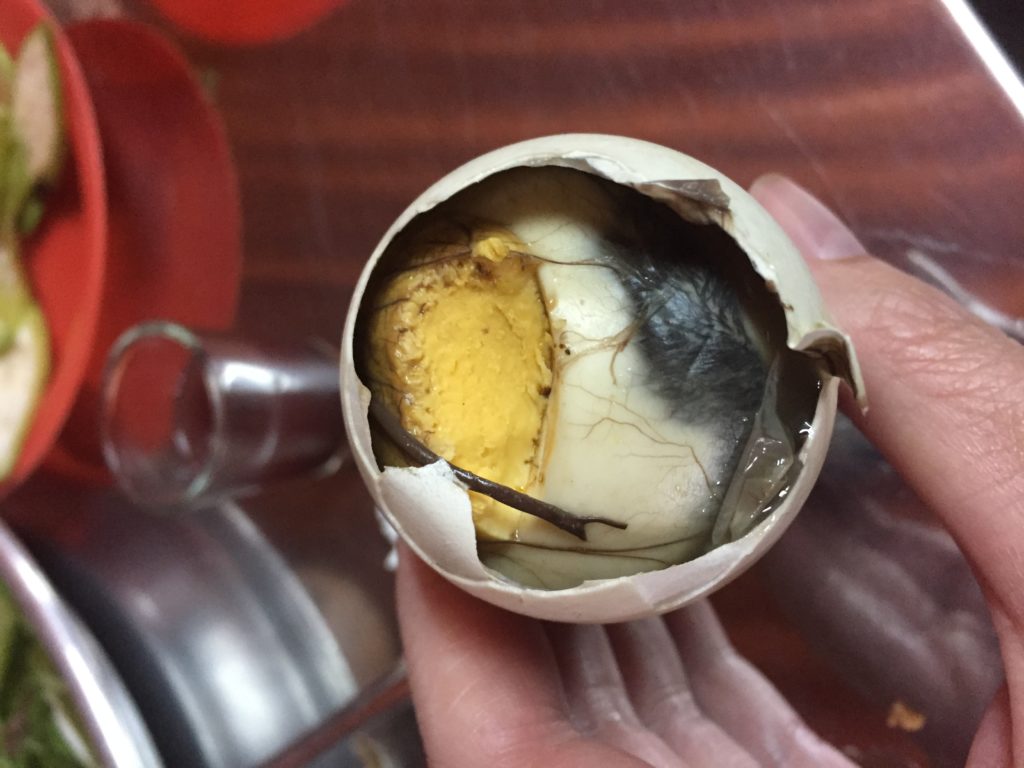 The challenge.
At our second to final stop we were told that we would be presented a "challenging" food to try. It was up to us if we took the challenge. I had seen boiled baby duck in eggs in the markets in Cambodia, but had never tried one (but wondered who the heck did consume such a thing). Tinh informed me that eating one brings good luck, and that sealed the decision for me. In this life, I need all the luck I can get.
With that the hot egg was placed in front of me.
Looking absolutely terrified to try my baby duck in egg.
But bombs away!
 I did draw a line at the feathers…I just couldn't eat feathers (although ask me about the time I ate dog in Cambodia…that was a line I did cross).
Infused with good fortune thanks to my baby duck, it was off to the charming ancient town of Hoi An.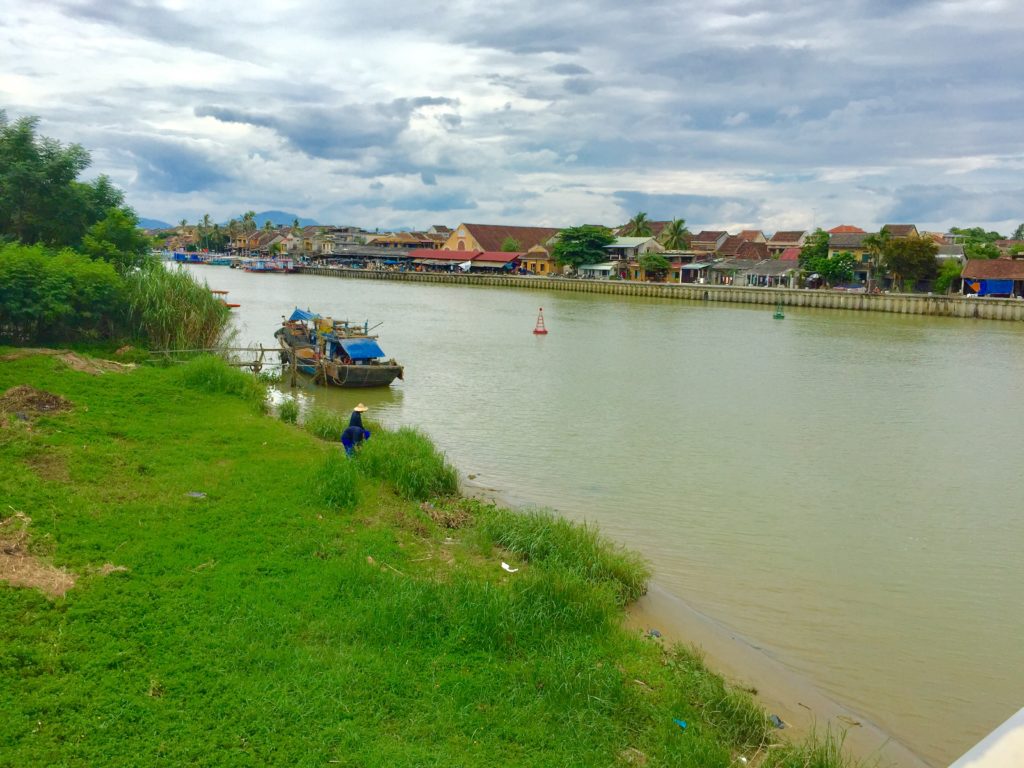 Bucolic Hoi An in central Vietnam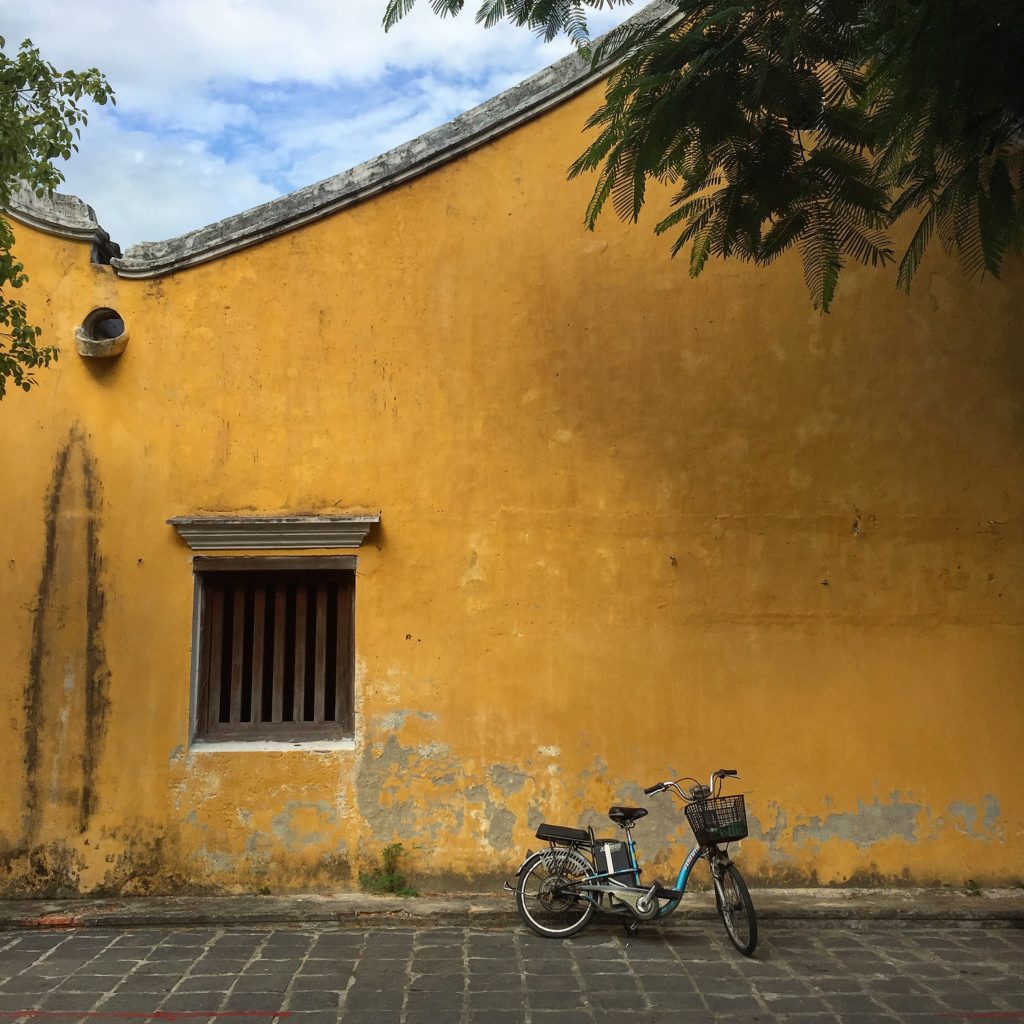 Hoi An Ancient Town
Looks peaceful, right? However, the number of people, motor bikes and cycles on this street was dizzying. Had you been there you would have wondered how I got this picture which portrays a seemingly quiet and off the beaten path town. Nope, this former bustling port town is now a bustling tourist town.
Hoi An was particularly popular during my visit because it was a the full moon. In the evening shop keeps lit fires in front of their stores and presented elaborate offerings of food, incense, fake money, and clothes to Buddha and family members that are no longer in this world. A multitude of paper lanterns were lit and placed in the river. It was beautiful…and smokey :).
Hoi An at night!
This UNESCO World Heritage site is a joy to witness in the day…but especially at night. The well preserved centuries old Chinese merchant shops are still shops and cafes todays showcasing handicraft goods, silk garments, leather items and samples of custom made suits and dresses that can be measured that evening and ready for you to take home the next morning.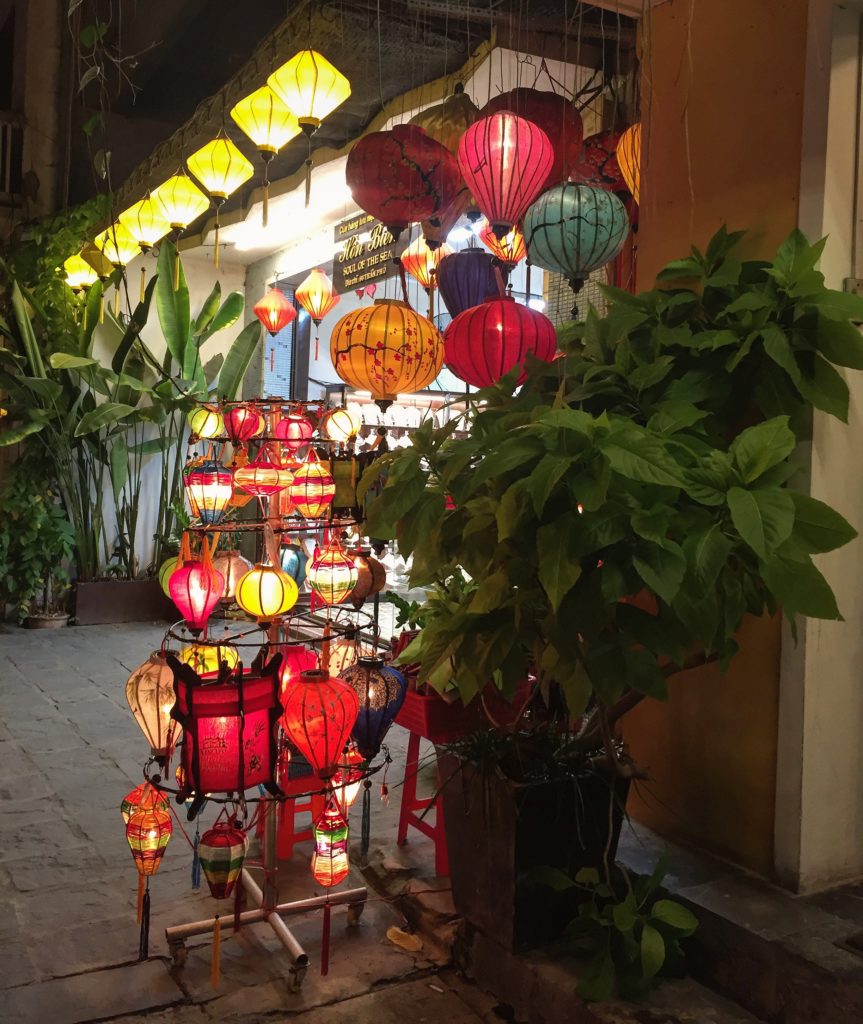 The lanterns made this already magical town even more dreamy…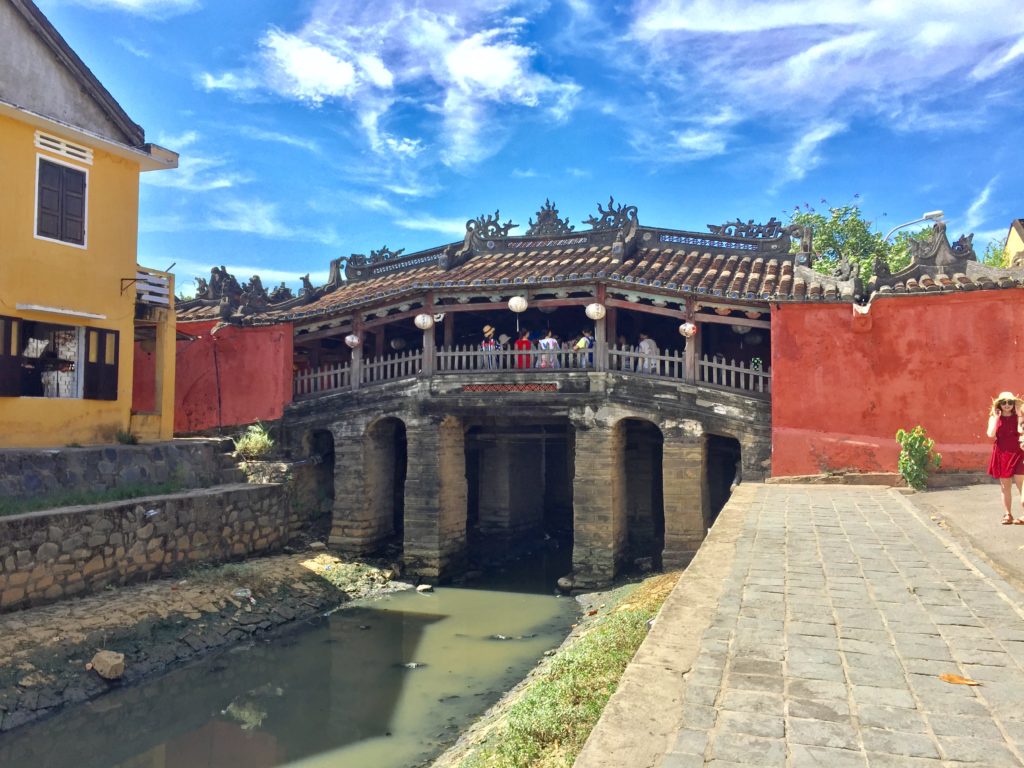 The Japanese Bridge is considered the symbol of Hoi An. It was constructed in the 1590s by the Japanese community of Hoi An, in order to create a link with the Chinese quarters across the stream.
I never crossed it because it was always too jam packed full of people.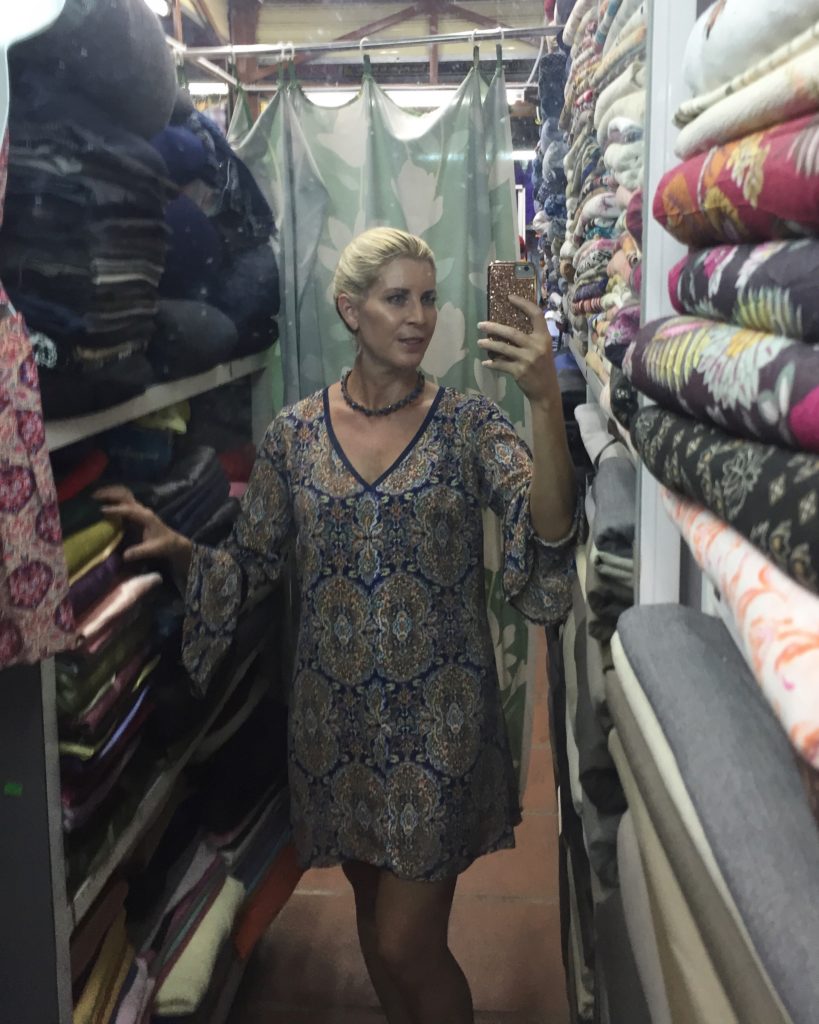 When in Hoi An…
This is my custom dress I had made.
On day 1, I chose a picture of a dress I liked from a catalog, picked material from their lot of choices and was measured (which took all of one minute). I was instructed to come back the next morning at 10am for my first fitting. In the morning fitting we decided to shorten the dress, take up the sleeves and bring in the waist (so it didn't look like I was wearing a bag). I was instructed by my very pregnant seamstress to come back in the afternoon. I returned right as they were closing, tried it on and it was perfect! I can't wait to wear it back home with some heels.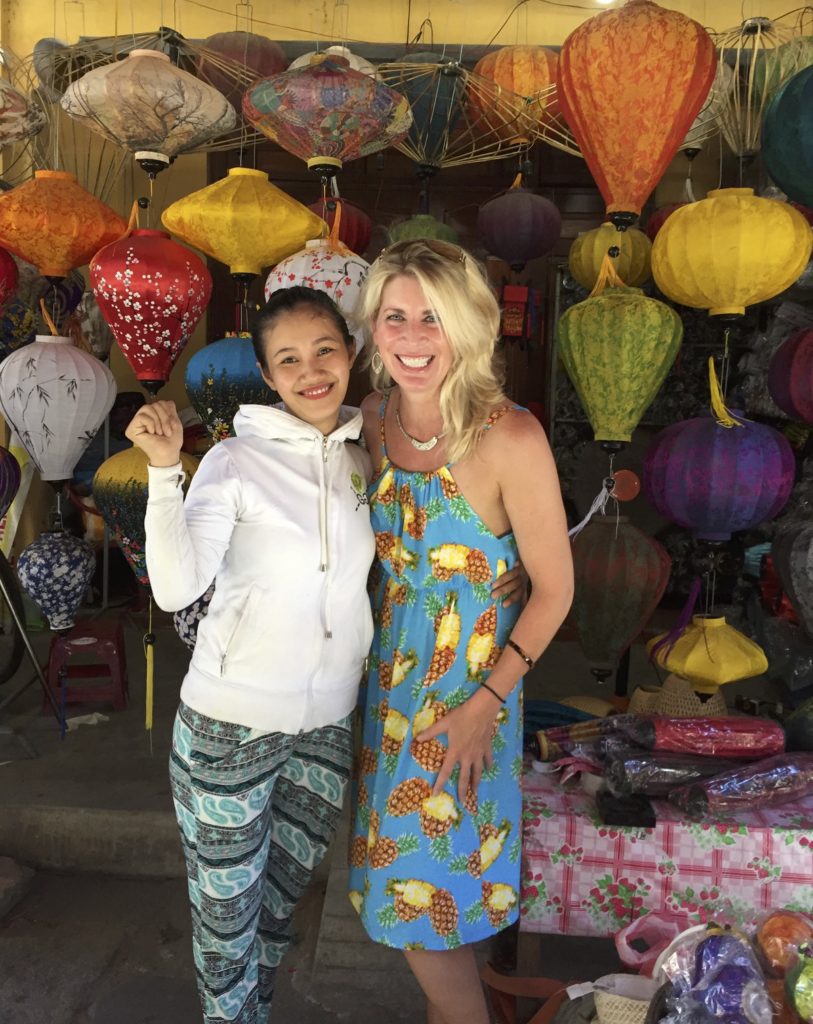 Van, one of the lantern artists of Hoi An, and Me.
I met her while hunting for lanterns for a girl friend. Turns out that she supplies her handmade silk and cotton lanterns to many of the shops in Hoi An. Her creations were indeed special and a step above others I saw. It was a privilege to meet and support this special woman…and play with her 25 day old shop kitten, Mao.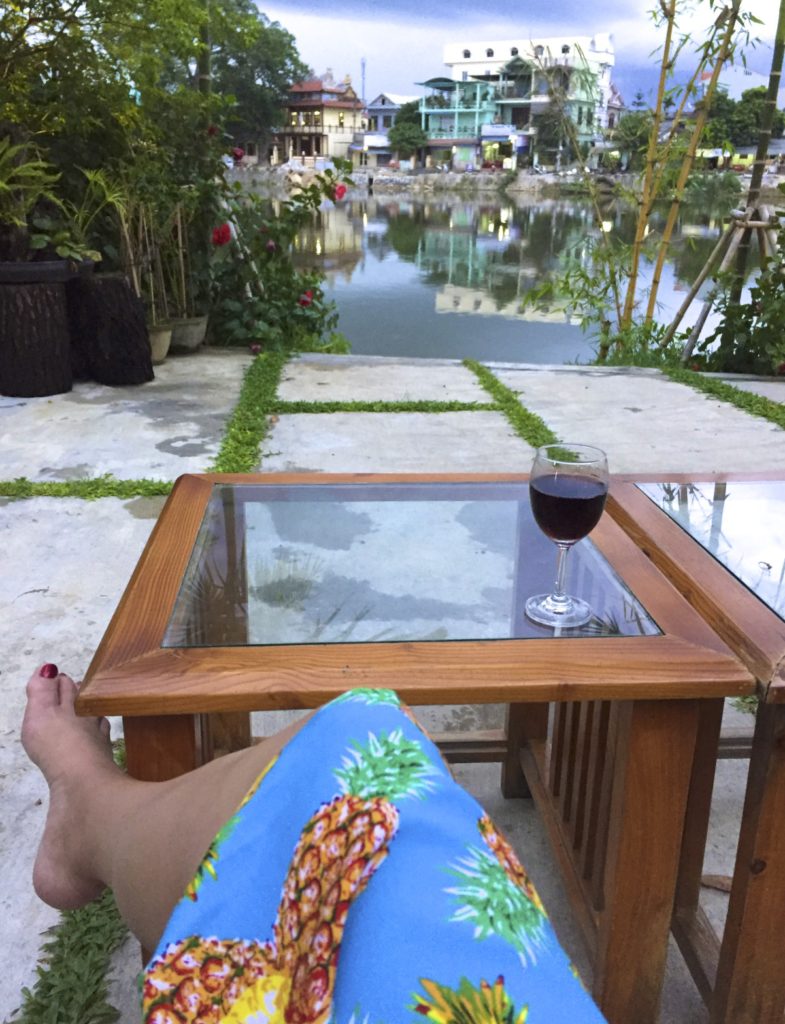 View from the garden at my hotel in Hue, Hue Riverside Villa.
While I did have some pool time in Hoi An, I literally spent most of the time in the grueling heat shopping (I found some wonderful pieces for my shop…and am now seriously considering carrying some of Van's lanterns), taking in the historical sites and witnessing artistic and cultural presentations. I think it zapped me, because I have been the laziest person ever here riverside in Hue. And frankly, I am fine with that.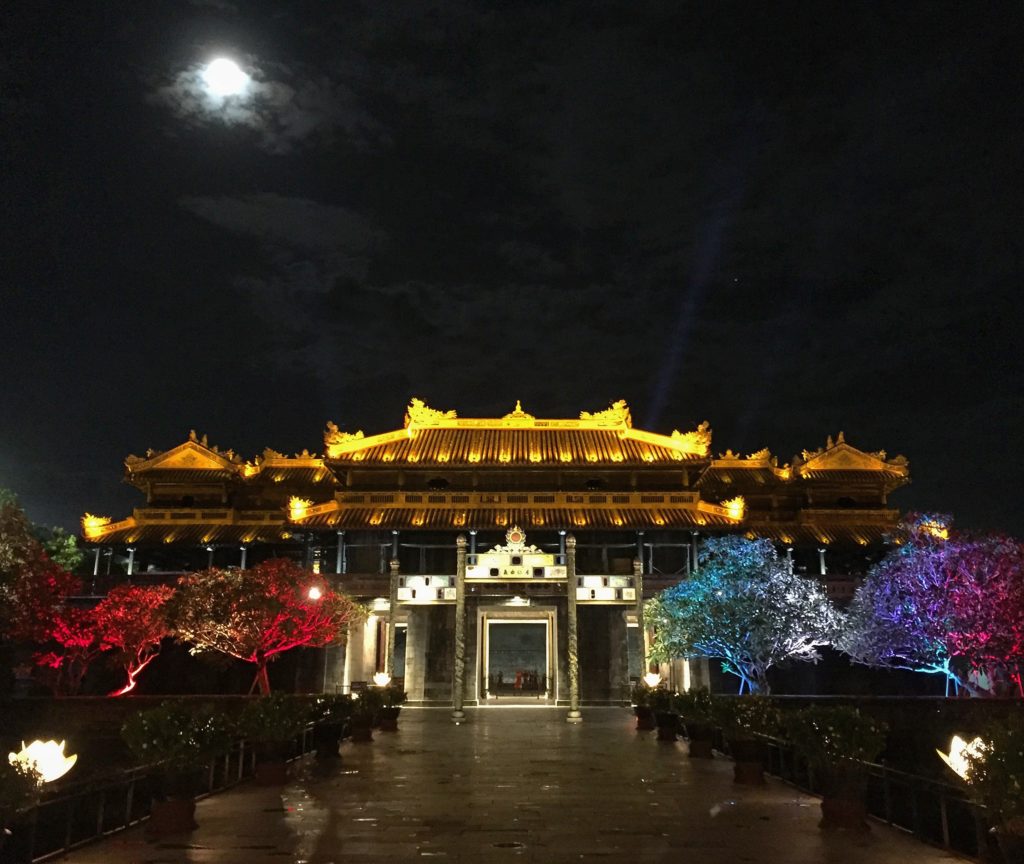 I did manage to visit the Imperial City my first night. It was majestic.
Oh, and my moto driver who took my huge suitcase and me from the bus station here in Hue to my lovely hotel, tried to solicit me to do a tour with him and even whipped out the book with the wonderful testimonials about him.  I couldn't get off his bike fast enough. Ironically, as I was checking-in the lovely receptionist warned me about guys on motos and bikes with journals asking to give you tours. "They quote one price at the beginning, but change the price to a much higher amount at the end." Tell me about it…and where were you 4 days ago :).
Off to Hanoi! I am meeting a travel companion there for a few days. It should be interesting as we only met for 5 hours last year in Bangkok, but he is traversing the globe to spend a few nights with me in Halong Bay. He has already told me to have topics ready for discussion for our 3 hour shuttle ride from Hanoi to Halong Bay this evening.  I told him not to worry as I can talk to a rock for 3 hours. He responded, "Beautiful," and then added, "the nice thing is that I am not a rock."
Food pics to end! But first a quick story.  The power was cut to my hotel this morning so in order to post this, Top, my hotelier, told me to walk down Le Loi street to find a coffee shop with power. I landed in this kitschy bar called DMZ Bar.  Hue is very close to the demilitarized zone of the Vietnam war so apparently this camiflouge and machine gun clad bar with a map of DMZ area on the ceiling pays homage to that. All the servers look like they are ready to enter combat at any moment. Bizarre.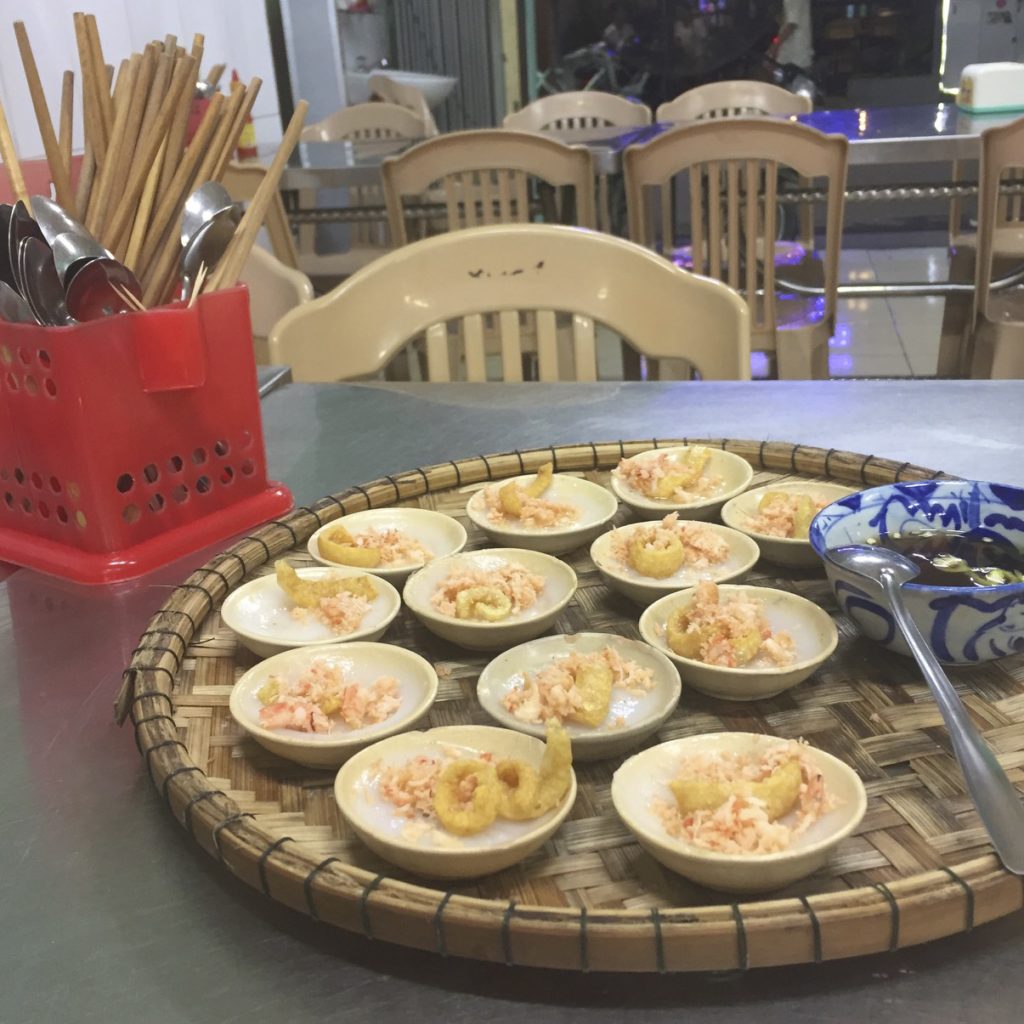 The Banh Beo, unique to Hue, at the restaurant Hang Me Me.  It is suppose to be the best in town. I ate all 12, so clearly I liked it…minus the fried pig skin on top.  That I picked off.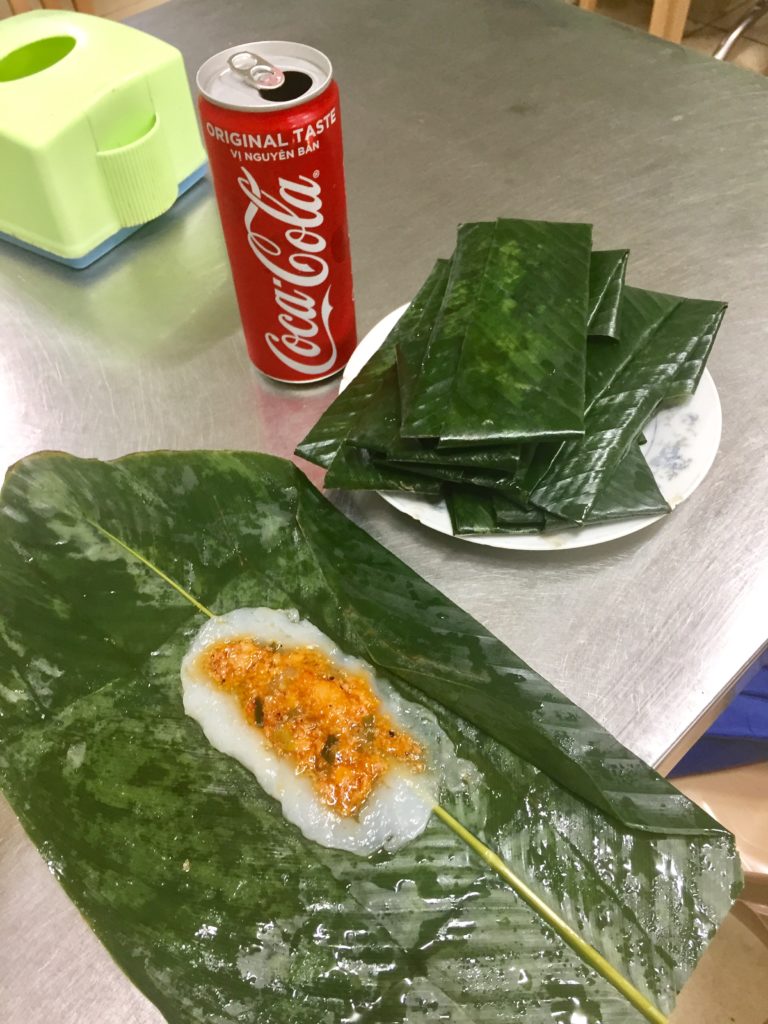 Banh Nam, another specialty of Hue.
This rice paste with a shrimp topping is wrapped in a banana leaf and steamed.  Delicious.