Okay, so I am not in the capital of the Balkan nation of Bulgaria anymore. In fact, I am writing this from the thoroughbred capital of America, Kentucky! This weekend I am showcasing my online shop at a Wine, Women and Shoes charity gala to benefit Family Scholar House here in Louisville. As a little girl I always dreamed of coming to this town and Lexington. I was going to have a race horse farm, of course! So both the little girl Jen and adult Jen could not be more elated to be here. Louisville does have as many hat and bourbon shops as I expected, but what I didn't expect was the number of wig shops. Anyone got an explanation for that?!
Before I jump into Bulgaria, I have to note that I am a bit distracted by a colorfully painted horse statue in front of my coffee shop window seat. I think it has a koala bear perched on it! If I give this piece of "art" any more confused looks I am going to have to get Botox to correct all the forehead furrows. I must get to the bottom of this bizarre furry duo…but first Bulgaria and my 48 hours in Sofia!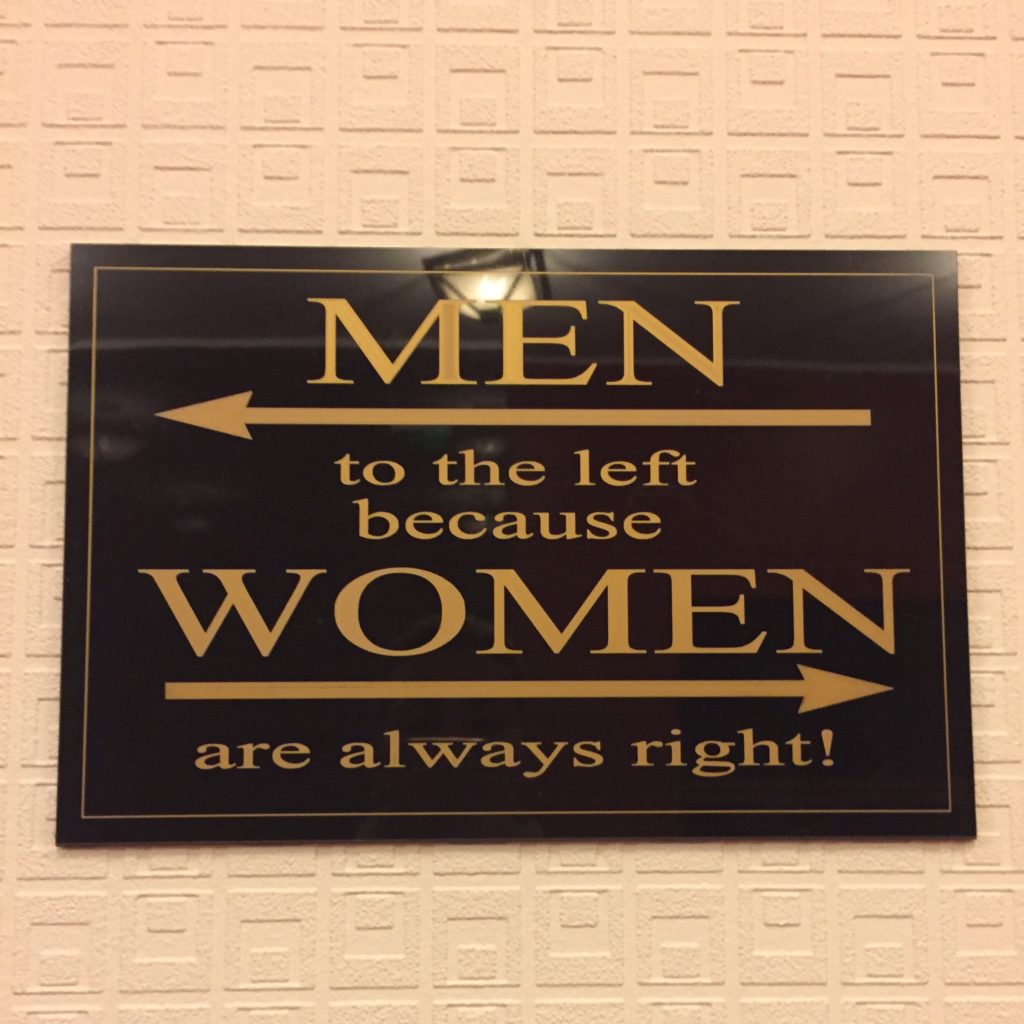 Ha!
I saw this gem of a sign entering the bathroom at a five star hotel in Brasov, Romania. I was there to catch my 3:30am shuttle from Brasov to the Bucharest airport. I had always wondered if signs like this actually existed in public places…and sure enough Romania proved to me that they do!
Next stop Sofia, Bulgaria.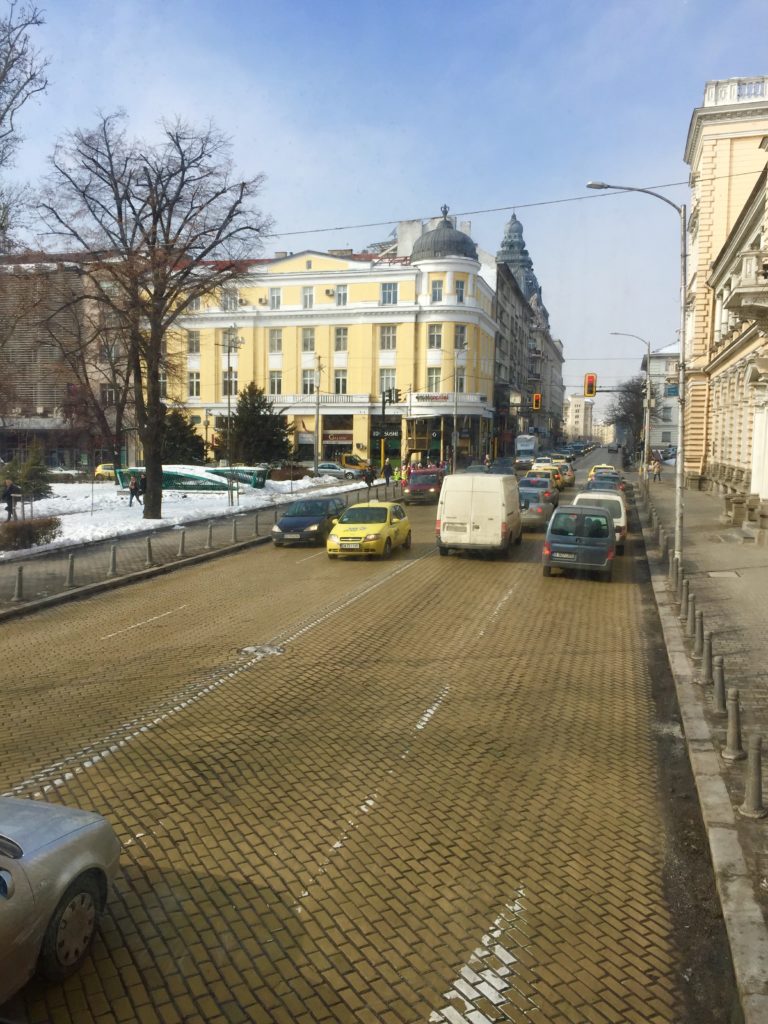 How do you get to Sofia?  Follow the Yellow Brick Road!
These yellow cobblestones are found in the center of Sofia and were laid in 1907-1908. There seems to be an uncertainty as to how and why they came to be installed, but it is certain that today they are considered a national heritage…and that they are quite slippery to walk on when crossing in the snow and cold.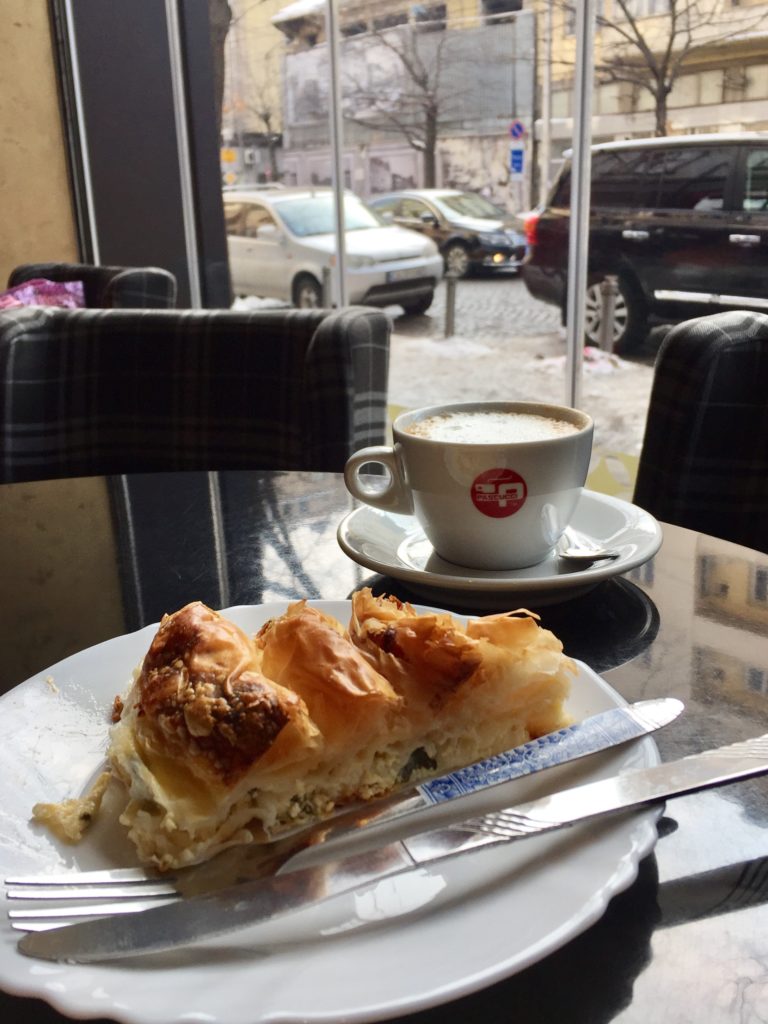 Bulgarian Banitsa – a cheese and egg pasty!
I decided to visit Bulgaria during its least balmy time of year – January. And after freezing my rear off in Romania, I had little tolerance for another free walking tour in the sub-zero Celsius temperatures. So while the history and architecture of the city was important to me, I made the executive decision that my time in Sofia would be all about its food (and staying warm). And as the least expensive European capital to visit, I knew at a minimum I would be able to experience a lot of its culinary scene without spending a lot.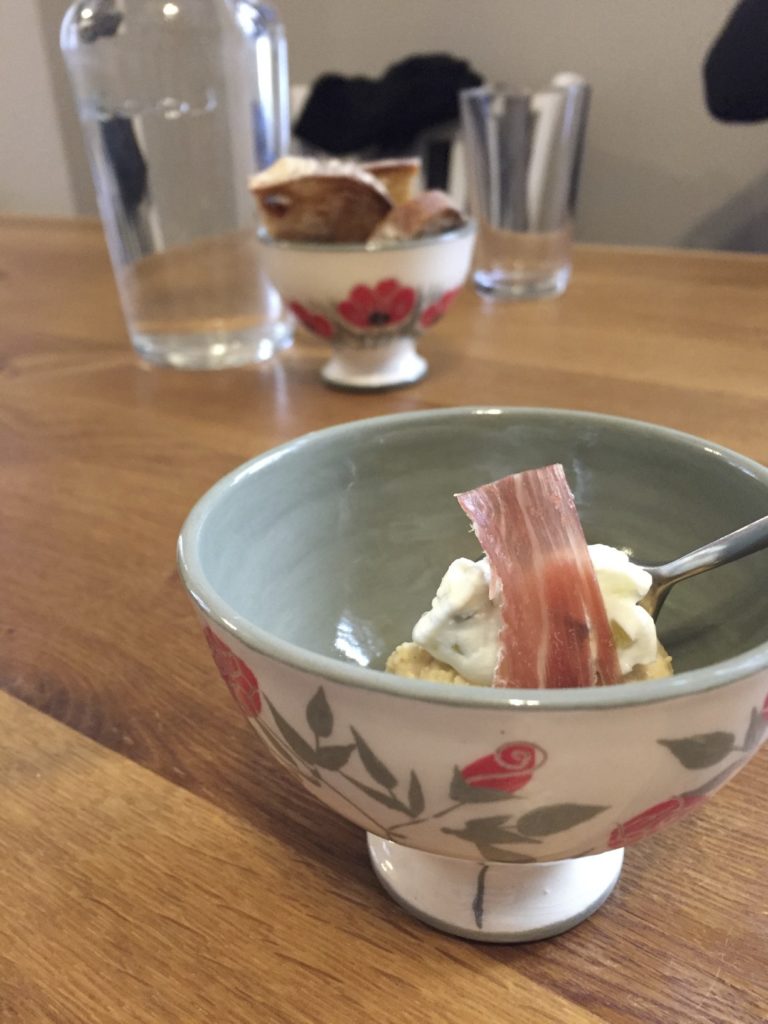 Instead of a free walking tour, I found Sofia's FREE food tour! Balkan Bites is the first of its kind in Europe…and maybe the world!
Our first stop was a glorious destination called Bagri. Bagri is Sofia's first certified "slow food" restaurant. All the menu items are prepared with local seasonal ingredients that have been carefully selected by the owners of the restaurant. The sample featured above was a hummus topped with a soft local cheese and dried ham.
Cheese and yogurt are two staples of the Bulgarian diet. In fact, Bulgaria produces the healthiest yogurt in Europe, thanks to unique bacteria native to the country. Their yogurt consumption is credited as one of the reasons more Bulgarians live to be over 100 years old compared to persons in other countries. SO apparently the fountain of youth actually springs from fermented sheep's milk! Don't tell Ponce de Leon.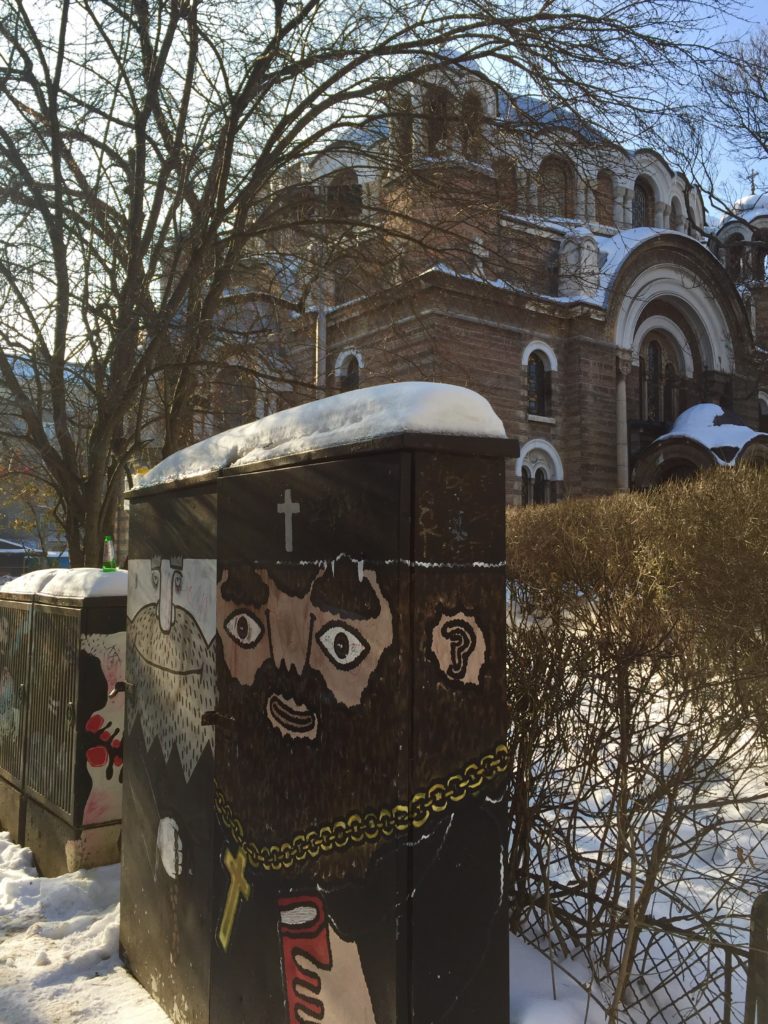 Some of the fun and colorful street art we got to see while freezing between restaurants.
The municipality of Sofia holds "graffiti" contests periodically that allows young graffiti artists to showcase their creativity. This piece was done in 2012 as part of a project called "Theater on the Street." For 10 days 30 artists transformed 51 utility boxes into graffiti art.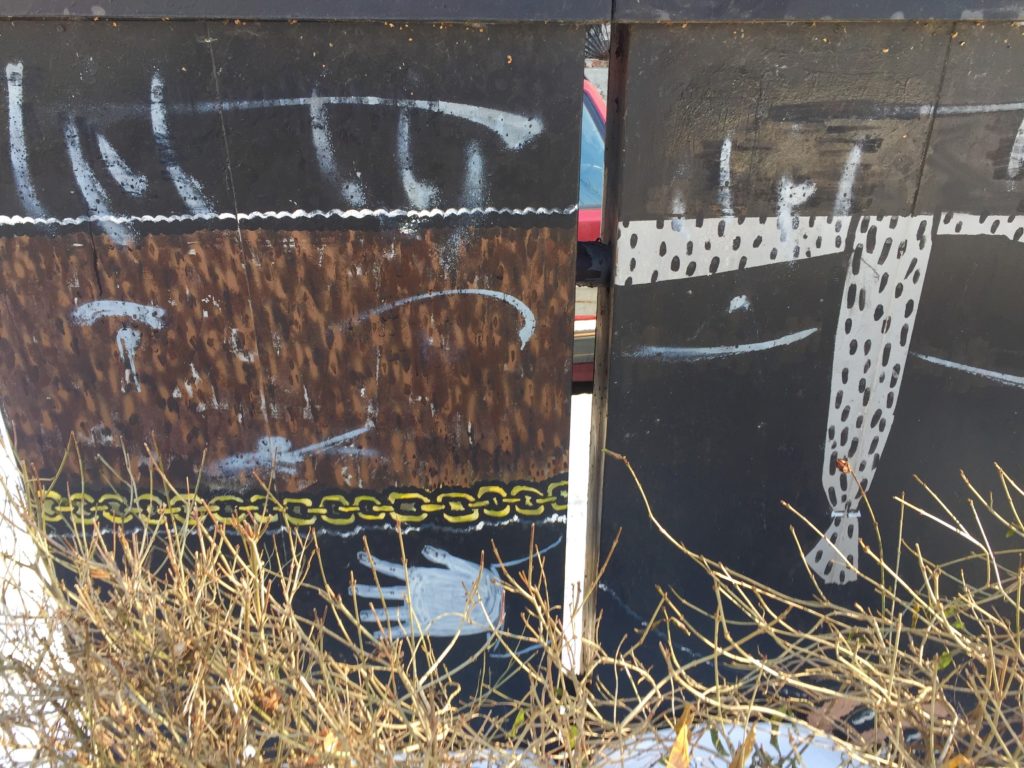 Can you see what this Rabi and Priest are doing on the backside?  Tee Hee.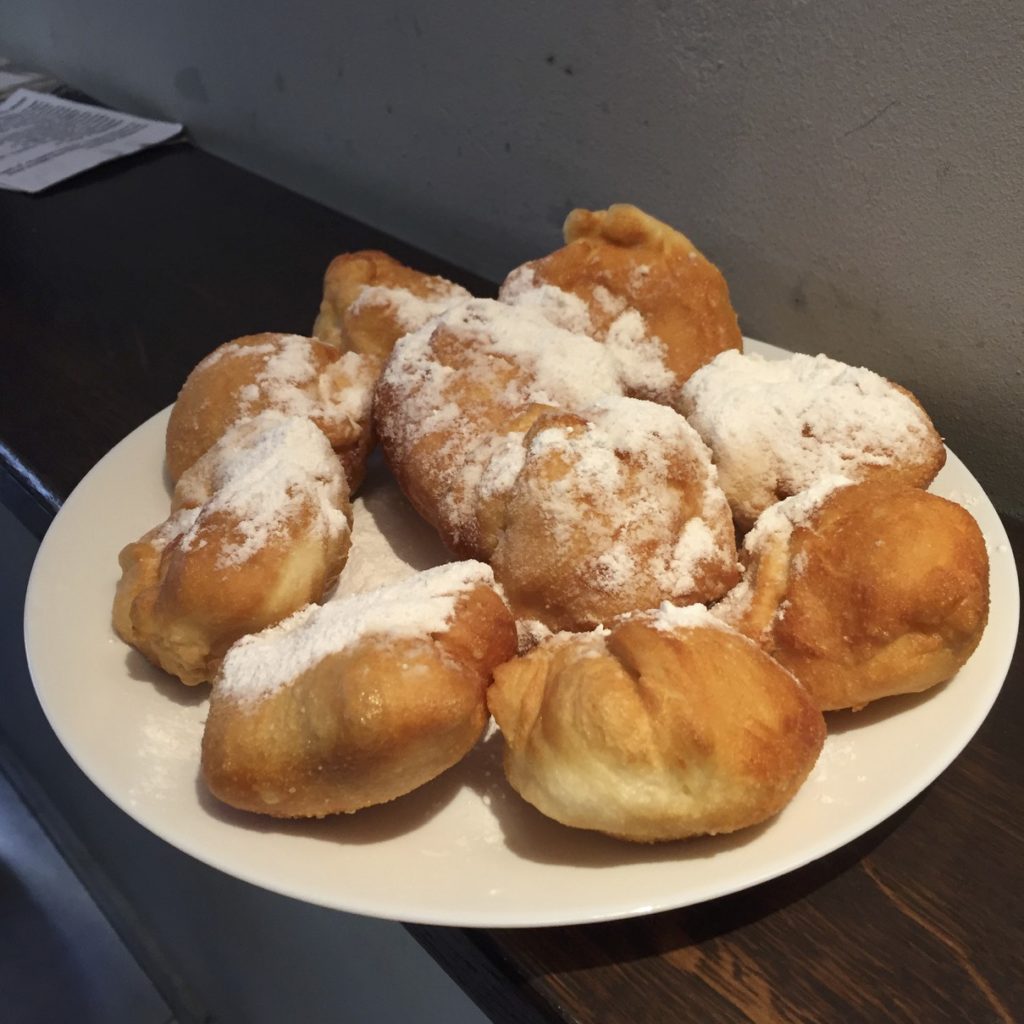 Mekitsa – A slightly sweet bready dough that has been deep friend and doused with powdered sugar (ergo: heaven)
Another wonderful discovery was at a great little shop called, "Mekitsa and Coffee." It is the only place in Sofia where you can find freshly fried mekitsa on the spot! This special treat is something your grandma would have made for you on Saturday mornings if you grew up in Bulgaria (my parents use to leave my sister and me a 6 pack of those miniature donuts to share while watching the Smurfs on Saturday morning…the sharing part would sometimes be a problem). The owners of this hot spot scoured all of Bulgaria to ensure the recipe they created was the best in the country. And while I don't have much of a reference point, I do think they succeeded.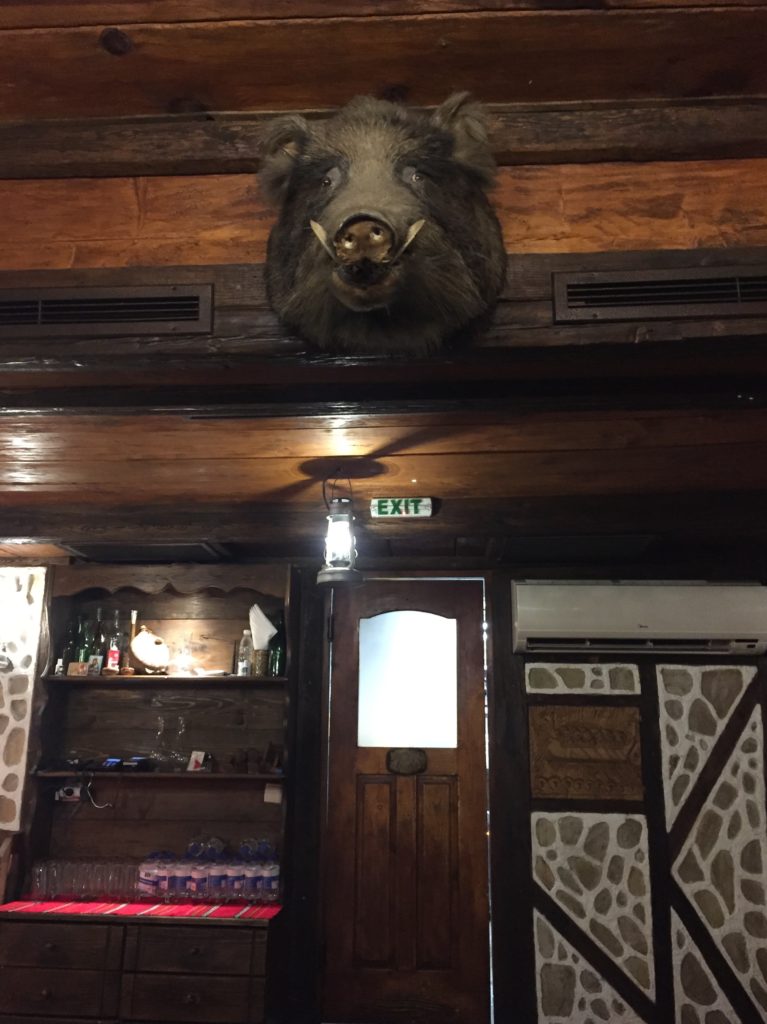 Next Stop: The traditional Bulgarian restaurant, Hadjidraganoite Izbi.
Uh, that is either a very large hog head or a very small door...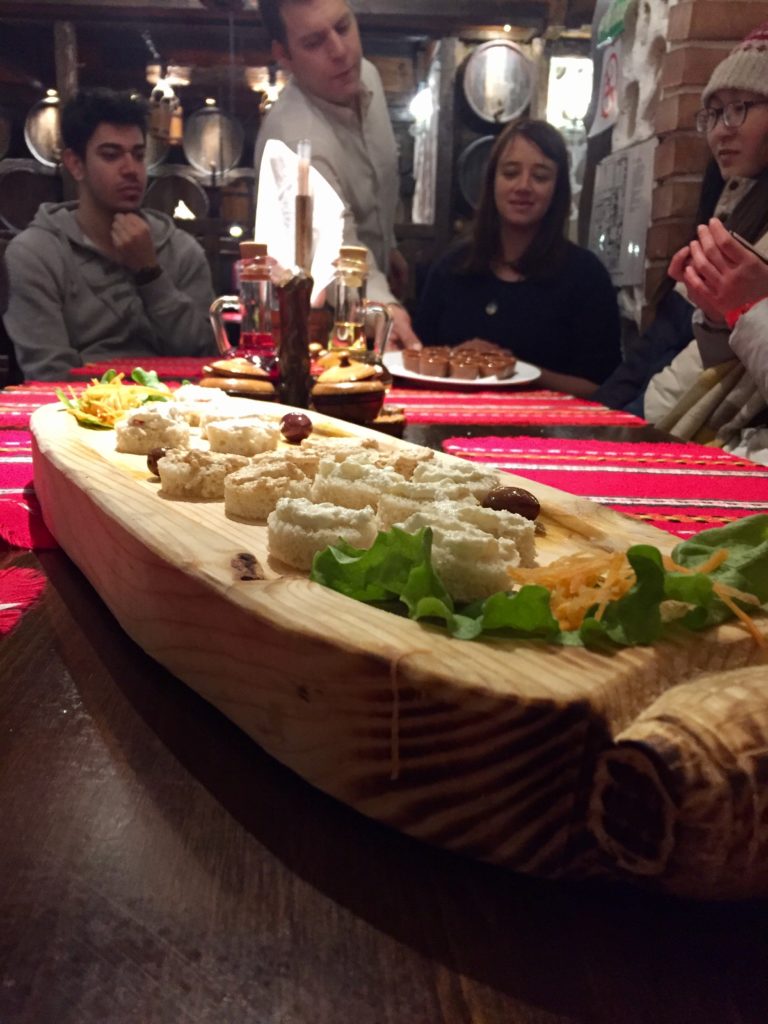 The previous stops had been more "foodie" oriented, but the final restaurant introduced us to all things traditional Bulgaria: food, drink, decor and dance. Our guide, sitting to the right of the server, presented different Bulgarian cheese spreads and one of their traditional libations, rakia (basically a fermented fruit brandy). After we finished she gathered us in a circle to teach us a wedding dance!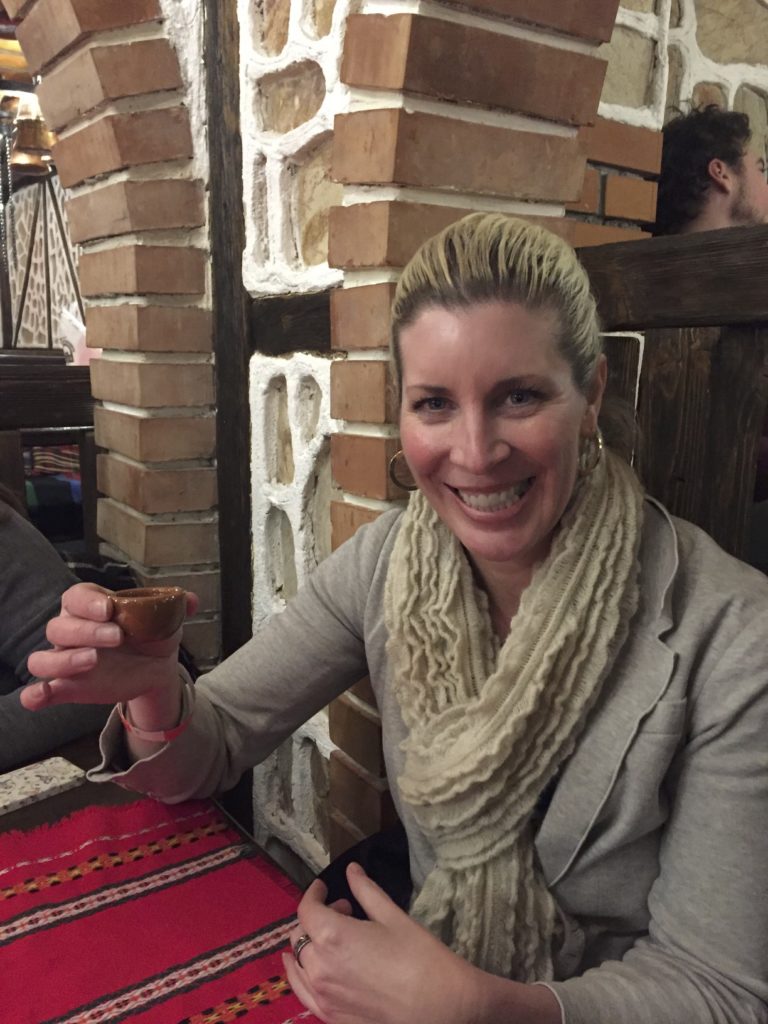 This should keep me warm…although a bit more would have kept me warmer!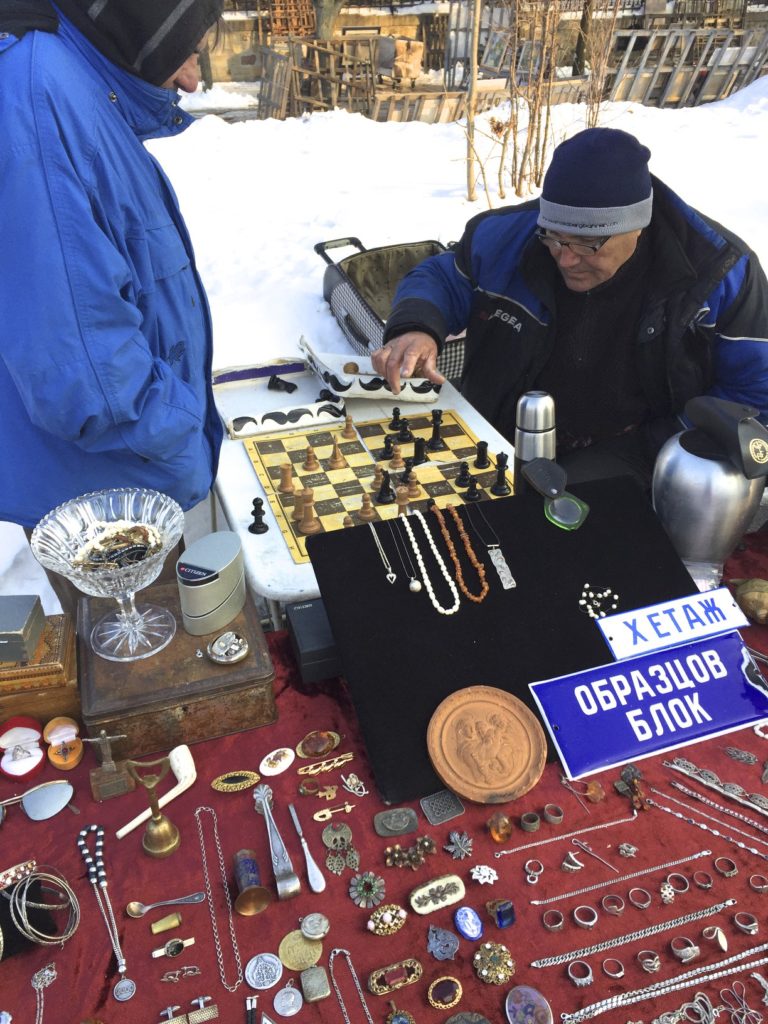 Flea Market in Sofia.
Unable to teleport myself home in the cold, I took a scenic walk back to hotel that had me cut straight through a well-known flea market in front of Nevsky Cathedral. The vendors here clearly weren't as adverse to the frigid temps as I.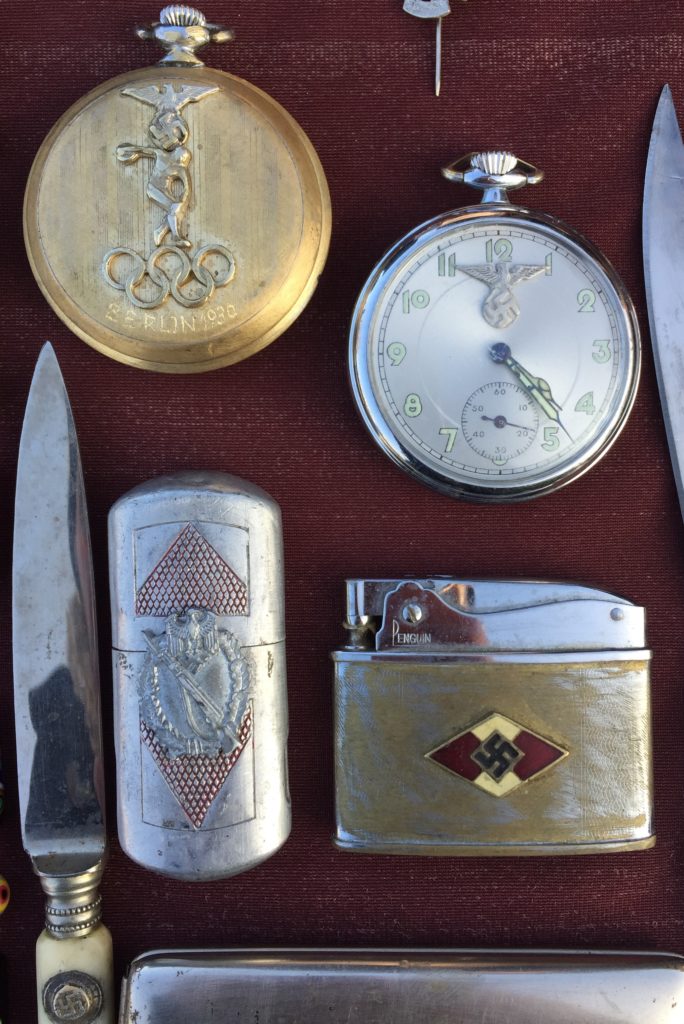 Nazi memorabilia anyone?
For some reason there wasn't a lot that got me to open my pocket book at this flea market.  Had I been into cold war, communist or Nazi artifacts the story may have been different.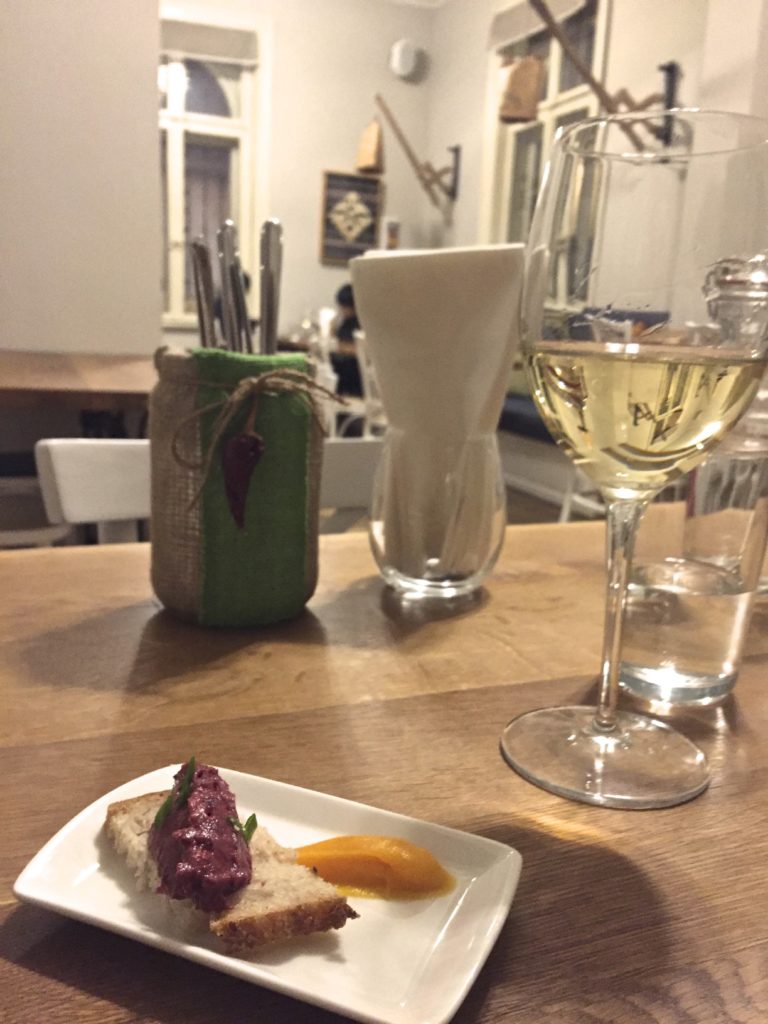 After a well deserved nap, it was back to Bagri to properly indulge in the Bulgarian slow food movement for dinner. Local beets, local wine, local lard (yes, pig lard), local trout at a local price had me reflecting on what a brilliant choice it was to come discover Bulgaria. Not many Americans do.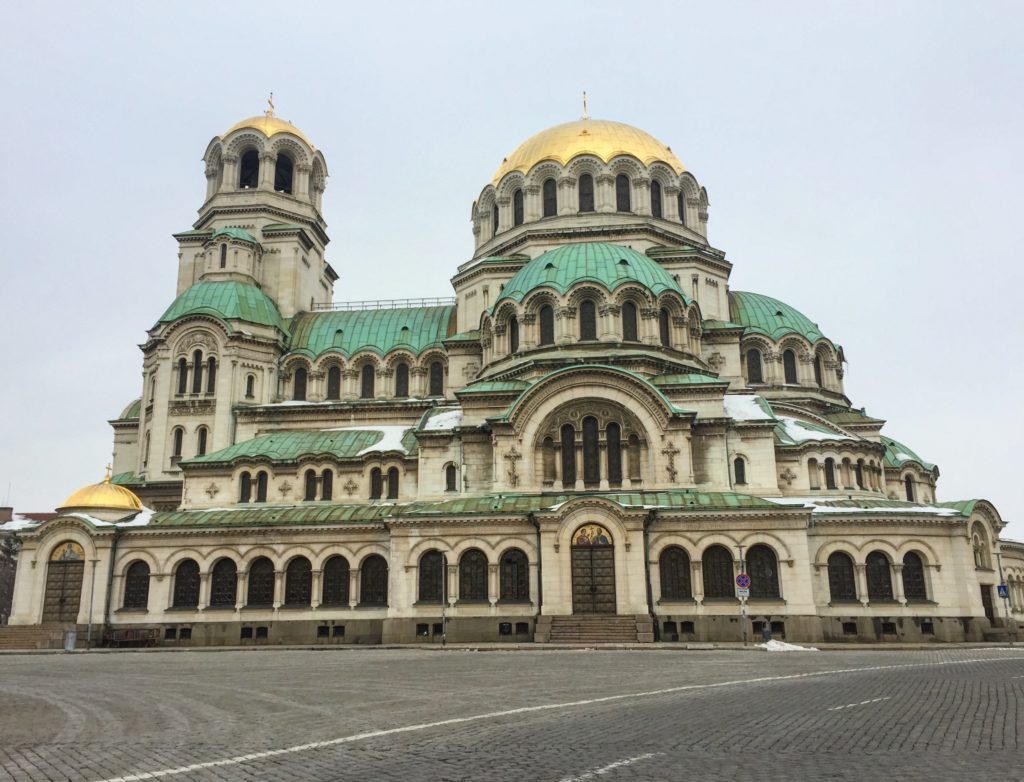 St. Alexander Nevsky Cathedral
Day two had me plotting more ways to discover Sofia while still staying warm. After some research and a recommendation, I decided to take one of those double decker city tour buses. Brilliant! Excitedly I showed up 15 minutes before its scheduled noon departure time, yet tragically I was the only tourist in all of Sofia to do so. My guide informed me that he and the driver needed at least 3 people in order for the tour to make economic sense. Ugh. And despite the finger crossing, breath holding and praying, no one else showed up. No. One. The driver and bus left.
Moments later a miracle occurred! Just as I was negotiating with the guide to bring me on a private taxi tour (after all I wasn't going to let this font of knowledge escape me), a group of 8 Turkish people came by wanting to go on the tour! The guide delightfully called the driver, and back he came with the bus! However, somehow between the time the guide called the driver and his arrival, 7 of the 8 Turkish people decided not to do the tour! OMG! Foiled again! Desperately I asked the only Turkish gentleman who still wanted to do the tour if he would pay along with me 1/2 of the 1 extra person required for the minimum of 3 so we at least could do the tour. He AGREED! I love TURKEY! And we were off….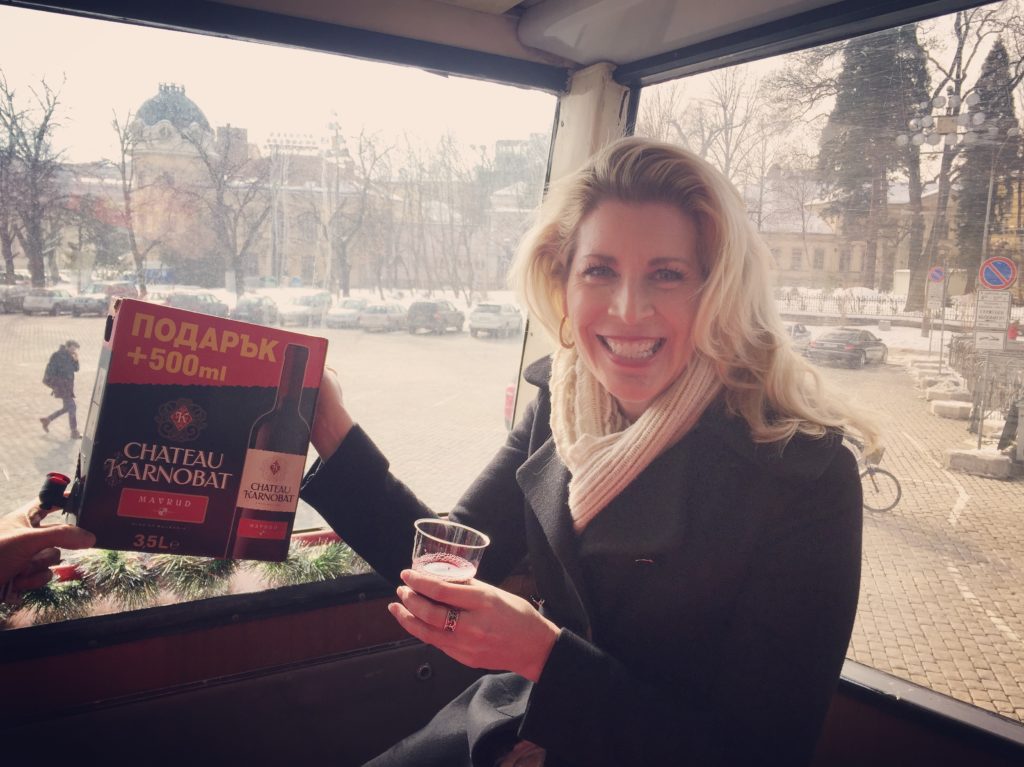 Drinking local wine from a box (in my double decker tour bus), it is what I do in Bulgaria.
Best thing about being only one of two tourists in a huge double decker bus, you get the best seat in the house! The winter incentive to get folks on the tour was a free glass of red local wine (clearly not enough of an incentive). My Turkish counterpart and I were happy to partake.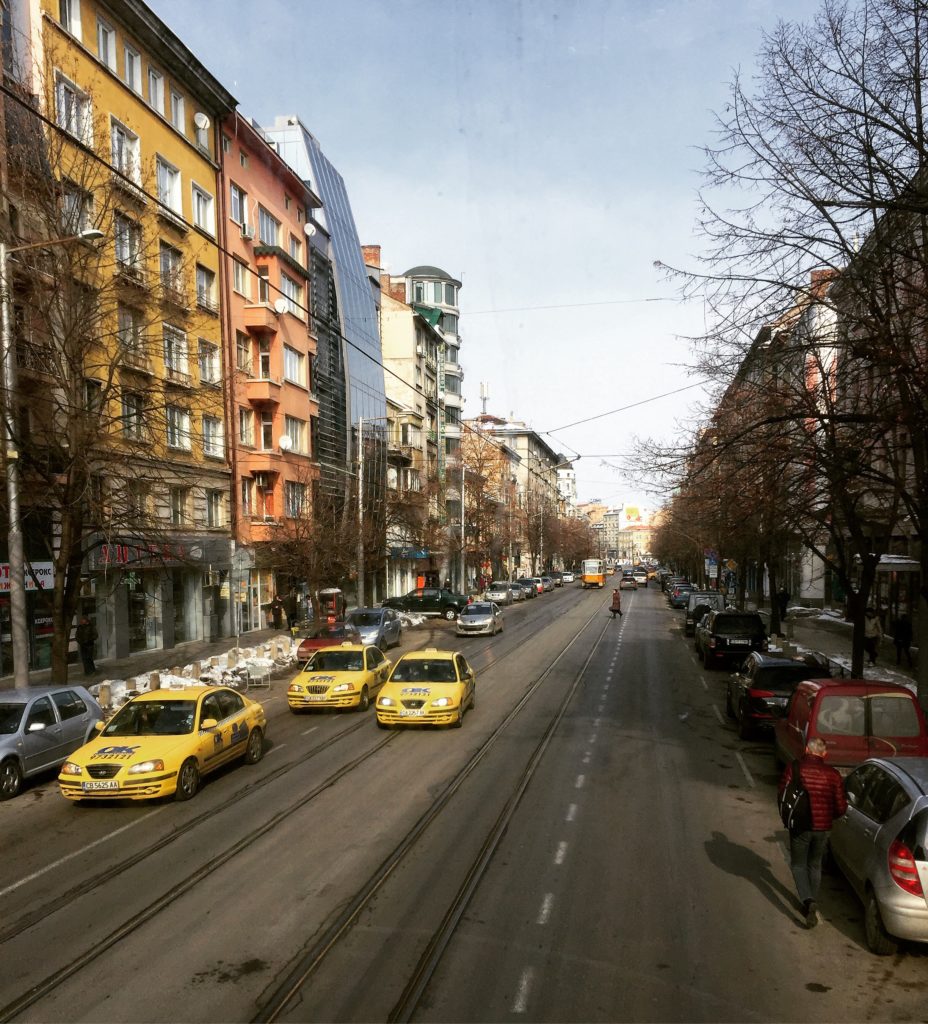 Scenes of downtown Sofia.
After the hour tour, it was back to the hotel. When I arrived, the receptionist asked me if I knew an Englishman staying at the hotel.
A bit puzzled, I replied, "I did talk to an Englishman yesterday."
"Oh, good," was her response, "because he left you a note." She then slid in front of me a handwritten note that said, "If you are free for dinner tonight, I would love to join you. How about we meet at 7pm downstairs. Gareth, Room 9"
"I wouldn't give him your room number," she chimed in after I finished with the note.
"That was good of you," was my reply. "I will go tell him I am happy to join him if that is okay."
"Of course."
I then started up the stairs only to meet Gareth in the stairwell halfway up. I told him it would be a pleasure to dine with him and that I would defer to his recommendation for a dinner spot. To my delight, he pulled out the business card of a restaurant I had already earmarked to visit that night for dinner. Serendipitous!
He then added, "Don't worry, I have loads to talk about," like for some reason he thought that was a concern of mine. My only thought in return was, "Ugh, I have loads to talk about too…we will be at dinner all night."
Turns out I would be right.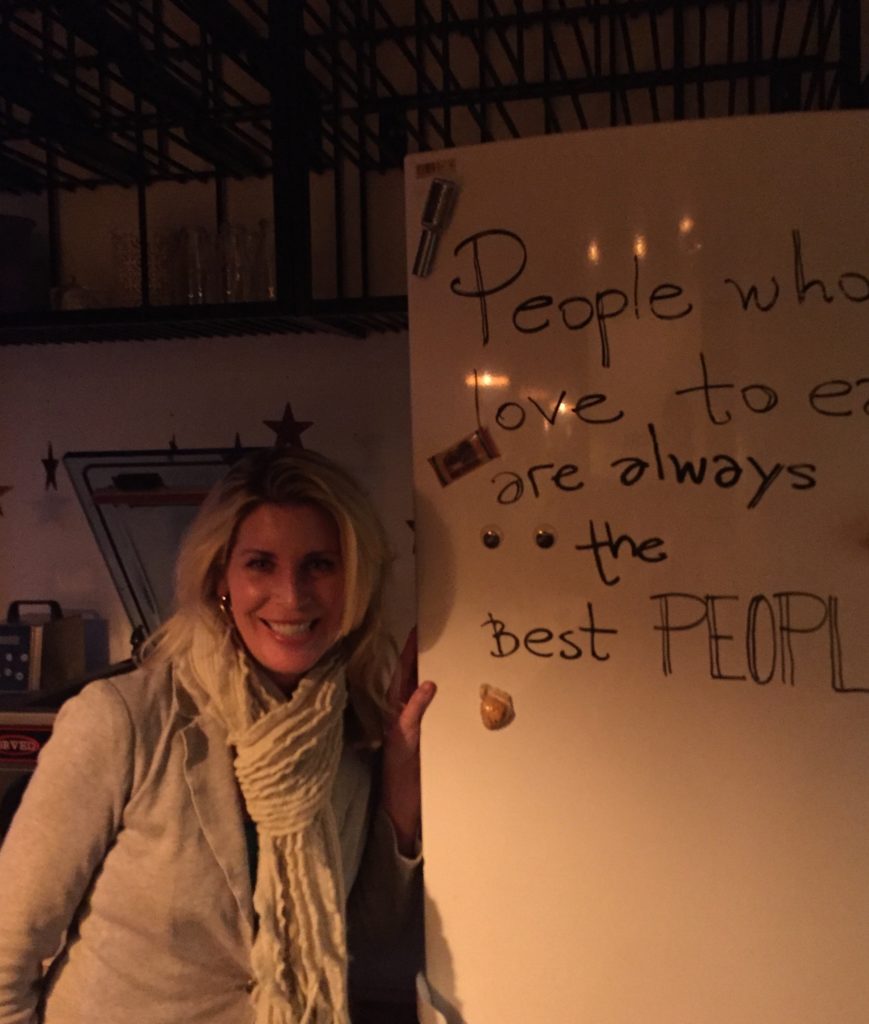 Me at Lavanda…and put me in the "best people" category!
The charming restaurant of Lavanda where Gareth and I went to eat was set on the second floor in a lovely historic house from the early 20th century. Its name comes from the word lavender which is worth noting because Bulgaria is the largest producer of lavender in the world since 2013! Who knew! Their focus was on fresh seasonal ingredients from around the world.
If I am completely honest I don't remember a lot of what we ate, only that it was good and that two bottles of wine were involved. I do remember that conversation was fun and flowing. Gareth is a successful artist from Bristol, England whose detailed, storytelling cartographical drawings of mostly UK cities are starting to get him international attention. A high-end ski wear company just approached him to add his art to their latest collection. He was in Sofia to learn how to ski.
The restaurant shutdown around us so we moved our conversation downstairs to the lively bar named "One More." There I literally did just have one more (another super early flight in the morning back to Paris)….but Gareth had about 7 more. Those English! Like the restaurant, the bar also had to kick us out.
Gareth doing a good job walking home!
Despite the cold, it was a beautiful walk back…and my final glimpse of beautiful Sophia.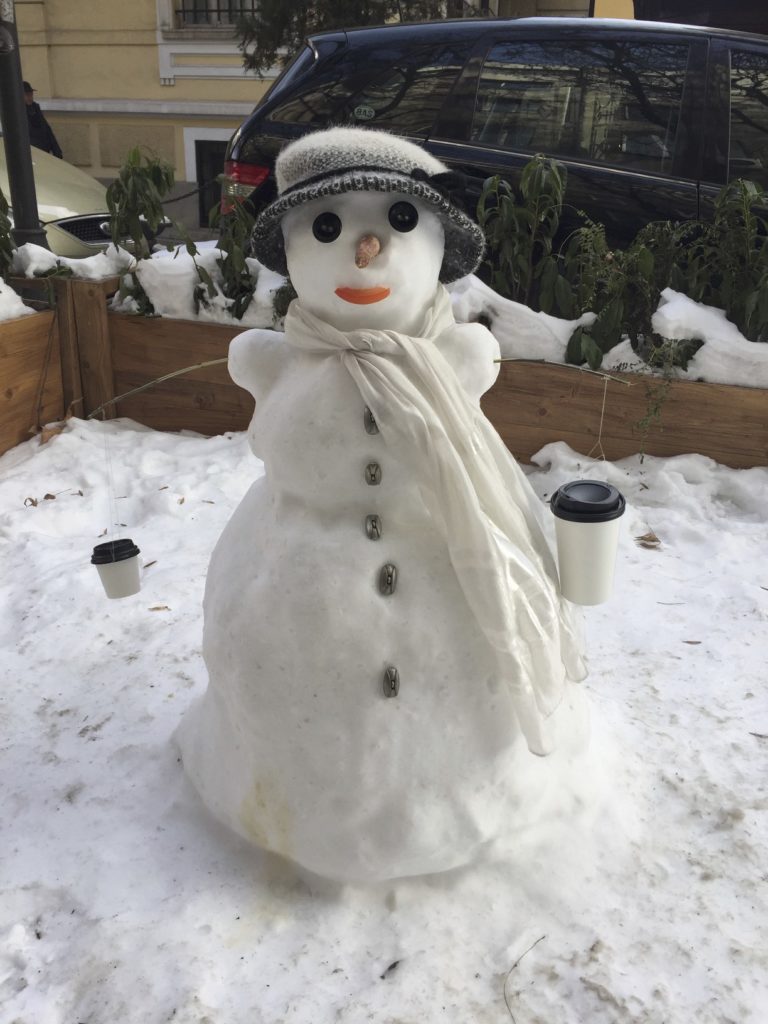 Because of my food focus in Sofia, I didn't end up like this!
Beautiful city, wonderful people and memorable time. Please visit Sofia if you do get the chance…but maybe not in January.
Now to try some cuisine of Kentucky. Onward!
P.S. The painted pony with the koala companion outside my coffee shop here in Louisville had absolutely no signage or explanation. I – and you – are to remain perplexed.