It is my final hours here in Romania before a 3:30am bus to the Bucharest airport and then 8:05am flight to Sofia, Bulgaria.
I am writing from the lobby of my boutique hotel, Bella Muzica, here in the charming medieval town of Brasov. Next to me is a bottle of local chardonnay chilling and a glass. The automatic doors of my hotel keep opening and closing as guests come and go. With each rush of the cold air I can hear the growing chants of the large group of protestors that are gathering in the town square in front of my hotel. From the number of Romanian flags waving with holes in the center of them, I assume it is a protest against the government (During the Communist period, the center of their red, yellow and blue flag carried a coat of arms that represented communism. The protestors during the people's revolution of 1989 cut out that image in the flag leaving the hole).
The receptionist just confirmed my assumption.  She said they are protesting against corruption in the government and then added "it is bigger in Bucharest."
I think there are protests going on in my country right now too.  Clearly I am not meant to miss out.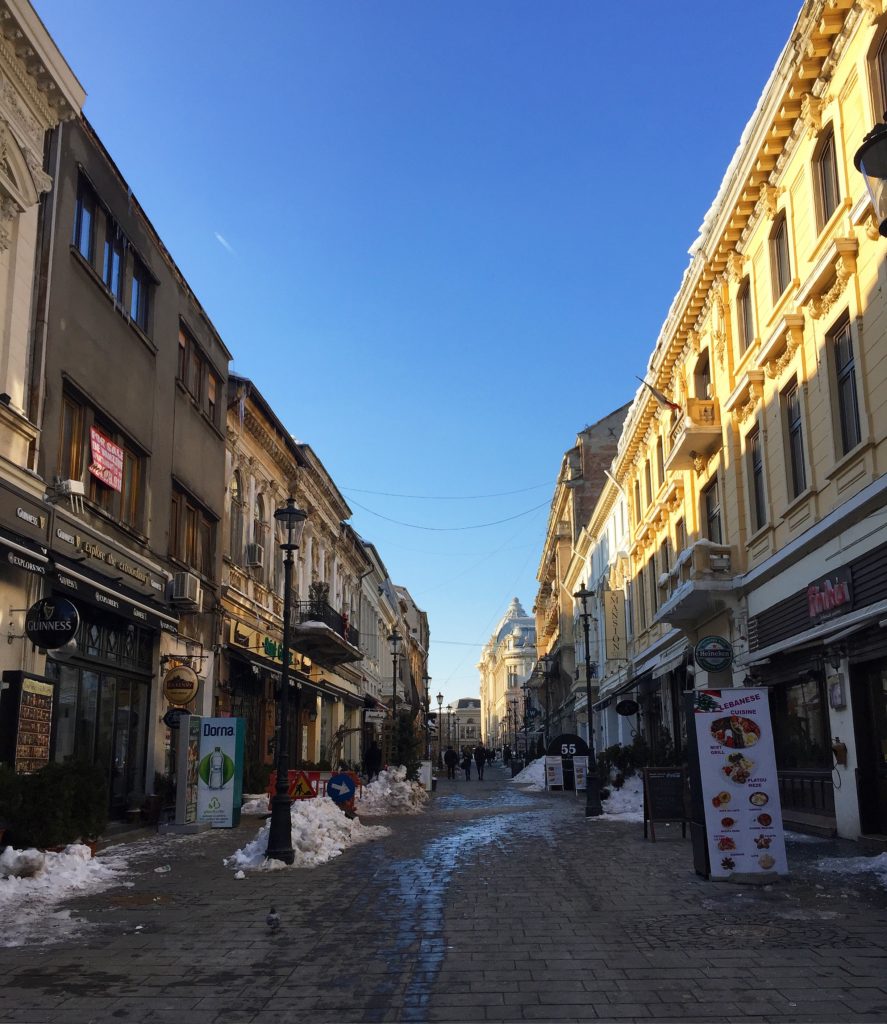 Old Town Bucharest
Per the typical Romanian itinerary, I started my 5 day visit in this Balkan country in its capital city and commercial center, Bucharest, before heading to Transylvania. I spent just 2 days in this 6th largest city in Europe, but 2 days felt like enough.
While it was interesting to learn Bucharest's history, experience remnants of the communist era and see the architectural elements of the French inspired quarters that helped earn its once nickname, "the little Paris," I wasn't necessarily impressed. Old town felt more like a red light district with its many "massage" parlors and dance clubs, graffiti seemed to decorated most building and I couldn't find a quaint little boutique shopping area to save my life.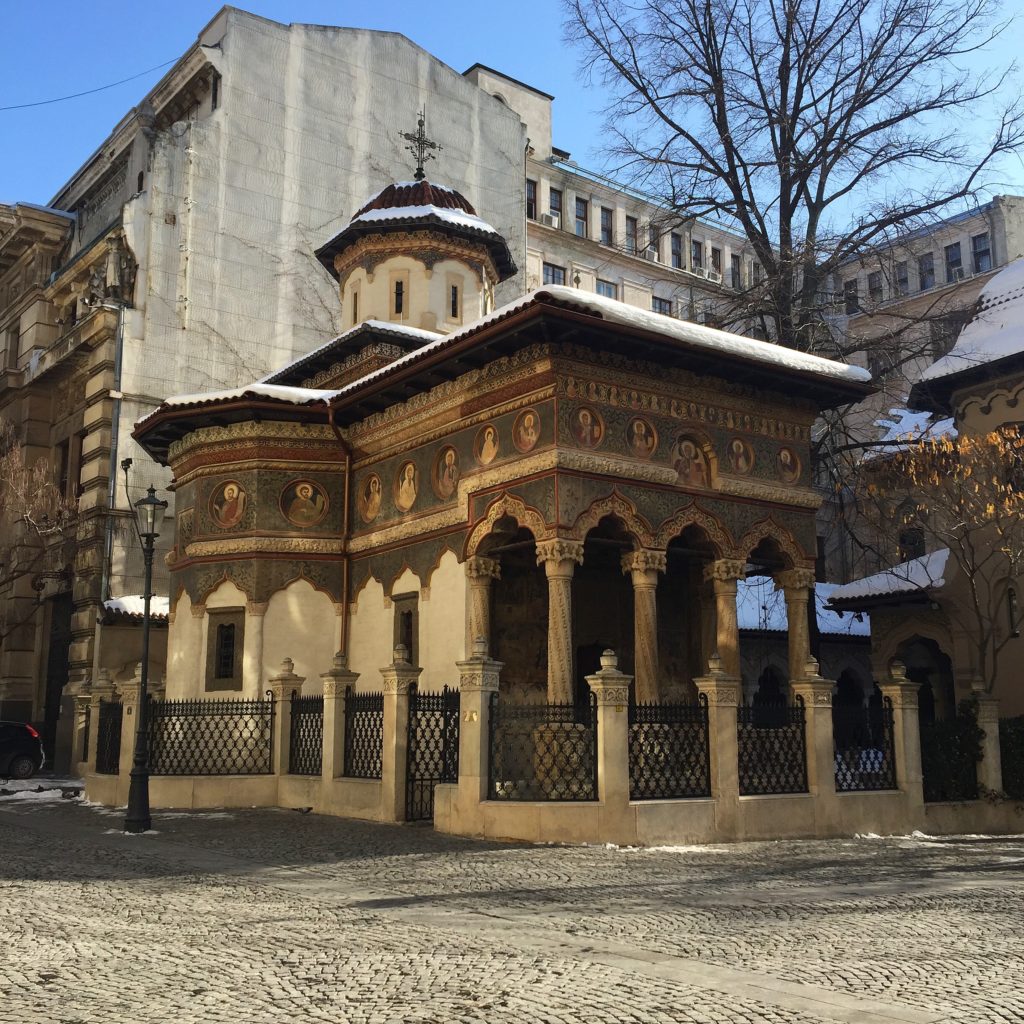 Quaint Orthodox church from 1724.
Bucharest's magic and saving grace was in all its hidden elements. Churches like the above jewel are literally hidden treasures in the corners of old town's cobble stone streets that otherwise seem to be full of Irish pubs, flashing neon signs promoting dancing girls and cheap souvenir shops. Perhaps if I had gone dancing in one of those clubs and actually had been a dancing girl, I would be singing a different tune now…but alas, I was constantly warned not to go to old town by myself at night.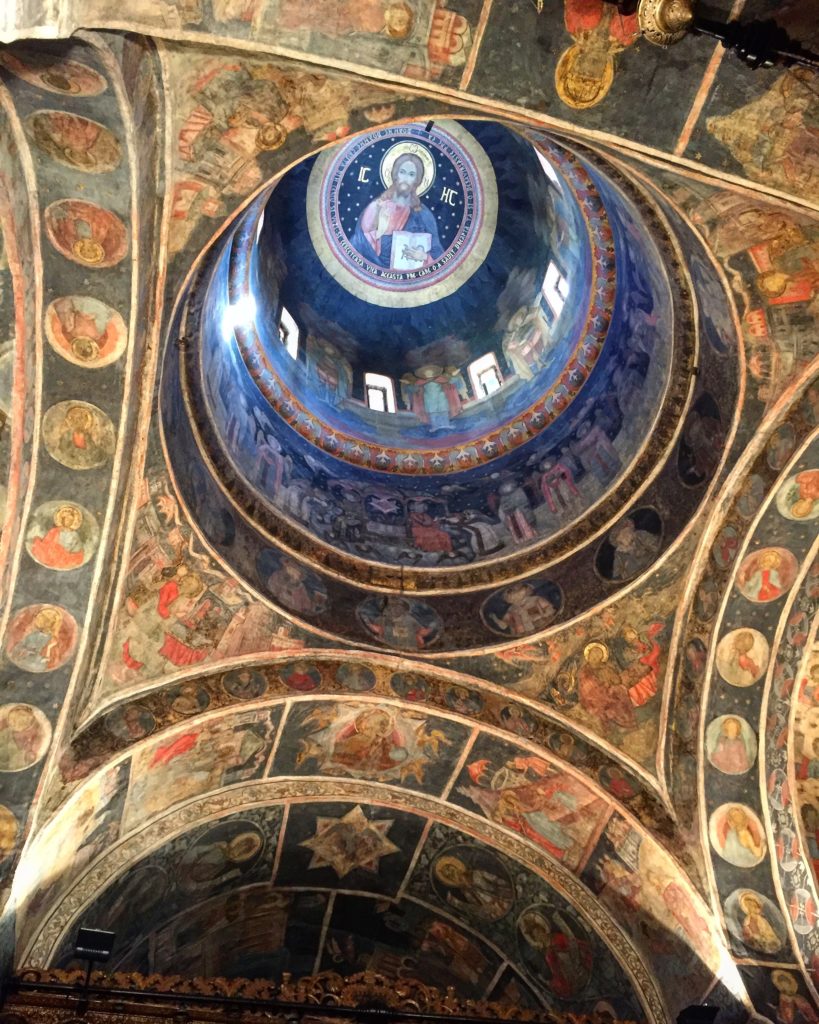 The immense beauty of the itty bitty cupola in the wee church.
Besides my outstanding lunch spot at Caru' cu Bere, the highlight of my time in old town was marveling at this mini cupola in the interior of the afore mentioned church.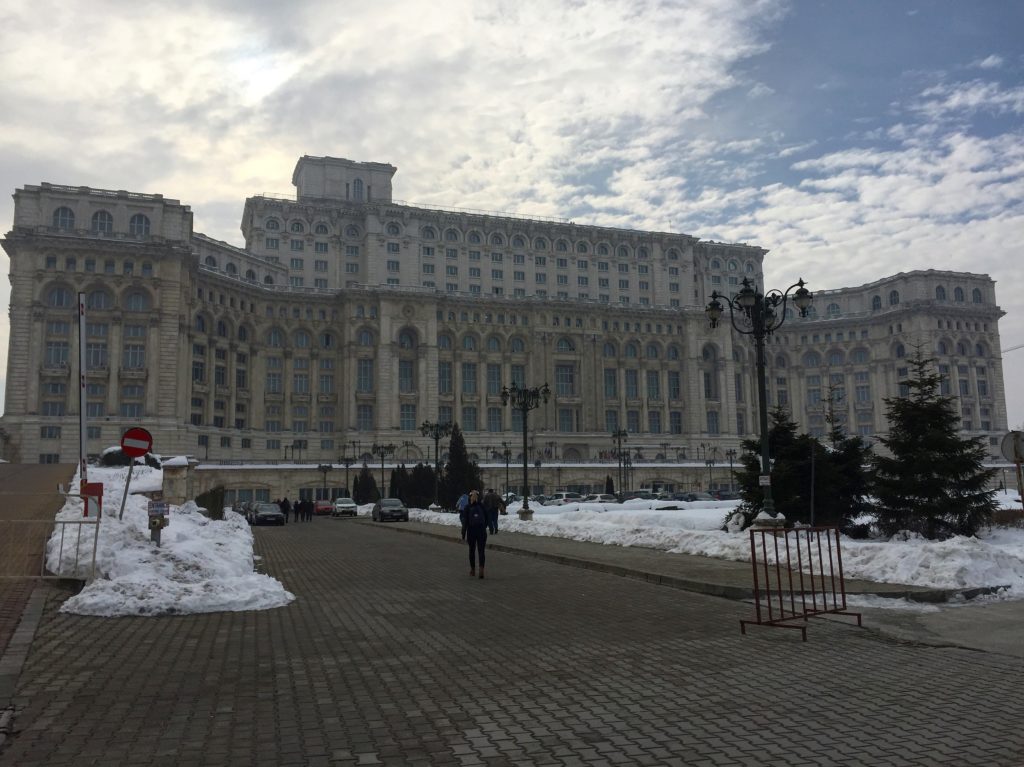 Palace of the Parliament
A must do, however, if you do go to Bucharest is a visit to the mammoth ego project of the former communist dictator, Nicolae Ceaușescu, who was executed with his wife on December 25th, 1989 as a result of the revolution.
While it did start as a symbol of communism, this architectural marvel currently houses the Parliament of Romania. After visiting and learning its history, it was clear why the people of Romania have a love/hate relationship with this building that is only outdone in size by the Pentagon in the USA.
Construction began in 1983, and absolutely no expense was spared in materials and decor (despite the fact that citizens living in the blocks nearby were lacking heat and lights because the regime would turn them off from time to time to pay for this project as well as to pay off the national debt). It is estimated that the cost to build the building is upwards of 6 billion dollars…and it isn't even complete yet!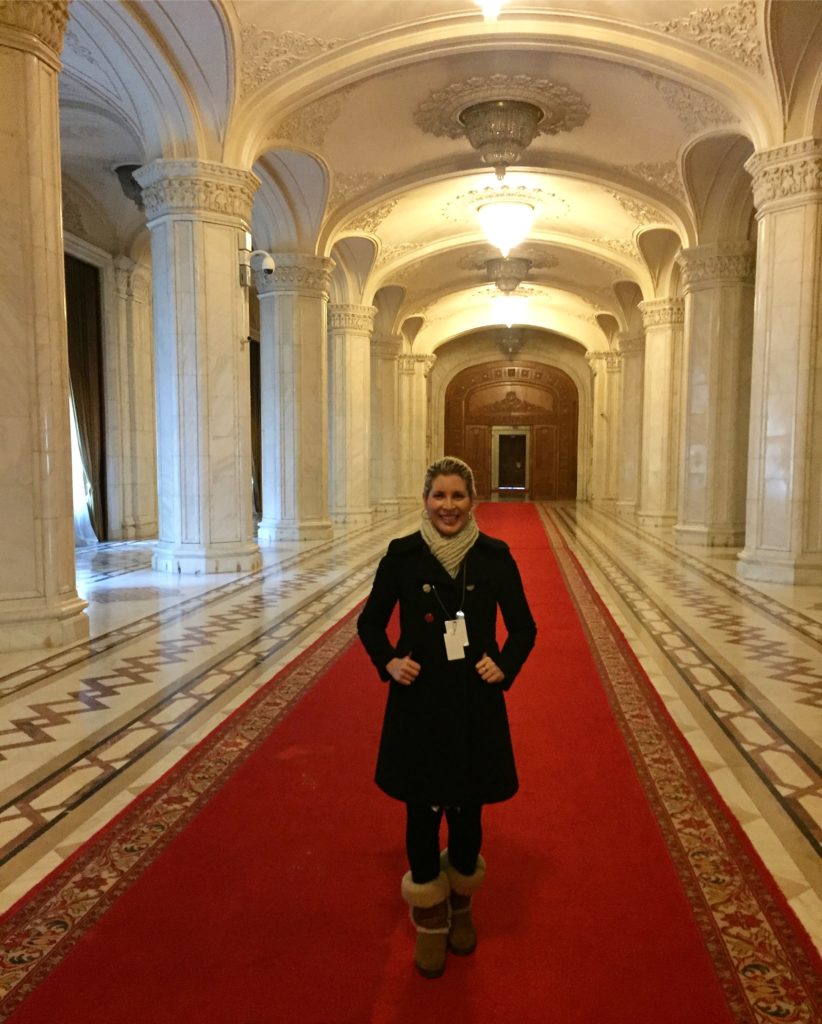 Just one of the fancy halls in the gigantic Palace of Parliament
One of my favorite stories from my trip to the Palace was getting there. I used Uber to call my ride from the hotel and got into a car with an older gentleman whom I read to be a nostalgic communist. He was of the local ilk that loved the Palace and was pleased I was visiting it. He was also quick to tell me there was nothing special about my country, and how life in Romania was superior to life in America. Fine. Then I learned that his a son, a graduate from Boston University, lives in America with no plans of coming home. Ah ha! I think we got to the root of the semi-resentment.  But regardless of his thoughts on my country, he warmed up to me by the time we reached the palace.
At the Parliament's guard gate, my driver and the guard did an exchange in Romanian. Since I don't speak the language, this won't be a direct translation..but the following is my interpretation of their conversation:
My Driver to Guard: My passenger is going to do a tour of the parliament, where does she need to go.
Guard: *points* She needs to walk about 200 meters to the visitor entrance.
My Driver: That is far. I will just drive her to the entrance.
Guard: No, it is not allowed. She must walk from here.
My Driver: Ah, but it is far and it is cold, and she is American!  (American was the one word I did indeed know)
Guard: *Guard gives large shoulder shrug, exaggerated expression of, "I could give a f***." and then turns his back to us.*
My Driver to me:  *shyly* You will need to walk from here.
I couldn't help but chuckle at both my driver's effort and the guard's response.
As I thanked my driver from the window he said, "I am really happy that I now know you."
Me too.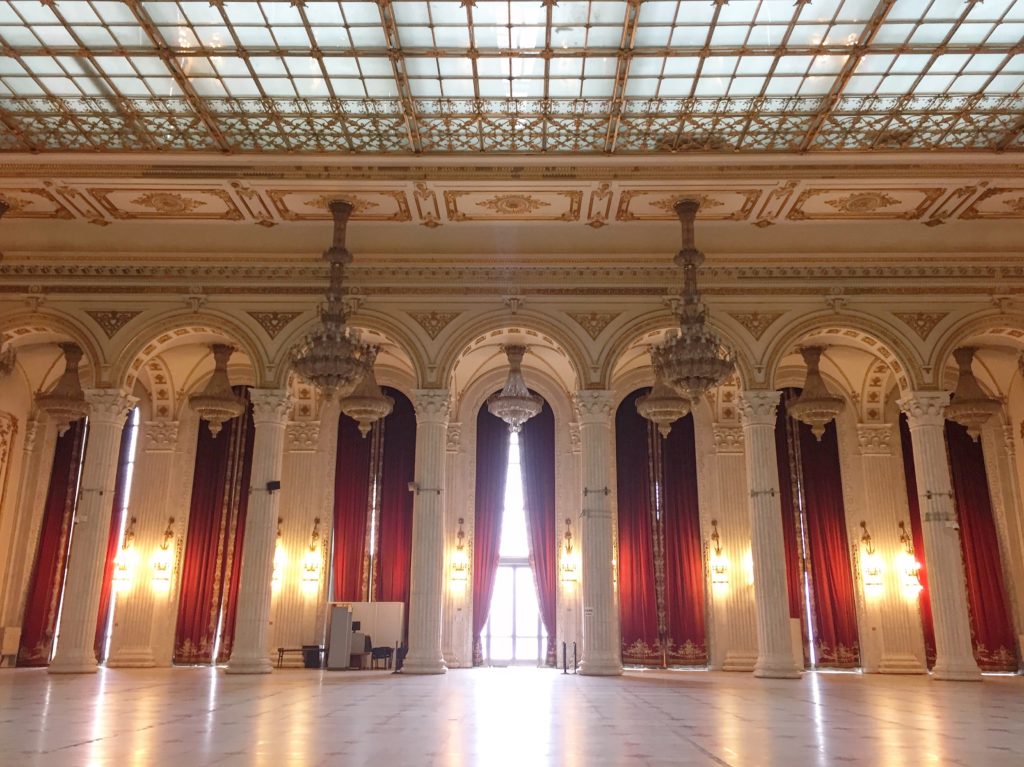 Communist Opulence at its Grandest – The Alexandru Ioan Cuza Chamber
This room is one of the most important and towering chambers of the 1100 chambers in the Palace.
Today you can rent it out for meeting or event functions…but there are no weddings allowed.  At one point weddings were permitted, but one or two overly festive guests ruined it for future brides.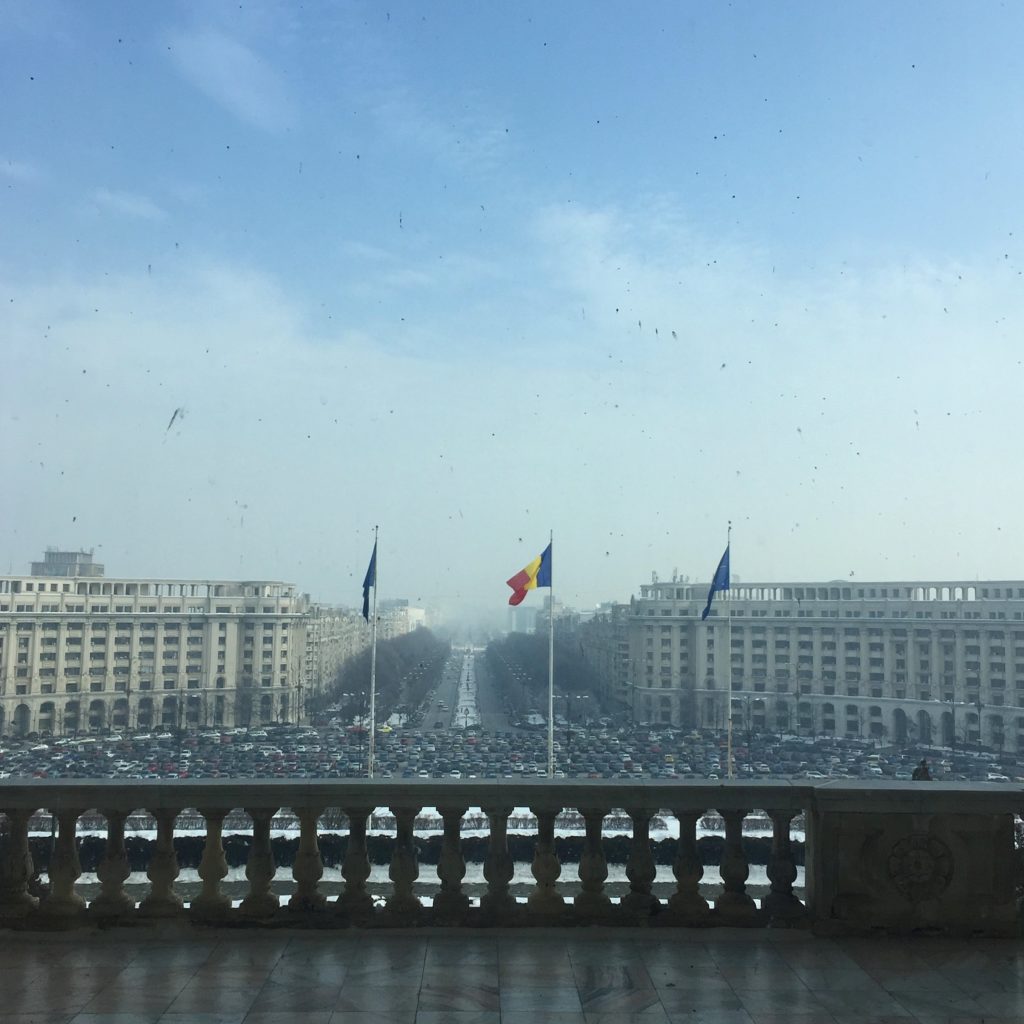 The Balcony facing Piața Unirii
Ceaușescu had hoped to address his people from this balcony, but his execution happened before that ever did. So who was the first person to make a pronouncement from this balcony? The King of Pop and a decidedly product of capitalism, Michael Jackson. In 1992 before his concert he proclaimed to the adoring fans, "Hello Budapest!"
We all can't be perfect.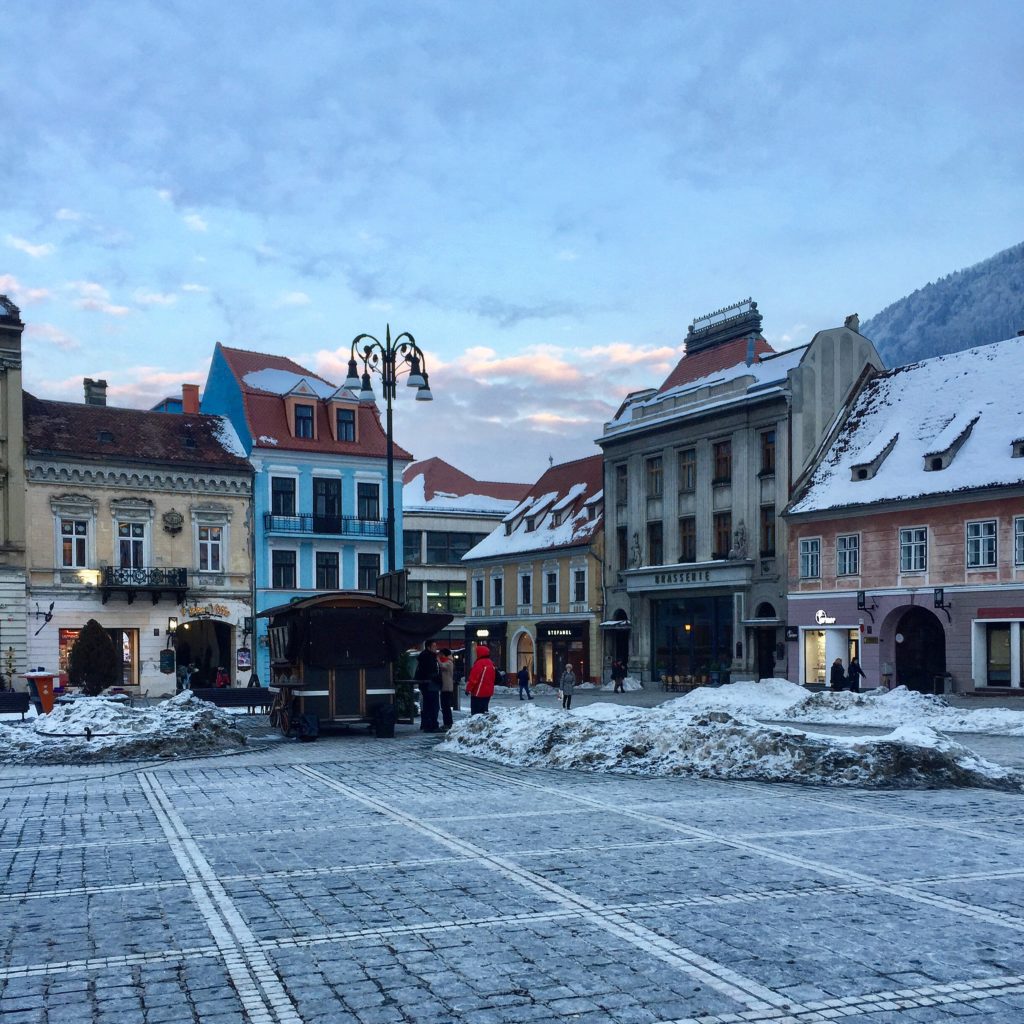 Piaţa Sfatului (town center) in the medieval Saxon city of Brașov 
After leaving the Palace of the Parliament I found myself back in a taxi. And the driver, Mihsi, talked his way into chauffeuring me to the next stop on my Romanian itinerary, Brasov in Transylvania. At first I needed a little convincing as the train from Bucharest to Brasov seemed the most economical route, but after a couple of price reductions, I accepted. Arriving early, avoiding possible train delays, not having to sit on my suitcase (I was warned about my bags being stolen on the train) and having a travel companion with whom I could learn more about life in Romania seemed to be worth the extra expense.
Turns out it was a good choice. I enjoyed the 2.5 hours with my second nostalgic communist and learned a lot about his Romania. He made it quite clear he regrets being one of the anti-government protestors during the revolution at the tender age of 16. Romania under communism, according to Mihsi, was better for the people and industry, and Ceaușescu was one of the best leaders Romania has ever had. He dreamily recollected when the government provided houses for all, placed individuals in jobs and provided free healthcare – one where individuals don't have to tip the doctors to perform their duties (Note: Romanians do have "free" government healthcare today, but because the doctors are paid so poorly, it is customary for patients to tip all those in the healthcare industry. For example, Mihsi's wife had to tip the staff in the hospital to provide her a chair to sit by her 10 year old son's bed during his stay there). He said, "Back then we at least had money in our pockets, even though there wasn't a lot in stores to spend it on. Today we have a lot of things to buy, but no money in our pocket."
Besides his political leanings, I learned Mihsi's son is the best at karate in Romania for his age group, that his dad died when he was 10 months old while piloting a 50 passenger plane for the national airline, Tarom (the files are closed as to how the plane crashed) and that he and his wife are swingers. Clearly you can learn a lot about a person in 2.5 hours.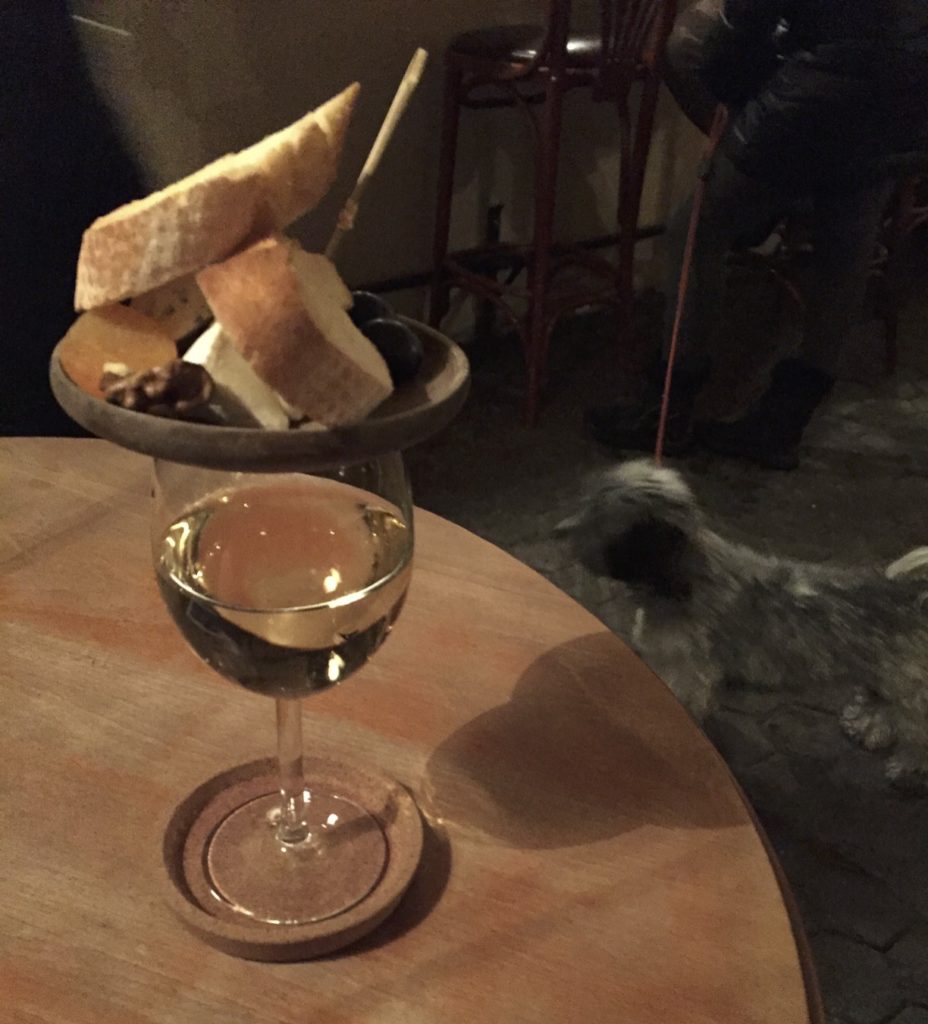 In Brasov my wine came accessorized with an edible hat…and a dog (not edible)!
Happy to have arrived in charming Brasov nestled in the snowy Carpathian Mountains (complete with its own Hollywood-like sign on the mountain side that doesn't allow you to forget where you are), I dropped my bags in my room and set out to explore a bit of the town. The winter cold quickly got me off the cobblestone streets and into a bistro recommended by one of the local shop girls. If you go, you must visit Bistro de l'Arte to get your own wine with a hat tooooo!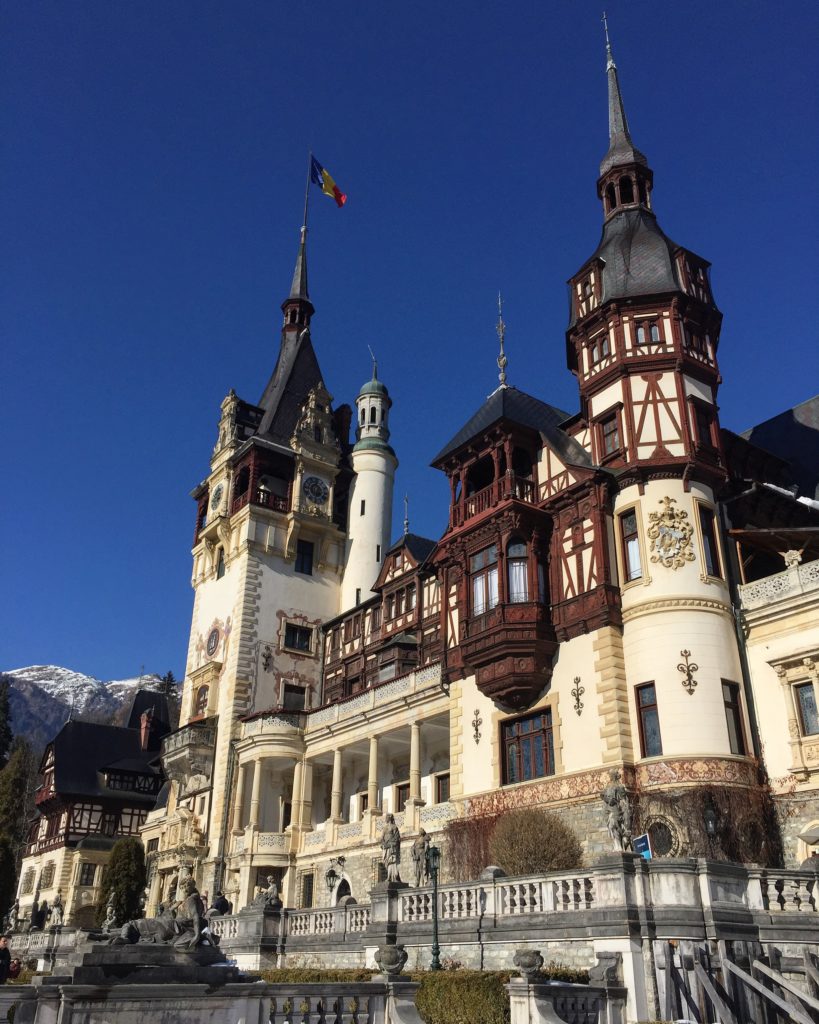 Peleș Castle
The next day I spent the whole day exploring three of the important castles of the region with a young and charismatic guide my hotel touted as being the best.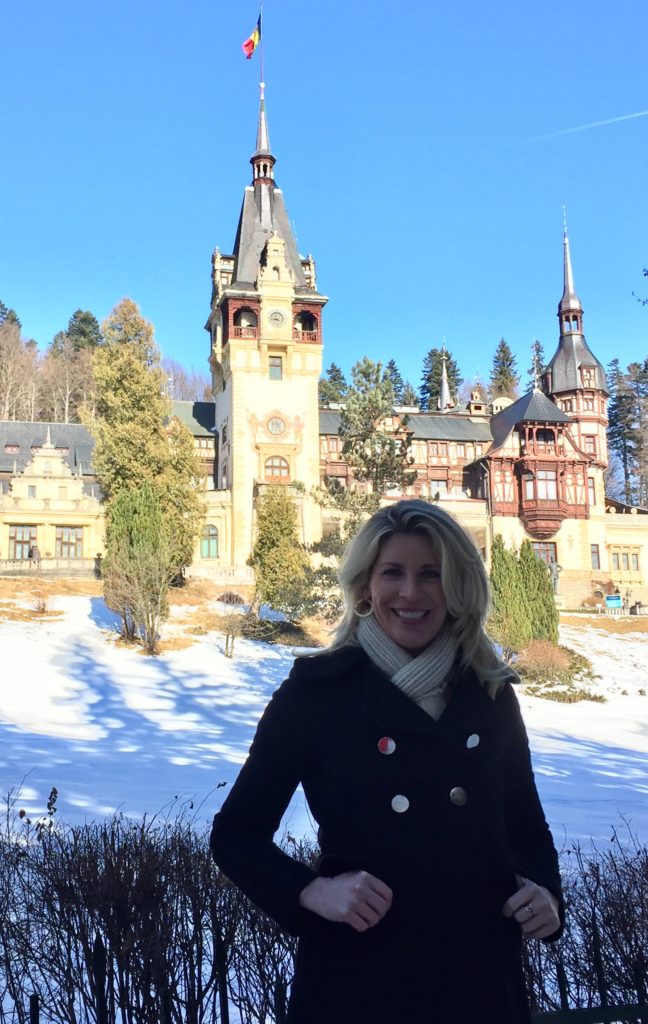 Me and Peleș Castle!
Adrian, my guide, called Peles castle the "pearl of Romania."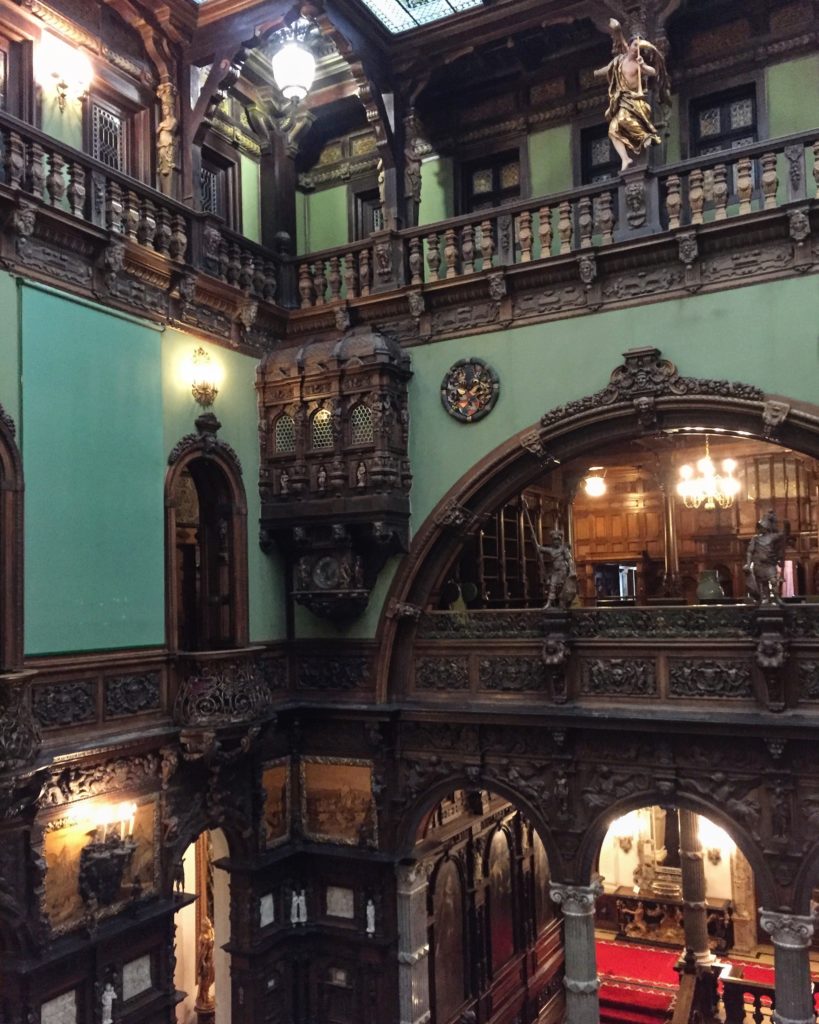 Inside the Grand Hall in Peleș Castle
Built between 1873 and 1914 by King Carol I, it was indeed breathtaking with all of its exquisite details.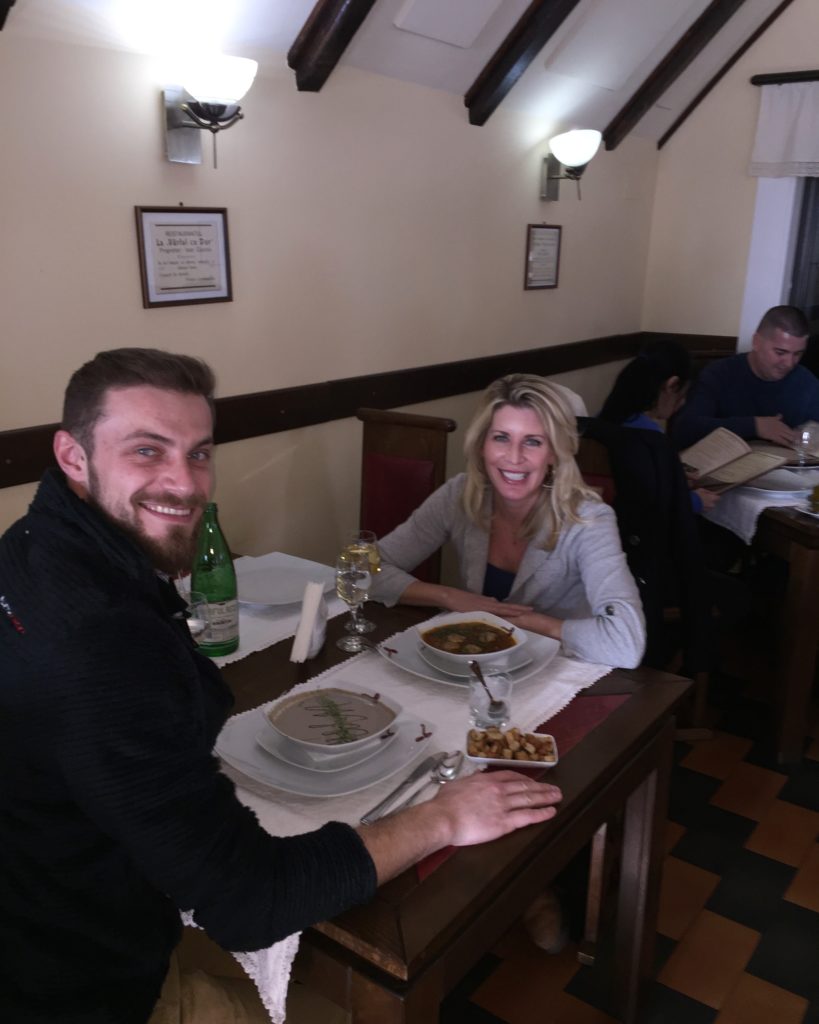 Me and the "best" guide, Adrian…and he was!
Our post-Peles Castle lunch stop was at a restaurant that Adrian's dad managed and co-owned in the town of Râșnov. I had meatball soup and a glass of wine while my young, entrepreneurial  guide passionately explain his confusion with those that were nostalgic for communism. In his words, "an individual cannot grow under that system."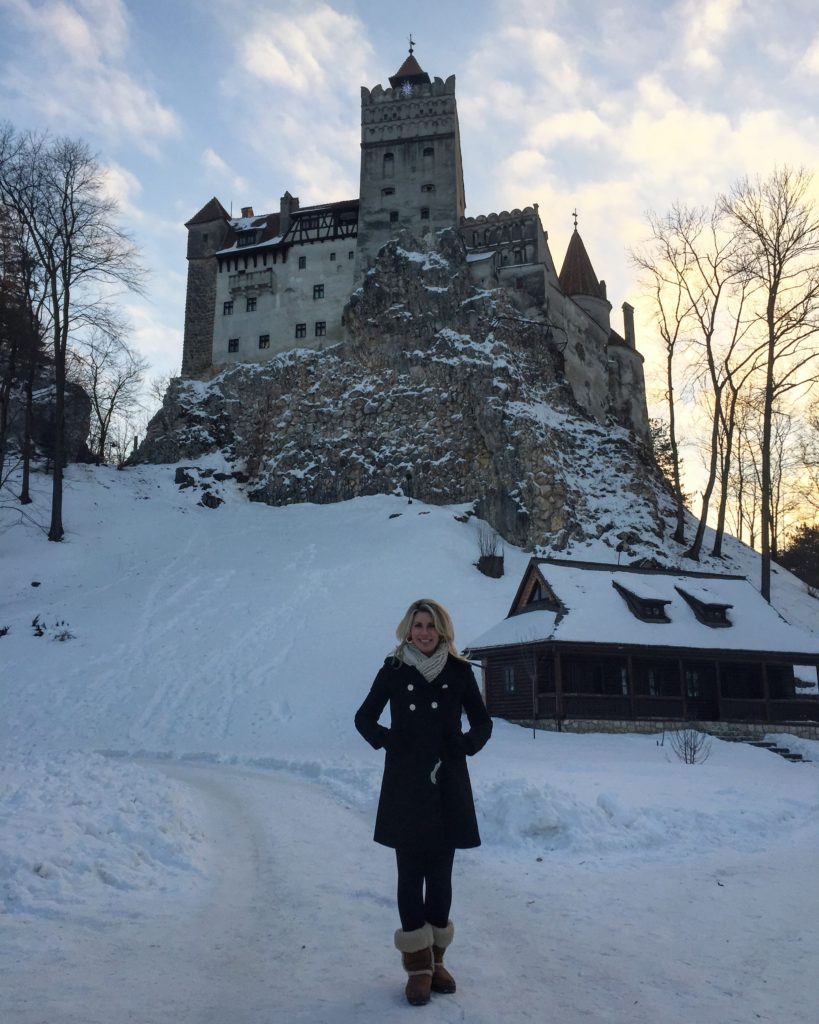 Next Stop: The famous Bran Castle…or Dracula's Castle!
I don't have a fascination or really even interest in vampires, but it is impossible to go to Transylvania and not visit this national monument and landmark of Romania. This once fortress is  the home of the title character in Bram Stoker's Dracula. However, there is no evidence that Stoker knew anything about this castle…yet we all still flock to experience its intrigue, myth and history.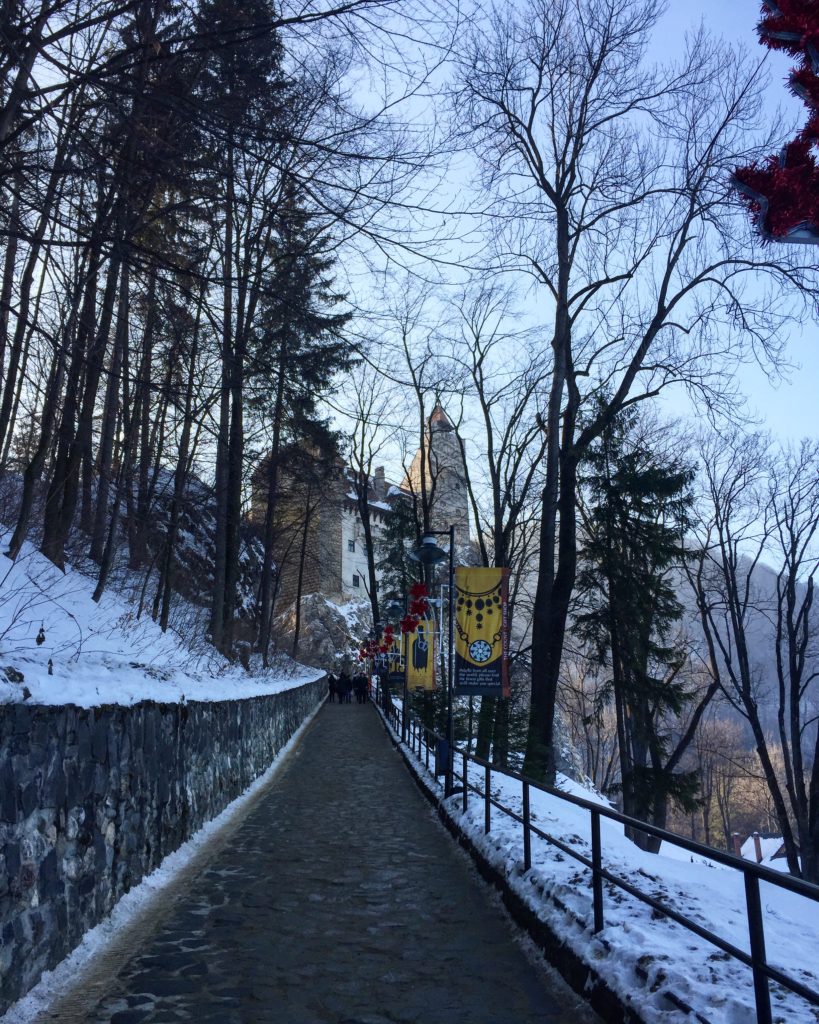 Doh! I forgot the garlic!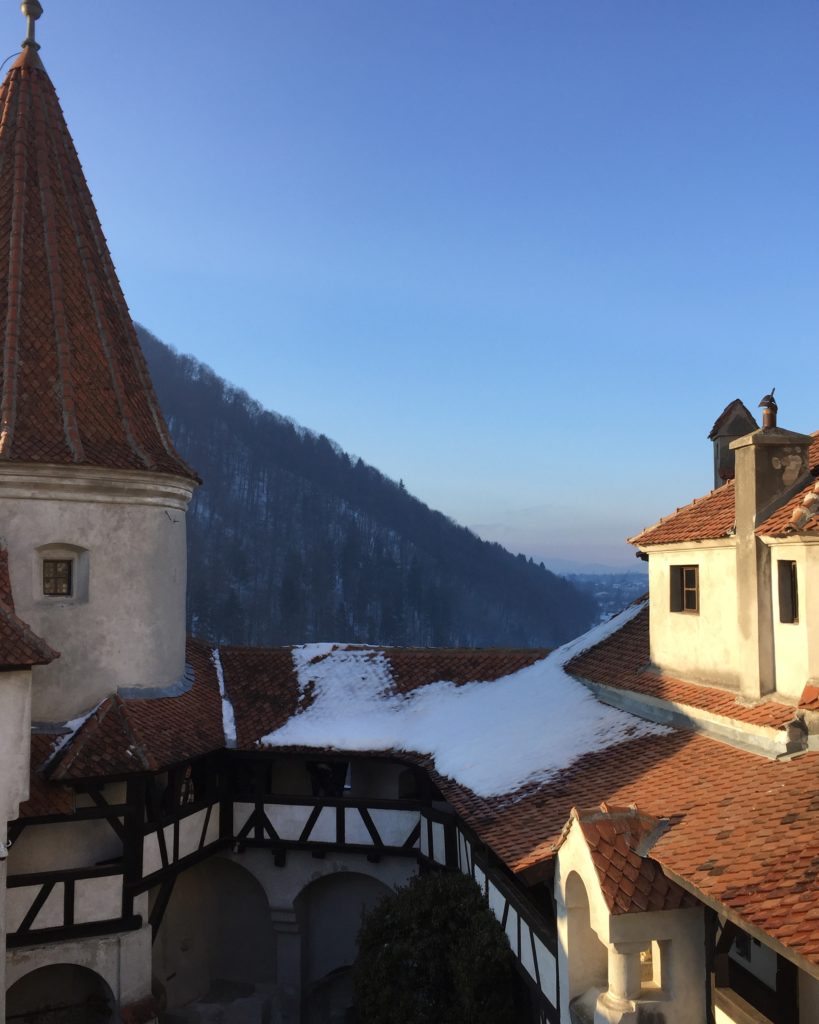 A View from Bran Castle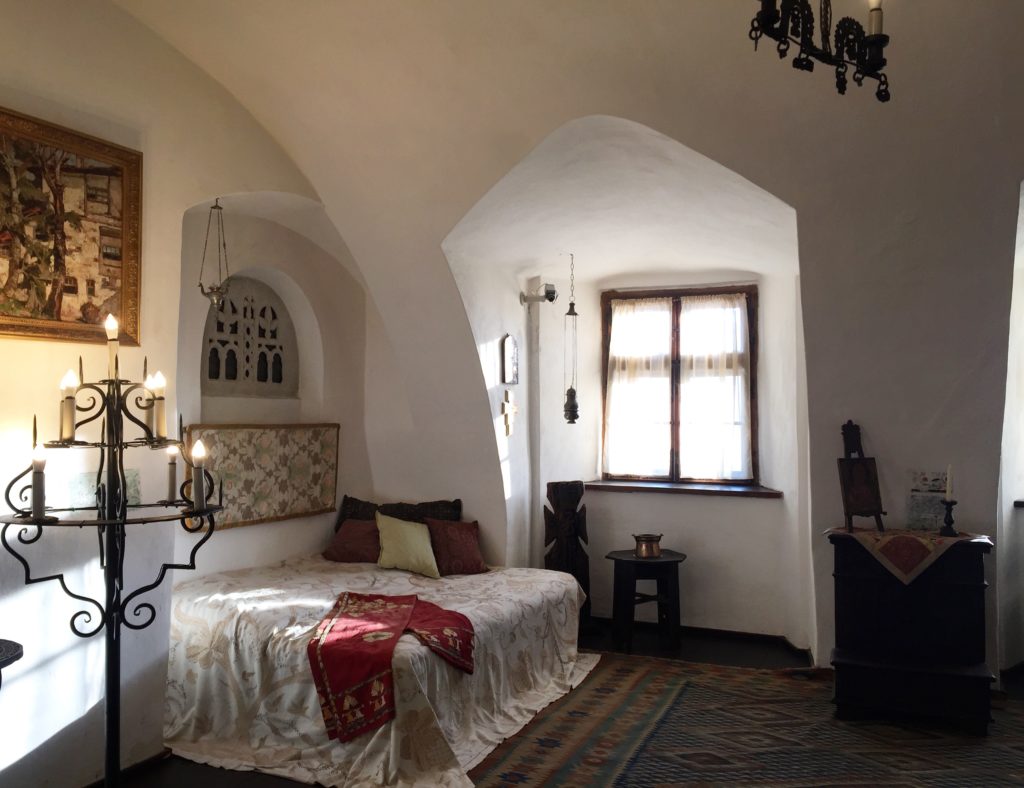 Inside the castle walls. 
This room shows how the castle looked when it was restored to become a royal residence for Queen Maria in 1920.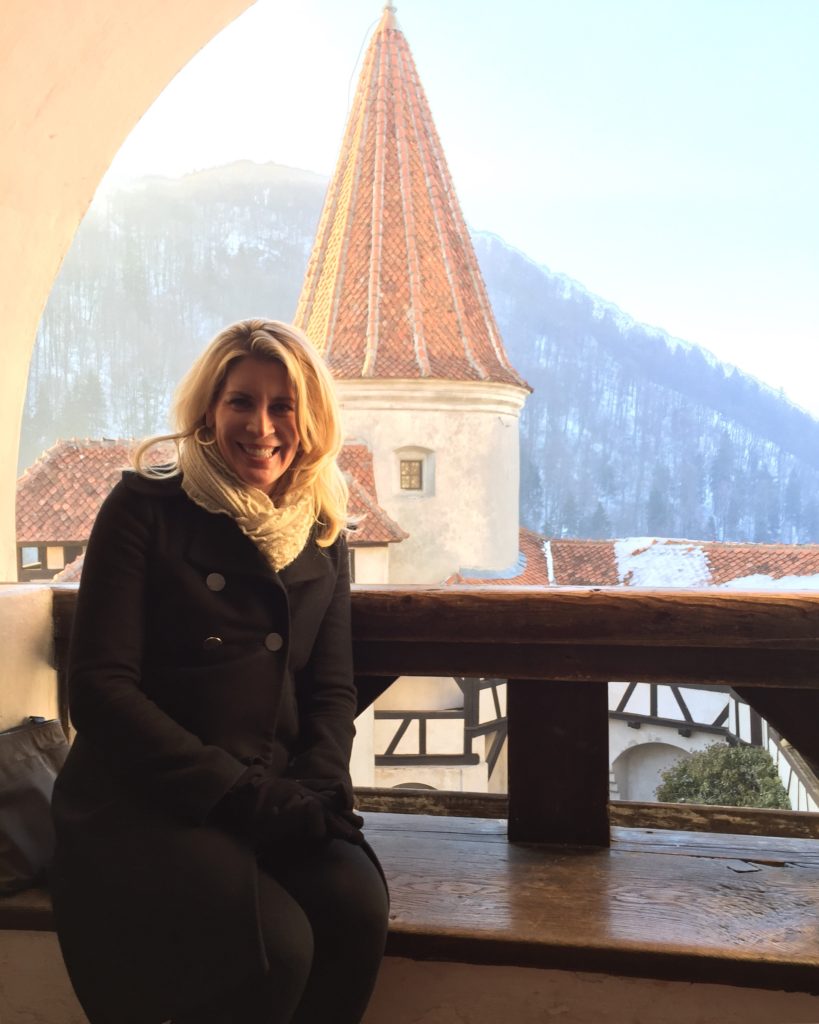 Happy to not have known Vlad the Impaler.
The name Dracula is derived from the name of Vlad Dracul (or Vlad the Impaler), a Wallachian Prince, who reigned from 1448 to his death around 1477. As suggested by his nickname, his reign is spotted with bloody acts of impaling Ottoman sultans and then tens of thousands of Turks and Bulgarians. His reputation for cruelty inspired and gave rise to the name of the vampire Count Dracula in Bram Stoker's 1897 novel…so now you know (Frankly, I had always wondered where that name came from) :). 
At the time Dracula was published it was the second most popular book in the world after the Bible!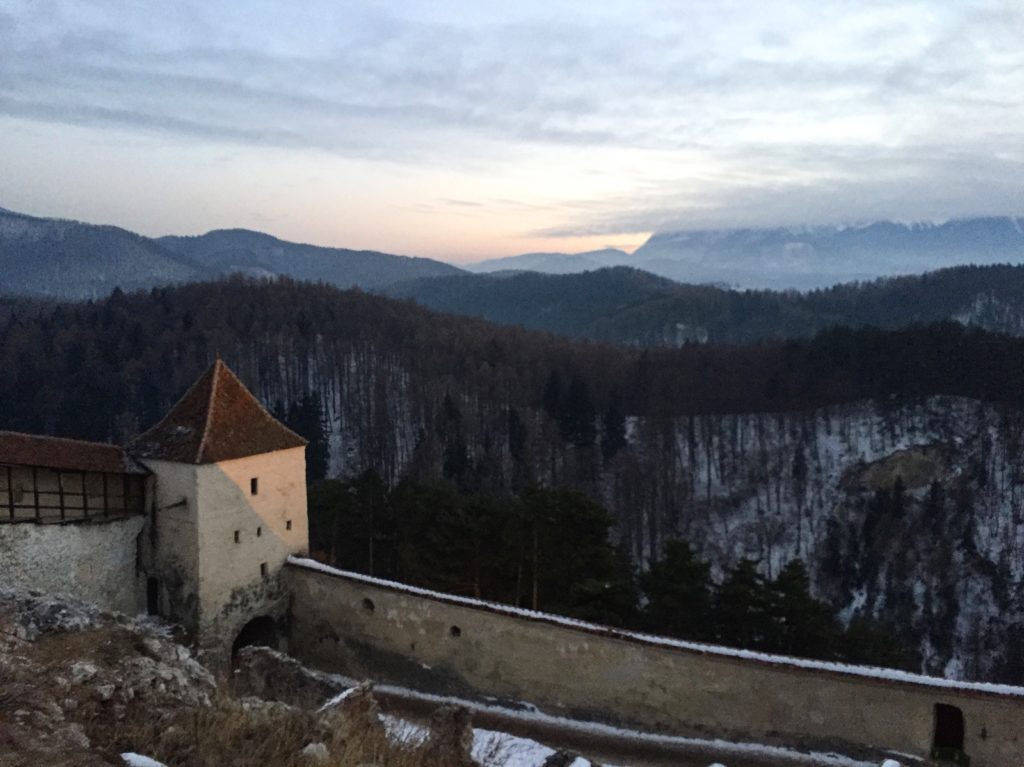 Final stop: Râșnov Citadel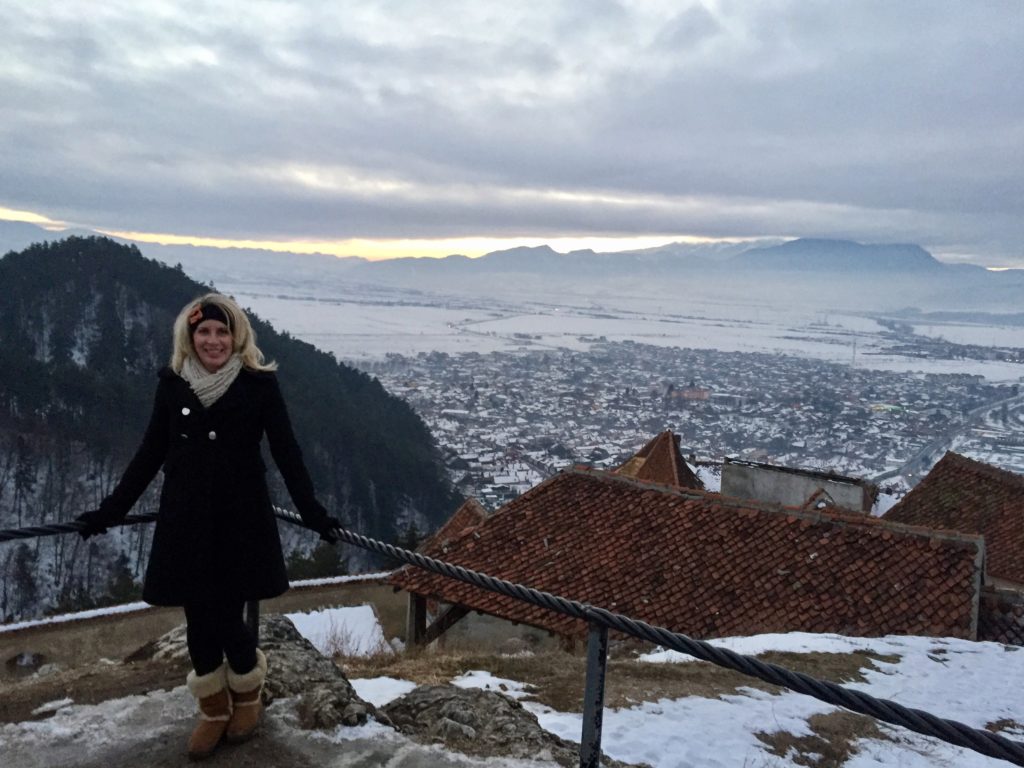 Me with Rasnov in the Background
We arrived to this medieval fortress, built between 1211 and 1225 to keep the villages of Transylvania safe from outside invasions, just in time for sunset. My wool headband from Scotland indicates the plummeting temperatures now that the sun was down.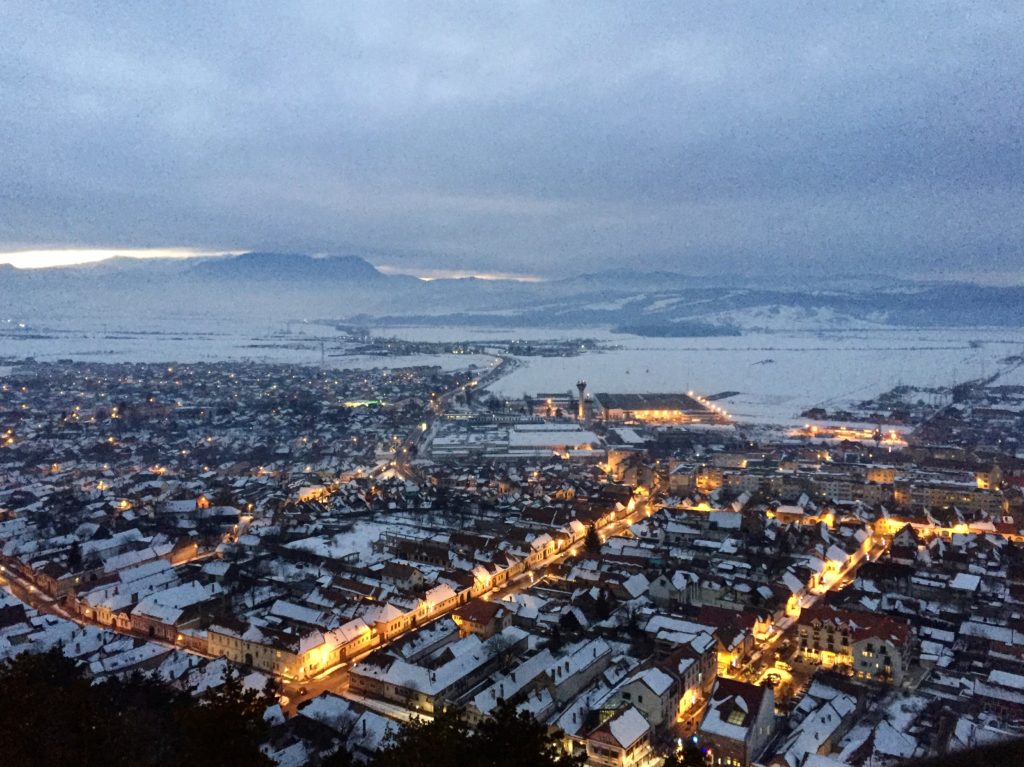 View of Rasnov from the Fortress.
It was a beautiful view and end of beautiful day with the best guide in Transylvania, Adrian.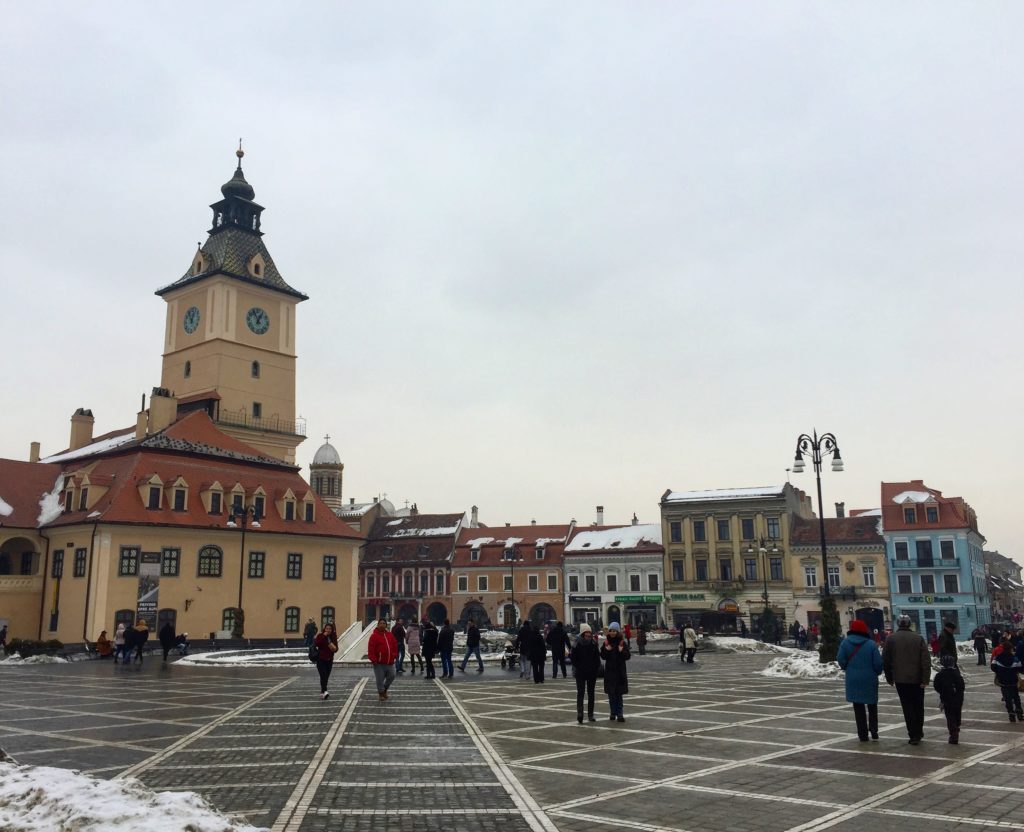 Back in Brasov!
Baubles for the Shop: Native Florals from Romania set in Resin on Sterling Silver
My final day in Brasov, Transylvania and Romania was spent hunting for shop pieces (above is an example of some of the spectacular finds), enjoying more glasses of wine with hats, finishing the Showtime series, The Borgias (you can find in my last post on Venice why I started watching it) and dining over duck with a Dutch man who delivered confidential cargo for NATO (or something like that…just don't say it fast too many times in a row).
Despite the wintery conditions of the season that kept me bundled and limited my exploration of all the country's marvels (the mural monasteries in Bucovina and wine country, to name a few), I felt completely satisfied by my experiences and stay. Romania did romance me…and as a woman I can say a little romance goes a long way. And it definitely keeps you coming back for more.
So until then, Romania, its onward to Bulgaria! xoxo