Perhaps this blog is better titled, "My Almost Dinner with a Baron in Venice."
I know. I am such a title tease. BUT it did almost happen. However, a rare Venetian snowfall happened instead which impeded my baron from undocking his boat from his palace on the Grand Canal. His message, "Jen, it is snowing and I cannot pull out the boat."
Snow: 1. Jen: 0.
Regardless of the fact that my rendez-vous with royalty did not occur, Venice, per normal (this was my 5th visit), charmed and delighted me as only this floating city can. Here's a glimpse of her magic during the 48 hours I was there: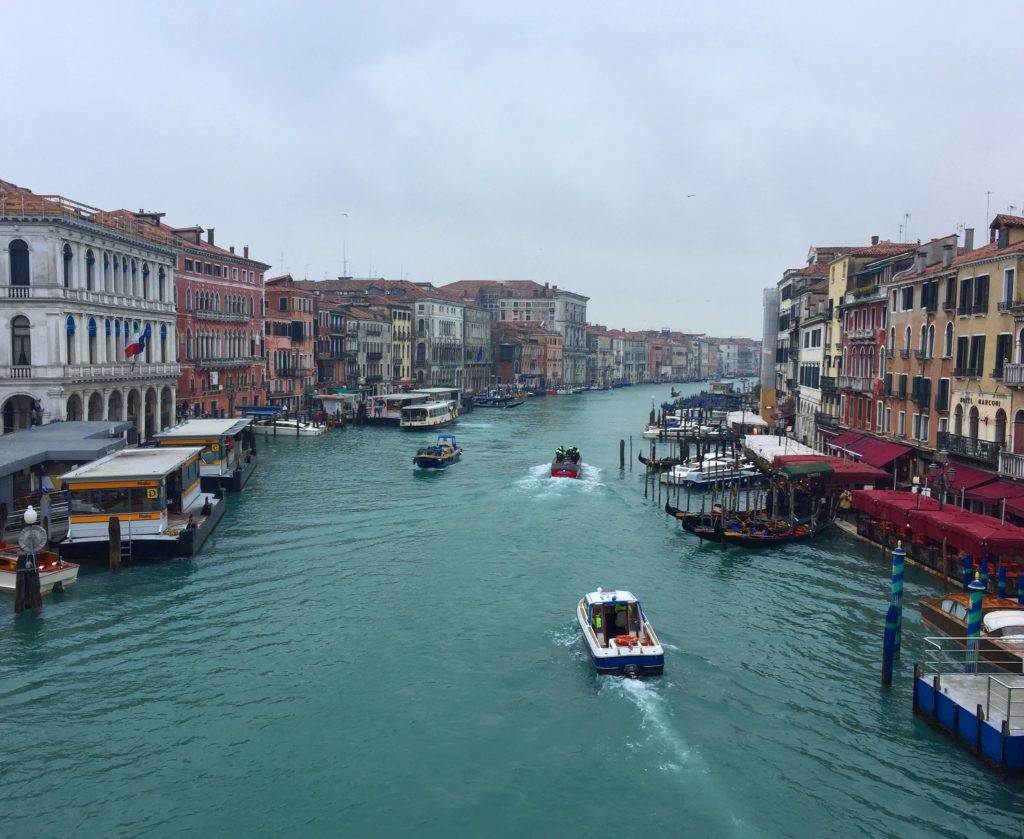 The Grand Canal as seen from the Rialto Bridge.
Stunning even on a cold January afternoon…and trust me, it was cold.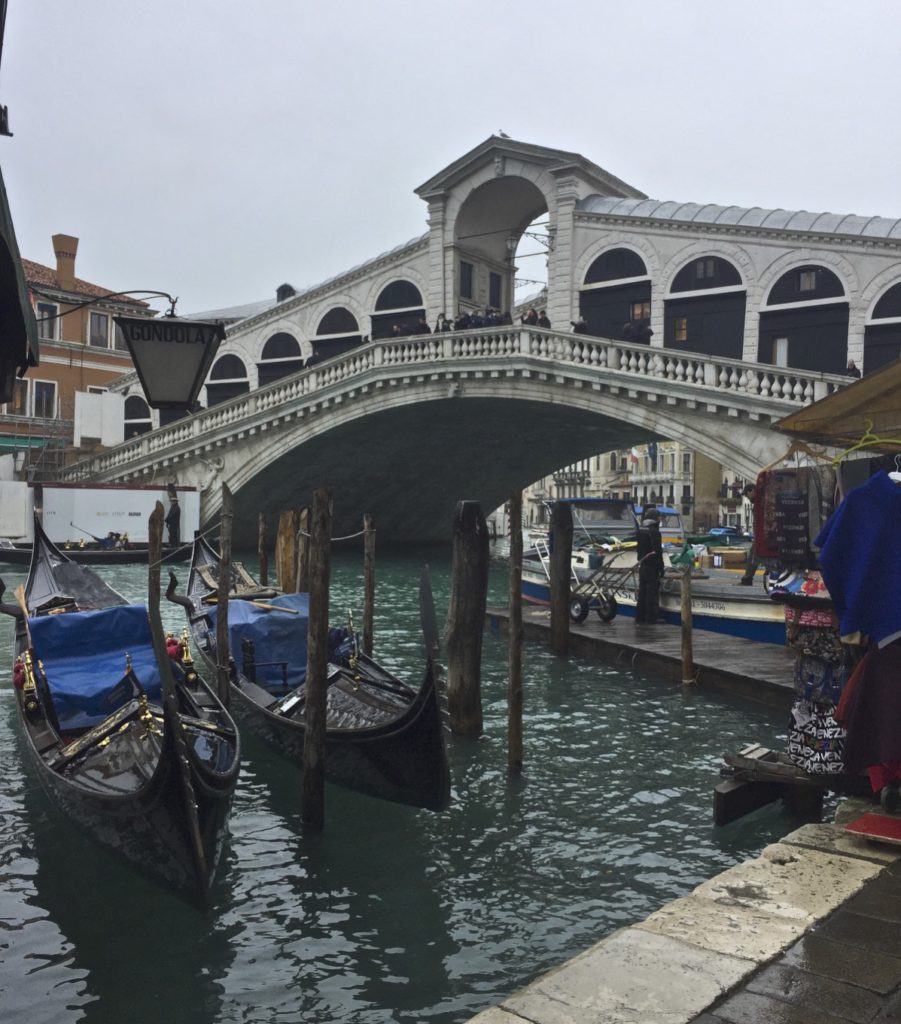 Last year when I was here the famous Rialto Bridge was covered for restoration.
It was a pleasure seeing her back in grand form looking better than ever.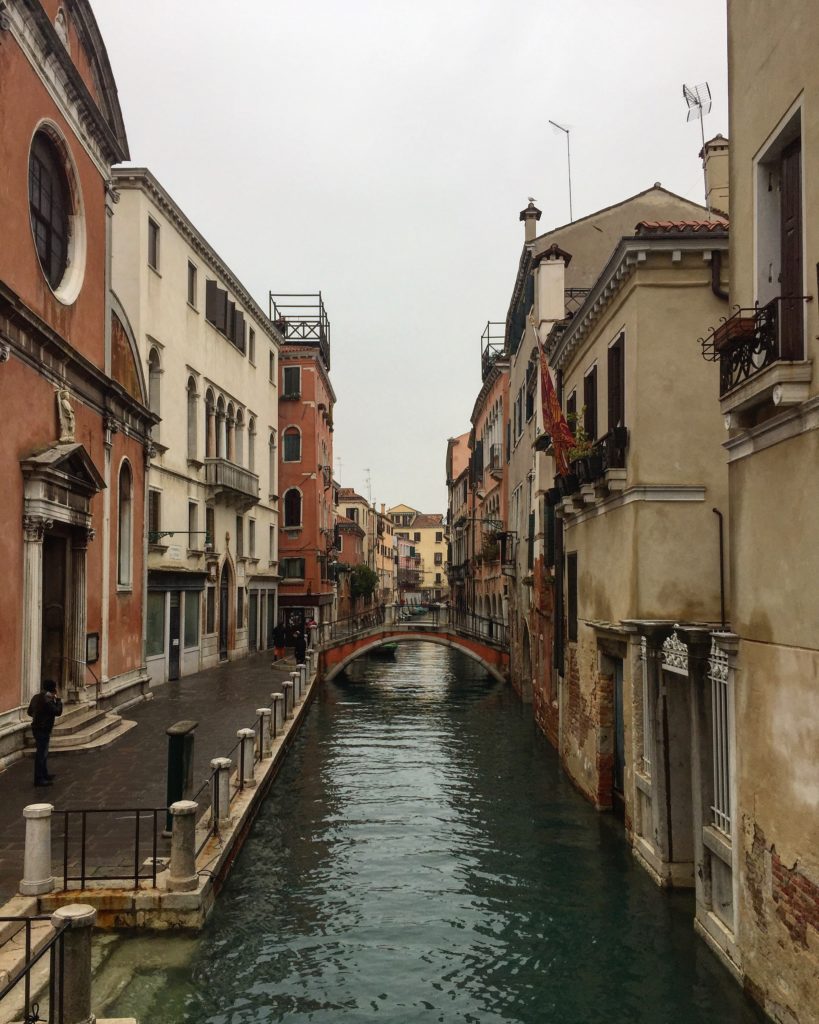 One of the many picturesque canals in fair Venice.
I use to get lost amongst the arched bridges and seemingly indistinguishable maze-like alleys and canals. However, I am proud to declare that after 5 visits I can get from my favorite hotel, Ca' Gottardi, on Strada Nova in Cannaregio to Piazza San Marco with the same deftness that Casanova undoubtedly needed to juggle his 1,321 amorous conquests.
You don't think he inflated that number in his book, The Story of My Life, do you?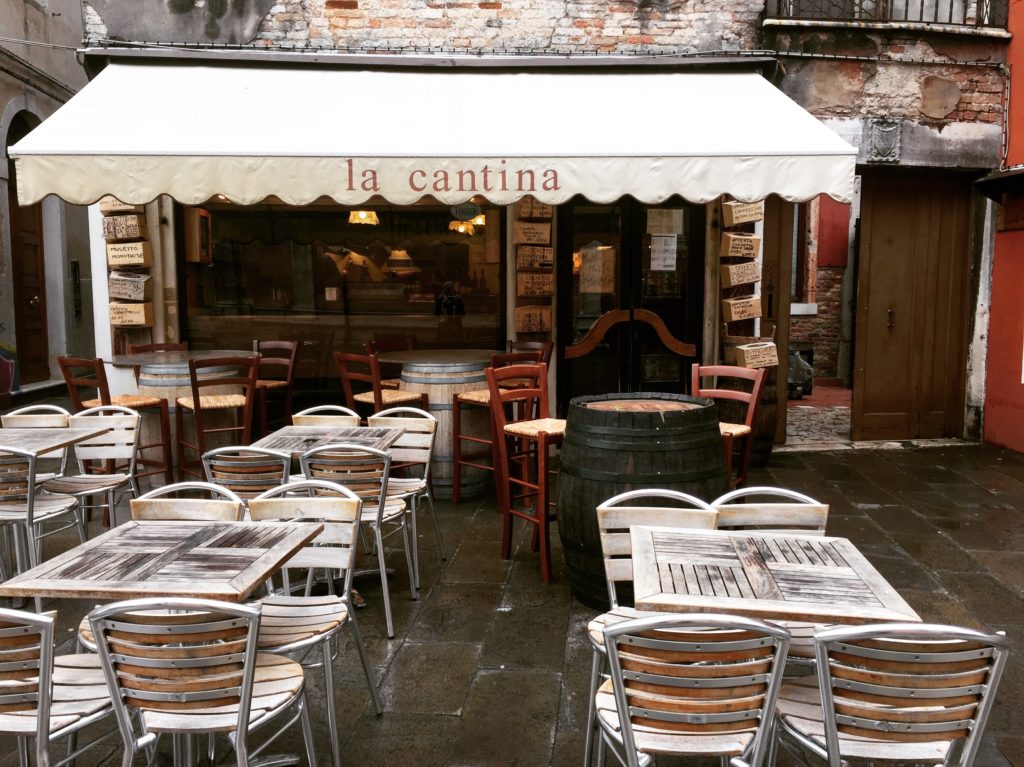 One of my favorite restaurants in Venice, La Cantina (Cannaregio 3689, Campo San Felice).
When I went for lunch the sign on the door said they were "Molto, Molto Aperto" (very very open). "Thank goodness," I thought, "I need a glass of their fruilano wine and one of their cheese and charcuterie plates."
The owner's girlfriend always is the one who serves me. The service isn't the most attentive nor speedy, but it is so cozy inside that I am always grateful for the inefficiency. I enjoy watching the locals come in to swig a quick glass of wine at the bar while exchanging witty banter with the owner or, those with more time, order one of the deliriously delicious looking items from a menu that they only know about.
This past visit I was looking so longingly at one of the local patron's steaming plate of quail legs on spiked miniature skewers that he ended up offering me one!
Grazie, nice Italian man! Molto bono!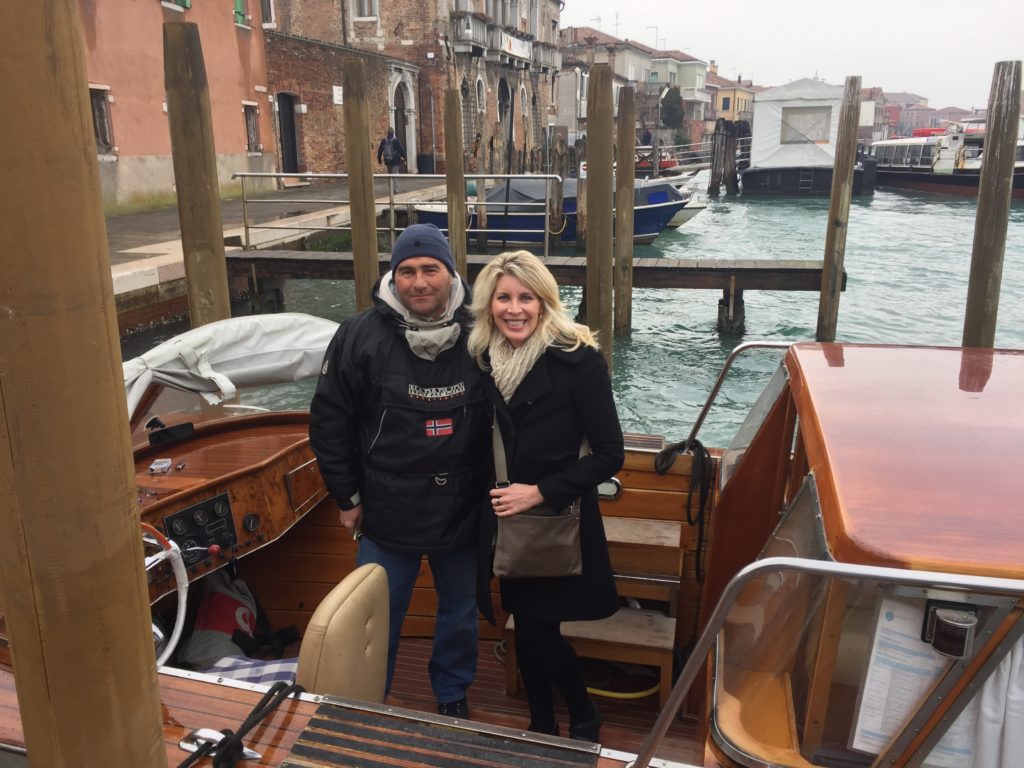 Another nice Italian man! My water taxi driver and me after we reached my destination on the world famous glass blowing island of Murano.
Eating at La Cantina for lunch and then taking a private water taxi to my favorite glass blowing shop on Murano, Mazzega, seems to be becoming a tradition. This was the third year nearly in a row that I have done it (read about the first time here). While vacationing Dr. Giorgio wasn't able to be my gracious host and business partner as I curated items for my shop this go around, I was as enchanted by the factory's creations this time as I was the first.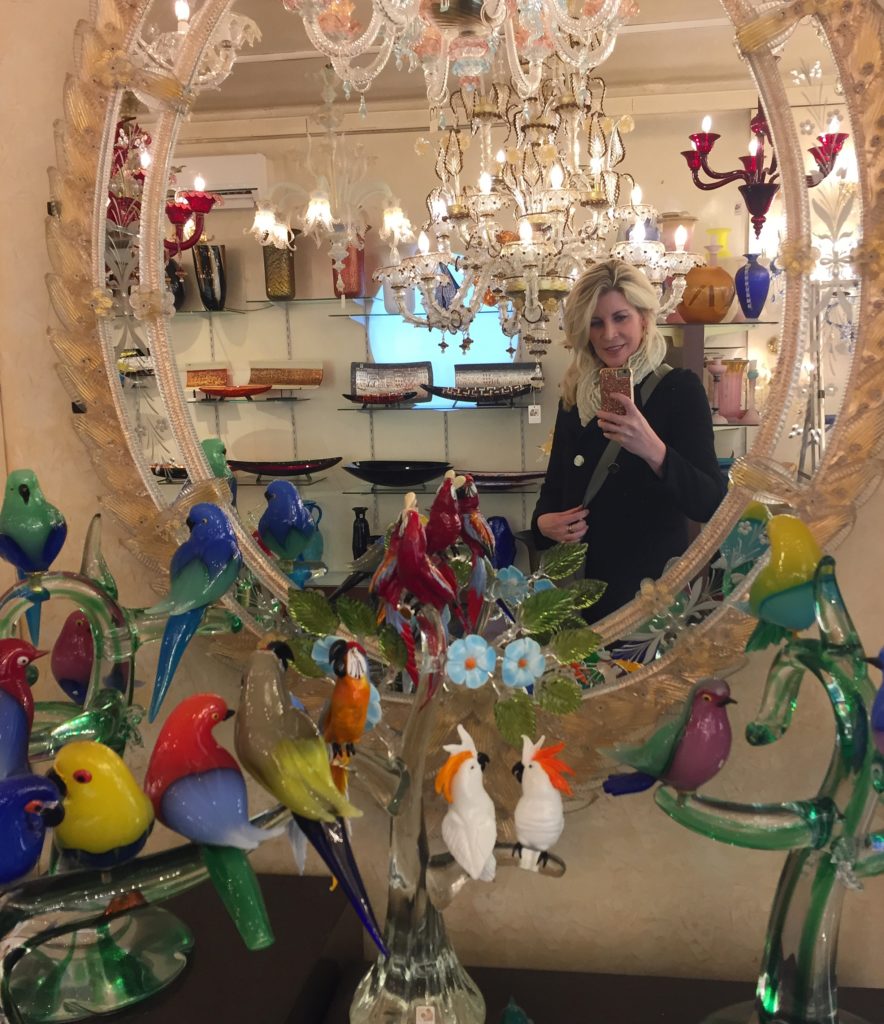 Shopping for Murano glass is for the birds…and me!
One of the reasons I have the type of shop I do is to create a platform to highlight and support precious, artful traditions that have been celebrated and should be continued to celebrated around our world. The beautiful, intricate art of glass blowing on Murano has been marveling the planet since 1291. However, this visit I learned that many of the glass factories on the island are starting to close as they aren't able to compete with the imitation Chinese glass that some souvenir shops in Venice are selling. The worst part is that this imitation glass is being sold as real Murano glass.
Should you be going to Venice, please know that if the price of a Murano object you find in a shop is too good to be true…it is likely because it isn't true Murano. My recommendation is to go to the island itself to find your Murano treasures. Best part of this option is that you also get to witness one of the masters demonstrate his craft that is generations years old.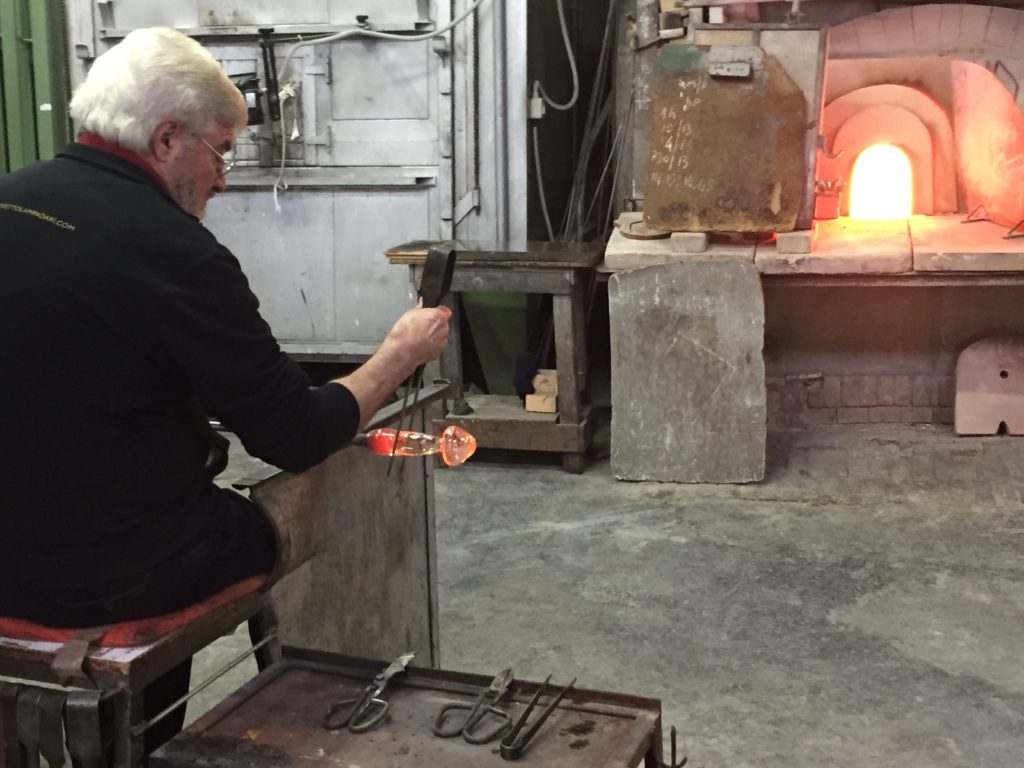 Master Gino doing his thing.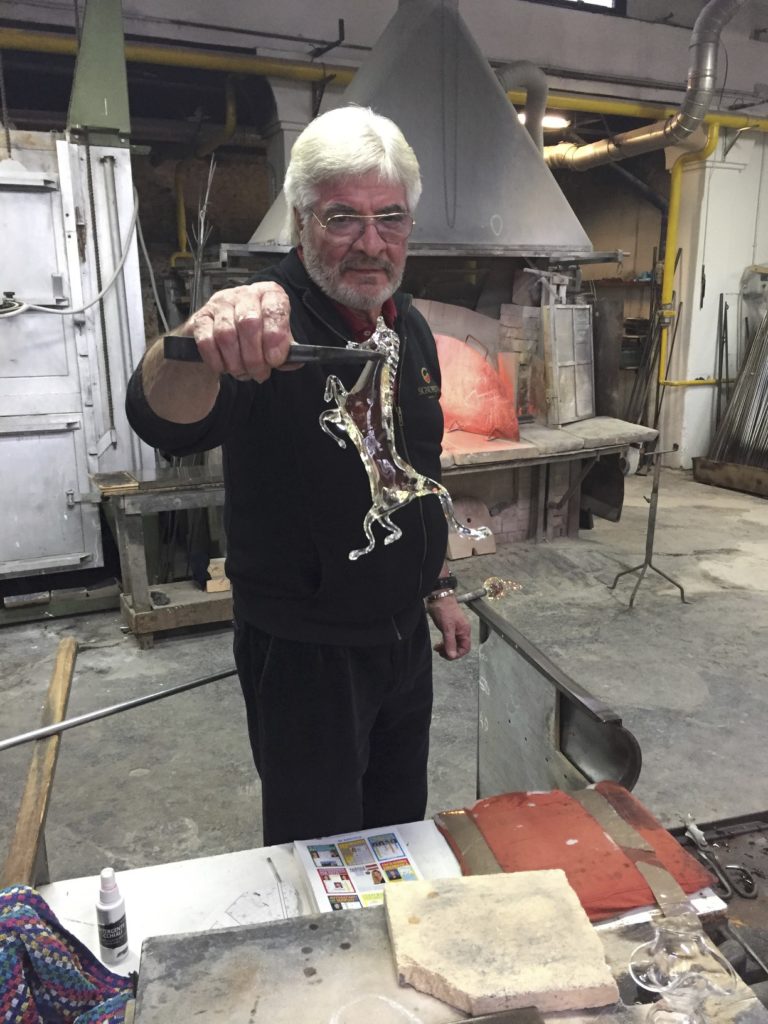 Gino made me a horse from sand and fire!
How did he know I love horses sooooo!?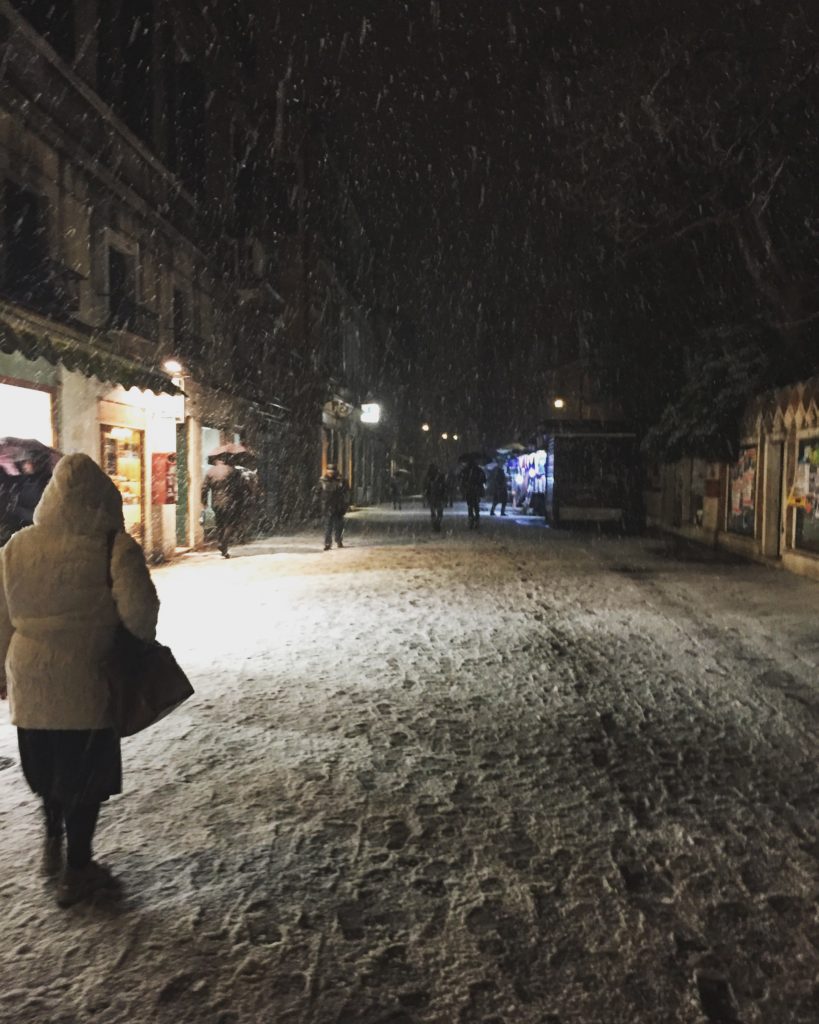 Snow in Venice!
After an afternoon around fire, it seemed that I was to spend the evening around ice…well, snow at least.
Within an hour of the first snowflakes the entire city was covered by several inches of snow. Magical and rare to witness, and slippery to walk on!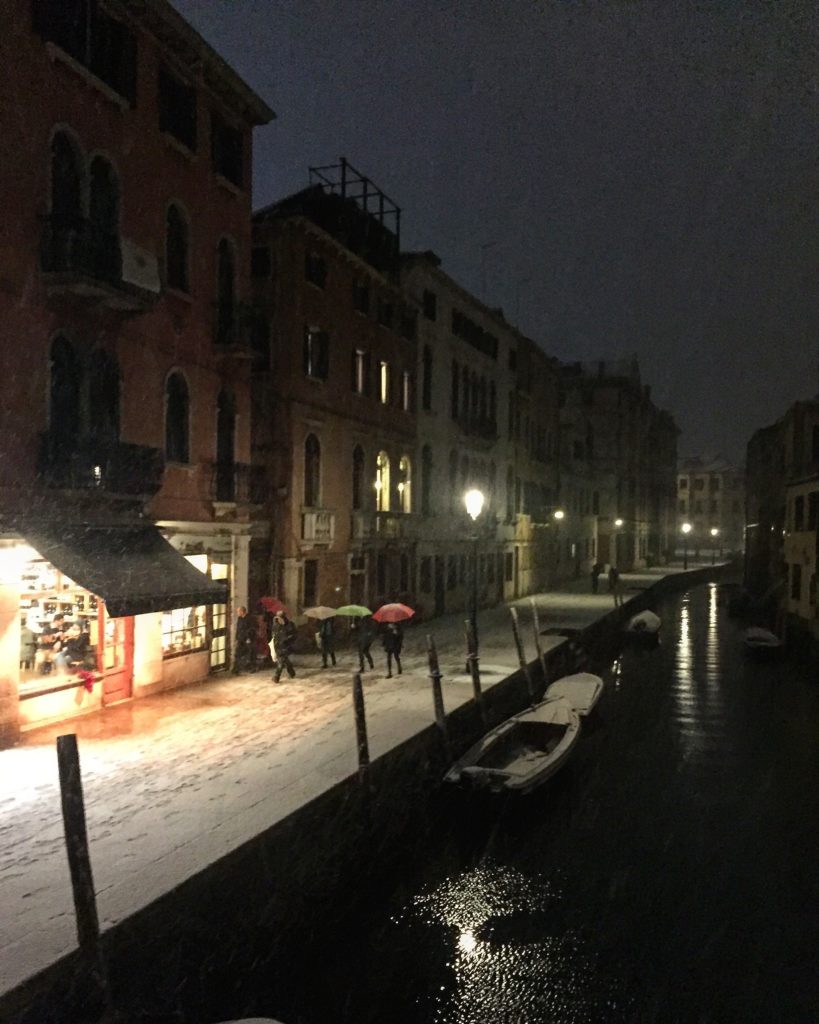 I had my umbrella in full force in route to the apartment of my friend, Alexandra Voltan, an Italian shoe designer who is related by marriage to the family who founded the modern Italian Shoe Industry, The Voltan Company.
One would have thought with all the pictures I took during my jaunt to Alexandra's that this was the first snowfall I had witnessed in my lifetime versus the 1 millionth. I did grow up in Montana after all. However, even with the frequent stops I was only a few minutes late to our 6pm prosecco date, and yet still earlier than all the other interesting, Venice-dwelling friends that Alexandra invited.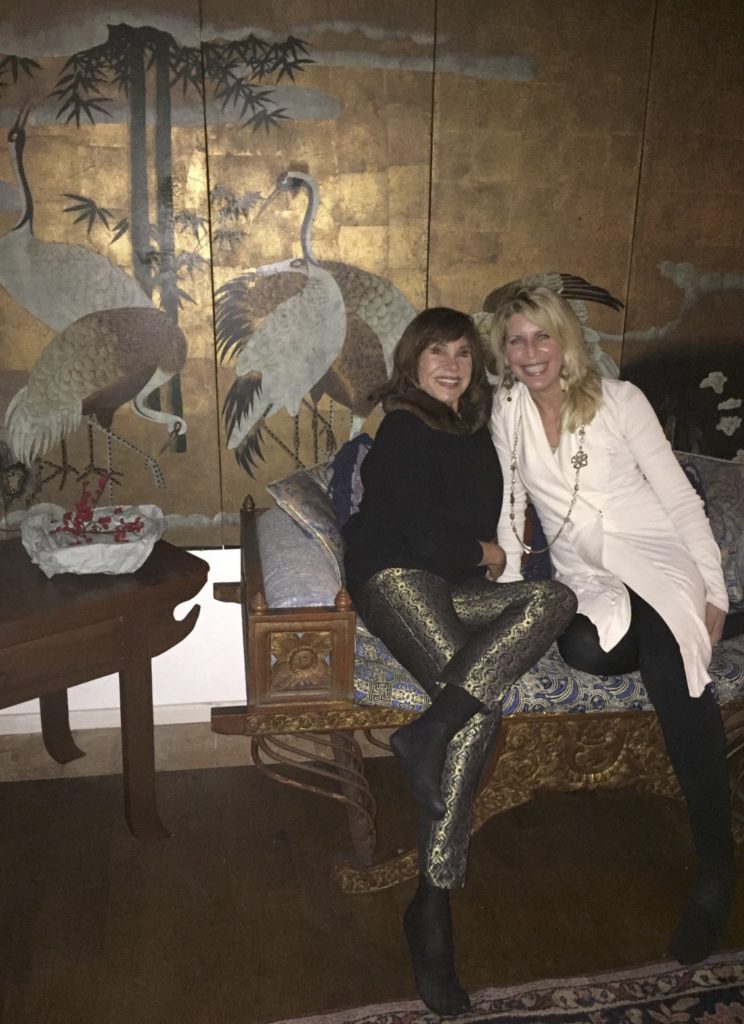 The talented and beautiful, Alexandra, and me in her gorgeous Venetian apartment.
So if right now you are wondering how it is that I seem to know all these notable Venetians, you would be right to ask. Frankly it is always a surprise to me too that each time I go to this floating city I get to raise glasses with individuals who are part of the modern and ancient fabric that has shaped and continues to shape Venice's history. For these wonderful introductions, I can thank my friend, John (you can check out my blog about our trip to Istanbul here).
John was not in Venice this visit, but he was kind enough to be sure I was taken care of even in his absence (his spends the other half of his time in NYC). My planned but not executed dinner with Baron Alberto Franchetti (whom I actually did dine with my last visit) can be credited to him and well as my friendship with Alexandra.
And while I didn't get to meet-up with Alberto, it did afford me extra time to read Hemingway's book, "Across the River and Into the Woods." The character, Baron Alvarito, was based on Alberto's father whom Hemingway would duck hunt with during his visits to Venice.
Uh….cooooool. And for someone like me who has a mild obsession with Hemingway, it is d*mn cool.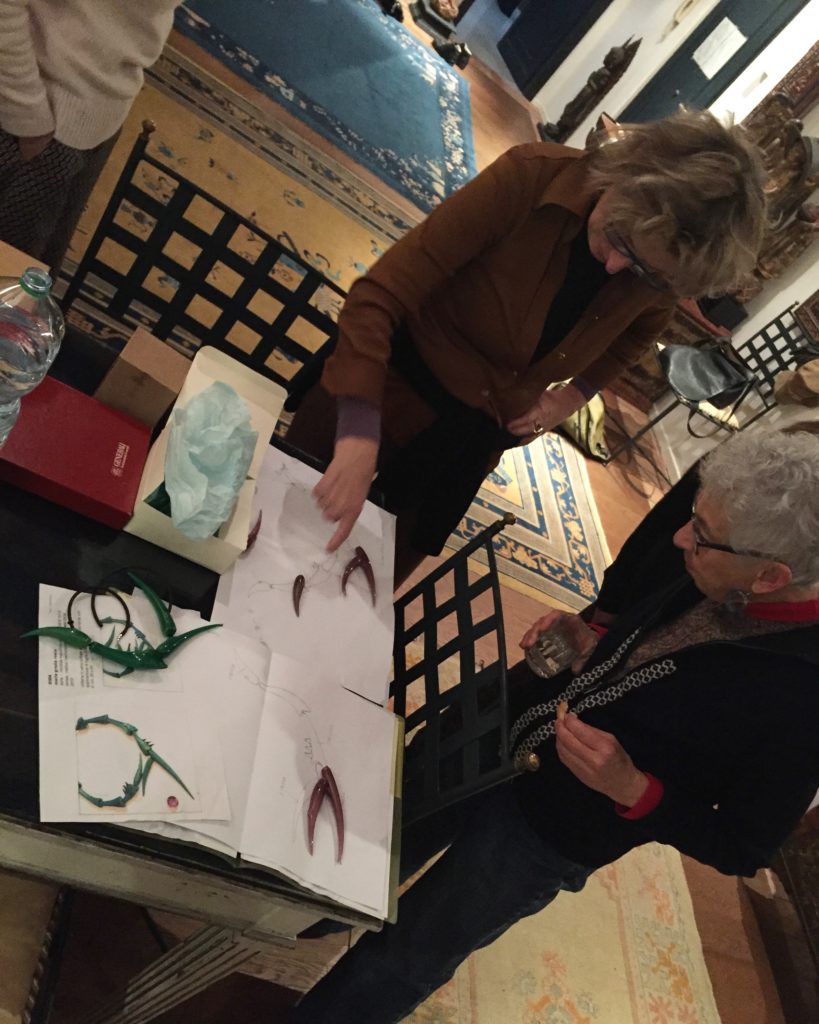 More interesting Venetians!
Amongst Alexandra's other invitees were Maria, a notable glass artists who has done art installations for prestigious events such as La Bienalle in Venice as well as installations in museums across the world, including the EMP in my hometown of Seattle and the most famous museum in the world, the Louvre, Sally, an American ex-pat artist and author who creates incredible sketches with pencil and water color, and Rosa, a doctor of psychology and widow who bears the family name of the controversial Pope Alexander VI (born Rodrigo Borgia…and yes, I am watching the Showtime series now). Each was a complete pleasure to meet.
The above picture shows Maria sharing with Sally her plans for a new accessory line made from handblown glass and inspired by creatures of the Venetian lagoon. For me it was an honor to witness a piece of the creative process by such an accomplished and celebrated artist. The completed necklace that you see on the table that looks like a chain of crab leg fragments is one that Alexandra owns and wears regularly.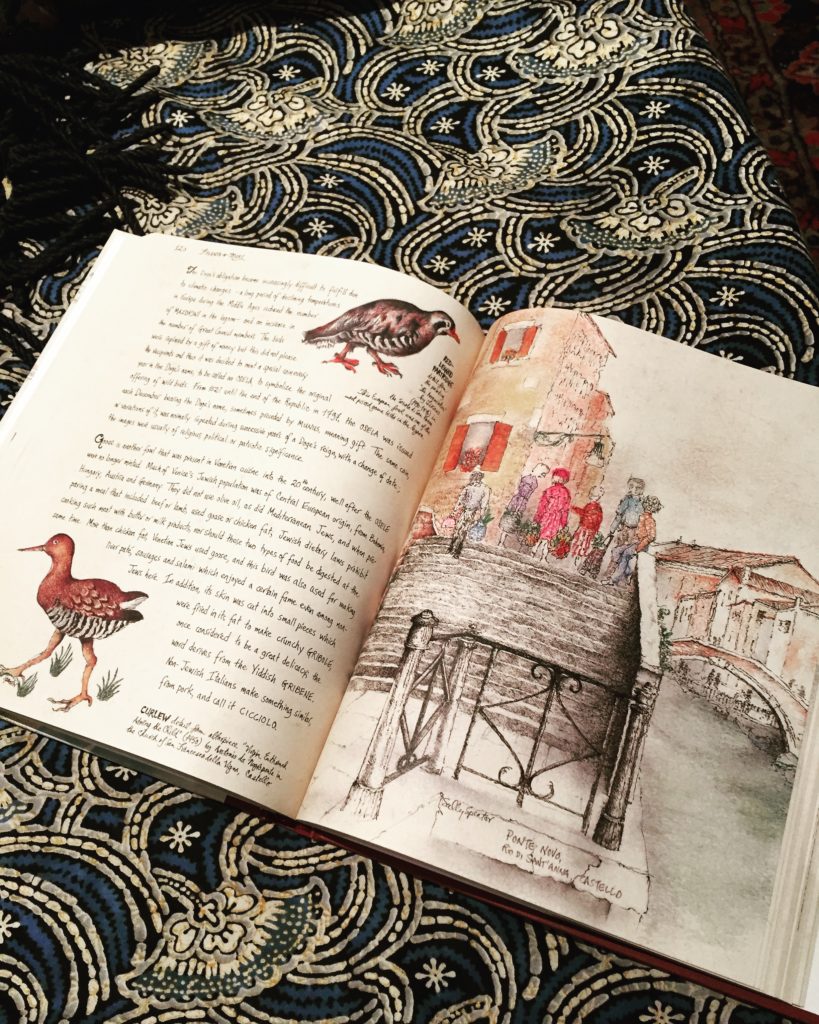 Inside the pages of Sally's extraordinary hand sketched book about Venice and its food. Not surprisingly, it is named Venice and Food!
She hand wrote and sketched everything…and then did it again in Italian!
A joy for me was seeing the book the next day in the gift shop after my Secret Itineraries Tour at the Doge Palace. It made me feel a bit more connected to this mystical and fantastical city.
My favorite part of the evening, and perhaps this trip, turned out to be after the other 3 women left our soiree. Since my dinner date abandoned me due to the inclement weather (as Alexandra said, "Oh, Venetians!"), Alexandra and I ended up staying in her apartment and making pasta with olive oil and garlic in her itty bitty kitchen complete with a slanted roof that didn't allow her to stand upright in some parts. After the pasta was cooked to al dente perfection, we refilled our glasses with prosecco, took to her living room and proceeded to talk about life and boys until midnight.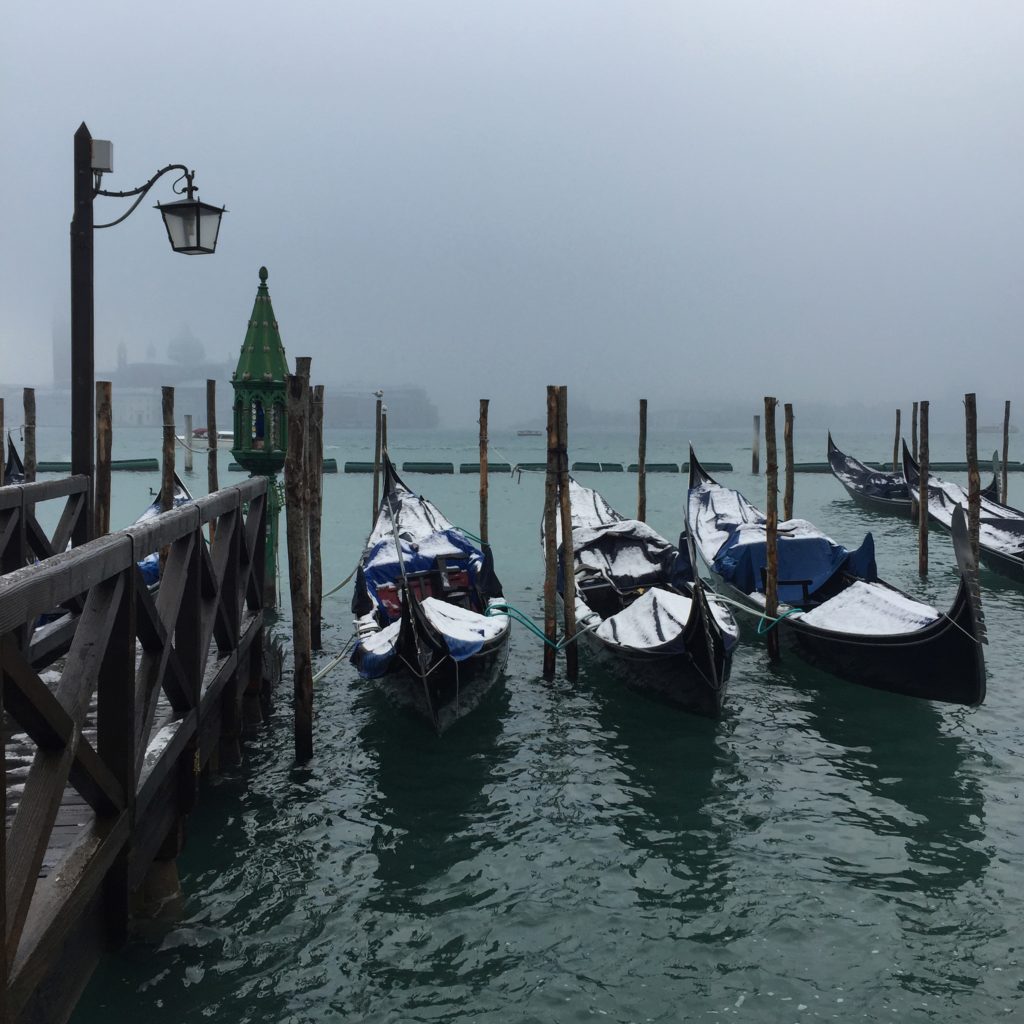 The next morning: Gondolas at San Marco Square.
You have to know that I have always wanted a take a picture just like this *with gondolas, morning mist in the background and light snow* ever since I first saw one like it (likely during my first visit in 1995). So as far as I am concerned this gem is my iPhone pièce de résistance…and a mini-dream come true.
Ah, Venice! Always delighting me!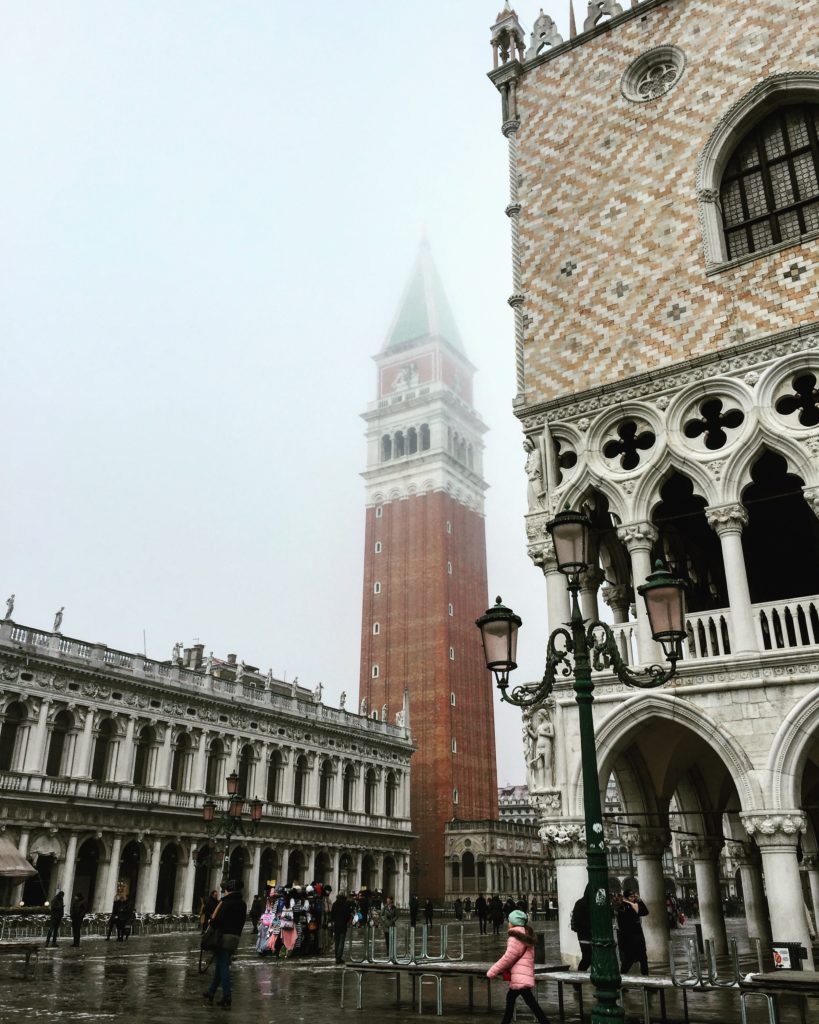 St Mark's Campanile and The Doge Palace
This picture I took opposite the gondolas…and is just as memorizing! As a note, the raised platforms you see in the photo are used for people to walk on when the piazza floods. You can check out this blog for glimpses of San Marco's Square under water!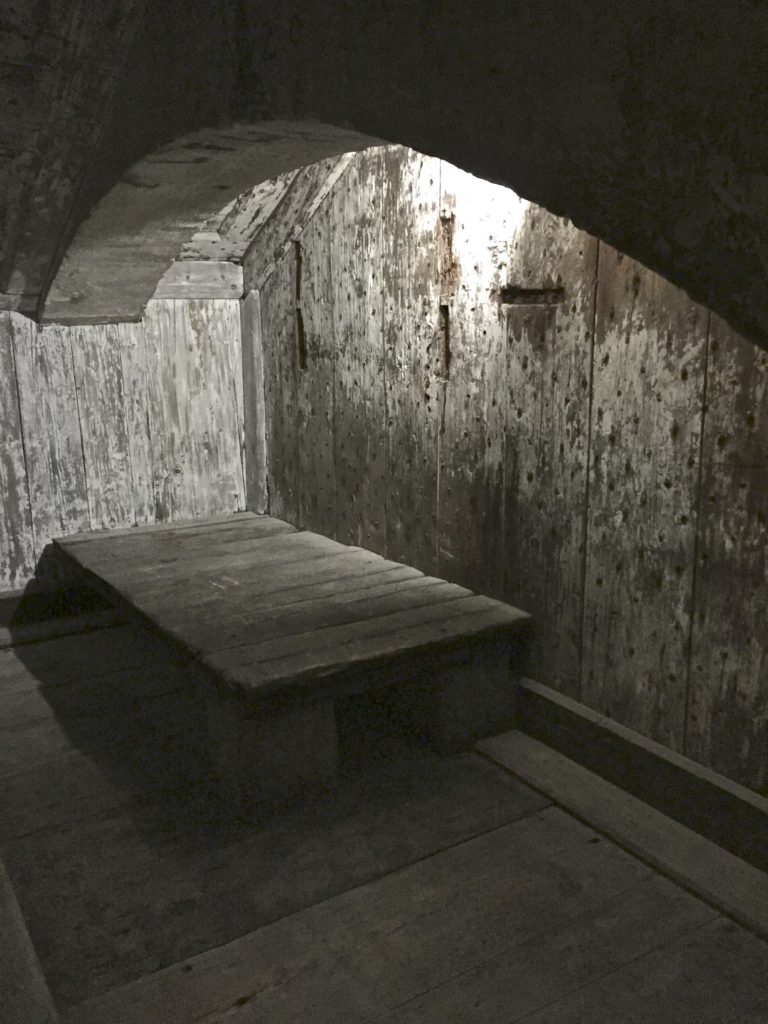 Prison cell lined with wood in the Doge Palace. 
While Venice is indeed cold in January, there are some benefits to bundling up to experience it. First, the hoards of tourists – and it is literally hoards as 36 million tourists visited last year – are temporarily at bay. This means you will actually be able to walk the streets with ease versus claustrophobically inching through them. Second, because the city returns to its inhabitants (52,000 residents…but it declines by ~2,000 every year) you have the privilege of witnessing more of the local life like kids playing in the campi and rambunctiously coming home from school. Third, and most important to me this trip, you can get into the Secret Itineraries Tour at the Doge Palace without buying your ticket months in advance! *Cue wild applause*
Much like the photo of the gondolas, I have always wanted to do this tour, but in the past it has been sold out or my time on the island has ran out. BUT not this time, 15 minutes prior to the 10:45am tour in English I was in like Flynn!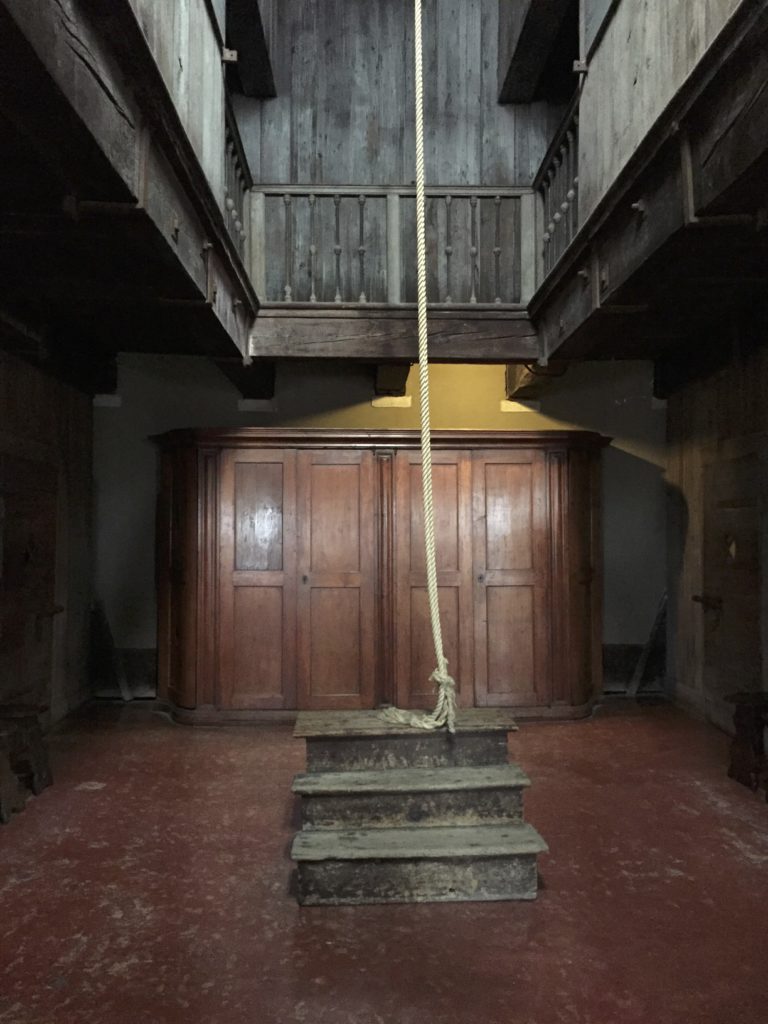 Torture Chamber in Doge Palace (hint – you don't want to be on the end of that rope)
The tour includes passage into rooms and chambers others who visit the Doge Palace aren't allowed to see.  We wove through mazes of prison cells, visited important rooms that were vital to running and maintaining the Venetian Republic for 1100 years, walked over the Bridge of Sighs and visited the cell famous for confining Casanova as well as the one famous for being his last prior to his wildly adventurous escape (much like the number of lovers, his account in his book may be a bit embellished).
The frigid temperatures I felt outside the palace were not a bit alleviated inside the palace. It made me wonder how any prisoners every survived their sentences in the wood-lined, ground-level, windowless cells that would flood with high tide.  But apparently some did…likely with a few less toes.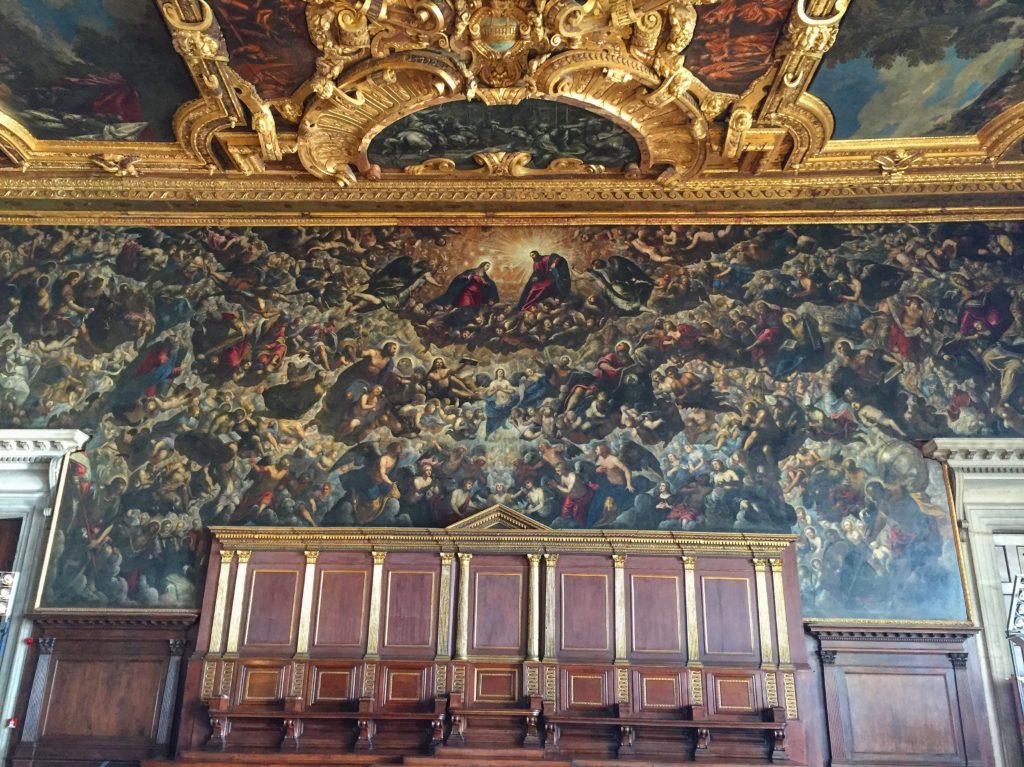 Jacopo Tintoretto and Workshop, Paradise, inside the Great Council.
The room of the Great Council is open for all visitors and is one of the largest single rooms in all of Europe. This was the assembly room in the Doge Palace for the ~2000 Venetian nobleman who were the guardians of Venetian law. The Doge, despite being their leader, could not act without their approval. Want to be on the council but not born a nobleman? Not a problem!  With 200,000 ducats you too could buy your nobility!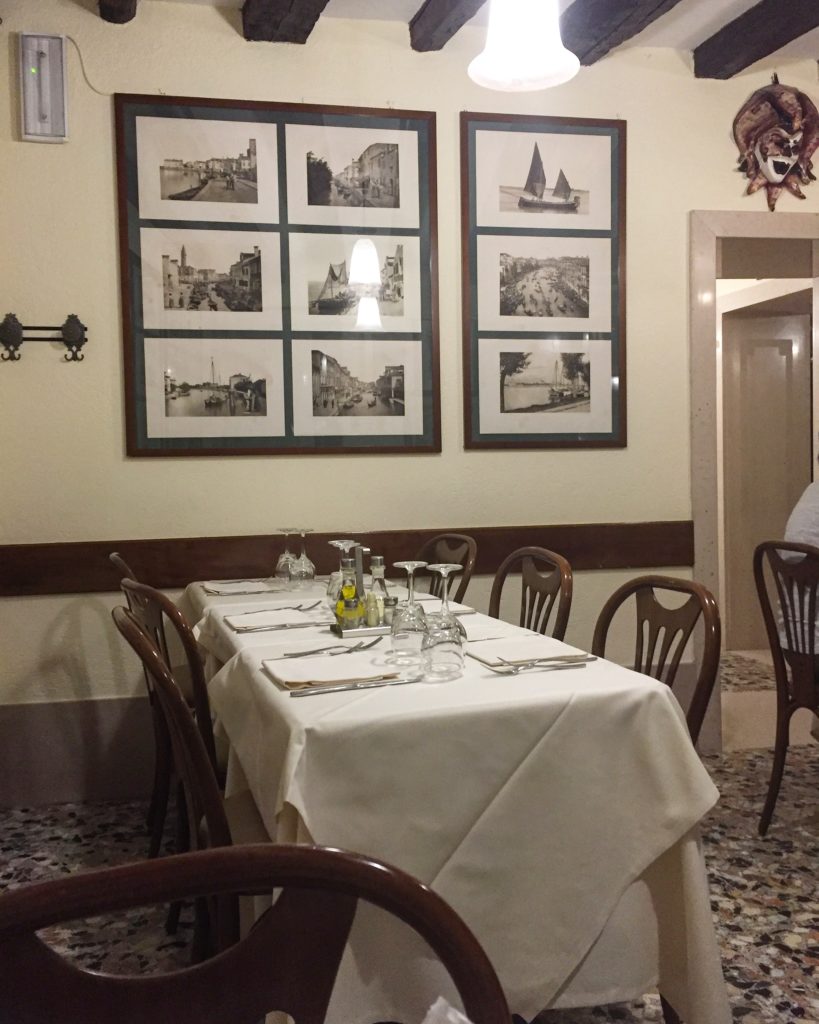 Final Dinner Spot in Venice, Osteria la Bacareto!
After my tour I warmed up with an extra long shower, some hot tea, and a few episodes of The Borgias. Then it was off for one final drink with Alexandra and dinner on my own.
At Alexandra's apartment, she and her British boyfriend, Lorne, were dressed to the nines in preparation for a 50th birthday party they were going to that evening. They pulled up a Youtube video of the American soprano opera singer they would be celebrating. In it she sang an aria from Verdi's La Traviata. It was immediately obvious why she preformed at such prestigious venues  like The Metropolitan Opera House in NYC.
Dinner at la Bacareto was spot on as expected. My mussels in white wine sauce were fresh and the tortellini in a red sauce with fresh seafood left me wishing my stomach would expand so I could consume more.
Because this osteria is one that I have frequented in the past with my friend, John, I was treated to a local discount which completely took me by surprise. I thanked the owner profusely and told him it wasn't necessary…but he would have none of it. It was his way of honoring John, who he considers "much more than a customer."  And as it turns out that is true. When I got home (and back to wifi) I had a text message from John. It read, "The world is a village. The bacareto wrote to me that you booked tonight. Be a good girl – you're being watched!!"
Apparently they have their own little spy ring together too…:)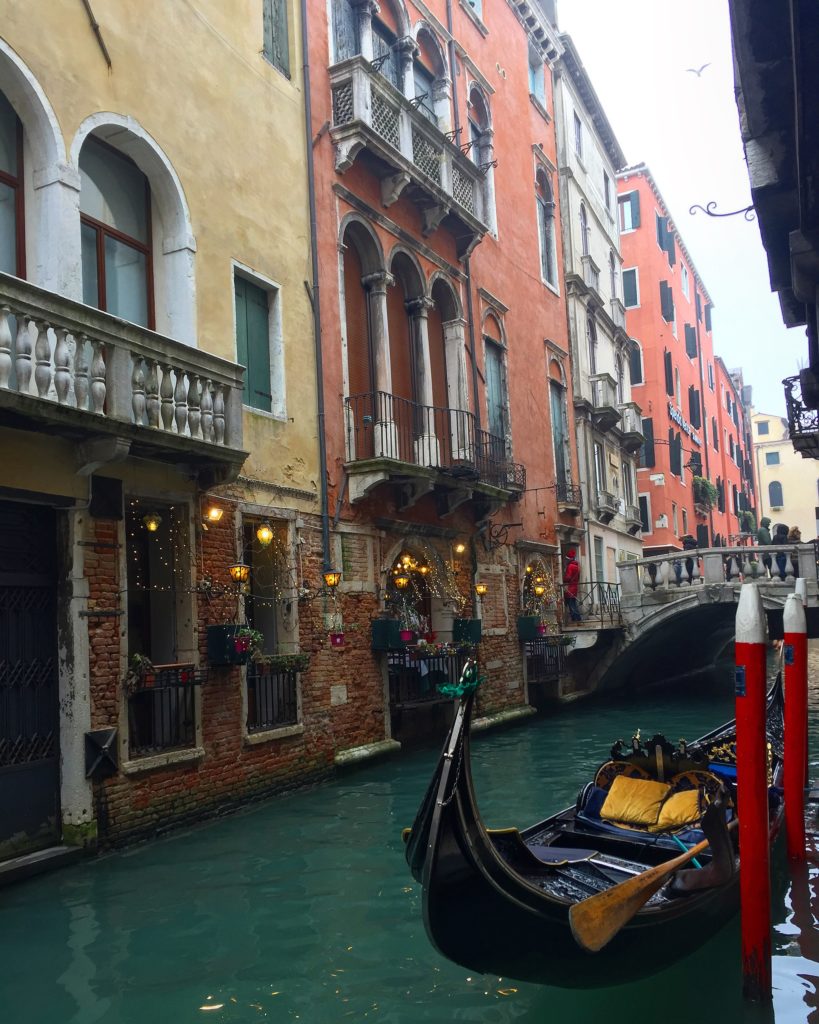 Arrivederci Venice!
She dazzled me again! And while she did indeed dazzle me, like any place on our beautiful planet, it was her people that elevated and enhanced the encounter.
Grazie Alexandra, Sally, Maria, Rosa, Lorne, all my favorite staff at Ca' Gottardi, Gino at Mazzega, Alberto (even though the boat never sailed), the wonderful owner at Bacareto and, of course, my dear friend, John – without him this visit would not have sparkled so.