While life in Bangkok was a whirlwind (and much like the pace of life back home), life here on the tiny Thai island of Koh Samet has come to a complete stand still.  It is marvelous. And after three days, I am I finally able to ease into the slow existence that defines island life…just in time to leave tomorrow. C'est la vie. 
Koh Samet isn't the first island choice when people dream of tropical Thai island getaways. But being so close to Bangkok and in route to Cambodia, I couldn't say no to its white sandy beaches and clear aquamarine waters…so here I am.  Turns out it was a brilliant choice.
Here's a look at all the nothingness I have been up to: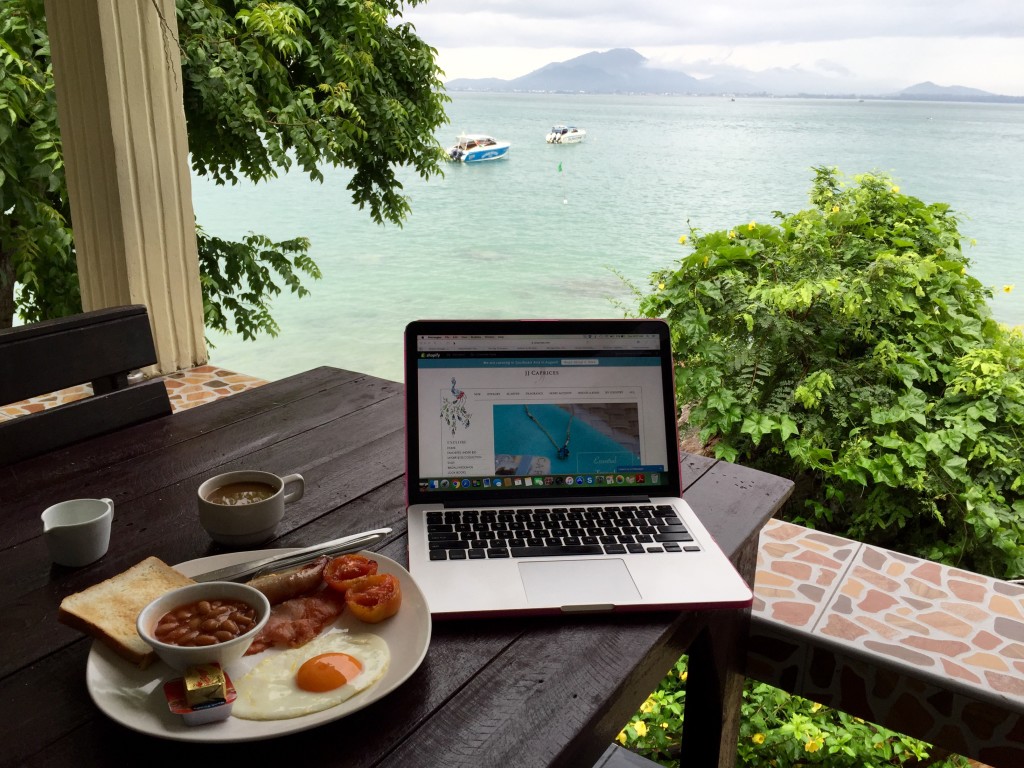 An "English breakfast" on my little hut's terrace here at the Sunrise Villas.
I haven't been able to get into Thai breakfasts. For some reason rice and pork or chicken in the morning doesn't really feel like breakfast to me, so I have been doing the "English breakfasts"….although refried beans may be a bit of an artist's interpretation of what the English have for breakfast. As a side note, the Nescafe here has made me become a complete believer in instant coffee.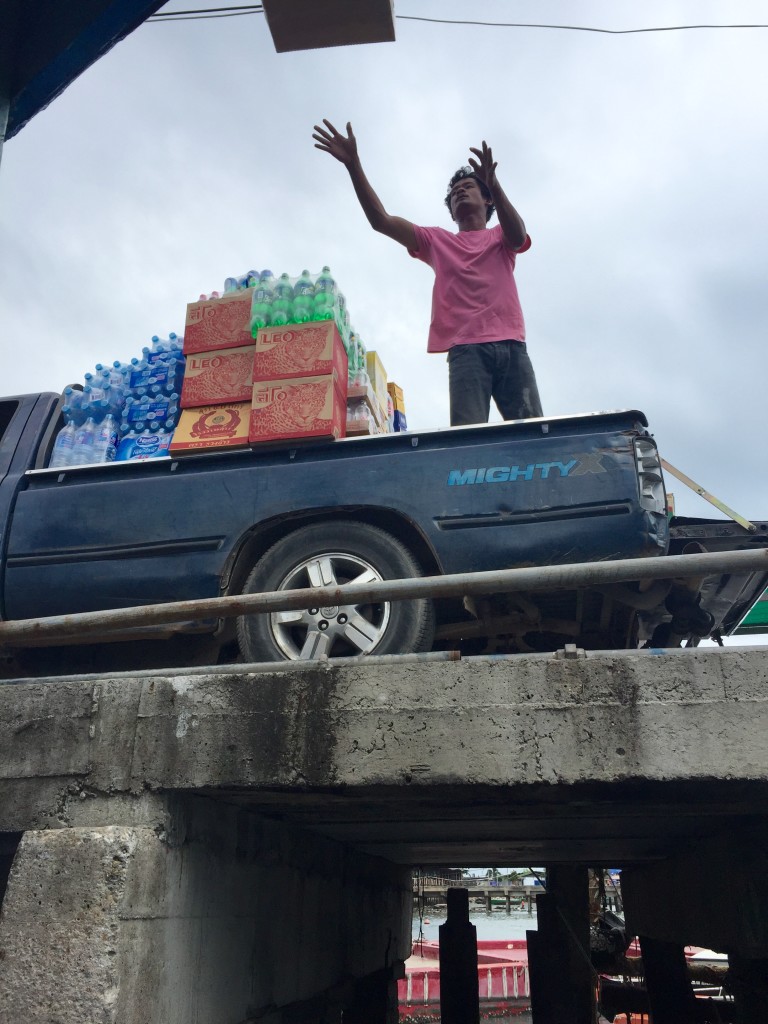 Loading the "ferry" to Koh Samet.
Life on the island has indeed been uneventful, but getting here (like most journeys in life) was a different story. Our group of 10 on the mini-bus from Bangkok arrived to Ban Phe to catch the "ferry" to Koh Samet without incident. After sitting on the dock for 15 minutes, we were ushered onto a large boat. Great. We got comfortable on the wood bench seats and expected to leave the port shortly. However the boat we were on wasn't just a passenger ferry. Nope, it was a supply boat that just happened to fit a few passengers on when it went over. And after 2 hours of them loading everything from vegetables, seafood, meat, eggs, kegs of beer, vats of wine, Bacardi Breezers, cooking oil, more eggs, ice (which gave us some relief we wouldn't be there too, too long as the ice would melt in that super heat), and a motorbike we finally set sail for the little island. It was comical until it wasn't, but we did finally make it over…and quickly scampered off before they started unloading.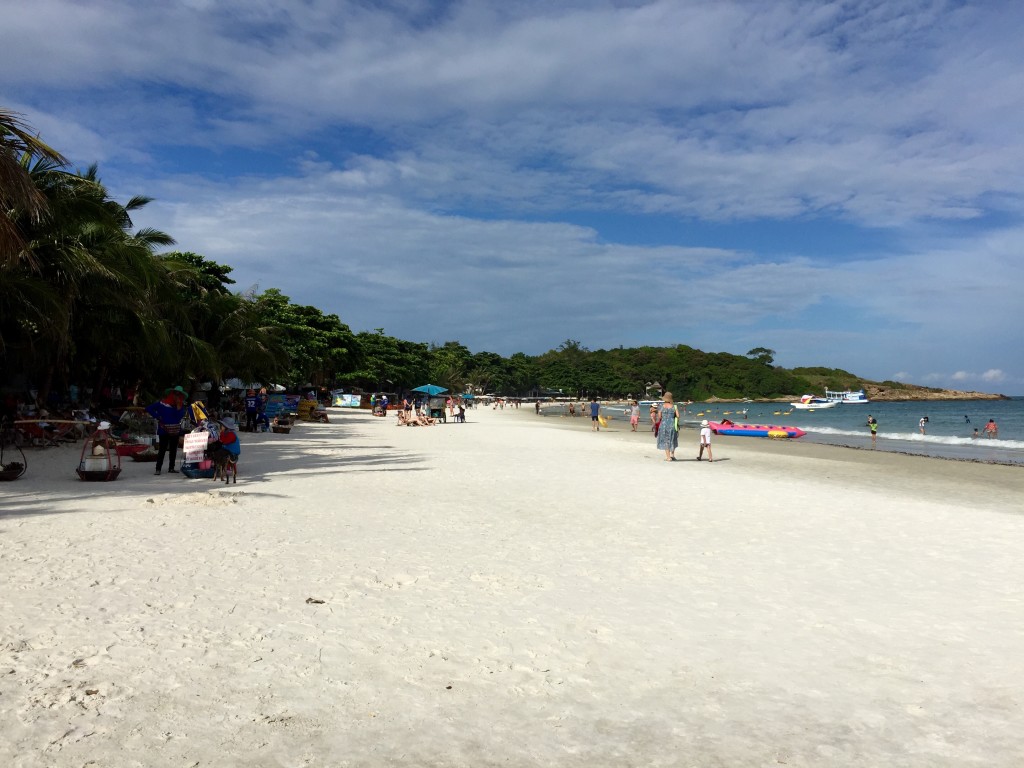 These beaches were worth sharing my seat with a carton of a 100 brown eggs.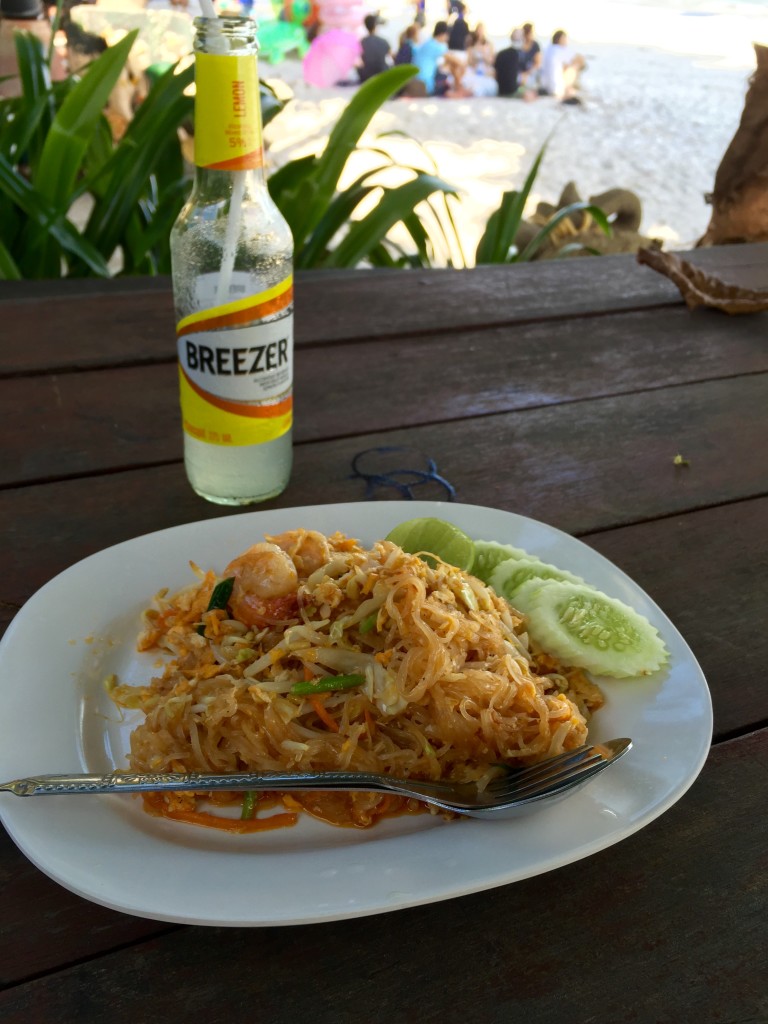 A Breezer from the "ferry" (ha!) and Pad Thai…island life at it most delicious (and cheapest, just $5 for everything…without the Breezer, $2).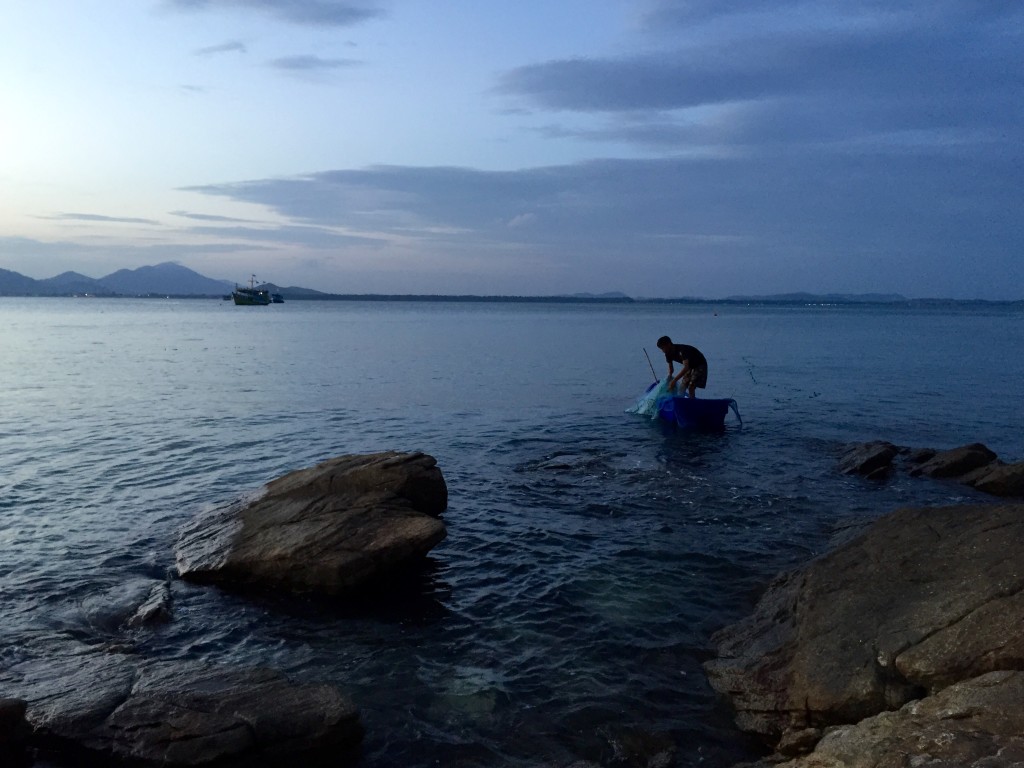 My first night I spend 45 minutes watching this young man fish from his wooden canoe with a net. During that time he only pulled up ONE little fish.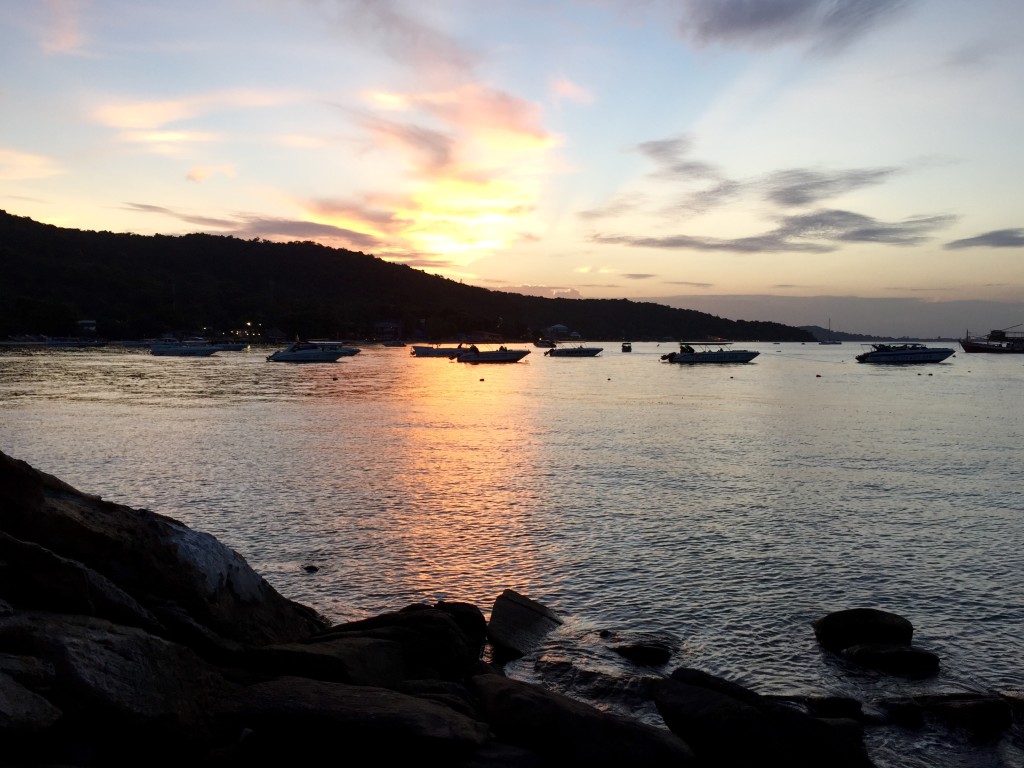 Sunset at Sunrise Villas. A perfect place to stay on Koh Samet.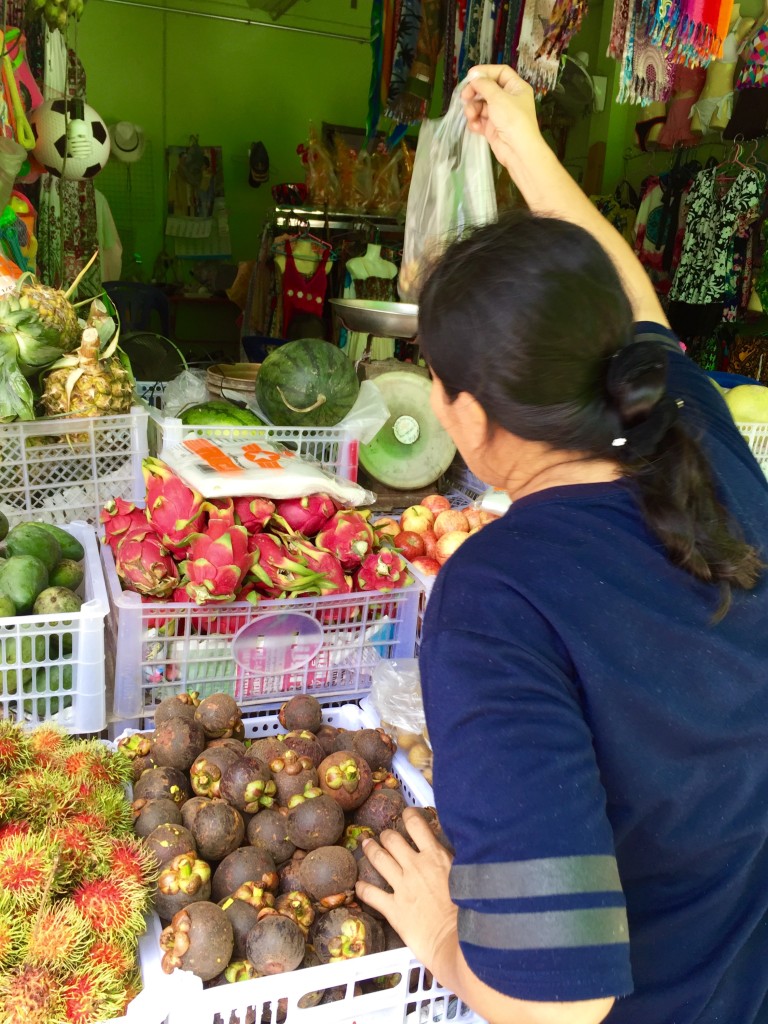 During the days, I have had ample time to buy mangosteens, my new favorite fruit…
….and enjoy them.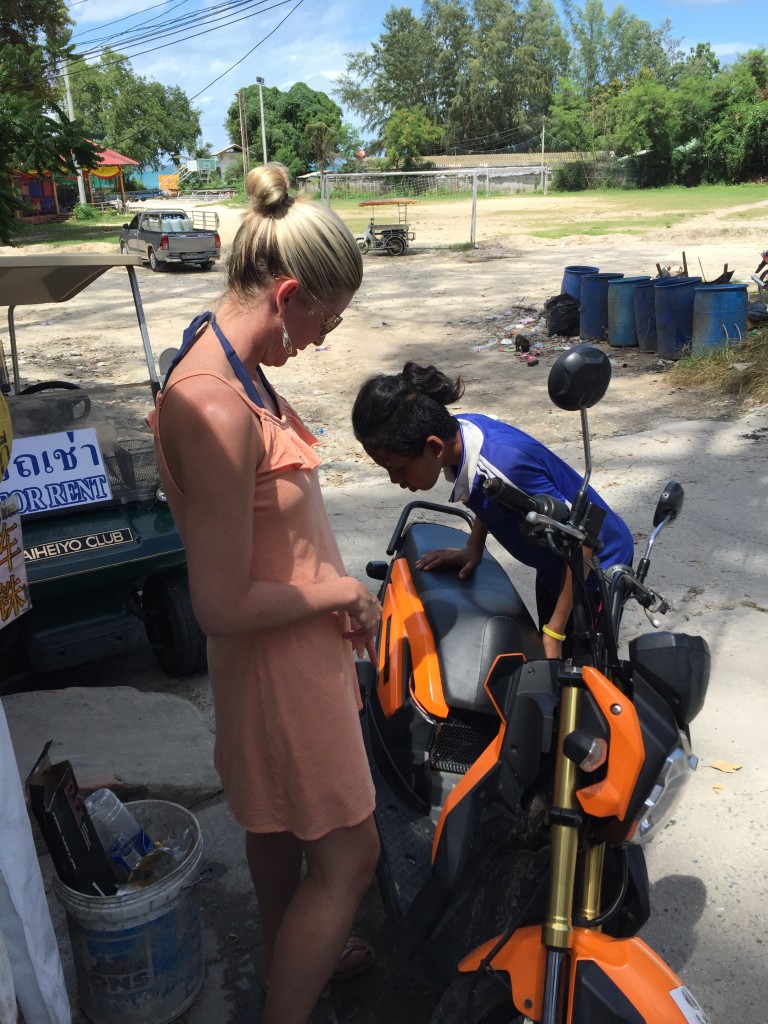 I have also had ample time to confront and tackle an unfounded fear, renting a motorbike and riding it by myself.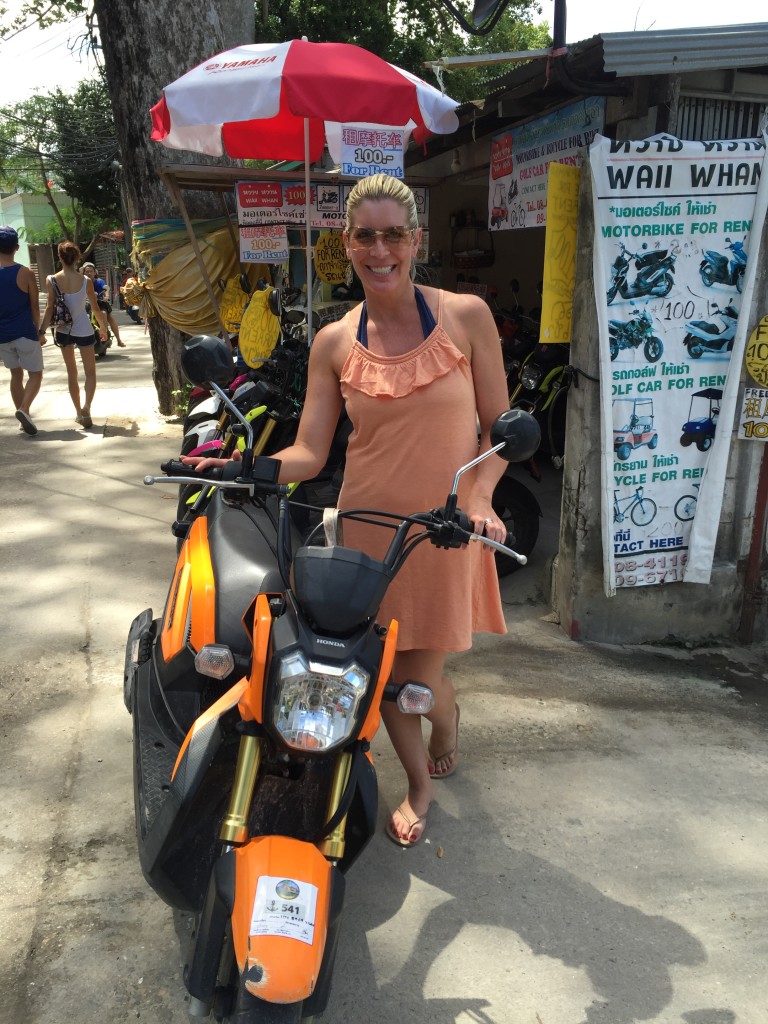 I may look thrilled to start tooling around the itty bitty island on my motorbike that matches my dress, but inside I was full of dread. The stress headache didn't help…nor did the fact that in Thailand they drive on the left side of the road…which would be another first.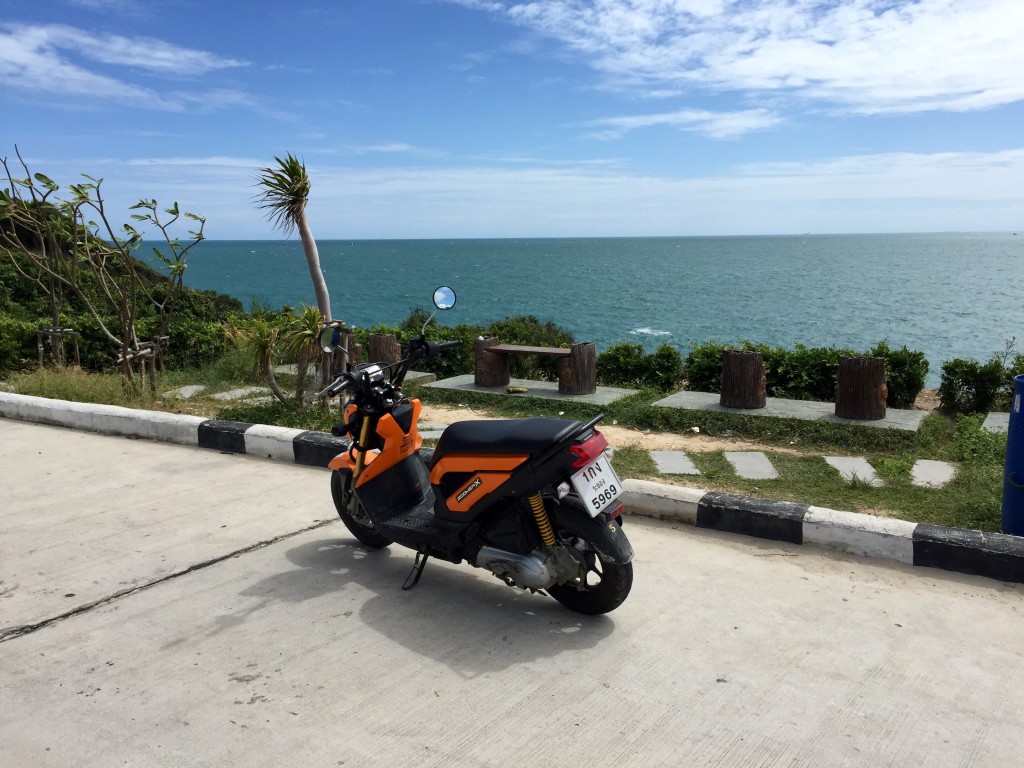 Once got use to driving in the "wrong" lane and after I recovered from running into a tire on the side of the road (both tire and I were fine), I found motorbike exploring to be the best way to see the scenic island.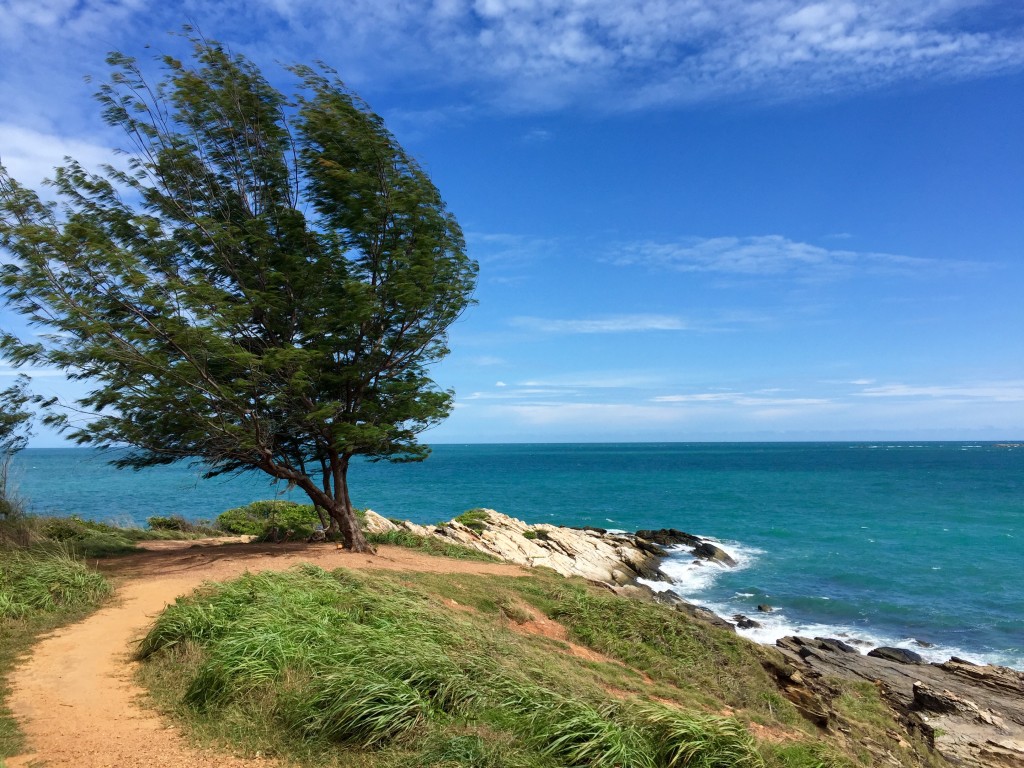 View from the furthest end of the island.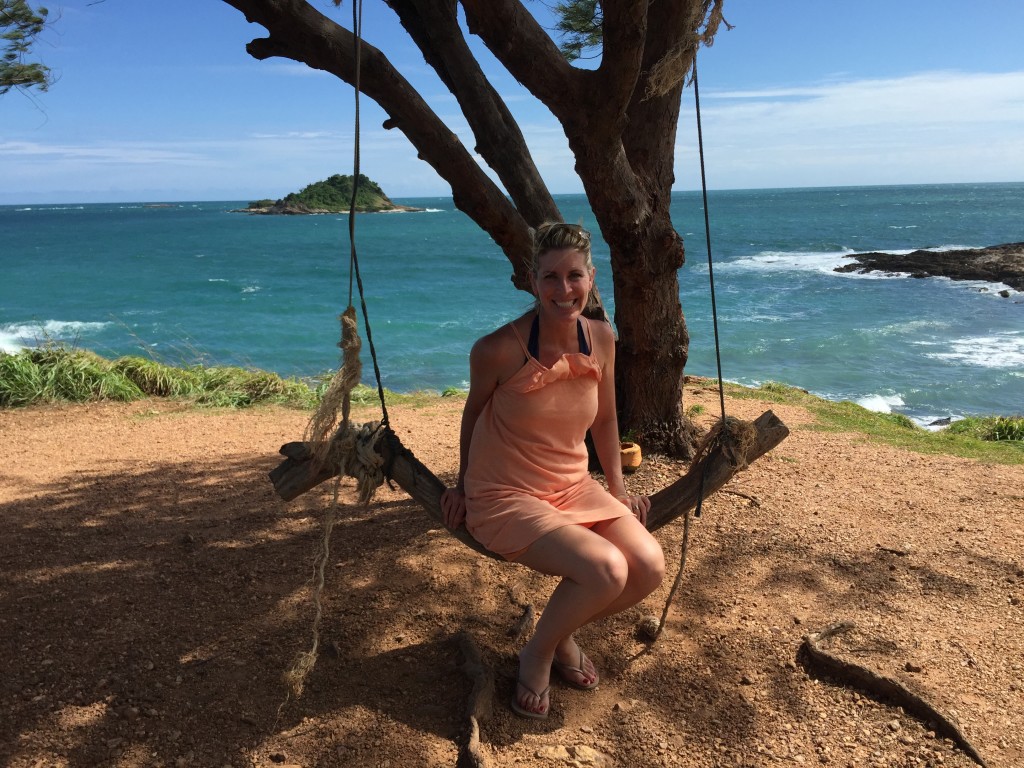 Just happy to be off the motorbike for a moment (I never quite did get over being a little on edge on that thing).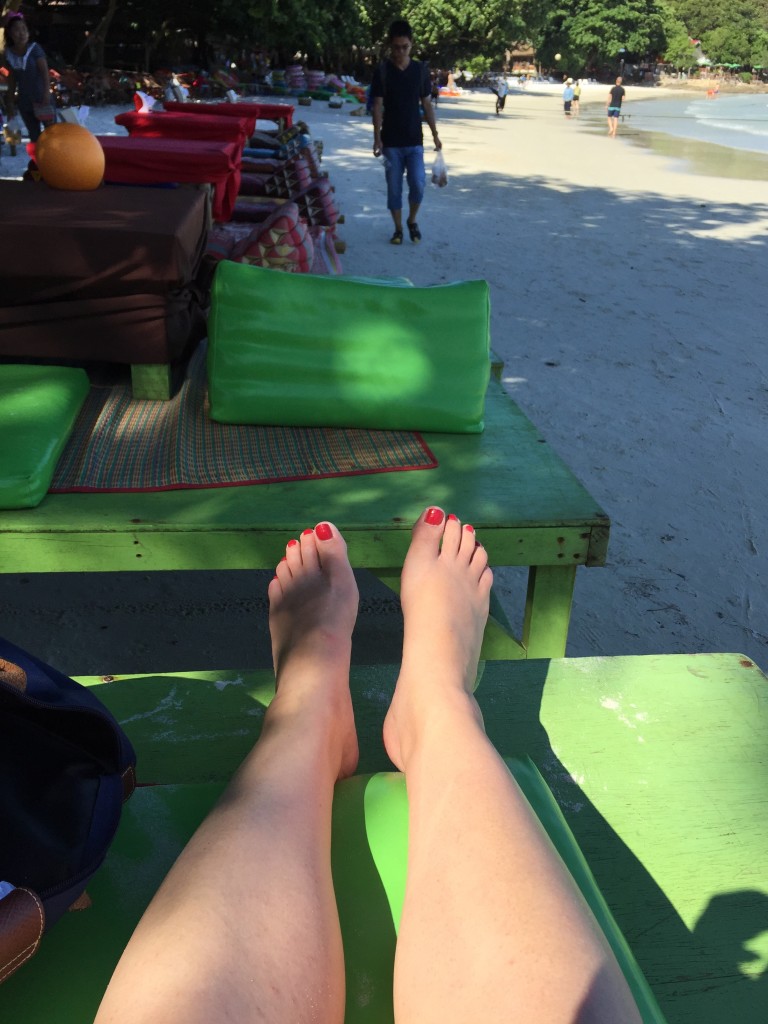 In Thailand not only are the houses on stilts, but so are lounging platforms at beach bars…and I took full advantage of one during a drink break while motorbiking (Diet Coke, of course, as I wasn't going to drink and moto).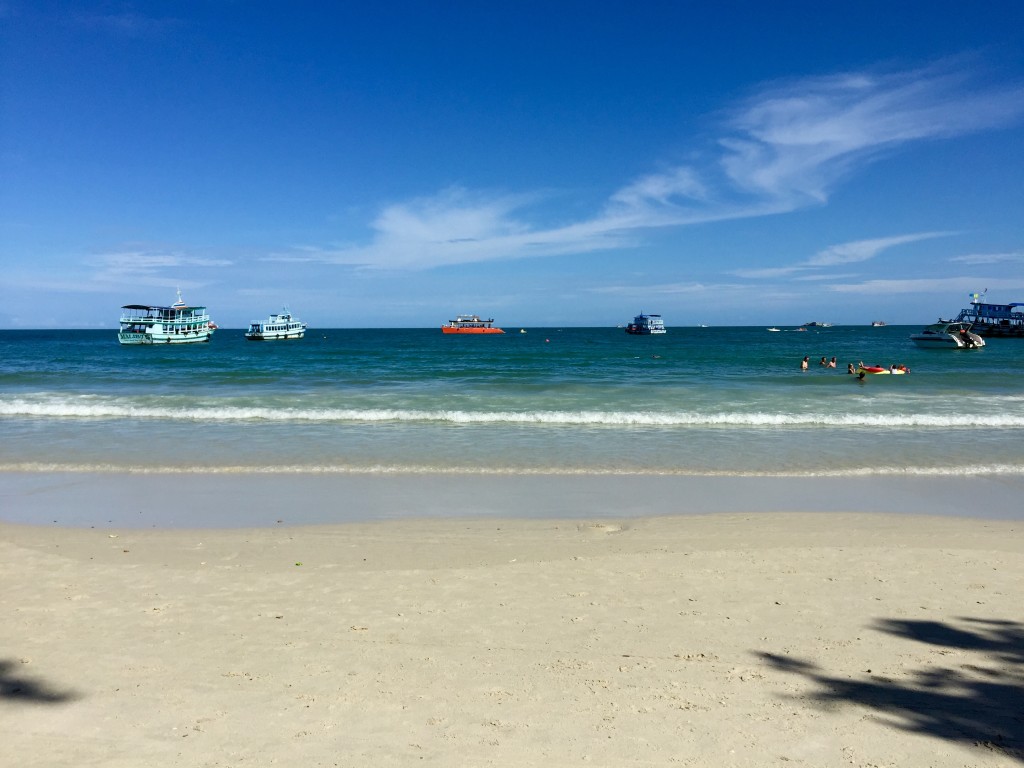 View from my stilted lounging table.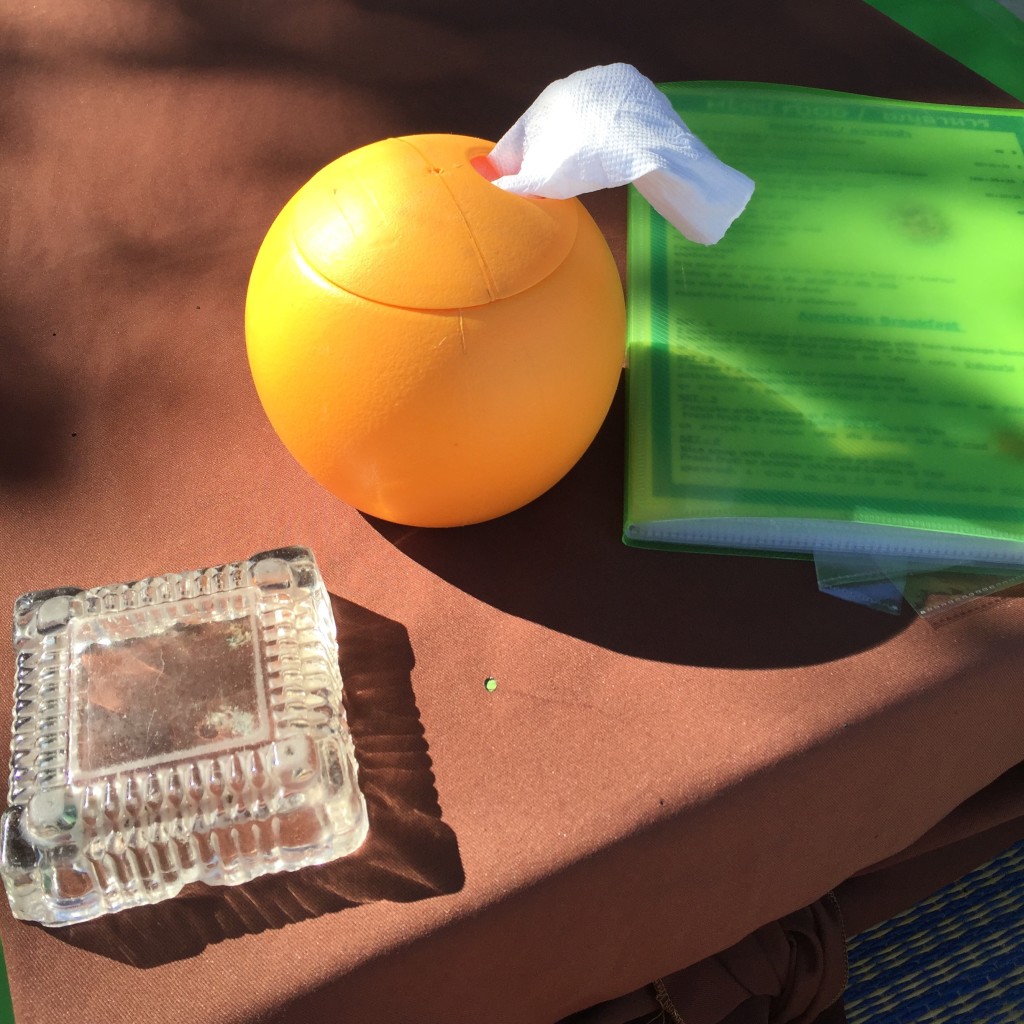 When not looking at the view, I contemplated why some restaurants/bars in Thailand use toilet paper as napkins and dispense them in funky little apparatuses like this one. It is more common than one would think.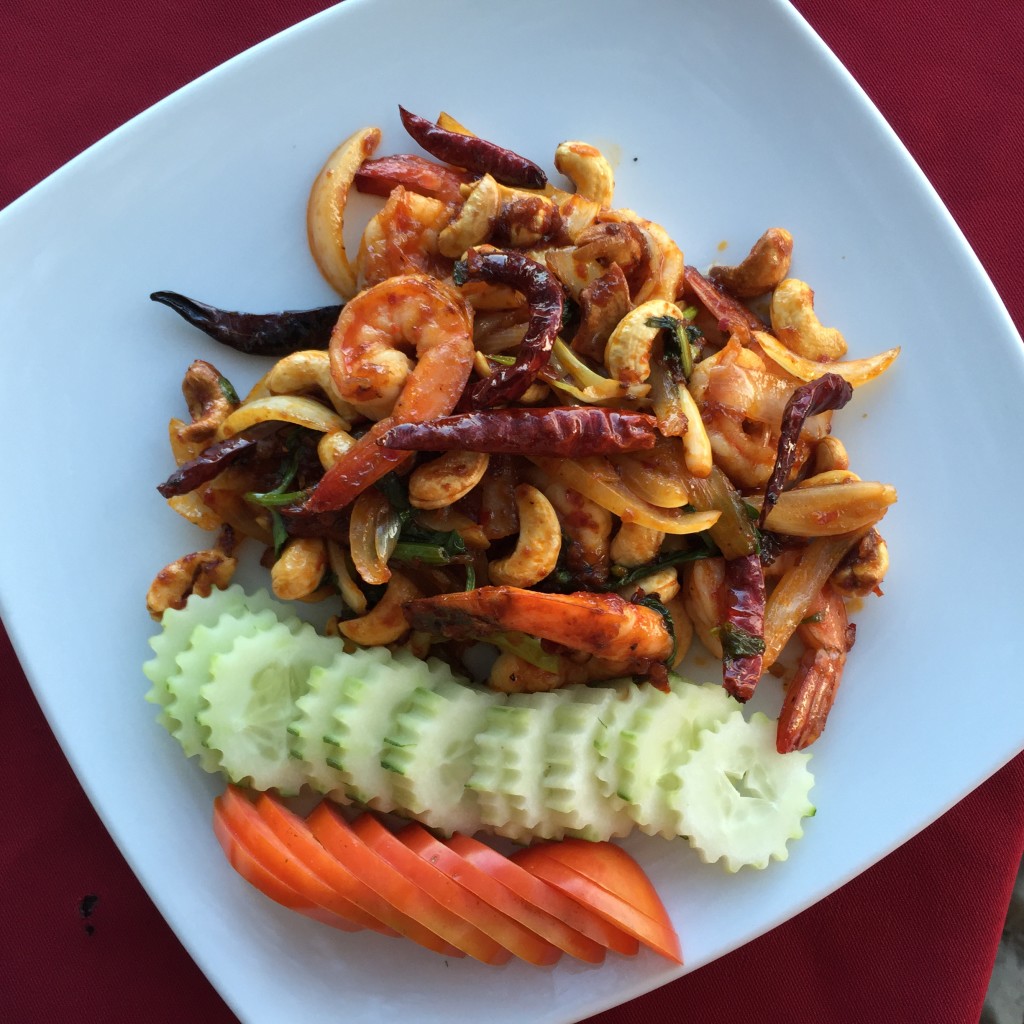 My last dinner on the island, stir fried spicy prawns with cashews and sticky rice (real napkins were dispensed at this restaurant). Divine.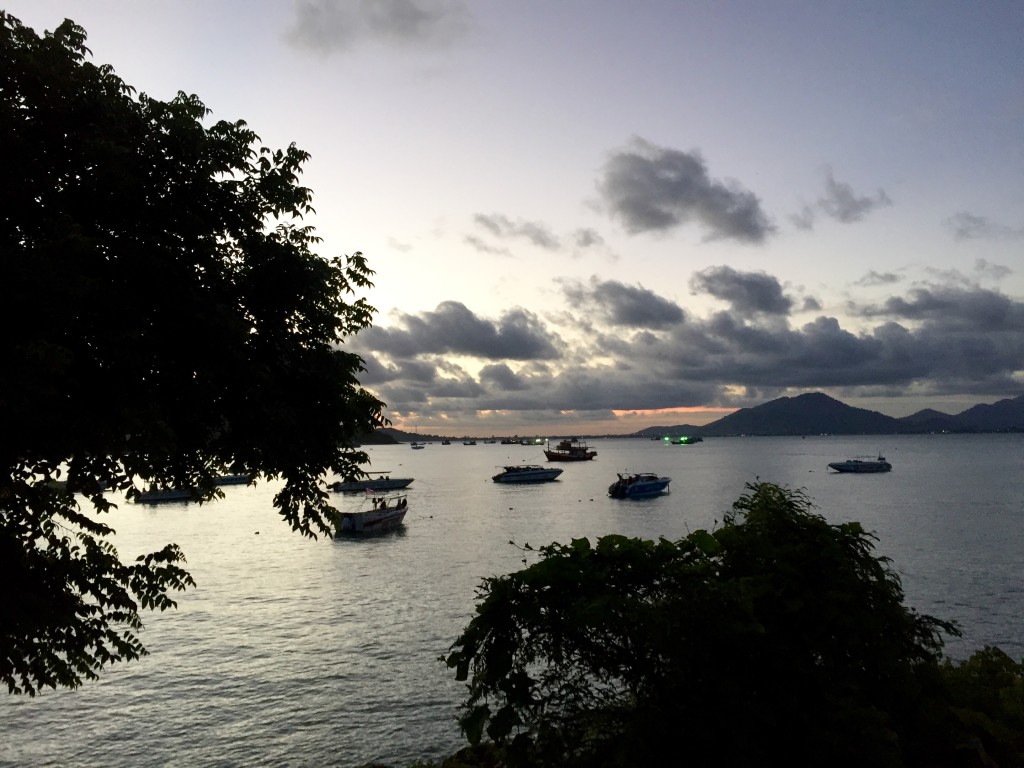 And my last sunset on the island.
What a wonderful place to do nothing…and on the "ferry" back I won't have to squeeze myself between bags of live blue crabs, glass noodles and boxes of "Breezers." Hurray!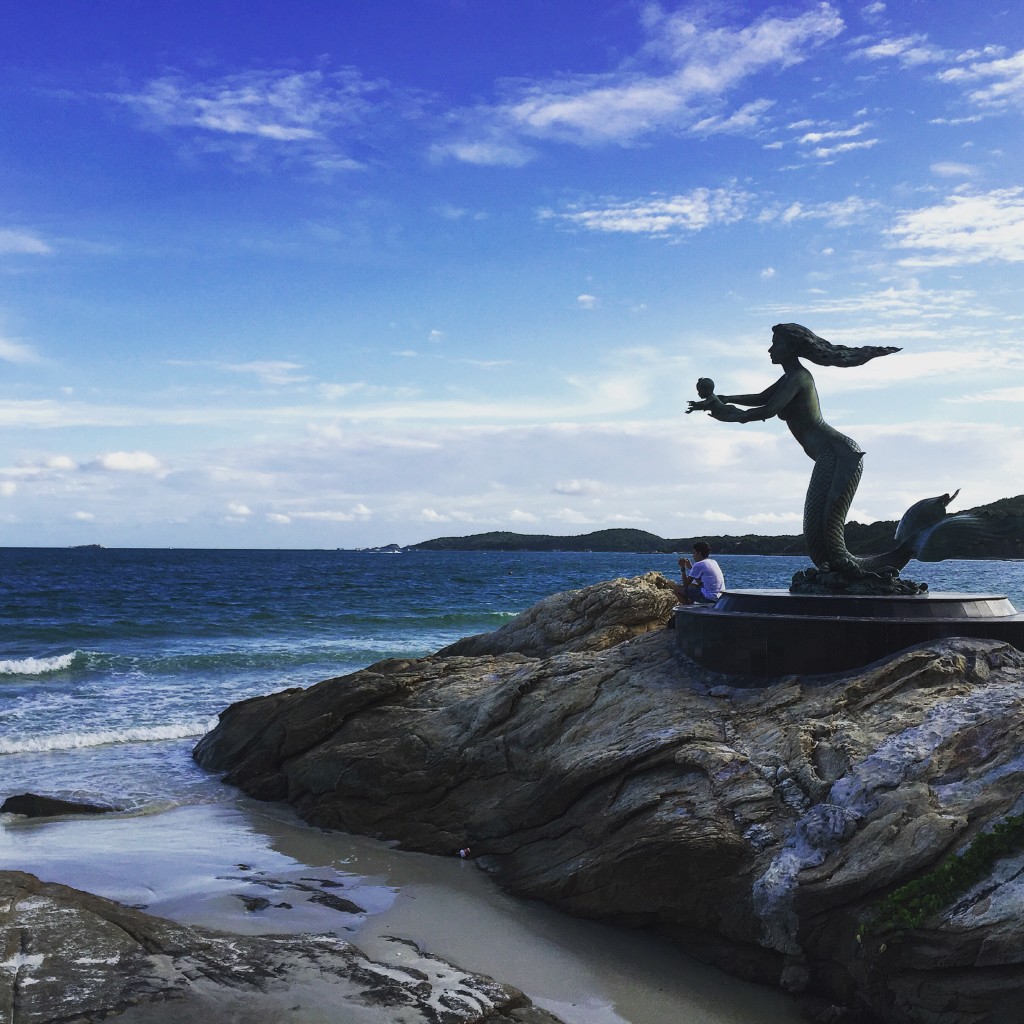 Good bye to Thailand and Koh Samet for now!
Let's see what Cambodia has to bring.
Onward!