"Welcome to the most interactive city in the world," was how one of my friends greeted me upon my arrival in Beirut, Lebanon. Frankly I wasn't quite sure what that meant, and with a civil war raging on a mere 45 kilometers to my east in Syria, I was hoping my time in Lebanon wouldn't be too interactive. More so, I hadn't slept the night before my Lufthansa flight from Paris to Beirut because I was worried I wouldn't even be allowed into the country (more on that later).  In that moment instead of interactivity, I was looking more for a comfortable bed.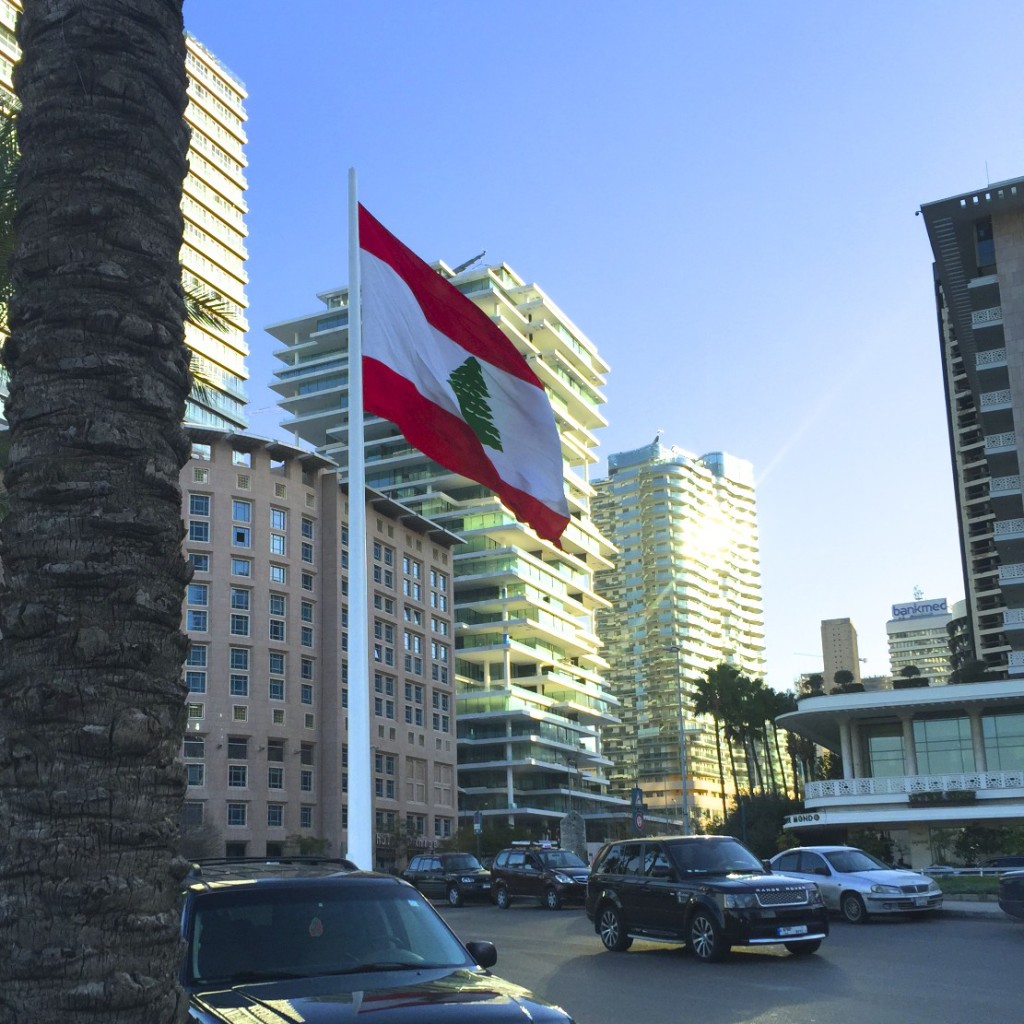 Beirut, Lebanon
East meets west in this fast-paced, over-crowded and super-friendly seaside city. Beirut is considered the most glamorous of the cities in the Middle East. And while parts are still scarred by its civil war, invasions and terrorist attacks, other parts are elegant and sparkling new and the views of the mountains and water are breathtaking. It is easy to see why many people from the Gulf come here to indulge and perhaps show off their wealth (Saudi princes are said to go to the nightclubs and sponsor all drinks for every women all night long! Tough to compete with that if you are any other guy in the club…but we know one guy that won't be going home alone 🙂 ).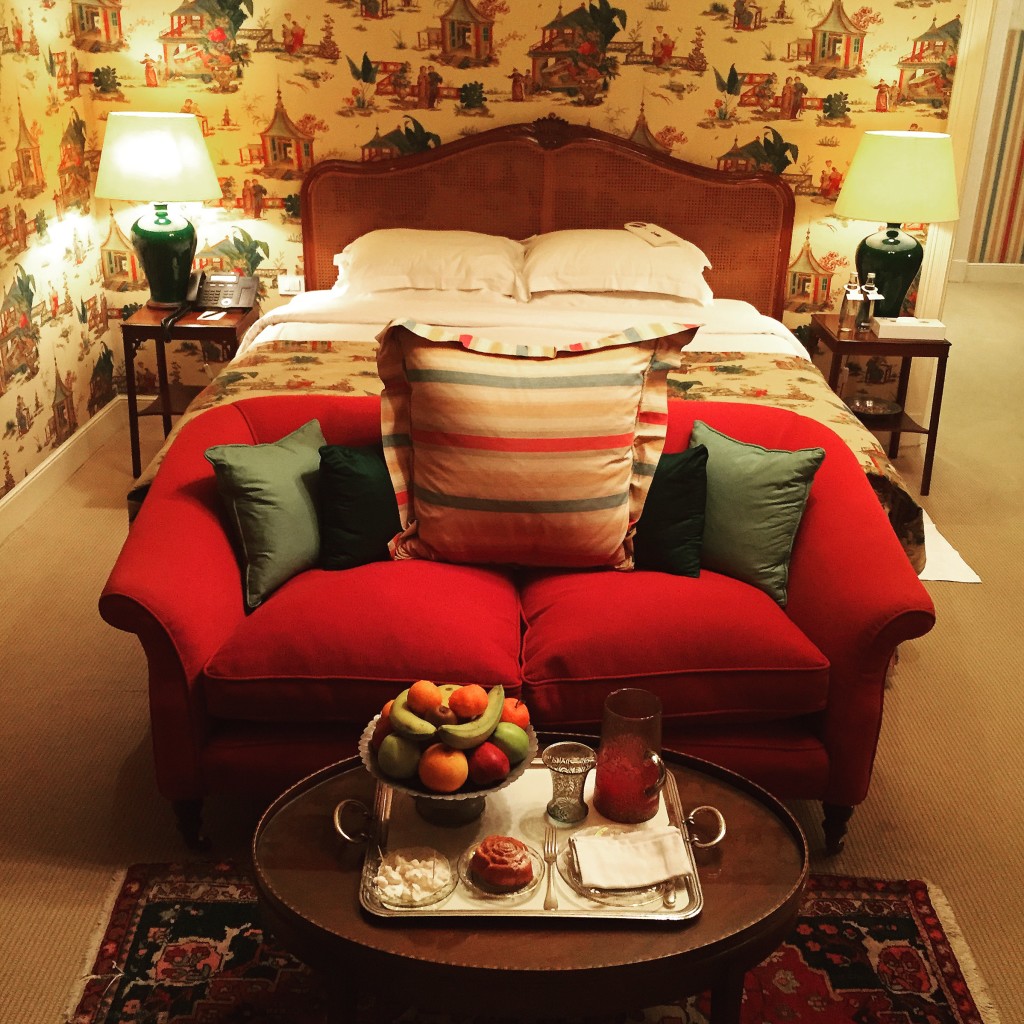 The bed!
After the long travel day (there was absolutely no German efficiency going through passport control in Frankfurt) and one small hitch (again more on that in a moment), I arrived at my lovely and welcoming suit at the Relais & Châteaux boutique hotel, Hotel Albergo. As a welcome treat, they gifted me a beautiful fruit basket accompanied with brioche, little Turkish delight like treats and the most delightful rose water infused fruit juice I have tasted…ever (turns out it was pink lemonade)! I knew I would sleep well.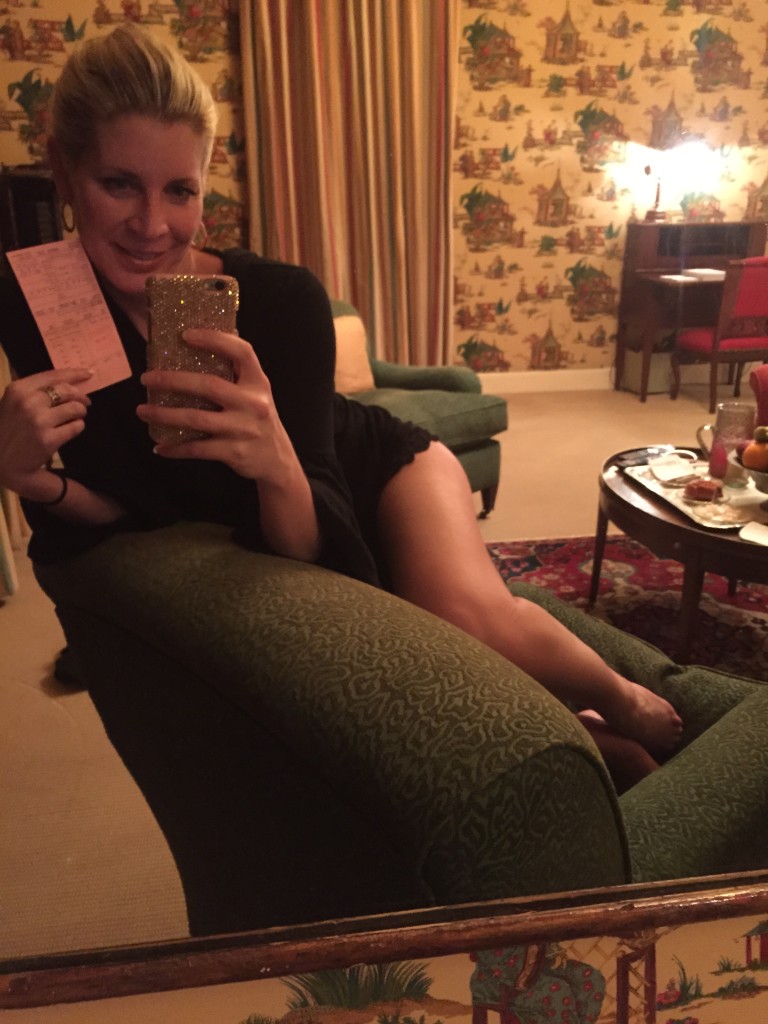 My scarlet card of shame.
Lebanon has the right to refuse entry to anyone who has an Israeli stamp in their passport. And the reason I didn't sleep the night before was, well, was because I have one. Instead of being allowed entry, I could have been told to go home….I do marvel at the things I put myself through. Anyway, when it was my turn to go through border control the agent started flipping through my 48 pages of stamps and asked, "Have u been to Palestine?" To which I replied, "uh, Israel?" But instead of debating philosophy, geopolitics, Zionism and the UN in 1948, I just hung my head and said, "yes." He then summoned for a man in uniform to come and collect me. I was taken to a room with a bunch of other misfits and told to take a seat on one of the worn out, plastic couches. Ultimately the uniformed man made a copy of my passport, directed me to get a pink card stamped and, when I returned, told me I was free to go. Voila! I made it! And while in the end I did think it was all a bit anticlimactic, I gathered up my newly issued scarlet card of shame and without blinking an eye turned and left. My actual passport was never stamped with the Lebanese stamp. My thought is that they didn't want their stamp to share or be near anything that has to do or been to Israel. *sigh* We do have a few things to work on in our world…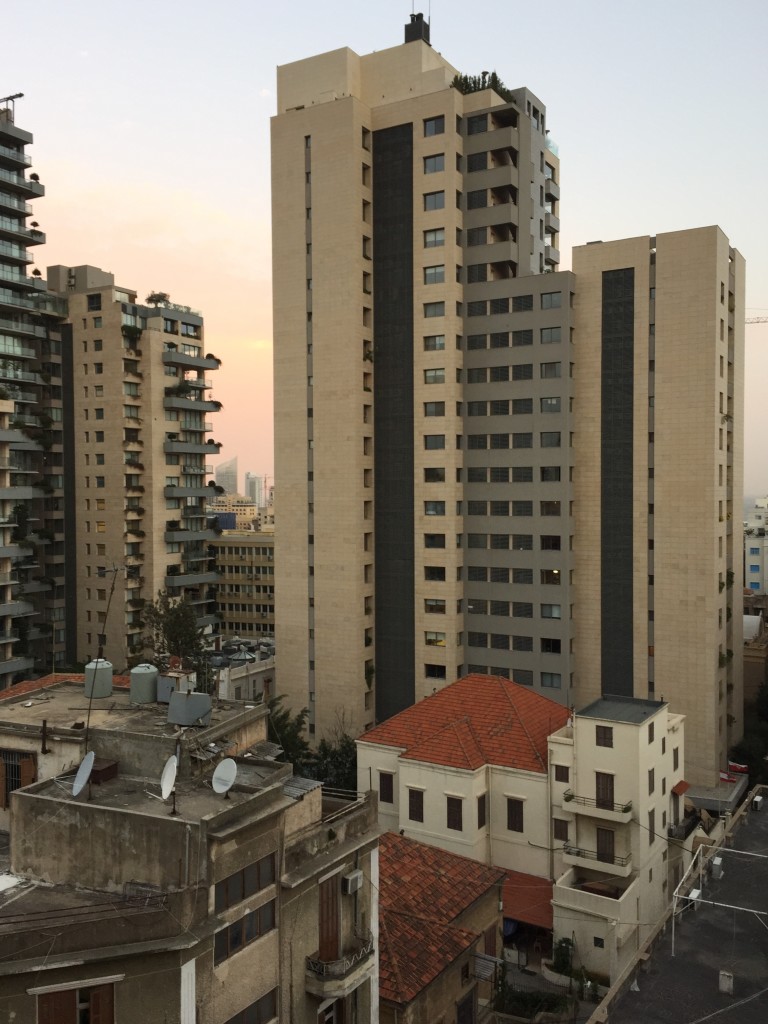 The view of Beirut at sunrise as seen from my delightful room on the 6th floor.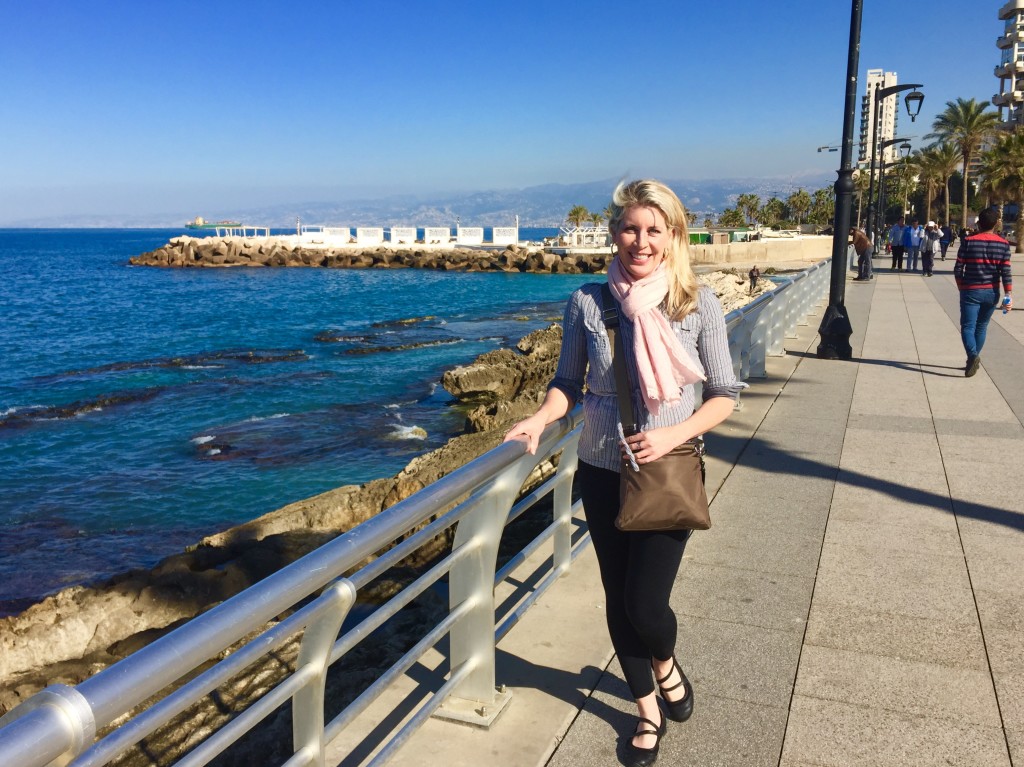 Walking the corniche on a spectacular Beirut day!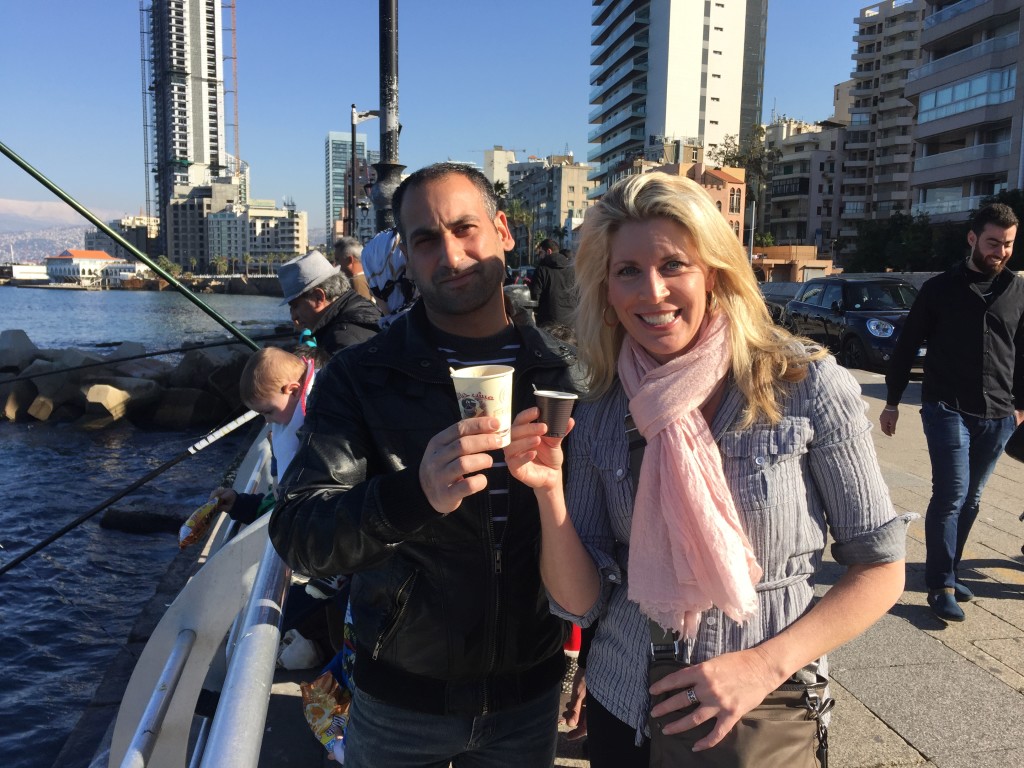 Samer and I!
True to the hospitable stereotype given to the people of Lebanon, my first full day I met two lovely men, Kamil, a local police officer, and his friend, Samer, who indulged me with conversation as I sat watching the fishermen cast their lines into the sea from the corniche. After a spell Samer asked me if I was in a hurry or if I wished for a coffee. I thought about it for a moment, decided why not, and Samer set off with our orders of espressos with cream and sugar. He returned after several minutes and handed me my coffee. It was the darkest espresso with cream I had ever seen so I asked Samer if he had indeed put cream in it.  He assured me he had. Puzzled I took a sip…clearly no cream, but I couldn't interrogate this poor man again so I added a bit of his sweet creamy Nescafe and then finished the bitter cup. With the last sip I noticed something at the bottom, a layer of thick condensed milk! I laughed and pointed it out to Samer! Both of us simultaneously apologized – me for doubting him and him for not telling me to stir my espresso.  International incident adverted.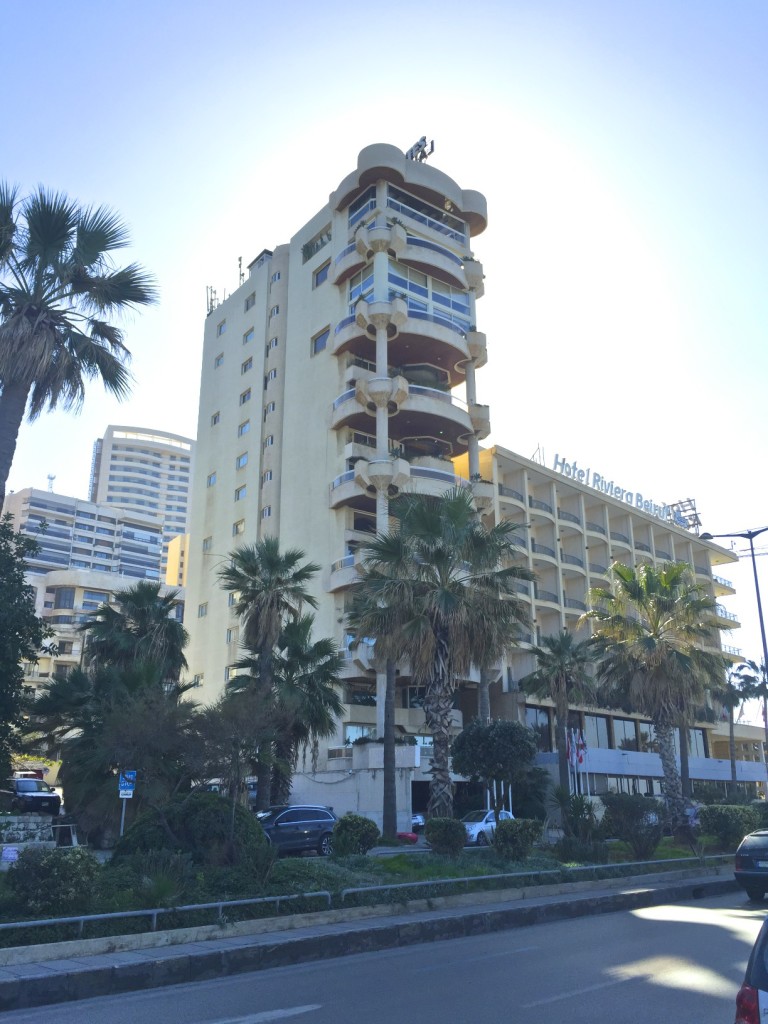 One of the architectural goodies near the corniche!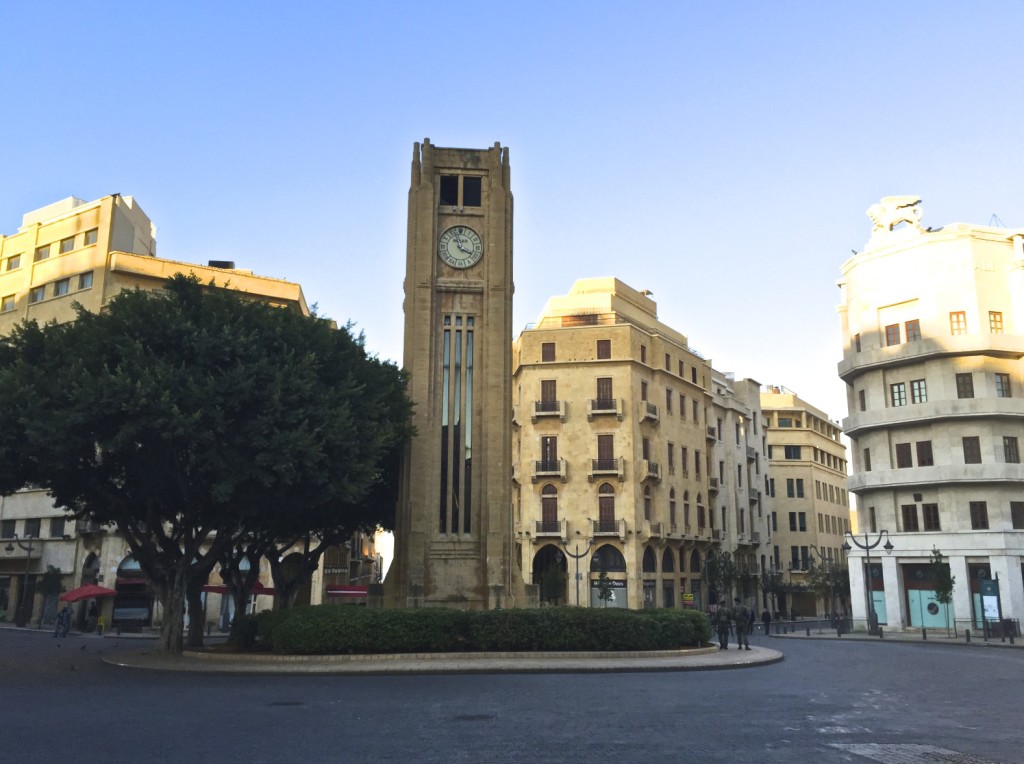 Place de L'Etoile
The Lebanese parliament is located near this plaza in "centre ville." Because so it was completely barricaded off with barbed wire, cement fences and armed military guards. I was intimidated to enter, but the encouraging soldiers with smiles as big as their guns did persuade me to take a perusal inside. I was fascinated to learn that the Lebanese parliament has not been able to unanimously decide on a President for the last two years. Yep, no President in Lebanon…yet somehow the country functions relatively intact. However, one of the byproducts of the dueling political parties is that there is currently no place for the garbage of Beirut to be dumped (the parties bicker over which company will get the lucrative contract and the influence that comes with it). As a result it is piled along the road sides all over the city…mountains of it waiting for a resolution to be found. Makes for a not-so-lovely aroma in some places.
My friend, Ali, and I at Leila!
In a country famous for its cuisine, my friend Ali took me to a restaurant heralded for their authentic interpretation of the local fare, Leila. He pretty much ordered one of everything on the the cold and hot mezze menu. So. Much. Food. And all of it was outstanding –  hummus, stuffed grape leaves, tabouli, fried chicken with garlic sauce, chicken liver, local red wine and engaging conversation.
It is worth noting that Ali is likely one of the most impressive individuals I have ever encountered. He has multiple awards from the Chinese government for his entrepreneurial endeavors there, he is the designer of his own couture fashion label, boasts five invitations to the White House, has an ongoing assignment as the Lebanese consulate to the island of St. Vincent and is the CEO of a Lebanese holding company that is working to make 3D holograms mainstream. However one of his most impressive accomplishments, and this is truly remarkable, is that he got me to eat lamb brain.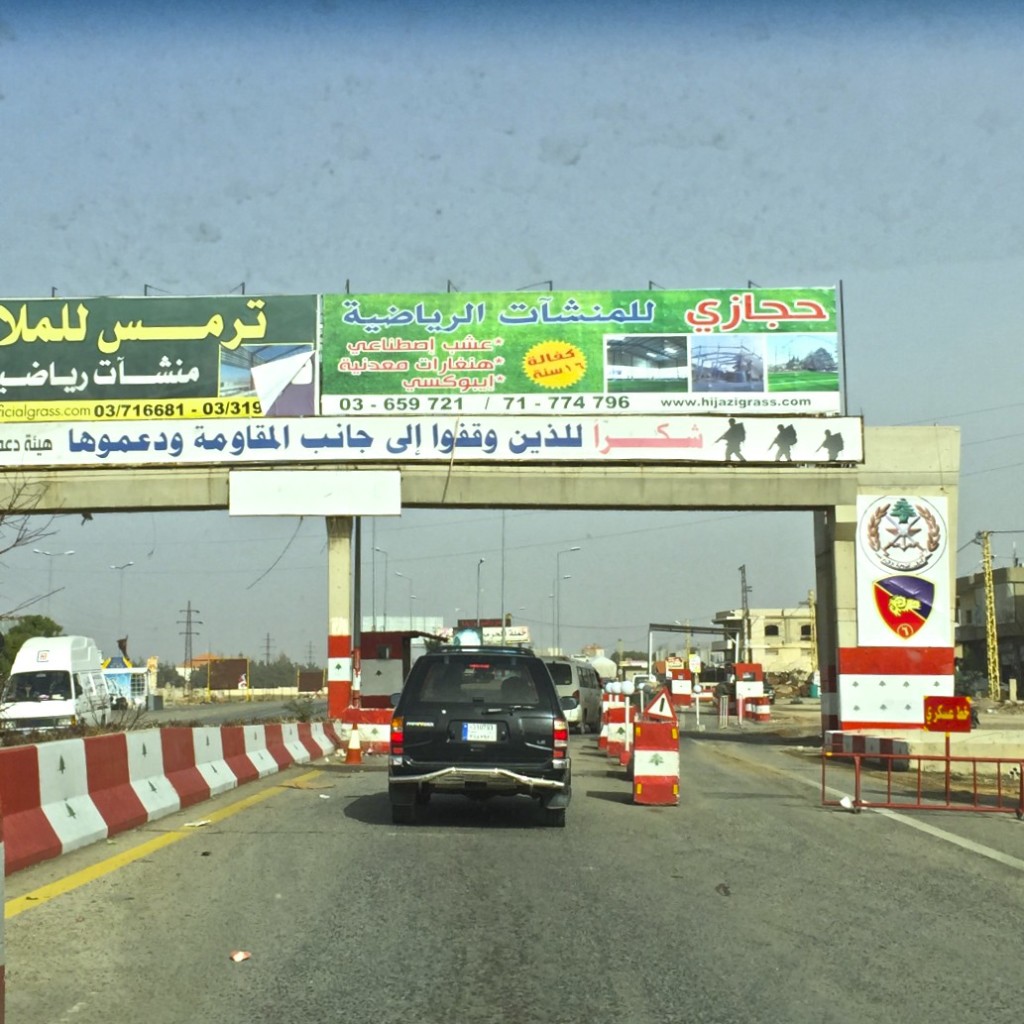 Security check-point outside of Beirut.
Lebanon is a minuscule country, so it was easy for me to make Beirut my base as I went to explore its other parts. High on my list was a trip out to the Beqaa Valley for some wine tasting and glimpse at the magnificent Roman ruins of Baalbek. To get there we crossed Mount Lebanon and bypassed a multitude of security check points. Throughout the country security check points left over from the 1975-1991 civil war persist, but in recent years the number has increased due to the current civil war in Syria. While the armed guards always seemed a bit disengaged each time we approached them, my driver and guide, Hussein, said it was important we stop at each because otherwise they would "shoot you." After that I was helping Hussein turn on the interior car light at each check point and giving each armed guard the most charming smile I could muster.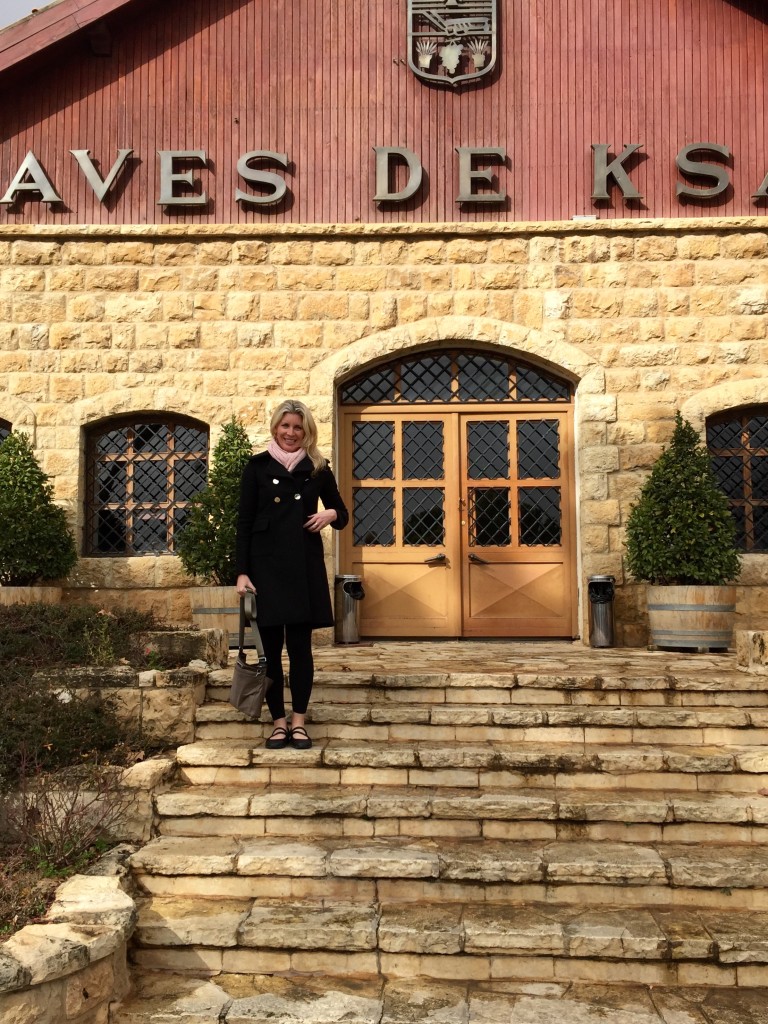 Lebanon's oldest winery, Château Ksara.
Founded in 1857 by Jesuit priests, Château Ksara developed the first dry wine in Lebanon. Today it produces over 3 million bottles and exports around the world helping to put Lebanese wine on the map.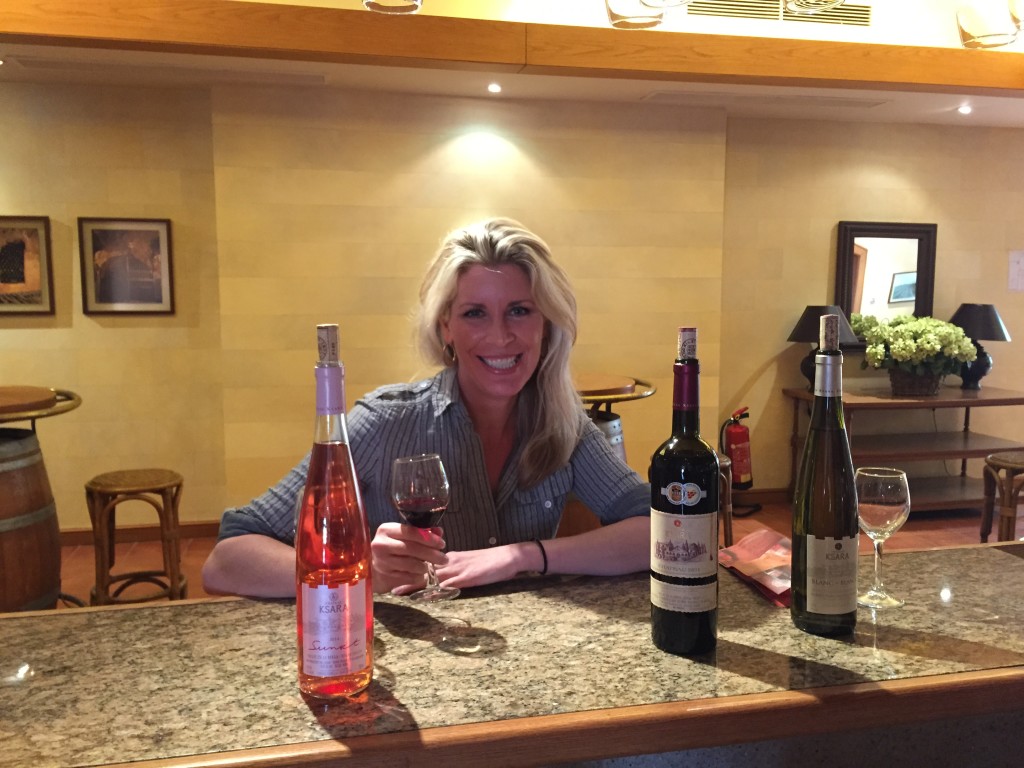 Looking thirsty at Château Ksara.
No matter the country, I am always happy and comfortable bellied up to a bar surrounded by delicious wines.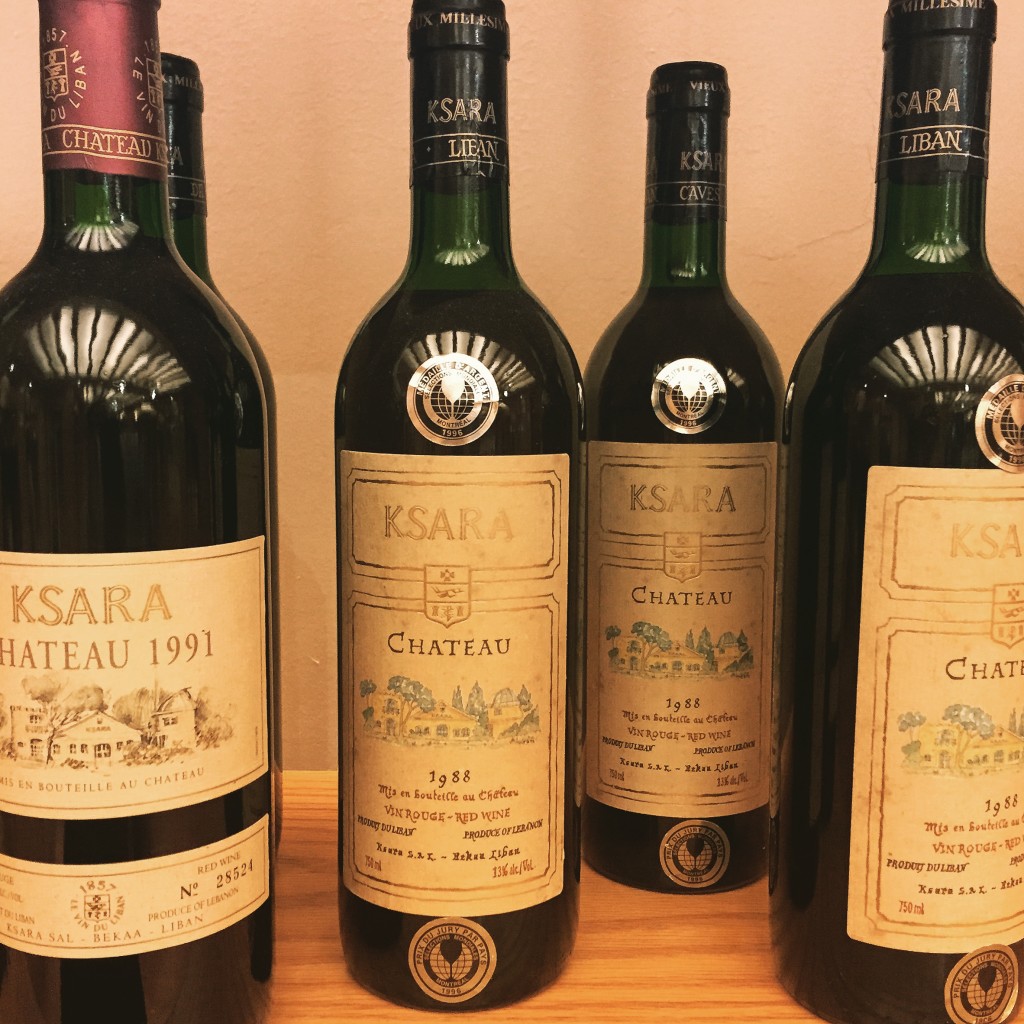 Older vintages by Château Ksara.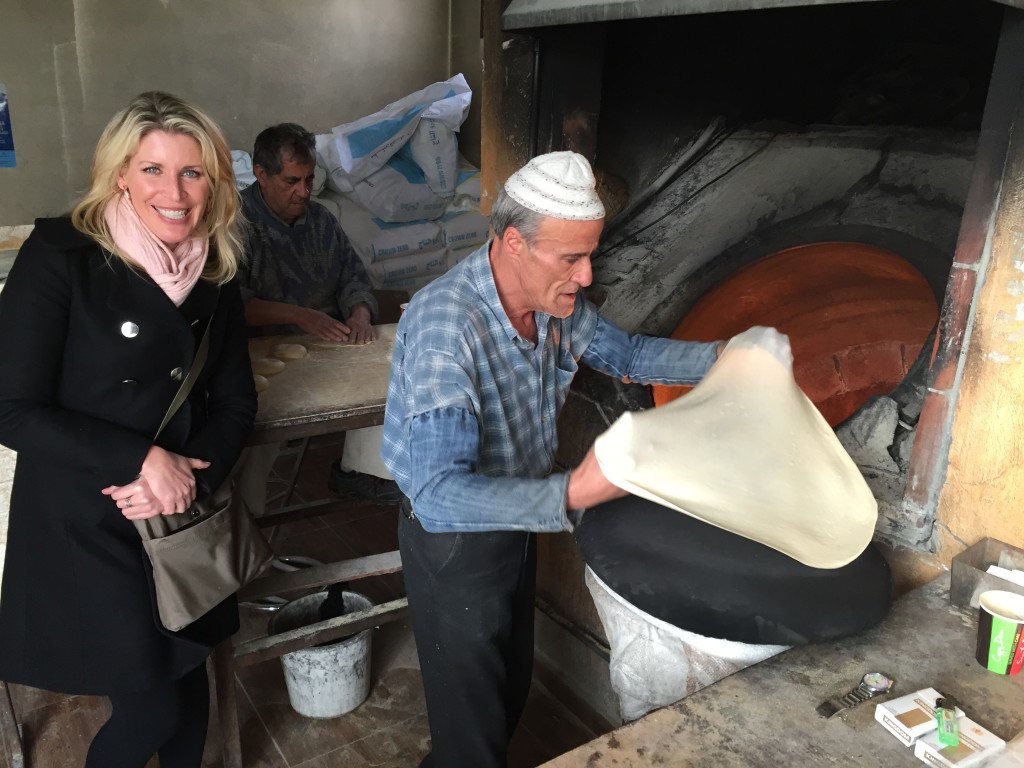 All that wine made me hungry!
Lunch was more Lebanese fare at a nondescript local restaurant on the side of the road in route to Baalbek. While I was marveling at the men making the warm bread we feasted on with our lamb and chicken kabobs, Hussein insisted I make myself a nuisance and jump in between them for a picture. I agreed! Notice, however, I did not jump in between the capped baker and his cigarettes. 🙂
Check out this video of these fine men making the bread of Lebanon, saj. Super cool.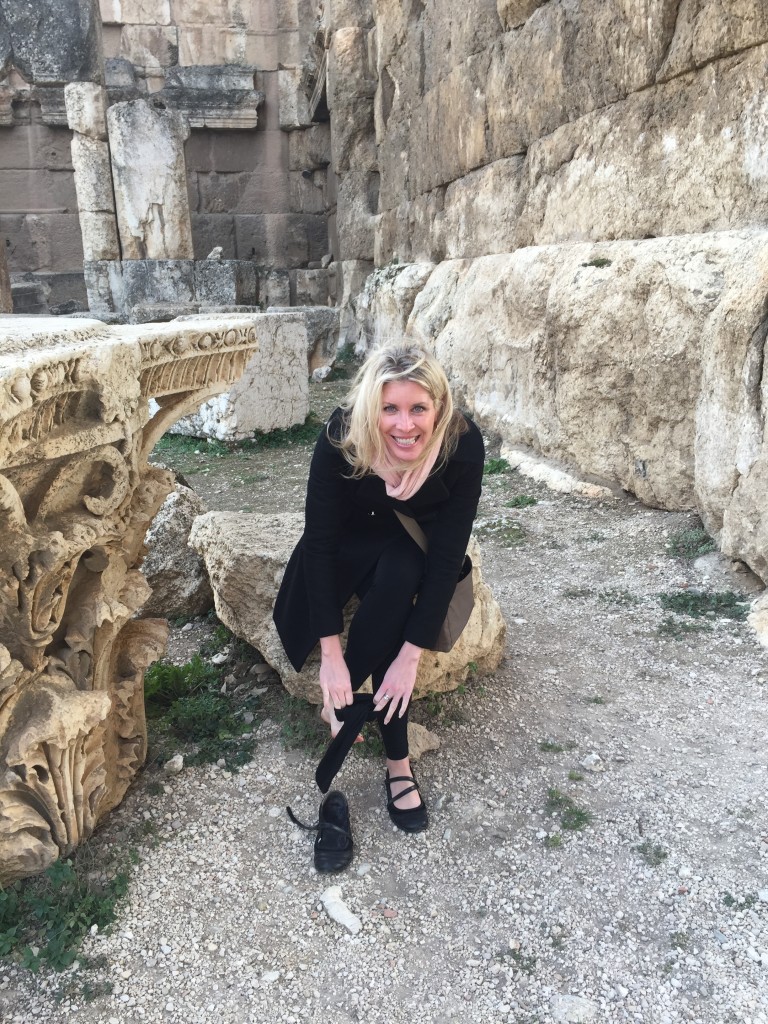 Next stop the ruins of Baalbek!
Baalbek is the name of the town in which the 2500 year old Roman ruins of Heliopolis are found. The population of the town is around 85,000, it is nearly equidistance between Beirut and Damascus and is said to be a Hezbollah stronghold. It was also very cold the day that we went to explore the ruins…so much so that a sock stop was required.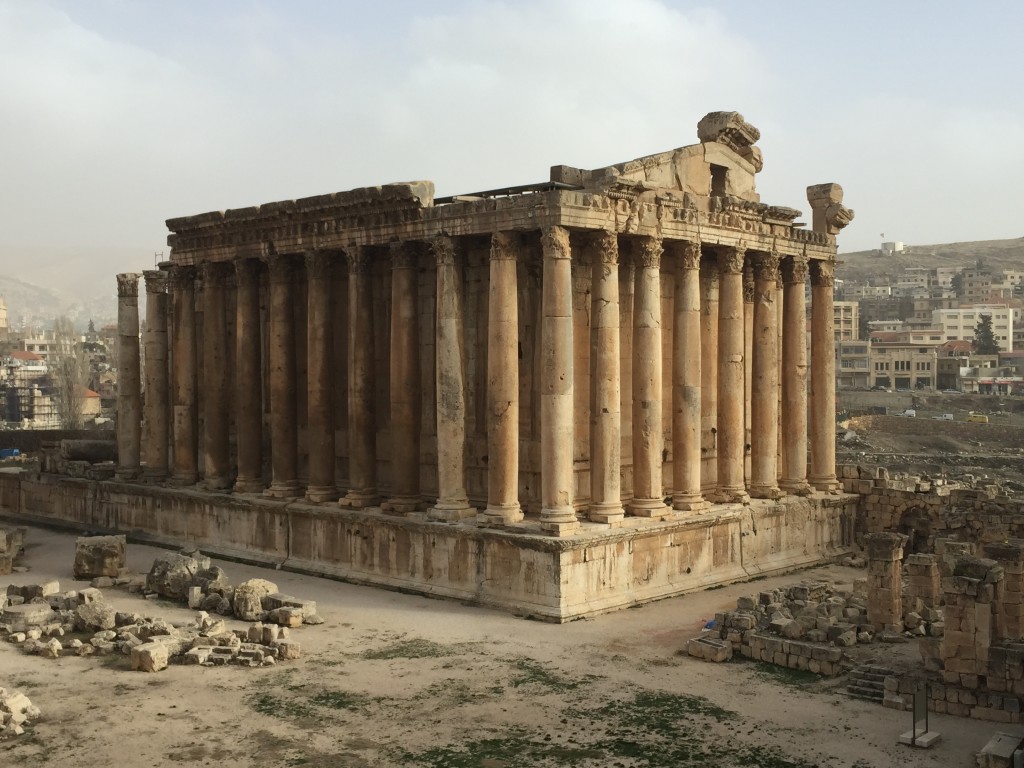 Temple of Bacchus.
This brilliant temple to the wine god of Bacchas has somehow survived elements, wars, invasions and earthquakes to be one of the best preserved and grandest Roman temple ruins in the world today. Its design and ornamentation have served as a model for Neoclassical architecture, and I think it also serves as one of the best excuses to visit Lebanon. It is truly spellbinding.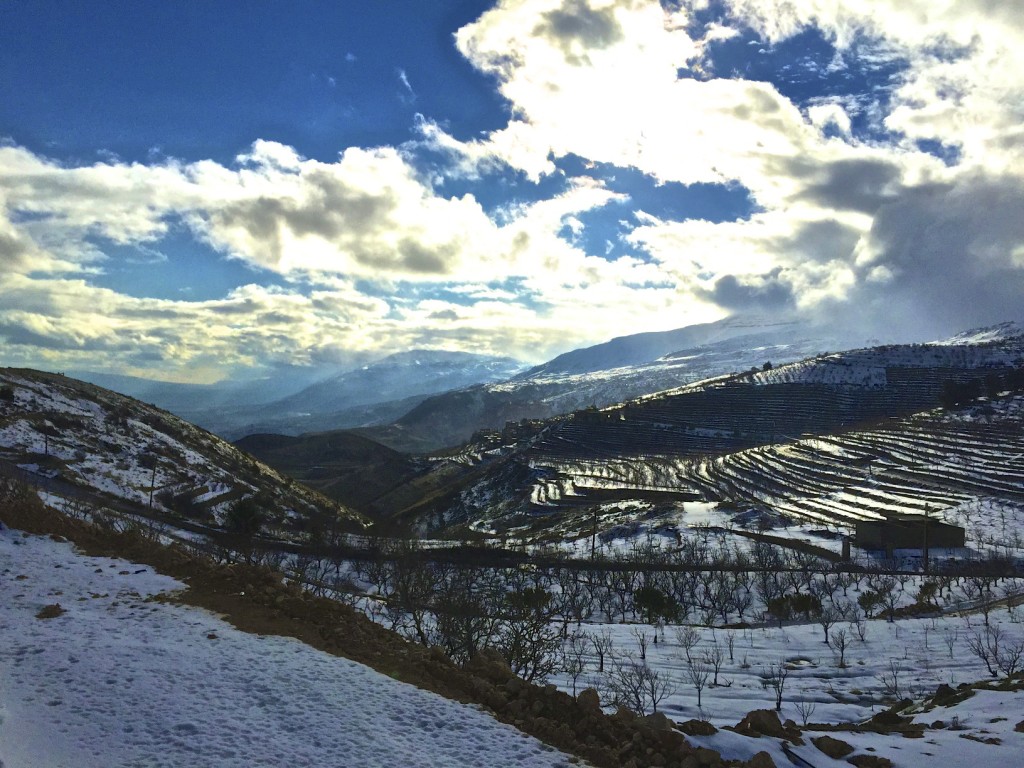 A glimpse into the Bekaa Valley…known for wine, ruins and Hezbollah.
Me enjoying these talented Armenians known to have some of the best jewelry in Anjar, Christ and his wife.
Part of my trip, of course,  was scouting out some exceptional jewelry to showcase in my online shop. I was told all the Armenians, who are fabled as the best jewelry makers in the world, were mostly located in a town called Anjar in the Bekaa Valley. Missing out on them my first trip over Mount Lebanon, Hussein and I braved the snow and cold again (only after visiting Jeita Grotto, famous for magnificent 12,000 year old stalagmites and stalactites) to find this lovely couple, Christ and his wife. And they were quite happy to see me. The war has considerable slowed down tourist traffic which has of course slowed sales. I did my best to make their day. The techniques of the Armenians are so guarded that I would not be permitted to see their work in progress, but I can attest that the sterling silver pieces, some embellished with semi-precious stones, were brilliant in design and detail. The ones I acquired for the shop can be found here!!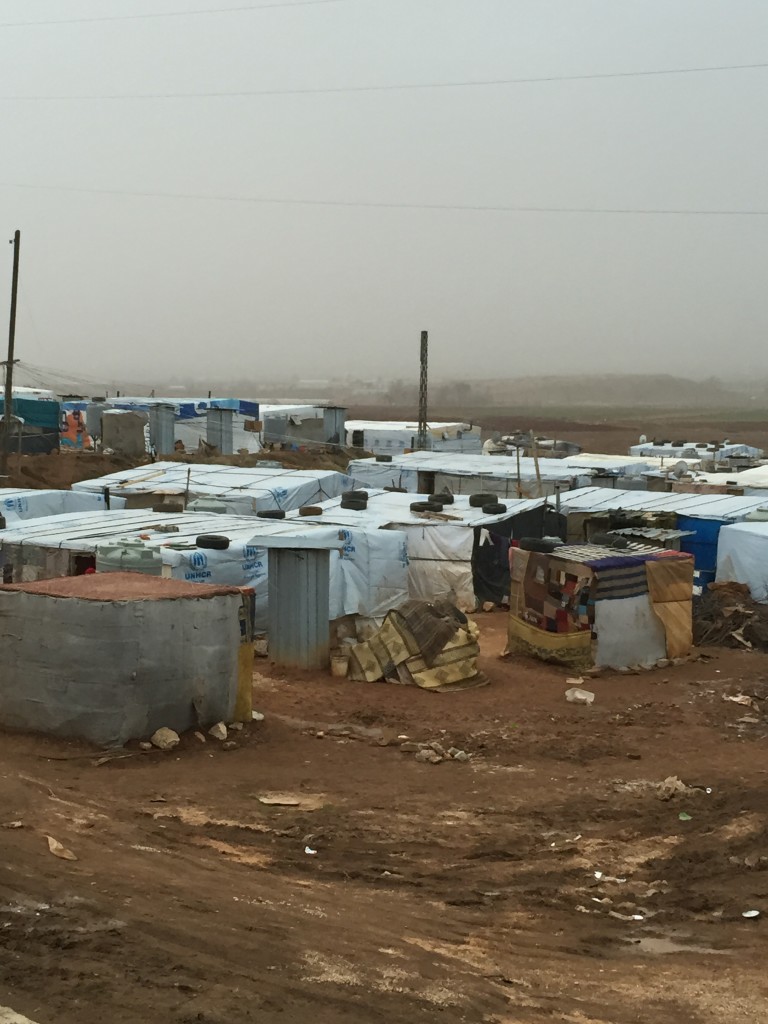 A Syrian refugee camp. 
As a tourist I was able to delight in the lighter side of Lebanon – a five star hotel, abundant dinners, safe transport, delectable wines, luxury shopping and unparalleled hospitality.  However, I never forgot that a merciless civil war was raging on just a few kilometers to my east. The increased check points, Syrian refugee camps like this one and numerous roadside billboards sponsored by the army that feature a myriad of soldiers' pictures who have died fighting ISIS were a constant reminder of a 4+year bloody war that started as an anti-government protest and today is responsible for the loss of over 250,000 Syrian lives.
One of the hardest elements of the conflict for me to process personally was a gratitude that I felt for Hezbollah while in Lebanon. There Hezbollah is largely responsible for fighting ISIS and keeping them contained to the eastern part of Syria so the war stays beyond the Lebanese borders. A lover and supporter of Israel, I struggled with the fact that the devil and your friend can have the same face..and I still do. However, if nothing else, the experience drastically illustrated to me on a profound personal level the severity of the political, religious and cultural complexities that has and will continue to define this part of our world.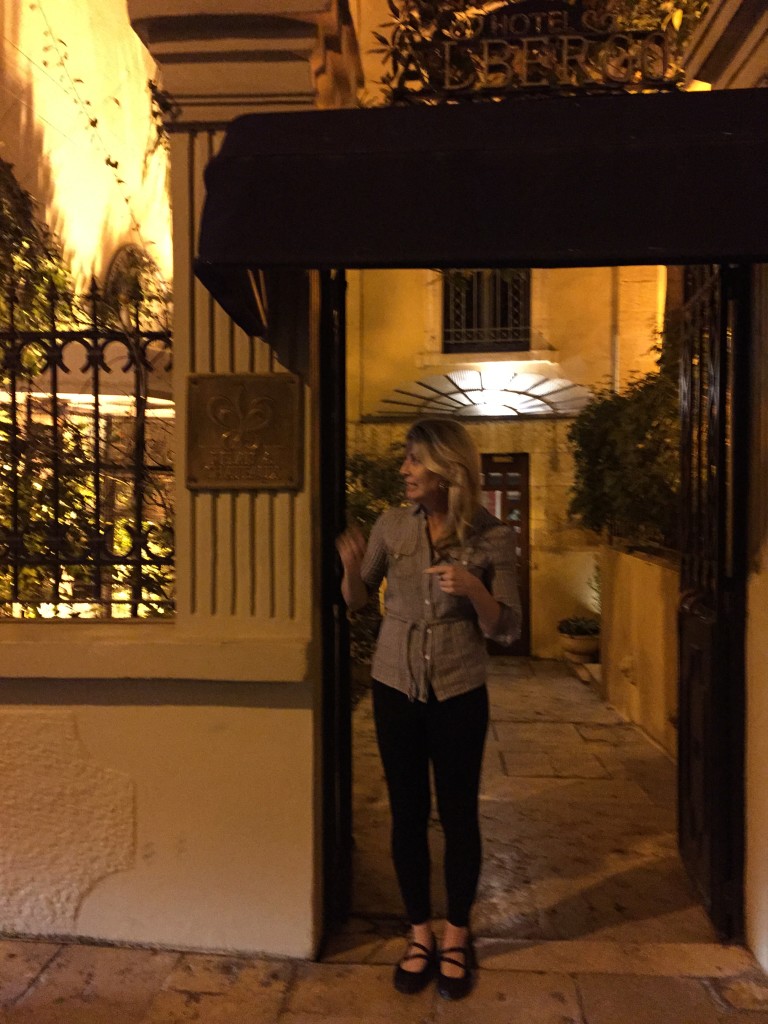 Warning the valet taking my picture back at Hotel Albergo not to die by cause of an oncoming car.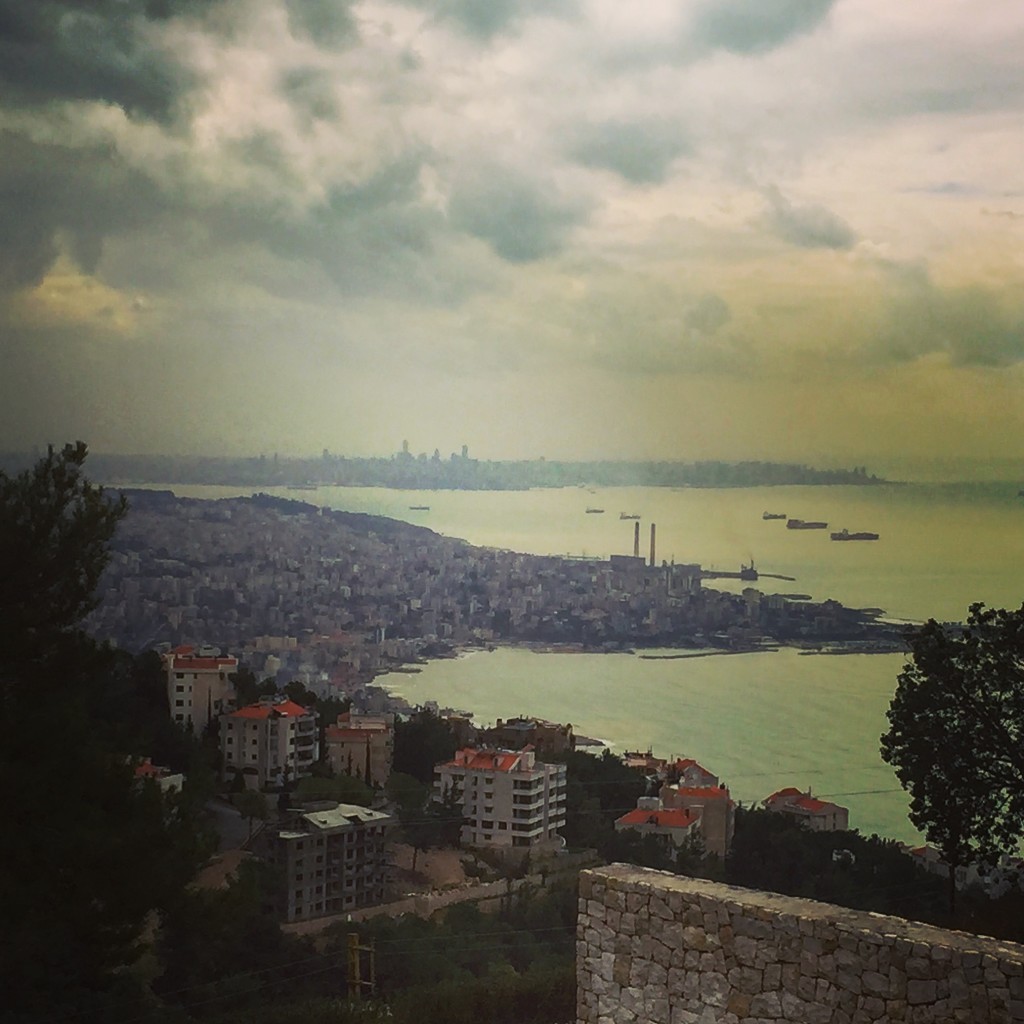 Beautiful Beirut. 
At the beginning of my trip I didn't understand my friend's words when he described Beirut as the "most interactive city in the world," but I did by the time I left. Sharing coffee with strangers, enjoying up-close encounters with ancient history, witnessing the play of children in damp, stark refugee camps, touching calcified stalagmites in "the best tourist site in the Arab world," curating handmade jewelry from its best creators in the world, delighting in bountiful, delicious local food and wine, forging new, lifelong friendships with people who were as sincere as they were welcoming and living briefly alongside a complex, segmented culture that lends so much to our world's vibrant fabric made me distinctly aware of my fortune to bear witness and interact in this great city and country.
It is perhaps indeed the "most interactive city in the world,"…but let's pray when I return someday that a stamp in my passport will be of no concern to anyone and a war to the east will cease to exist.