An English man inquiring about my visit to Bhutan today at lunch exclaimed, "Oh, so its like American lady does Bhutan!?"  Well, I guess so :).  Anyway, it was too cute not to use as my title.
***
Bhutan is truly breathtaking; Majestic mountains, green terraced rice fields, powder blue rivers, colorful temples ,  grand monasteries and warm smiles.  I am living a National Geographic article in high definition 3-D!
Right now I am in a remote part of central Bhutan called the Phobjika Valley. We are 2982meters above sea level…which also means it is freezing here!  My mini-stove is my only source of heat. I am diligently putting in more logs every hour…I just don't know what happens when it comes time for me to sleep.  Looks like I will be wearing socks to bed!
Remote also means no wifi. Whenever I get to post this, I will be back in the nation's capital, Thimphu.
Druk  Wangyal Chorten  – a few of the 108 stupas on the Dochu La pass
A look back to my first full day in Bhutan: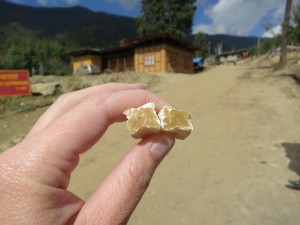 Yak cheese!
Hard as a rock, this local cheese is meant to be chewed for a long time. It took me about an hour to finish half of the small piece I bought. I am eating the second half right now (my Bhutanese pre-dinner apero).  It tastes rather bland…just a hint of milky flavor.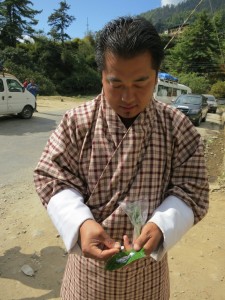 Choki, my driver, showing me a favorite local snack: Betel Nut
Choki and my guide, Ugyen, eat this nut all the time. They wrap it in the green leaf that has lime paste on it…the lime is to counteract the obnoxious and vivid red color the beetle nut turns one's mouth. Frankly, it is quite frightful.  The guys keep asking me to try one.  I told them I would…when I am close to my toothbrush.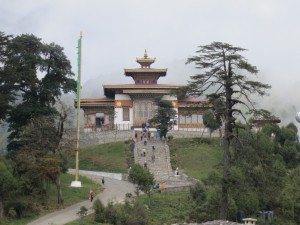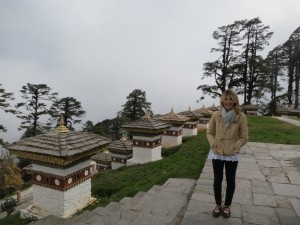 My first stupas and temple!
Had this been a clear day the snowcapped Himalayans would have been visible in the distance.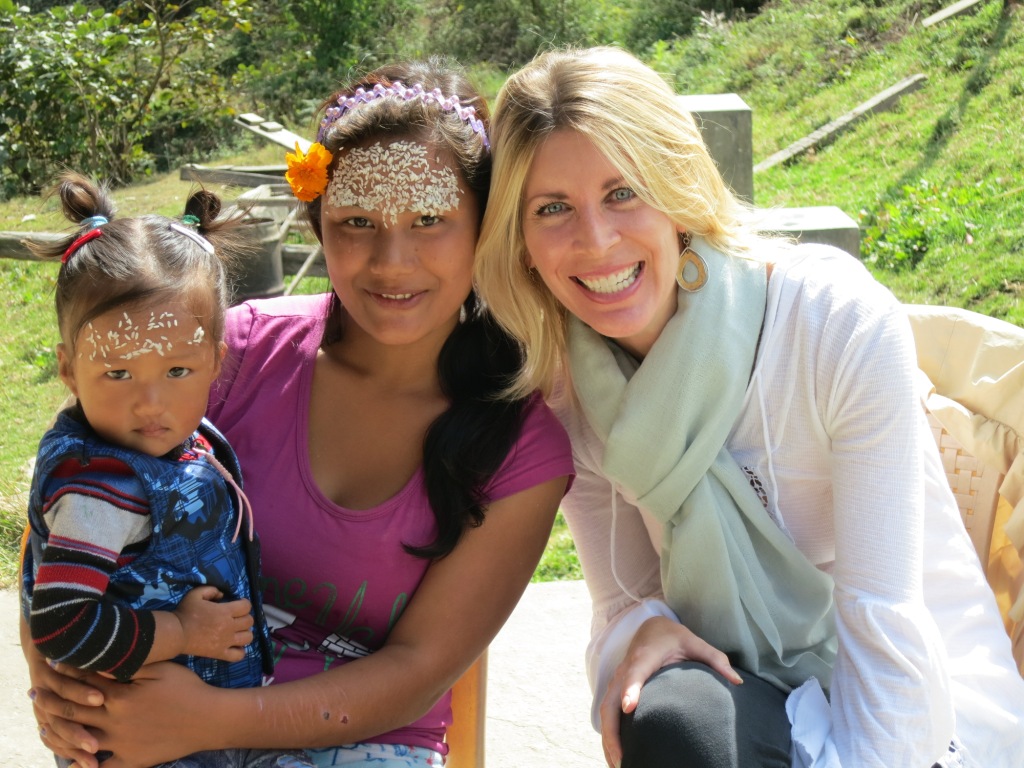 This little girl and her sister are from the South of Bhutan.  Yesterday was a festival for the people of the south.  They marked the occasion with covering their forehead with rice. Their family owned a little restaurant and general store.  Here my guide talked me into trying Bhutanese whiskey…pas mal.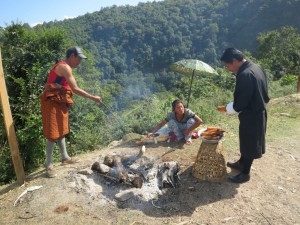 Fast food Bhutanese style.
The roasted sweet corn this family sold road side was delicious.  When the father isn't grilling corn, he drives a taxi!
A family affair!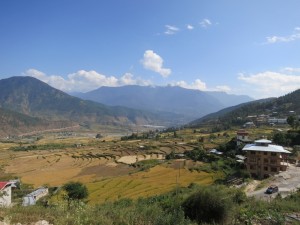 The fertile valley near Punakha – some of the Kingdom's richest agricultural land.
Oh, those rice fields! Golden and picturesque!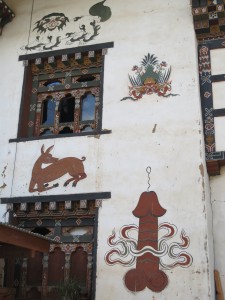 Phallic decorative art abounds in Bhutan!
They are painted on houses, carved into wood key chains, pencils and door hangings, and placed as statues in shops.  It is a sign of fertility and wards off evil spirits…and there are always as least 2 in eye shot range.  A handicraft store I went into had a series of phallic ornaments. A sign next to them read, "For your Christmas tree." Uh, right…I will just hang my mini-penis next to baby Jesus.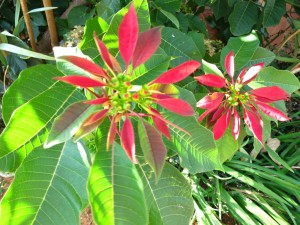 Speaking of Christmas! Real "Christmas flowers" grow all over Bhutan.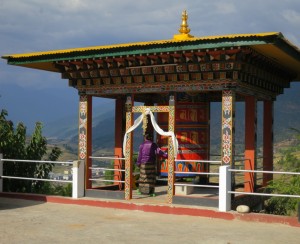 Prayer wheel
Prayer wheels like this dot the mountains and valleys…as do the stupas, prayer flags, temples and monasteries. Prayer wheels represent the wheel of life. Bhutan is a very spiritual country. The Buddhist religion plays a central part in people's lives today as it has since the 7th century.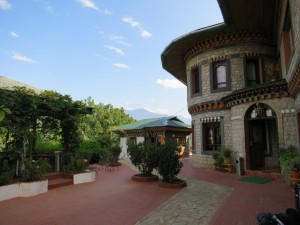 My lovely hotel near Punakha.
As a tourist, I am considered a guest to the country and Bhutan has very exacting standards for the guest experience.  It is impossible to come to Bhutan on your own…one must go through a travel company.  Every detail is taken care of by them…I can make a suggestion, but they don't let me lift a finger. Hotels are for visiting foreigners only (no locals) and have to meet approved standards, dinner must only be at the hotel (buffet style every night) or Bhutan Tourist Counsel and Royal Government approved restaurants (also buffets), and I am never alone (unless I am in the shower).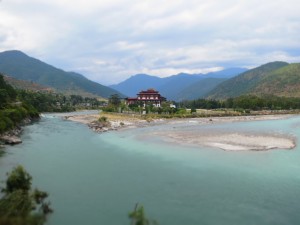 Our last cultural stop yesterday – the Punakha Dzong
This Dzong, or Fortress of Happiness, is said to be the most beautiful Dzong in Bhutan.  It was built in 1637.  It is also where "The King and Queen of Our Hearts" held their after wedding party.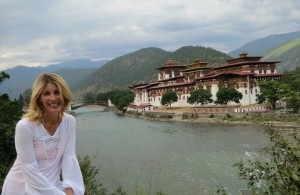 The architecture of the Dzong is typical Bhutanese. The walls are made of pounded mud. Wooden beams frame windows and create ceiling beams.  Ornate and colorful paintings and carvings decorate the trim.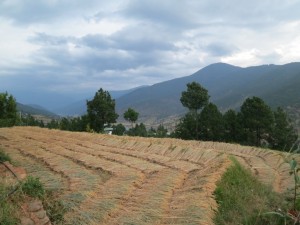 More rice fields.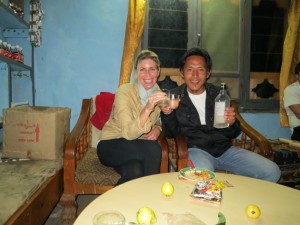 Happy hour Bhutan style!
My guide wanted to introduce me to ara…or " Bhutanese wine," as he put it.  This homemade "moonshine", as I put it, is made from corn or wheat.  The finish may have been a little rough, but the company and the welcoming atmosphere made up for it in spades.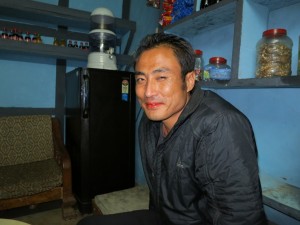 Kinley, the owner of the bar and general store where I tried my first ara.
Scary red mouth = Betel nut consumption
Before I sign off 2 things: 1) I have been such a master of keeping my fire lit that the entire room is filled with smoke…hmmm, this can't be right. 2) I am still chewing on that piece of yak cheese!
More soon! "American Lady does Bhutan" isn't done yet! 🙂