The Land of the Thunder Dragon and the Land of GNH (Gross National Happiness), this is the Kingdom of Bhutan.
I have yet to learn how they actually measure the happiness of their people, but I can say that my happiness level rose exponentially when I walked off the plain into the fresh Himalayan air.  The weight of my time in India immediately lifted from my shoulders. Memories of zealous Tuk tuk drivers were dismissed. The quiet mountain countryside made me gasp, "This is gorgeous."
Equally gorgeous was the flight from Delhi into Paro – the only city with an International Airport in Bhutan. It has one airline that flies in and out, Dukair.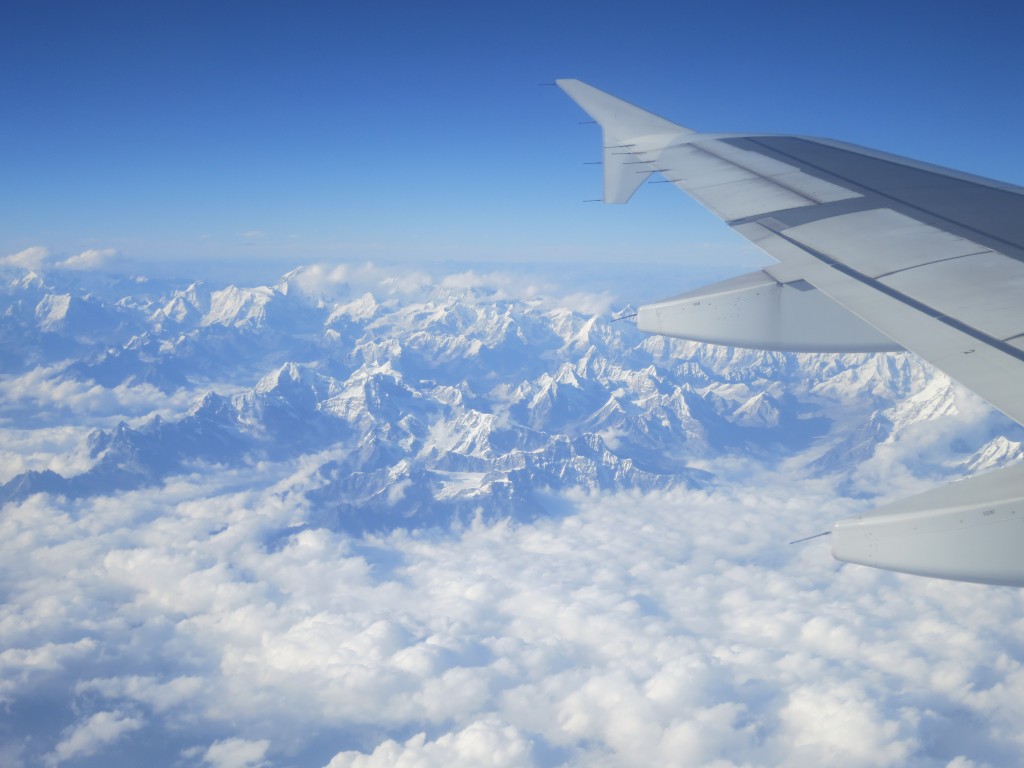 Himalayan Mountains.
But what was even more impressive…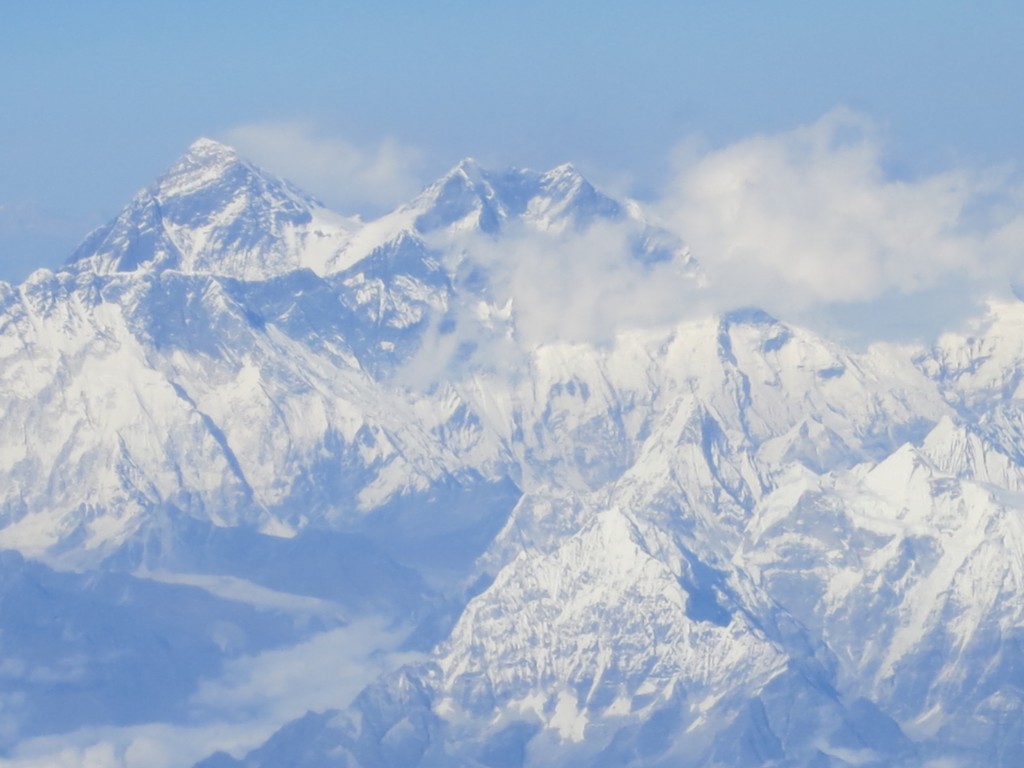 …Mount Everest!
The Earth's highest mountain.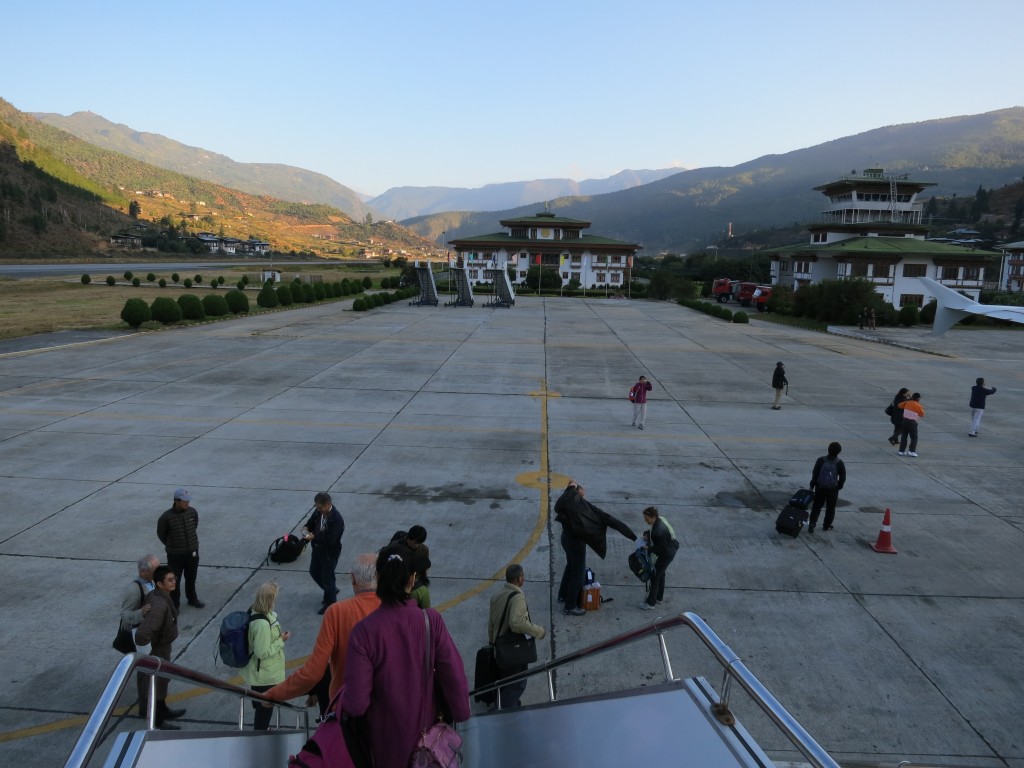 Walking out into Bhutan for the first time.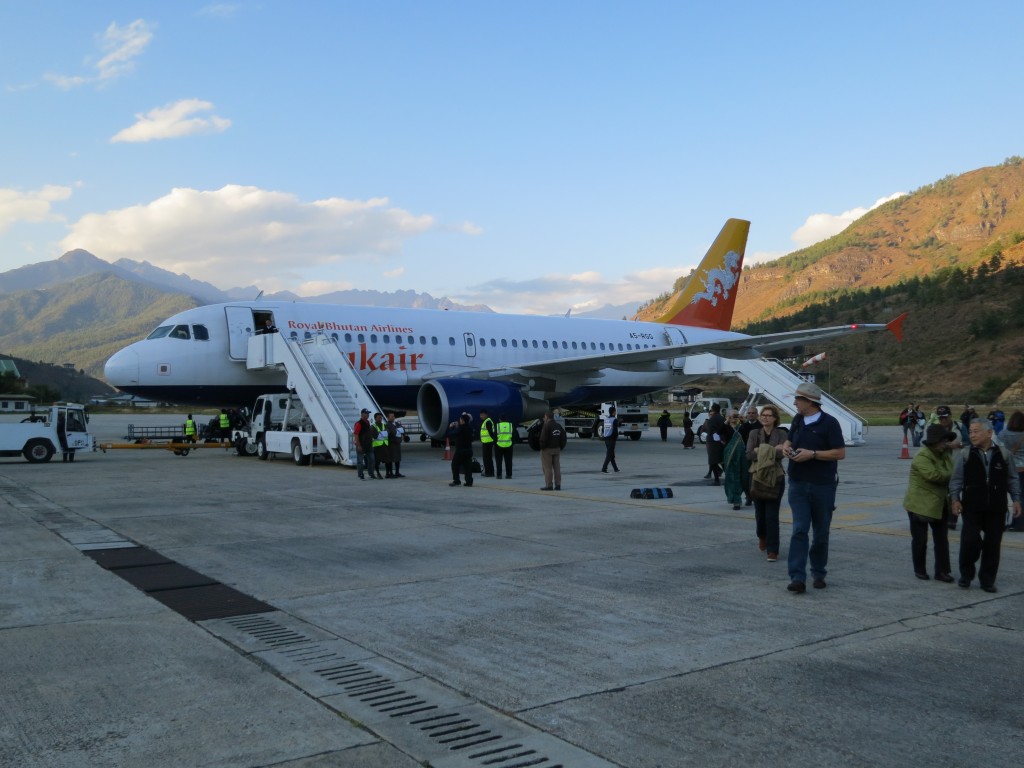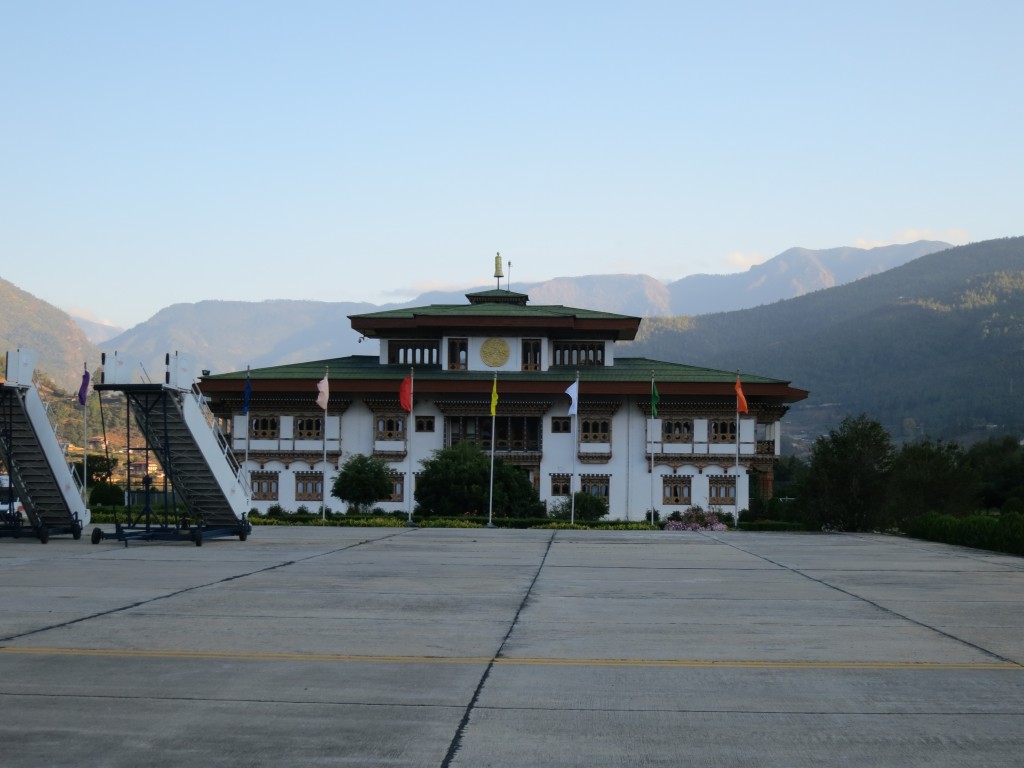 Terminal at the one gate international airport.
My first glimpse of the King, Jigme Khesar Namgyel Wangchuck, and his queen. Since then I have seen their images everywhere…and I have only been here for 5 hours!
The couple has been married for a year.  They met in grade school. Last week the entire country celebrated their one year anniversary with a 7 day celebration. Doesn't seem like he has any problems in the likability polls :).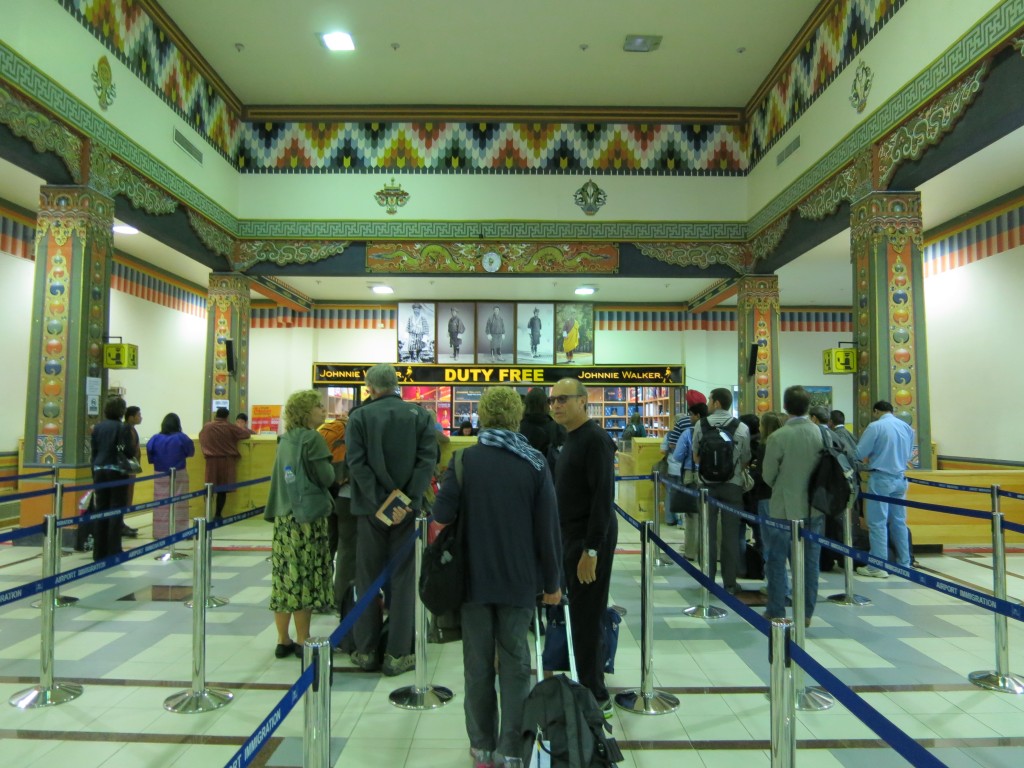 Immigration – No pictures allowed, except this one :).
The Canadian couple that was in front of me in the immigration line (see woman with blue scarf) I had seen yesterday at the airport in Udaipur!  I didn't talk to them then cuz I had my "don't anyone dare talk to me" face on (it had been a rough day). However, seeing them in line  today, I had to say something.  They of course remembered me…but said I looked so much more relaxed now.  Apparently when the  woman saw me in Udaipur, she leaned over to her husband and said, "She looks really stressed." Yep, sums up yesterday.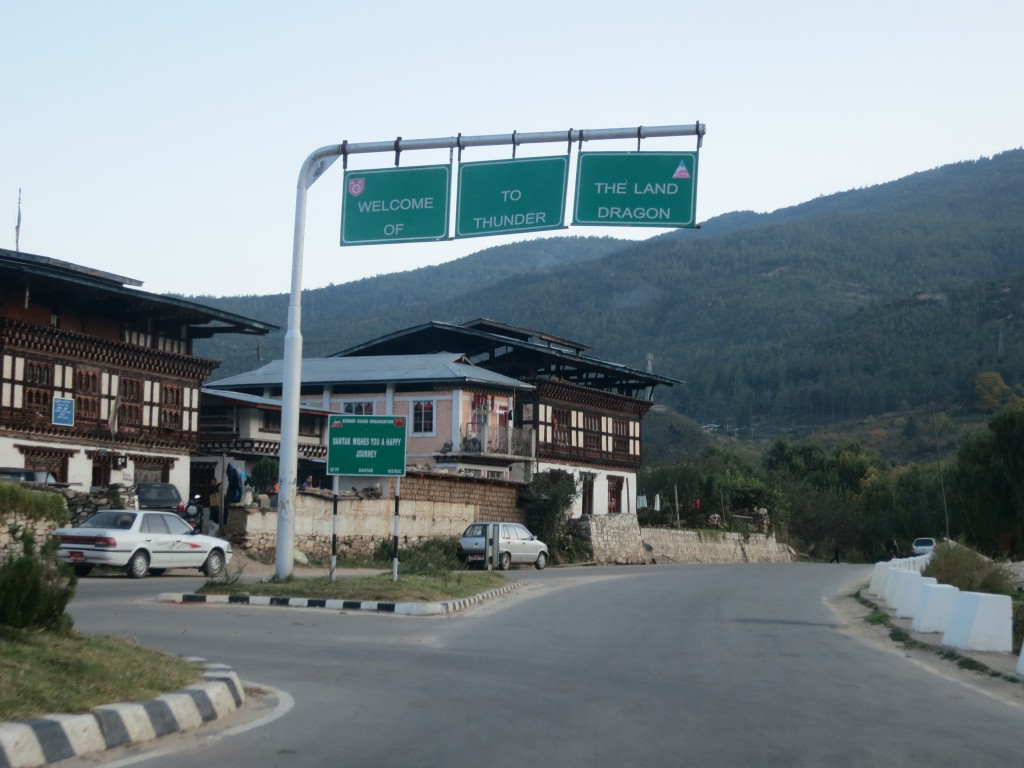 To the capital of Bhutan, Thimphu…
They keep a tight rein on us tourists here in Bhutan.  We all need to be with a driver and guide (e.g. no Avis window at the airport).  The government fee to be here everyday is pretty hefty too ($290/day for a visa!)…but it includes my hotel and all food.  Last year around 68,000 tourists came to Bhutan and they want to keep it the same or decrease it this year.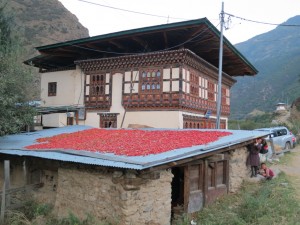 Chili peppers drying on roofs and hanging in windows. They are everywhere….which probably means in the food too. Uh oh, I am dead.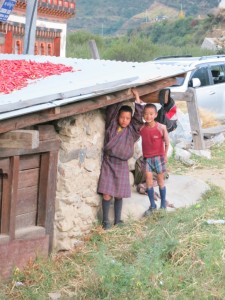 Some of the cute faces of Bhutan!
One is in a traditional garment.
 The heater didn't work in my first room…so I got a suite :).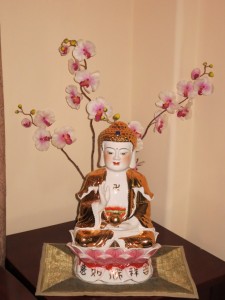 My own Buddha too(pretty much the entire country is Buddhist).
Tomorrow I go out and explore with my guide which I am sure will make my Gross Personal Happiness go up.  I will have to dress warm though…I am not in the tropics any longer, but it does give me an excuse to use one of my new pashmina scarves!
Good night from Bhutan!