Yay! I am starting to feel much more energized…I think the benefits of this panachakarma therapy is starting to kick in. Therefore I want to seize my new found energy to write about my typical day here in Rishikesh…here goes:
While planning this trip to India, I consulted my Japanese girlfriend's Indian husband, Das, to help me with the itinerary.  "India is so big!" I told him, " I don't know where to start." He recommended that I come to Rishikesh and then Rajastan. The weather would be cooler than in the south, I could learn yoga or ayurveda in Rishikesh, and then visit Jaipur and Udaipur in India's largest and most romantic state, Rajastan. Perfect!
Along with his recommendations he included links to several ashrams and ayurvedic centers in Rishikesh.  After much toiling over where I would prefer to spend a week of my life, I decided on Dr. Maurya's Hemadri Ayurveda Centre (next to the police checkpoint and taxi stand here on Badri Nath Road). With a $100 Western Union wire, my reservation for 7 days of Panchakarma therapy was set. Et voila! Now here I am experiencing it!
As with all things here in India, I learned that I should have negotiated the online price of the therapy beforehand, but, whatever… I will do a better job negotiating my next rickshaw instead.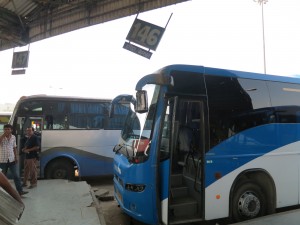 My chariot in Delhi that brought me to Rishikesh.
These buses are simply called "Volvos" and are a very pleasant, economical way to travel. The bus driver gave me seat 1 so I could be petrified the entire way as he maneuvered the crowded streets. He was sounding his horn more than he wasn't.
We stopped at a McDonald's along the way.  Here a  Big Mac is made with a veggie burger instead 🙂 (don't even talk about eating beef here!).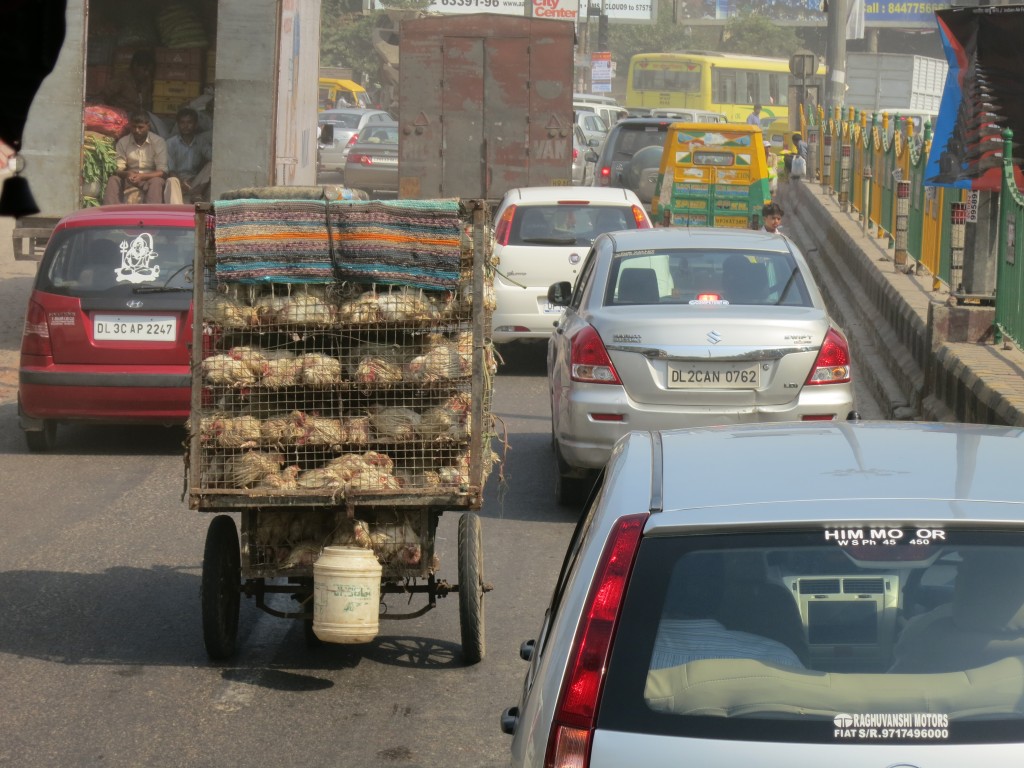 Leaving Delhi.
The chickens stacked on rickshaws fascinated me…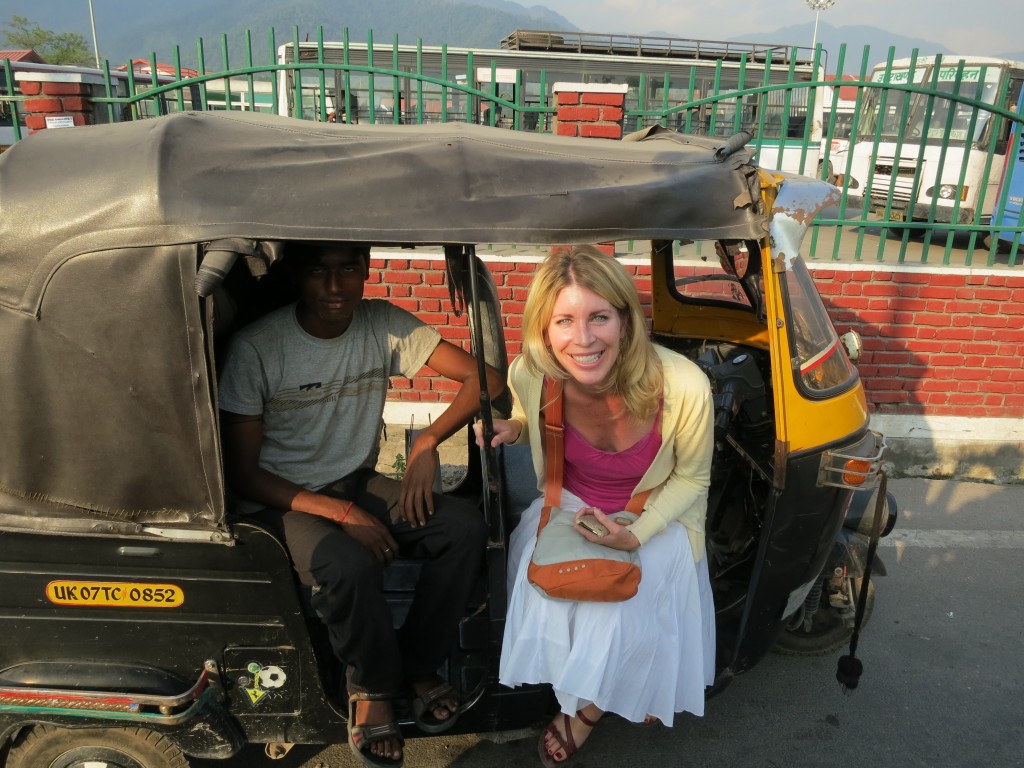 Rishikesh at last! and traveling in style again!
Rishikesh is in the the northern Indian state of Uttarakhand. It is located in the foothills of the Himalayas and is known as The Gateway to the Himalayas.
Its population is 75,000.
Vishal, the owner of the hotel/restau where I am staying, says that in Rishikesh "anything can happen" and it is "magical." He also said that only the "pure" die here. He added, "Bubas  (politicians/beaurocrats) can be born and live here, but they always die someplace else."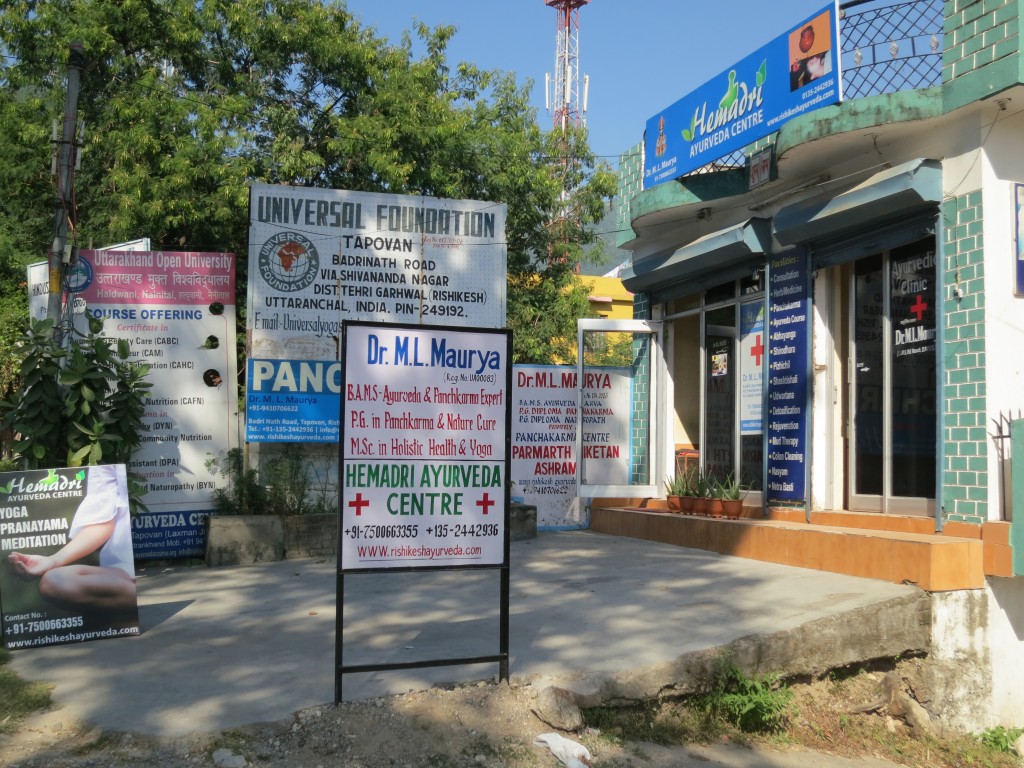 Dr. Maury's Ayurvedic Center
Ayurveda is an ancient system of medicine and the world's oldest system of healthcare.  It has been practiced in India for 5000 years! The word Ayurveda means "science of life."  It is a very serious and true medical practice here in India.  My doctor, Dr. Maurya, has practiced Ayerveda for the last 8 years.  He also teaches it.
My first morning here I met my doctor at 8am.  He took my pulse, asked me about my health and then proceeded to set up my treatment schedule. My panchakarma, an Ayurveda way of detoxifying and rejuvenating the body, treatment includes a strict vegetarian diet, daily massages, steam baths, different body cleansings, yoga, and rest (although rest does not mean read a book…it means rest your mind.  Vishal alerted me, "Don't read. Westerners read too much during panchakarma." I immediately put my Kindle under the table).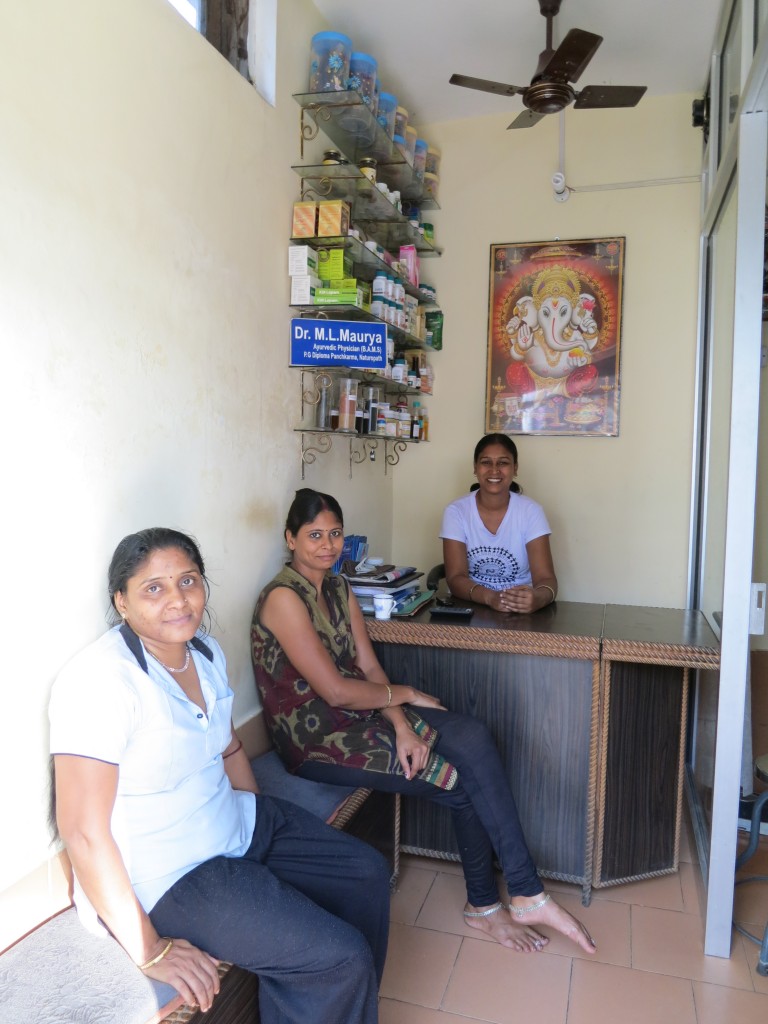 The Wonderful Staff at the Center
Suma, my yoga instructor and office manager, sits behind the desk.  Maya, one of the other therapists at the center is next to her and Savita, my therapist, sits closest to the door.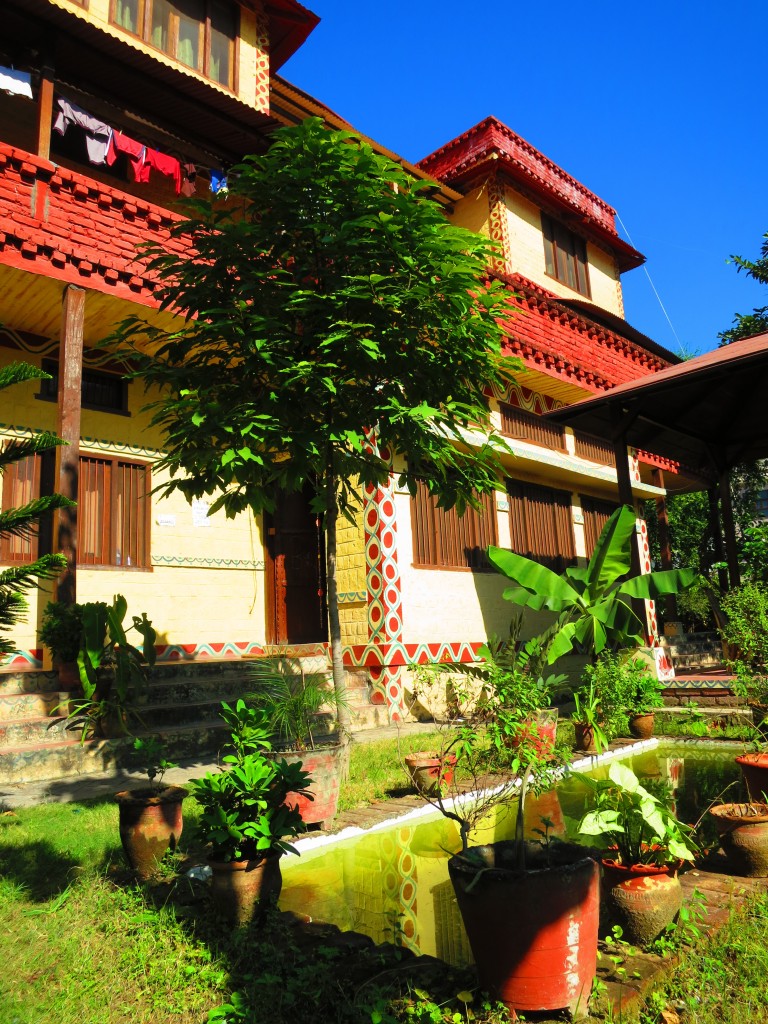 My temporary home away from home – Ayur Pak
Ayur Pak is not only a hotel, but one of Rishikesh's best restaurants. It is also where the doctor has prescribed me to eat all 3 of my vegetarian meals a day!
The cheerful owner, Vishal, and his more cheerful wife prepare traditional food based on Ayurvedic practices.  Everything is fresh.  Everything is made to order.  Everything is delicious. They ground all their herbs and spices on the premise and use only "ghee" (clarified butter) to cook with.  They say that not only is their food healthy, but it will help you live longer.  Another Chapati please! 🙂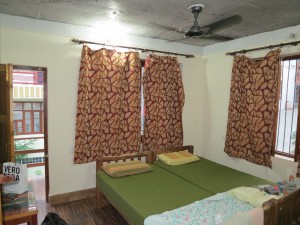 My room – no wifi, but no bugs either!
I do a lot of resting of my mind on that bed.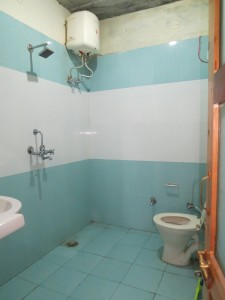 Beautiful, eh!?
There is hot water…but spotty output.
Somehow I still linger during my showers…incredible.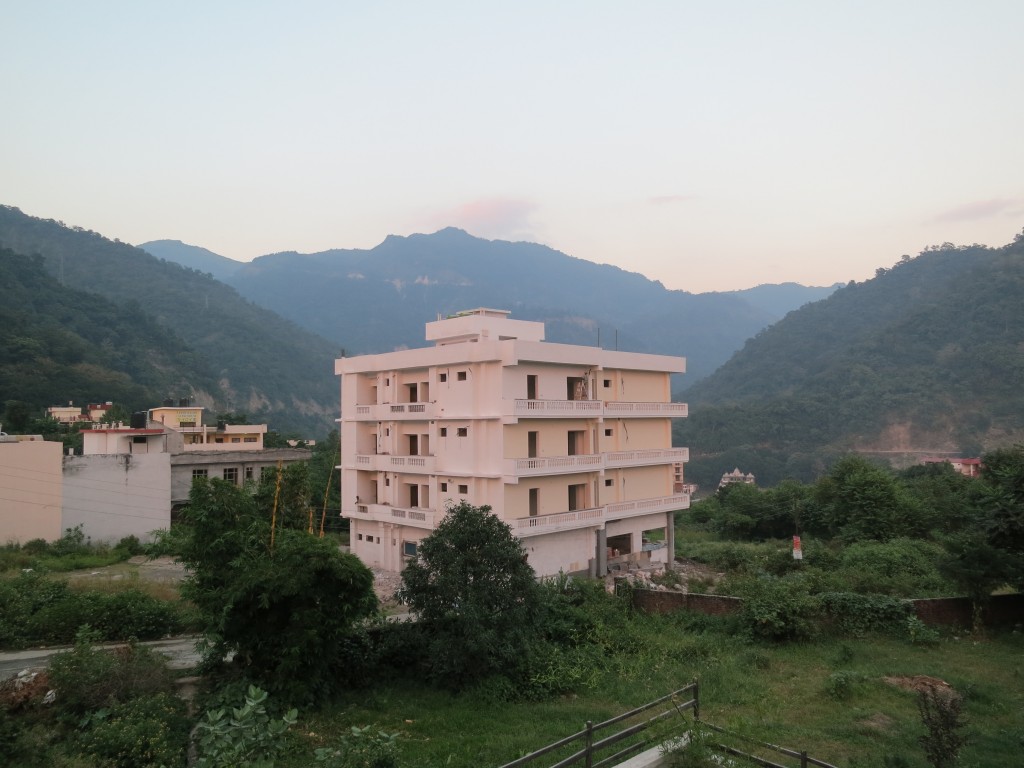 View from my room of the Himalayan foothills.
Better than the view into the bathroom.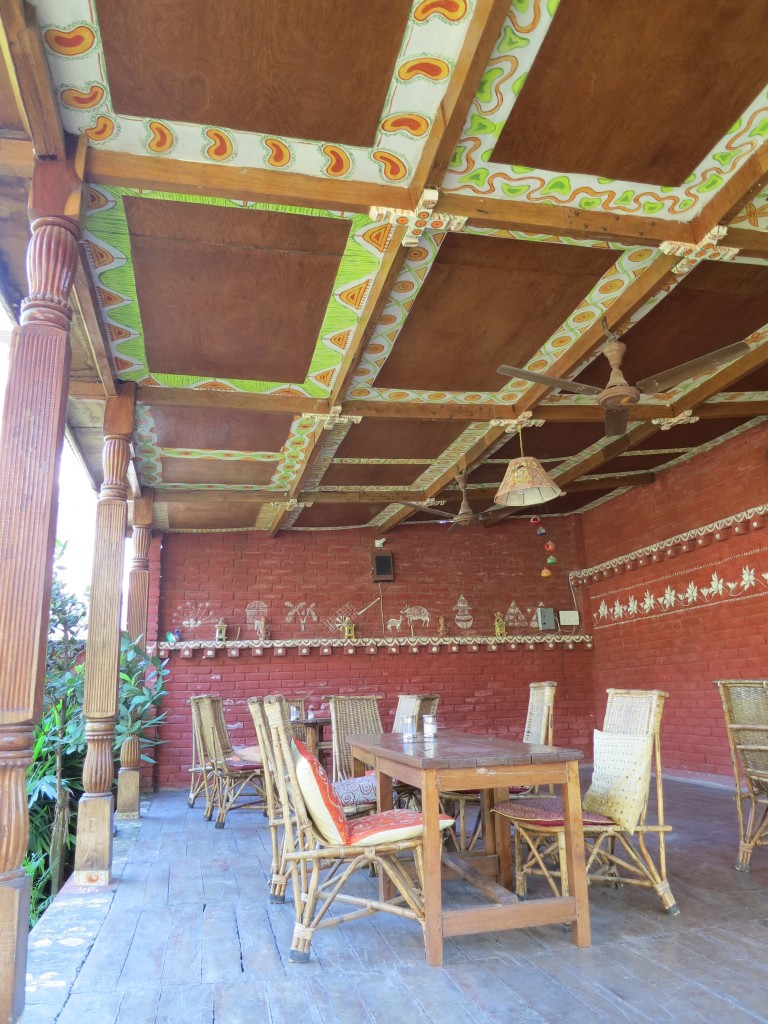 The outside dining area in Ayur Pak…where I eat dinner, but not breakfast and lunch.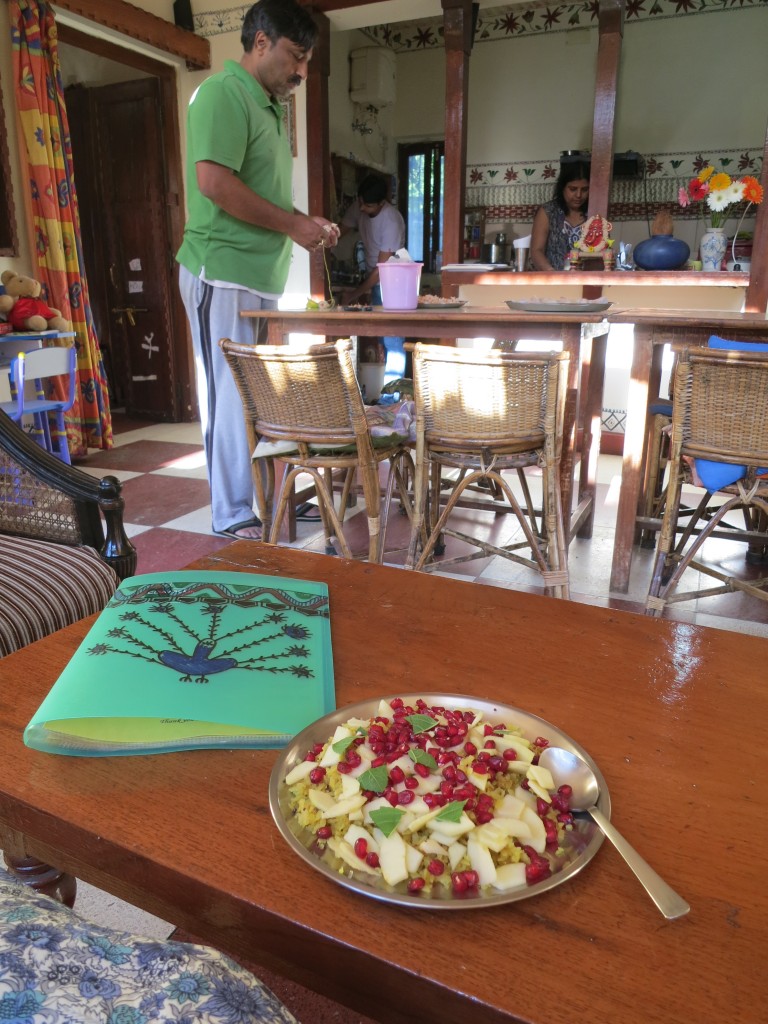 Breakfast – 8:30am every morning
This is one of my typical breakfasts, dal grain with sliced apples and pomegranate seeds. I always have tea too. Doctor's orders.
In the background, Vishal is making a pooja, or offering, for the god, Ganesha.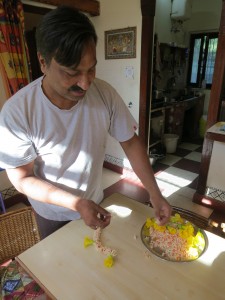 Every morning and lunch, I find him threading a string of small white flowers interspersed with larger yellow ones.  The small white flowers only blossom 15 -20 days a year, and are a favorite of Ganesha's…hence the daily diligence.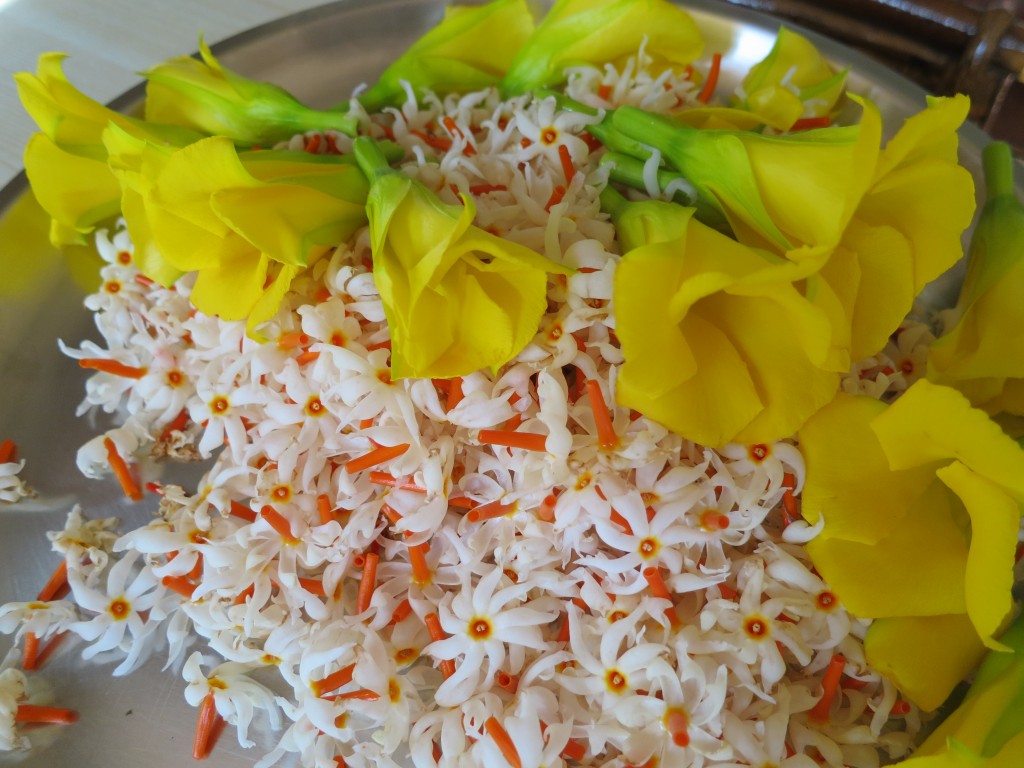 Pooja flowers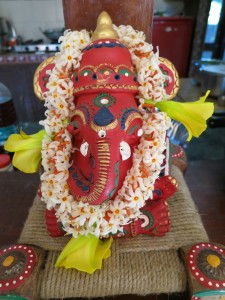 Ganesha with her new garnish!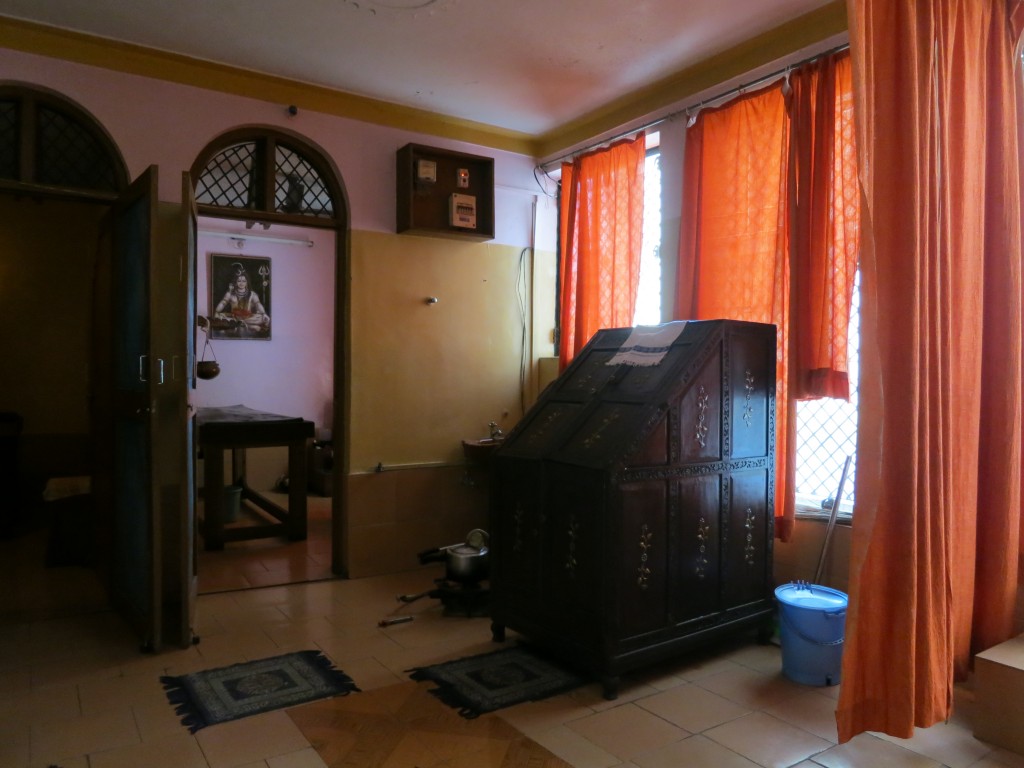 Therapy Room – my 10am destination
My therapy usually lasts about 2 hours.  After stripping down to nothing, Savita starts on me with some sort of massage – hot sesame seed oil made in house, cream, or, today's massage, hot milk with a rice scrub (done by Savita and Maya!). Sometimes afterwards I receive special treatments like Shirodhara (oil on my third eye) or, a favorite from the last 2 days, colon cleansing (it involved hot oil and a syringe :(…so please note sarcasm ). Treatment always ends with a steam bath.
The big box in the picture is where I receive the steam bath.  Just my head sticks out as steam is pumped into the box.  Although I am not locked in the box, I do feel a bit vulnerable.  Today there were baby cockroaches that kept running up and down the box! Egads!  I had Savita stay with me to swat them away…tough to relax when you are imagining bugs creeping onto your face :). 
Lunch – 1pm
After rest and shower, back to eating! Lunch usually is khicheri – rice and another grain called, dal – cooked vegetables and chapati. During panchakarma, all my food is cooked as it is easier to digest.
Vishal always chuckles at my picture taking.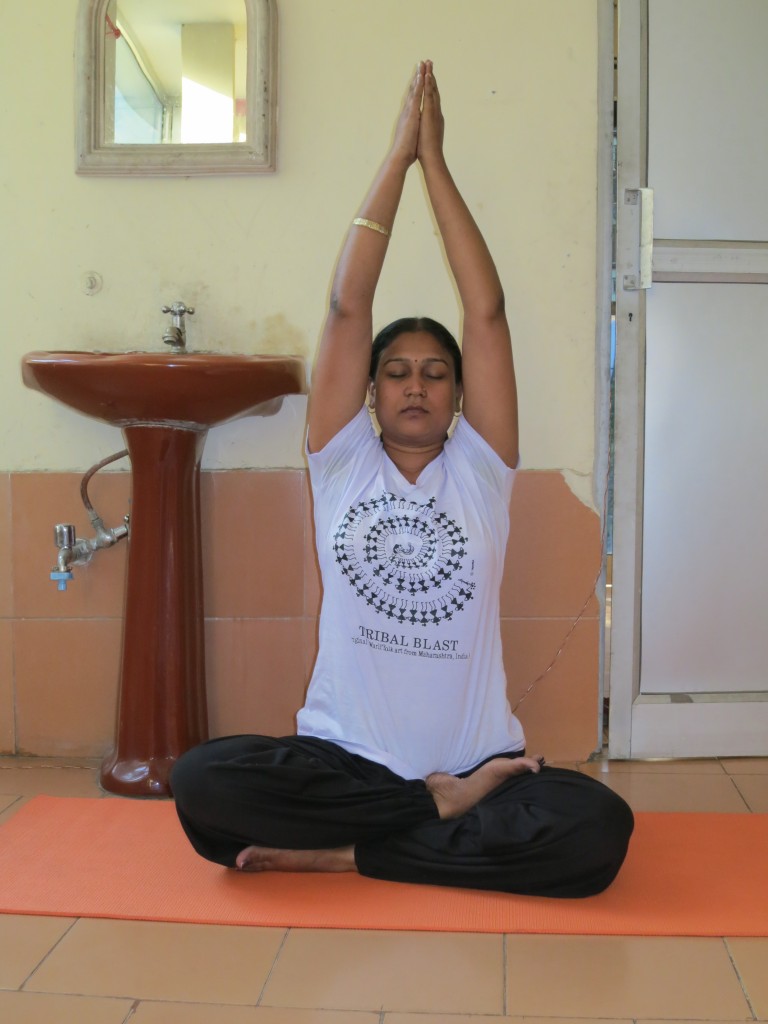 Yoga with Suma – 4pm
Ooooommmmmmmm 🙂
Suma is teaching me basic Yoga asnas (positions). Class consists of  just me…but sometimes it also includes her 4 year old son or one of the therapists :).
I love her class. Look how sublime she looks while doing asna….*sigh*
I find I am most elegant at the "dead man" asna – which is just laying on your back relaxed.  Clearly I won't be a yogi anytime soon.
Today in class we learned an asna that she said would help with "your side fat." I diligently took mental notes.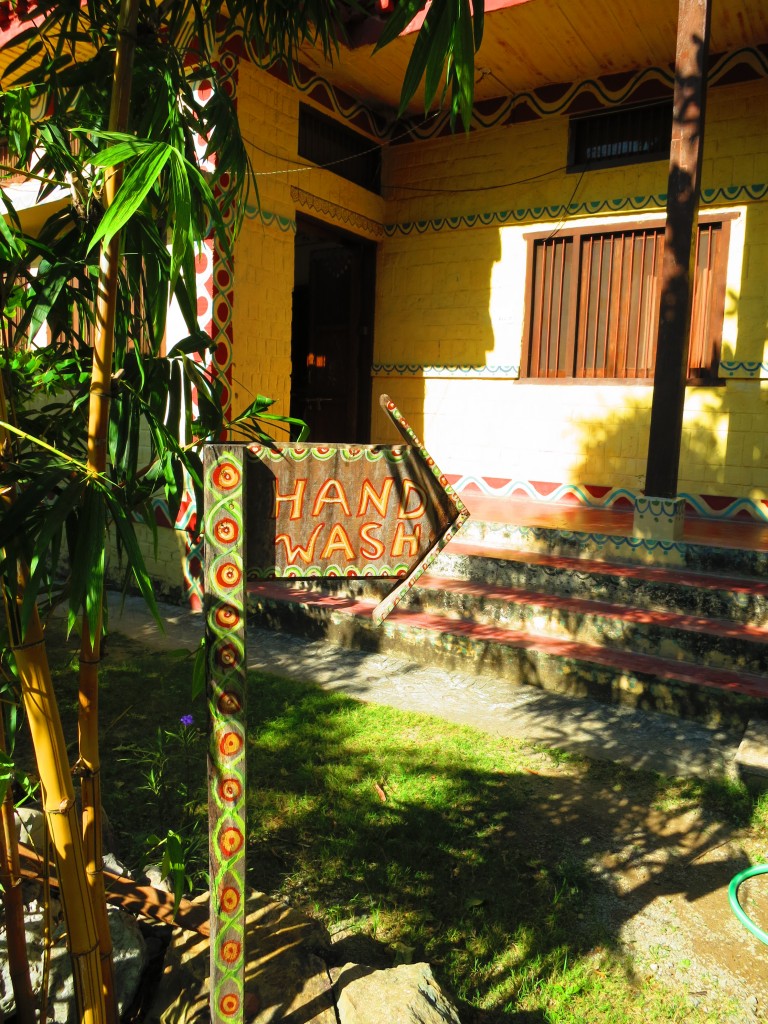 Back for Dinner at 7pm…but only after rest (no reading!).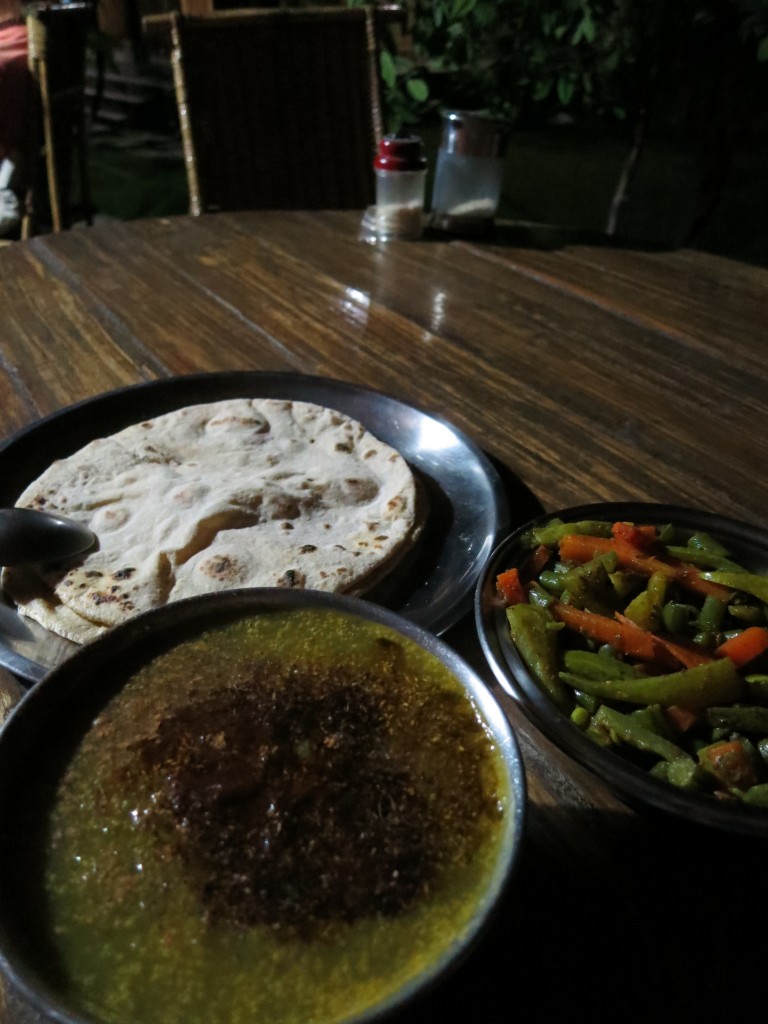 This is my typical dinner….soup -pumpkin or dal/veggie, vegetables and chapati.  I am on night 5 of it…and yes, even though it is good,  it is getting a little old…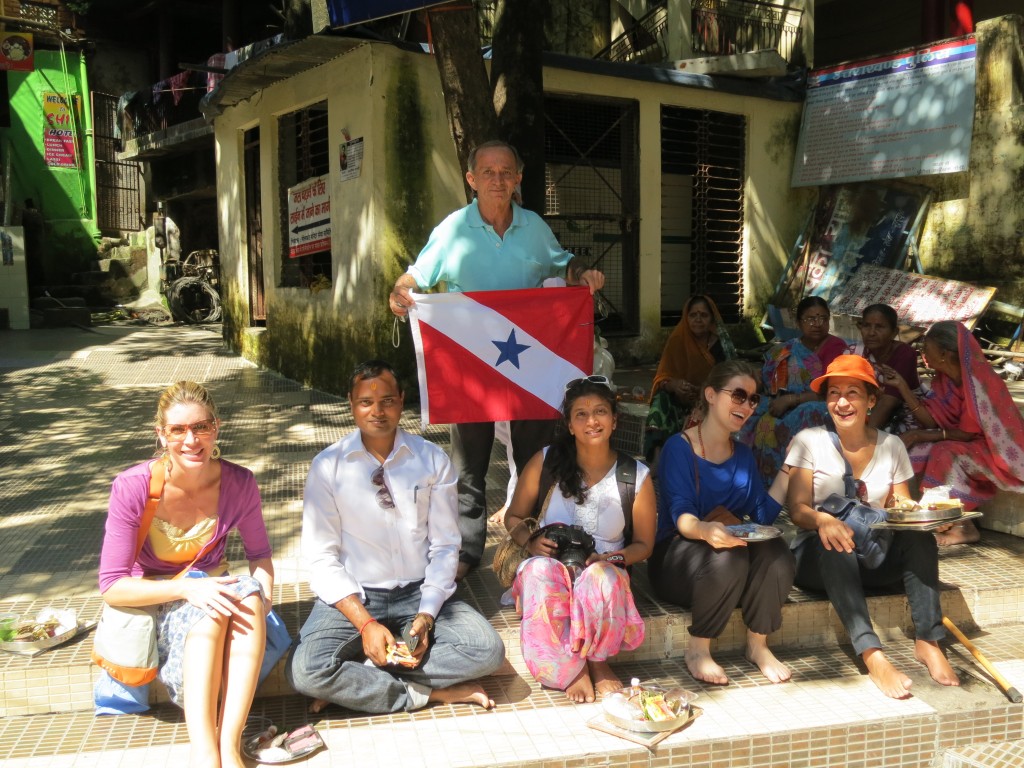 Sometimes between meals, rest, massages and yoga I even take little "adventure" excursions.
Dr. Maury is next to me.  He brought me and 5 of his Ayurveda students from Brazil to see the Neelkanth Temple (temple to Lord Shiva) up in the foothills.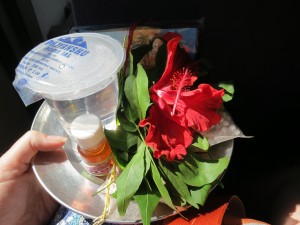 My petite pooja to Lord Shiva.
It contained all the things he liked – holy water from the Ganga, leaves, honey and sugar he liked to eat, incense and a hibiscus.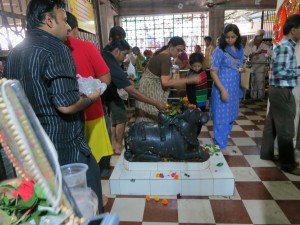 Shiva's mode of transport – the cow.
We poured water from the Ganga on him and offered some of the leaves.
Devotees whispered wishes or words of gratitude in his ears.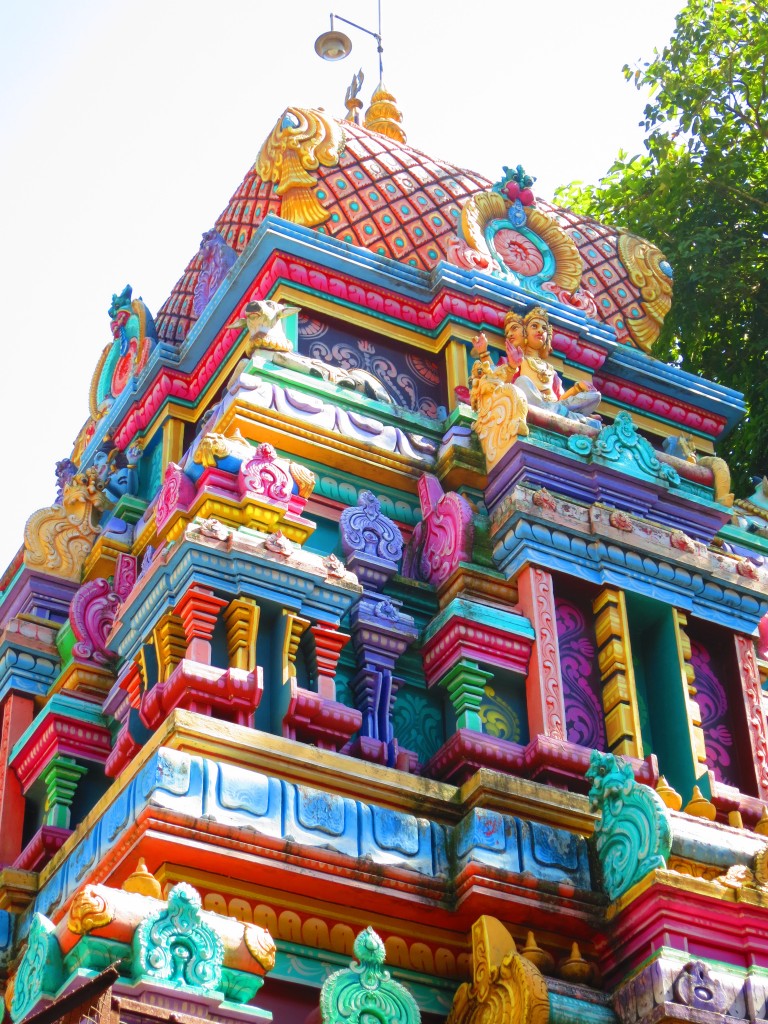 Neelkanth Temple
Before entering, Dr. Maurya warned us that "Indian temples are rather dirty."
Trash did abound…but it was wonderful to witness such a sacred place in a scenic part of the world.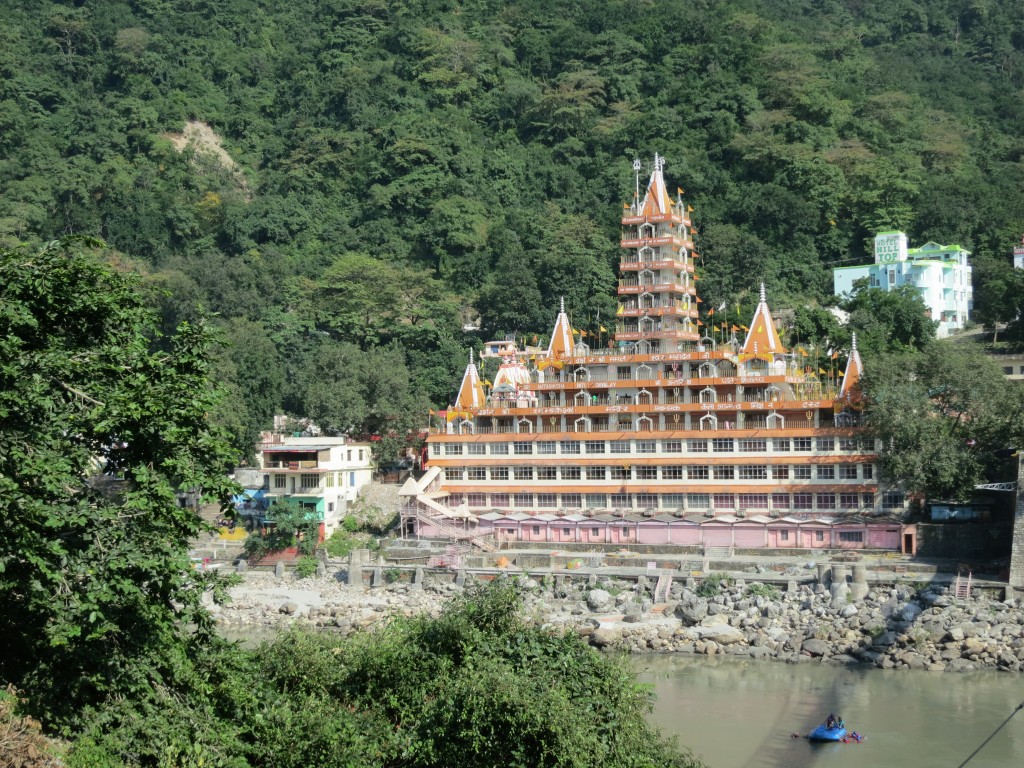 Tera Manzil Temple – the largest temple in Rishikesh
Although the beginning of my panchakarma was a bit rough – which I attribute to my body shedding toxins – I feel like I am benefiting from this experience.  I am happy with how Iam starting to feel inside and look outside – pure, clean and healthy. I also appreciate how my time here has helped me understand more about the lives of the Indian community that surrounds me. Today I learned my therapist, Savita, has been a widow since the age of 19 (she is 34 today).  She was left with 3 small children…one was only one month old. She will never marry again.  She said, "India, one marriage."
I don't know what from this week I will take home and continue…I think time will show that to me. But what I find charming, is how everyone tells me about the possibilities for my next visit…or "when I come back."  Maybe that is in the cards…but right now I am  just enjoying this and them now. AND I am starting to feel truly rejuvenated too…
….although I do crave a Diet coke.
Namaste!